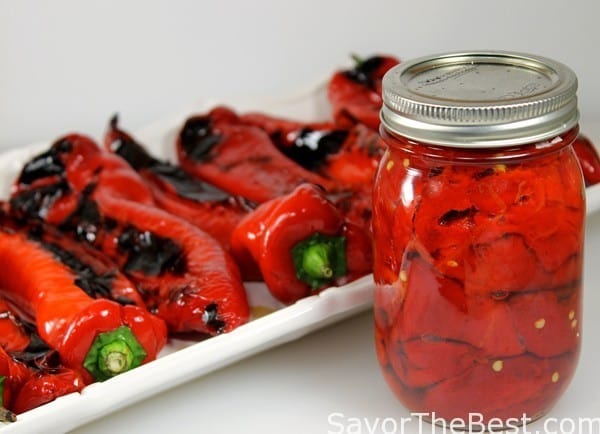 I saw a display of these beautiful, red peppers in the produce section of Central Market and the sign said they were 'grilling peppers' and as I had never seen any like this before I bought several to try out. I asked the produce man what kind of peppers they were and he told me they were Sweet Italian Peppers.
We had planned on having a cook-out the next evening with some guests and I included these on the menu. I love the shape of these guys, they look exactly like giant chili peppers but they have a mild, sweet taste and they are soooo good grilled! They were a big hit with our dinner guests.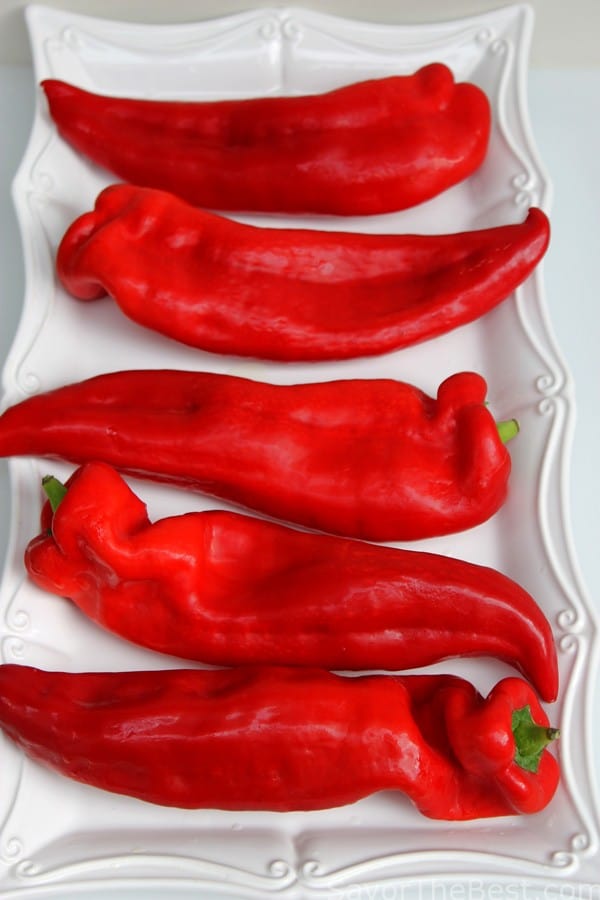 All I did was use olive oil and get them oiled then put them on a medium-hot charcoal grill and let them get all blistery and charred.
They were served hot off the grill for dinner and so delicious I could have just made a meal of them and nothing else. Personally, I like the taste of the charred skin but for anyone that doesn't, the skin slips off so easy leaving a moist, silky deliciousness.
These peppers are really easy to prepare and you can roast them in the oven as well as grilling them.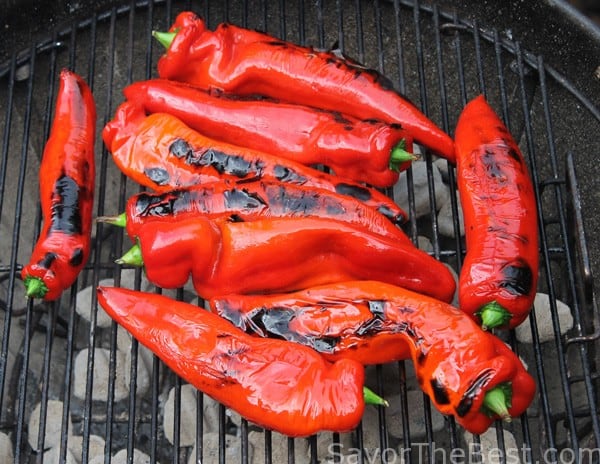 With the remaining peppers, I grilled them, stuffed them into a sterile jar, added a hot vinegar-water brine and put a lid on them. They are sitting in my refrigerator and will keep for a week unless we devour them right away.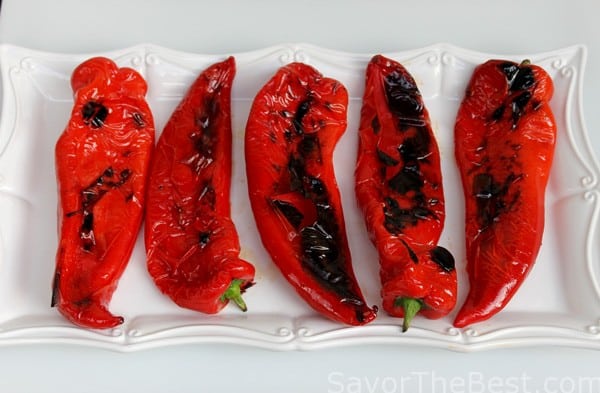 A few days after our cook-out, I was back in that produce area again and bought more of these wonders.
I grilled up another batch and when they were cool I put them on a baking sheet lined with parchment paper and froze them. After they were frozen solid I vacuum-sealed them and returned them to the freezer.
I saw a recipe for a pasta dish that included eggplant, sausage and red pepper that I am anxious to try. That is for another day.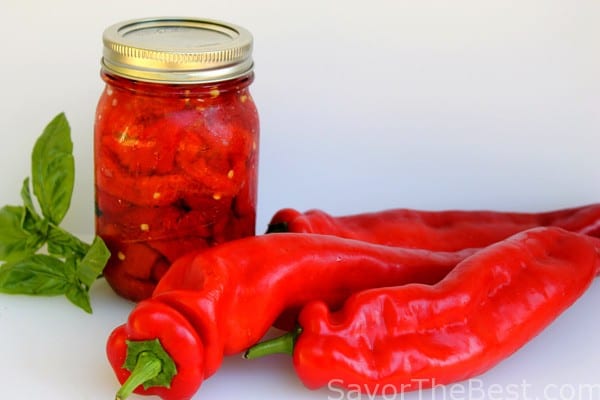 CONNECT WITH SAVOR THE BEST!
Be sure to follow us on our social media accounts
Facebook * Instagram * Pinterest * Twitter * Youtube
Did you make this recipe? We would love to hear from you. Drop us a comment below.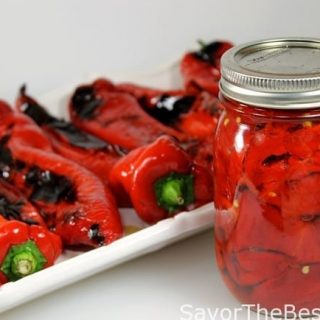 Grilled Italian Sweet Peppers
Yield: 1 pint
Prep Time: 10 minutes
Cook Time: 1 hour
Total Time: 1 hour 10 minutes
Grilled Italian Sweet Peppers that have been preserved whole with vinegar/water. These smoky tasting peppers are a great addition to a pasta recipe or included in an appetizer plate.
Ingredients
1 pound Sweet Italian Peppers
2 tablespoons olive oil
1/2 cup apple cider or white vinegar
1 cup water
1/2 teaspoon sea salt
Instructions
Prepare the grill and while it is getting hot, rinse the peppers with cold water and wipe them dry with a paper towel, then brush them with the olive oil.
In a small sauce pan, add the vinegar, water and salt and bring it to a boil then reduce the heat to simmer.
Add one pint jar to a sauce pan of water and bring to a boil to sterilize it, reduce the heat to simmer and add the lid and screw band. Keep in the simmering water until needed.
When the grill is ready at medium-hot, arrange the peppers and allow them to get slightly charred and blistery, turning them as needed. Remove them from the grill and reserve.
With a jar lifter or tongs, carefully remove the sterilized jar from the boiling water and add the peppers to about one inch from the top of the jar. Add the vinegar, water and salt mixture to cover the peppers. Insert a table knife inside the jar between the jar and the peppers and run it all around the inside of the jar to release any air bubbles. Press down on the peppers, add more brine solution if needed to cover the peppers. There should be at least 1/2-inch of headspace between the peppers and the rim of the jar.
Wipe the rim of the jar with a damp paper towel, add the lid and screw band. Allow the jar of peppers to cool then keep them refrigerated.
When removing peppers from the jar, keep any remaining peppers covered with water.
Nutrition Information:
Yield: 8
Serving Size: 1
Amount Per Serving:
Calories: 53
Total Fat: 4g
Saturated Fat: 0g
Trans Fat: 0g
Unsaturated Fat: 3g
Cholesterol: 0mg
Sodium: 135mg
Carbohydrates: 6g
Fiber: 1g
Sugar: 3g
Protein: 1g
Nutrition information is a guideline only, is calculated automatically by third party software, and absolute accuracy is not guaranteed.