Old-fashioned tomato soup is one of those classic, all-time comfort foods! This Fire Roasted Tomato Soup takes that classic to the next level! It is thick and creamy like a bisque and has chunky bits of charred tomatoes. Serve up a bowl of this soup with a garnish of crisp croutons and a drizzle of olive oil for a treat to your taste buds. Using canned fire-roasted tomatoes means you can have this soup ready for lunch or dinner in half an hour flat!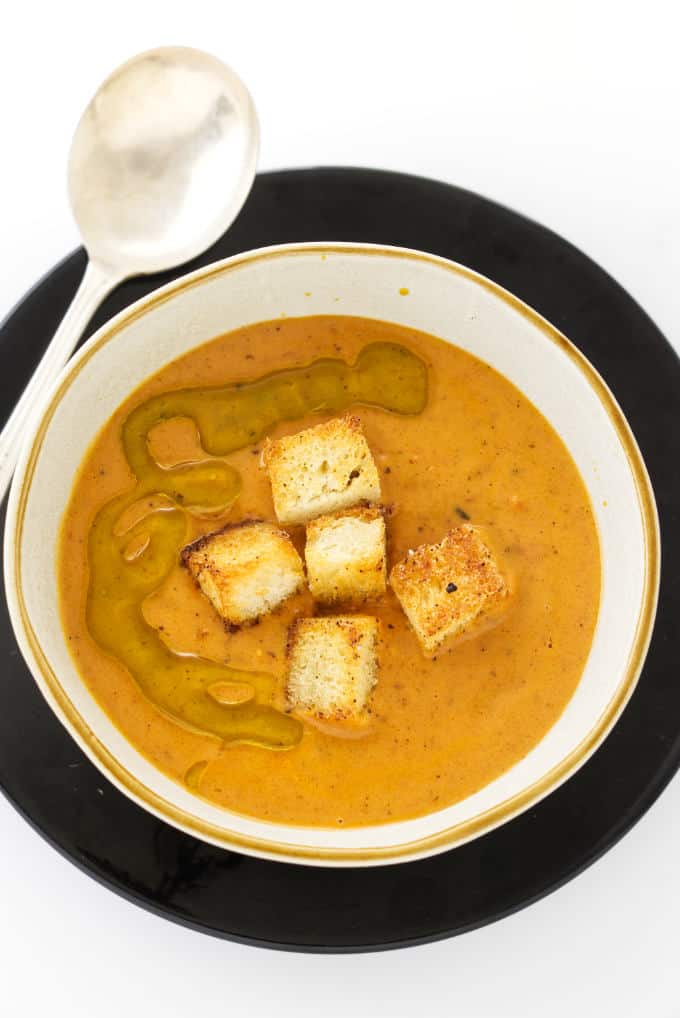 Who remembers the days when grandma opened a can of tomato soup for lunch? A grilled cheese sandwich was usually set along side a hot steaming bowlful of soup and it was, Mmmm, good!
Why is This Fire-Roasted Tomato Bisque Soup So Special?
Although this fire-roasted tomato soup is not as simple to make as grandma's version, it is still quick and easy to pull together. And, here are more advantages to consider:
Good wholesome ingredients = no preservatives or unpronounceable additives.
Lots of charred bits of tomato add a slight smoky taste that enhances the flavor.
This bisque is smooth and creamy like a good French-style bisque.
It also has small chunks of fire-roasted tomatoes reminiscent of a regular soup.
Using canned tomatoes makes this recipe so fast and easy. You can always roast your own tomatoes if you have the extra time though.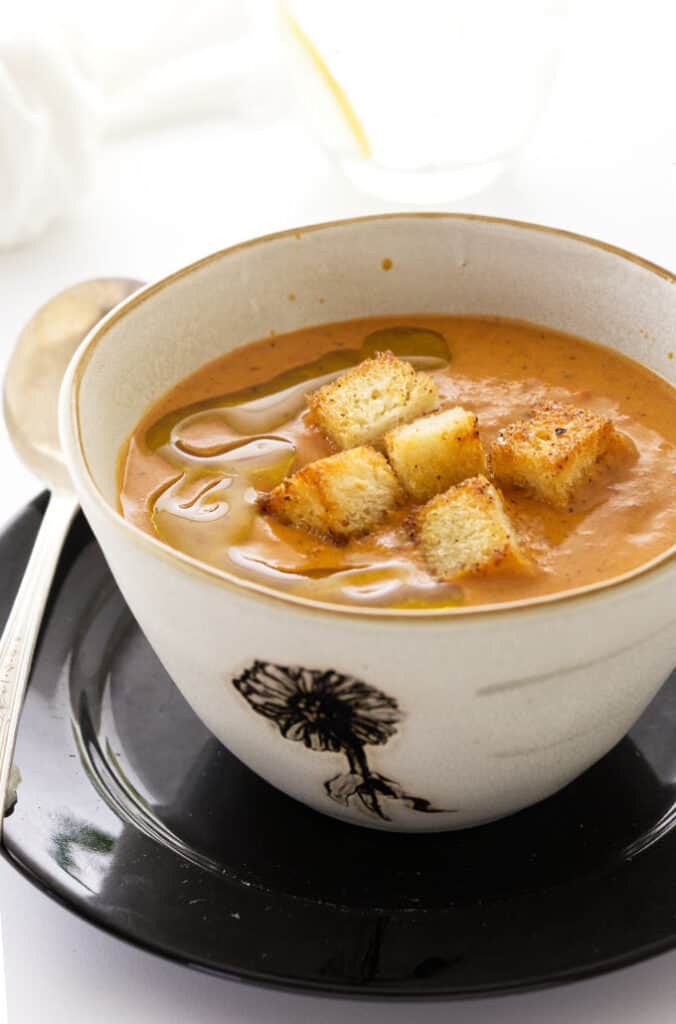 What Goes Into This Tomato Soup?
If you forage around in your pantry and refrigerator I bet you have most of the ingredients on hand. Maybe not the fire-roasted tomatoes but you can easily pick them up on the next trip to the grocery store. Here is what you need to make this incredible tasting fire-roasted tomato soup: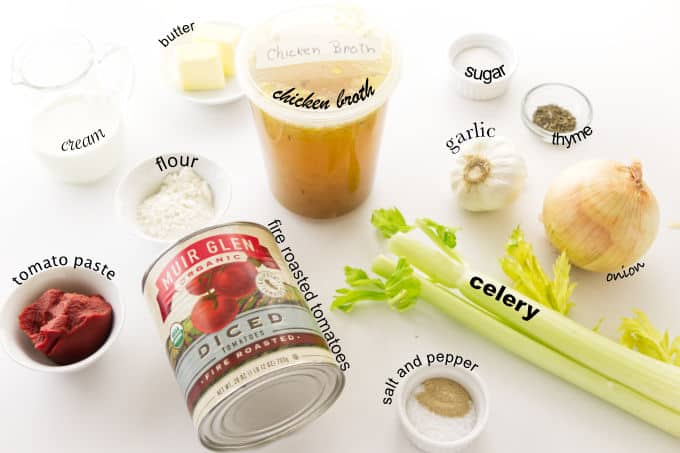 Butter
Onion
Celery
Garlic
Flour
Chicken broth
Tomato paste
Dried thyme
Sugar
Heavy Cream
Salt
White pepper
Add some crispy croutons and a drizzle of olive oil to finish it off! Or, add your favorite garnish maybe a dollop of sour cream and chopped herbs. How about a spoonful of pesto, or a swirl of cream and some cracked black pepper. There's lots of ideas and they are all good!
We have a nice inventory of thick, creamy soups recipes in our recipe index for you to drool over. Some of our favorites are, Roasted Butternut Squash Soup , Fresh Pea Soup St. Germain and Creamy Shrimp Bisque. Check out our recipes, you are sure to find something delicious!
Here's How to Make Fire-Roasted Tomato Soup:
We are using a can of fire-roasted tomatoes which makes this soup come together much quicker than roasting your own tomatoes. However, if you have the time and an abundance of fresh tomatoes to use, I say DIY in the oven. Here is a breakdown of our recipe. Be sure to scroll to the recipe card at the bottom of the post for ingredient amounts.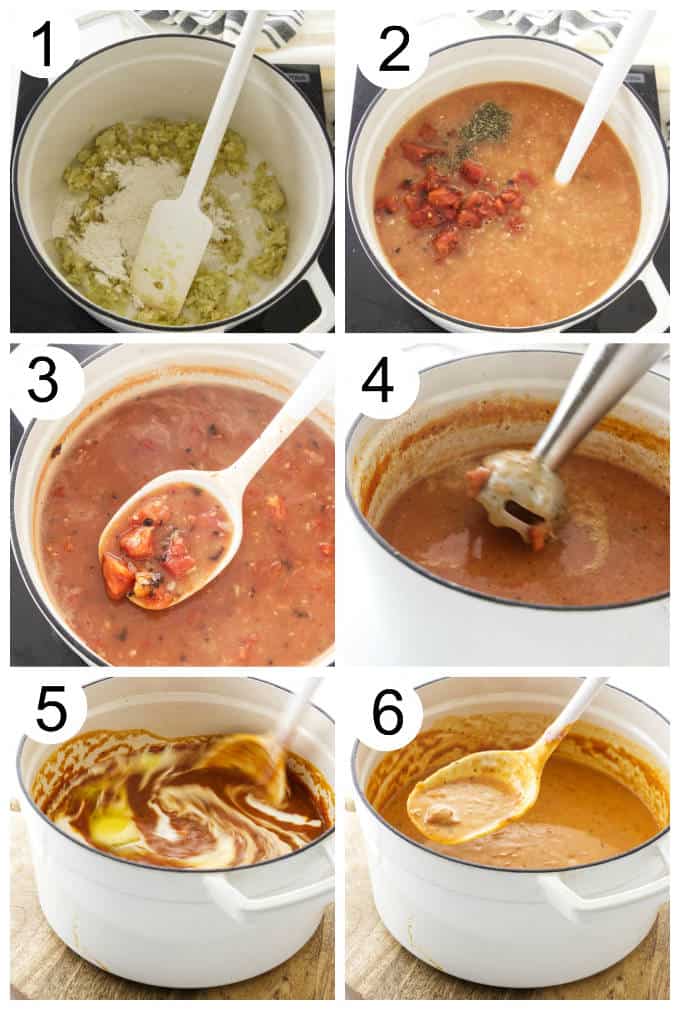 Saute the vegetables. Cook them over moderate heat until soft but do not brown them. This will take about five minutes.
Add the flour. Reduce the heat to low and sprinkle flour over the vegetable and stir until the flour has been absorbed, cooking the mixture for a couple of minutes.
Add the liquid. Pour in the chicken broth and add the tomatoes, tomato paste, dried thyme and the sugar.
Cook the soup. Increase the heat to medium and bring the soup to a boil. Cover the pot half-way and cook the soup for 15 minutes. Then, transfer half of the soup into another pan and reserve.
Puree the soup. Use an immersion blender or a regular blender to get the soup smooth. Return the reserved soup to the pot and stir to combine. Bring the soup back to a boil, then reduce the heat to low.
Add the cream. Stir in the heavy cream, salt and pepper. Be sure that the soup does not boil at this stage. Boiling can cause the soup to curdle.
Tips for great tomato soup
Sautéing the vegetables first will concentrate their flavors and enhance the soup.
The flour acts as a thickener. After you add it to the veggies, cook it for a couple of minutes before adding the liquid. This step will get rid of the 'raw' flavor in the flour.
Stir constantly while you add the liquid. This will help incorporate the flour evenly and prevent lumps.
Reduce the heat to low before adding the cream. Once the cream is in the soup, do not let it boil or it can curdle.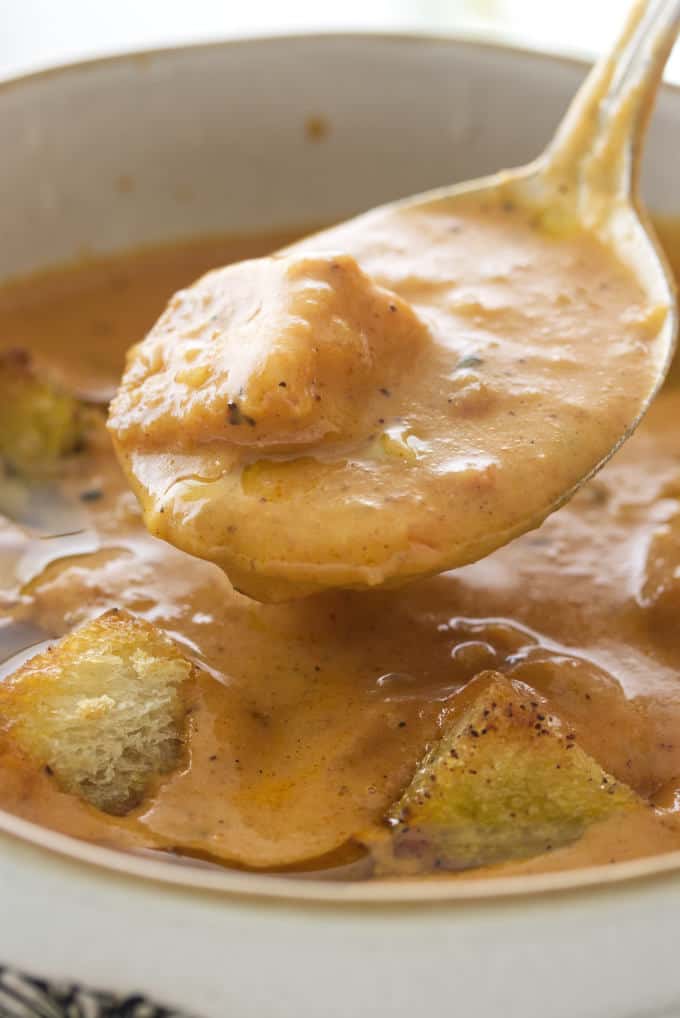 That's it! Ladle the soup into pretty soup bowls, garnish and enjoy! This fire-roasted tomato bisque is soooo good, now I am wishing I had made a double batch!
Soups, chowders and stews all make great one-pot meals that are delicious any time of the year. We are always looking for new soup ideas and would love your feedback as to your favorite soup.
SOME OTHER RECIPES WE ARE SURE YOU WILL LOVE:
Roasted Cauliflower Soup: Roasting brings out the subtle sweetness of the cauliflower as the florets become lightly caramelized. Purred in a blender then adding a bit of cream gives this soup a thick bisque-like goodness.
Wild Alaskan Smoked Chowder: Wild Alaskan Smoked Salmon Chowder is thick with smoked salmon, potatoes, carrots, and onions. The perfect lunch or dinner on a cold day.
Creamy Potato Leek Soup with Chive Blossoms: The delicate flavor of leek is a perfect match for potatoes in this Creamy Potato Leek Soup. Chive blossoms elevate this soup to a beautiful and sophisticated meal and makes a stunning appearance on your table.
CONNECT WITH SAVOR THE BEST!
Be sure to follow us on our social media accounts
Facebook * Instagram * Pinterest * Twitter * Youtube
Did you make this recipe? We would love to hear from you. Drop us a comment below.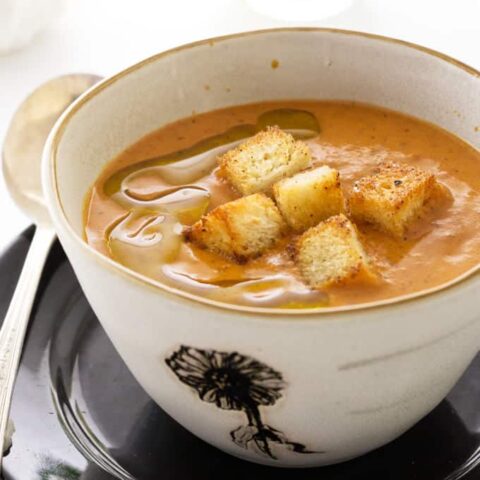 Fire Roasted Tomato Bisque
Yield: 6 Servings
Prep Time: 5 minutes
Cook Time: 25 minutes
Total Time: 30 minutes
Classic tomato soup is an all-time favorite and our Fire-Roasted Tomato Bisque takes it to the next level! Thick and creamy with chunky fire-charred bits of tomato makes this another great recipe to add to your recipe inventory.
Ingredients
4 tablespoons butter, divided
1 medium onion, finely chopped
2 celery stalks, finely chopped
4 garlic cloves, finely chopped
3 tablespoons all-purpose flour
4 cups chicken broth, homemade or canned
1 large can (28 ounces) diced fire-roasted tomatoes
3 tablespoons tomato paste
1 teaspoon dried thyme
1 tablespoon sugar
1/2 cup heavy cream
1/2 teaspoon salt
1/4 teaspoon ground white pepper
Olive oil
Croutons
Instructions
In a 6-quart Dutch oven or soup pot set over medium heat, melt 2 tablespoons of the butter. Add the chopped onion, celery, and garlic, stir to combine. Cook the vegetables, stirring occasionally, until they are soft but not browned, about 5 minutes.
Reduce the heat to low, and add the remaining 2 tablespoons of butter and when it has melted sprinkle the flour over the vegetables and stir, cooking for 1-2 minutes to incorporate the flour.
Add the chicken broth, tomatoes, tomato paste, dried thyme, and sugar. Increase the heat to medium and bring to a boil. Partially cover the pot and cook the soup, stirring occasionally until the vegetables are tender, for 15 minutes.
Scoop half of the soup into another pot and reserve. Using an immersion blender or a regular blender, purée the remaining soup. Return the reserved portion of soup to the pot, adjust the heat and bring to a boil, then reduce to low and stir in the remaining butter, salt/pepper and the heavy cream.
Ladle the soup into soup bowls, garnish with a drizzle of extra-virgin olive oil and croutons.
Notes
If you are unable to find canned diced tomatoes the best substitute would be canned whole tomatoes, just cut the reserved tomato into chunks before adding them back into the pureed portion.
A regular kitchen blender can be used to puree the soup. Process in batches and not over-fill the blender with the hot soup.
Once the cream has been added to the tomato mixture, do not allow to boil as it could cause the soup to curdle.
Recommended Products
As an Amazon Associate and member of other affiliate programs, I earn from qualifying purchases.
Blender By Cleanblend: Commercial Blender, Mixer, Smoothie Blender, 64 Ounce BPA Free Container, Stainless Steel 8 Blade Assembly, Variable Speed, Pulse, Tamper, Nut Milk Bag, Spatula, 3 HP 1800 Watts
Nutrition Information:
Yield: 6
Serving Size: 1
Amount Per Serving:
Calories: 222
Total Fat: 18g
Saturated Fat: 10g
Trans Fat: 1g
Unsaturated Fat: 7g
Cholesterol: 46mg
Sodium: 932mg
Carbohydrates: 13g
Fiber: 2g
Sugar: 6g
Protein: 3g
Nutrition information is a guideline only, is calculated automatically by third-party software, and absolute accuracy is not guaranteed.