The humble cauliflower strikes again in our easy recipe of Roasted Cauliflower Soup. Roasting brings out the subtle sweetness of the cauliflower as the florets become lightly caramelized. The roasted cauliflower is combined with fresh leeks, garlic, seasonings and broth. Puréed in a blender, then adding a bit of cream gives this soup a rich, thick bisque-like goodness.
This Roasted Cauliflower Soup is thick, creamy and undeniably delicious! Just add a crusty loaf of sourdough bread and a crisp salad for a complete meal!
What goes into our Roasted Cauliflower Soup?
This is a fantastic soup with tons of flavor! It is easy to make by roasting the cauliflower, sautéing the veggies and puréeing everything in a blender. Then, back into the soup pot to heat and simmer with cream. Cauliflower is the base of the soup and when it is roasted the color becomes rather dull. Adding smoked paprika does wonders for the color and also gives the soup a subtle smoky flavor. Ingredients added to the soup are:
One of the most appealing ways to present this soup, or any soup for that matter, is a good topping. We dusted each serving with paprika and added smoky bacon bits. Crispy fried leek rings are also added as a topping. Scroll down to the recipe card for easy instructions for the roasted cauliflower soup and how to make the crispy fried leeks for a soup topper.
All about cauliflower soup:
This soup is luxuriously creamy and rich. It is so thick, it is actually more of a bisque than a soup.
The cauliflower thickens the soup so there is no need for flour or cornstarch.
Cream adds a luxurious richness and depth to the soup
Cauliflower soup will last up to 4 days in the fridge.
You can freeze cauliflower soup for up to 6 months.
Tips for making roasted cauliflower soup.
Don't overcrowd the cauliflower on the roasting pan. If you pile too much cauliflower on a baking sheet then it will just steam instead of roast. The goal is to roast the cauliflower florets until they are golden brown and slightly caramelized. The roasting process brings out some sweetness and depth of flavor.
Don't burn the garlic. When you add the garlic to the pot, cook it just until it is fragrant. It only takes about 30 seconds to cook the garlic. If you cook it too long before adding liquid, it will burn and get bitter.
Don't overcrowd the blender. You will need to add some broth to the blender along with the roasted cauliflower. Make sure you only add enough broth to blend the cauliflower. You can add the rest of the broth after you transfer it back to the pot.
Turn the heat down when you add the cream. If you boil the soup after you add the cream then it will curdle. Make sure you turn the heat down when you add the cream.
For a dairy-free soup, substitute coconut cream.
For a low-fat version of this soup, substitute Greek yogurt for the cream.
What is the difference between a soup, a cream soup, a bisque, or a chowder?
Soup is a general term for a liquid-based dish and can include all forms of soups, broths and chowders.
Cream Soups:
By definition a cream soup has the cream added at the end of the cooking process. The soup must not get too hot or you risk the cream splitting. Also, cream is not the only type of thickener used in a cream soup. Alternatives to making a soup creamy are flour, potatoes or in our recipe in this post, cauliflower. The cream does not have to be a dairy cream. Coconut cream, coconut milk and other nut milks are excellent alternatives if you are on a dairy-free diet. Our Thai Pumpkin Soup is made with coconut cream and it is delicious and easy to make!
Bisque Soups:
A bisque soup is unique in that it adds the cream early in the process. And it has a lot of cream! The cream reduces slowly to make a very thick soup and ends with a smooth consistency. The word "bisque" is a French term referring to "cooked twice" and is best known using seafood and shellfish. Lobster bisque is one such well-known soup. Sometimes, roasted and pureed vegetables are also referred to as bisques. Our Creamy Roasted Red Kuri Bisque is a delicious example.
Chowder Soups:
This roasted cauliflower soup is thick and creamy. It actually has a mouth-feel much like a rich creamy bisque. The flavor is amazing and addictive! Plus it is easy to prepare and versatile enough for lunch or dinner. Try it, you will like it!
SOME OTHER RECIPES WE ARE SURE YOU WILL LOVE:
Creamy Potato Leek Soup with Chive Blossoms: The delicate flavor of leek is a perfect match for potatoes in this Creamy Potato Leek Soup. Chive blossoms elevate this soup to a beautiful and sophisticated meal and makes a stunning appearance on your table.
Split Pea and Ham Soup: Homemade Split Pea and Ham Soup is a classic comforting soup, perfect for the cold winter weather. Thick with heart-healthy split peas, chunks of smoky ham and lots of nutritious vegetables.
Minestrone Soup: A traditional Italian minestrone soup recipe that is full of vegetables and flavor.
CONNECT WITH SAVOR THE BEST!
Be sure to follow us on our social media accounts
Facebook * Instagram * Pinterest * Twitter * Youtube
Did you make this recipe? We would love to hear from you. Drop us a comment below.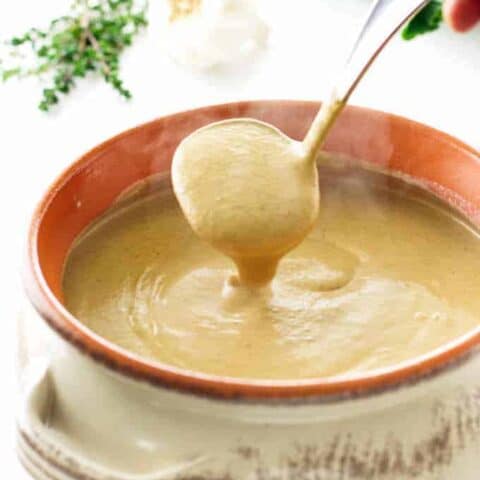 Roasted Cauliflower Soup
Yield: 6 servings
Prep Time: 15 minutes
Cook Time: 50 minutes
Total Time: 1 hour 5 minutes
Roasting brings out the subtle sweetness of the cauliflower as the florets become lightly caramelized. The roasted cauliflower is combined with fresh leeks, garlic, seasonings and broth. Purred in a blender then adding a bit of cream gives this soup a thick bisque-like goodness.
Ingredients
1 large head cauliflower, (about 2-1/4 pounds) cut into florets
2 tablespoons olive oil
Sea salt
Freshly ground black pepper
6 strips of lean bacon
3 leeks, sliced white and light green parts, reserve 1/2 cup
4 cloves garlic, minced
5 cups chicken broth-homemade or canned, divided
1 tablespoon smoked paprika
2 tablespoons thyme leaves
1 cup heavy cream
Fried leek rings:
1/4 cup vegetable oil
Paprika
Reserved bacon bits
Instructions
To Roast the Cauliflower:
Preheat the oven to 425°F and spray two baking sheets with non-stick oil. Place the cauliflower florets in a large bowl and drizzle with olive oil. Spread the cauliflower equally on the baking sheets and season with salt and pepper. Transfer to the oven and roast for 20-25 minutes until the florets are tender and the edges lightly caramelized. Remove from the oven and cool slightly.
For the Soup:
In a Dutch oven or large pot set over medium heat add the bacon and cook until crisp. Remove and drain on a paper towel-lined plate. When cool, cut/chop into bits and reserve.
Drain off all but 2 tablespoons of the bacon drippings; then add all but 1/2 cup of the leek slices and cook until golden about 2-3 minutes.. Add the garlic and cook just until fragrant.
Transfer the mixture to a standard blender or a food processor. Add the roasted cauliflower, 3 cups of the chicken broth, paprika and the thyme leaves. Process to a smooth puree, then return to the Dutch oven.
Stir the remaining chicken broth into the soup, increase the heat to high and bring the soup to a boil then immediately reduce the heat to low and whisk in the cream, taste and adjust seasoning if necessary. Cover the soup pot and simmer for 15 to 20 minutes.
Fried Leek Rings:
Heat the oil in a small skillet set over medium-high until hot and shimmering. Working in batches add a portion of the reserved leek rings. Be cautious as they may sizzle and sputter.
Cook until they turn crisp and golden then remove with a fork or tongs and drain on a paper towel lined plate. Continue until all the leek rings are crisp and golden.
To serve:
Ladle the soup into bowls, sprinkle with paprika and add reserved bacon bits and crisp leek rings. Enjoy!
Notes
For a large 2+ pound cauliflower you will need to use two baking sheets to keep the florets from crowding. Over crowding the pan will cause the cauliflower to steam rather than roast.
This roasted cauliflower soup is gluten-free and can also be made vegetarian by eliminating the bacon and substituting a vegetable broth for the chicken broth.
For a dairy-free soup, substitute coconut cream for a fantastic flavor!
For a low-fat, tangy version substitute the heavy cream for 1 cup of Greek yogurt.
Recommended Products
As an Amazon Associate and member of other affiliate programs, I earn from qualifying purchases.
Nutrition Information:
Yield: 6
Serving Size: 1
Amount Per Serving:
Calories: 345
Total Fat: 33g
Saturated Fat: 12g
Trans Fat: 1g
Unsaturated Fat: 19g
Cholesterol: 60mg
Sodium: 1096mg
Carbohydrates: 7g
Fiber: 1g
Sugar: 3g
Protein: 7g
Nutrition information is a guideline only, is calculated automatically by third-party software, and absolute accuracy is not guaranteed.