Our Southwest Black Bean-Chicken Soup is loaded with beans, chicken and a rich broth that has a little heat to it. This is a big flavor-punch soup! Team this up with our cornbread mini-muffins that are moist and tender with crisp crusts and you have a perfect dinner for these cool nights.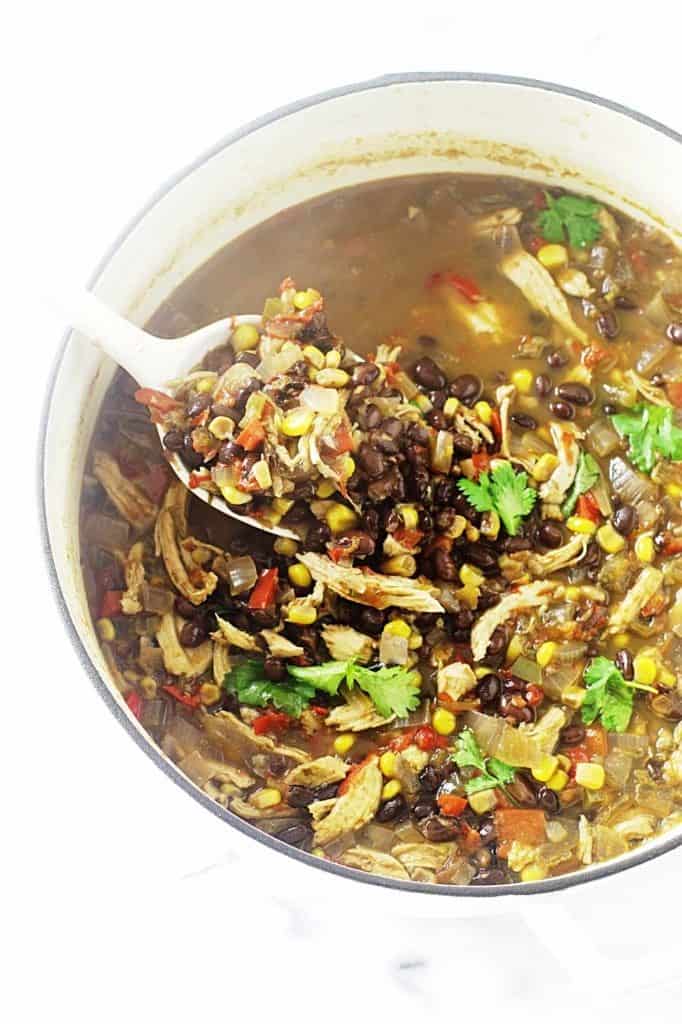 The days are getting shorter, the nights are getting cooler and there is a nip in the air. We fired up our wood stove for the first time in five months and enjoyed the warmth and fragrance of the cedar logs. It is the time of the year we start thinking of hearty, healthy soups, chowders and stews that are so satisfying and full of nutrition.
Beans of any variety are always a healthy and nutritious choice and can be included in any meal. Just one cup of black beans provides us with a whopping 15 grams of protein and 15 grams of fiber. That is significant when you consider it is one-third of our daily protein requirement and half of our daily fiber requirement.
We used the dried black beans to make this chowder but the canned beans would be just as nutritious and also would be a little bit of a time saver. Personally, I prefer to use the dried beans, they take less storage space in the pantry than canned beans, they are more budget-friendly and I can cook them to the done-ness of our preference. No mushy beans for me!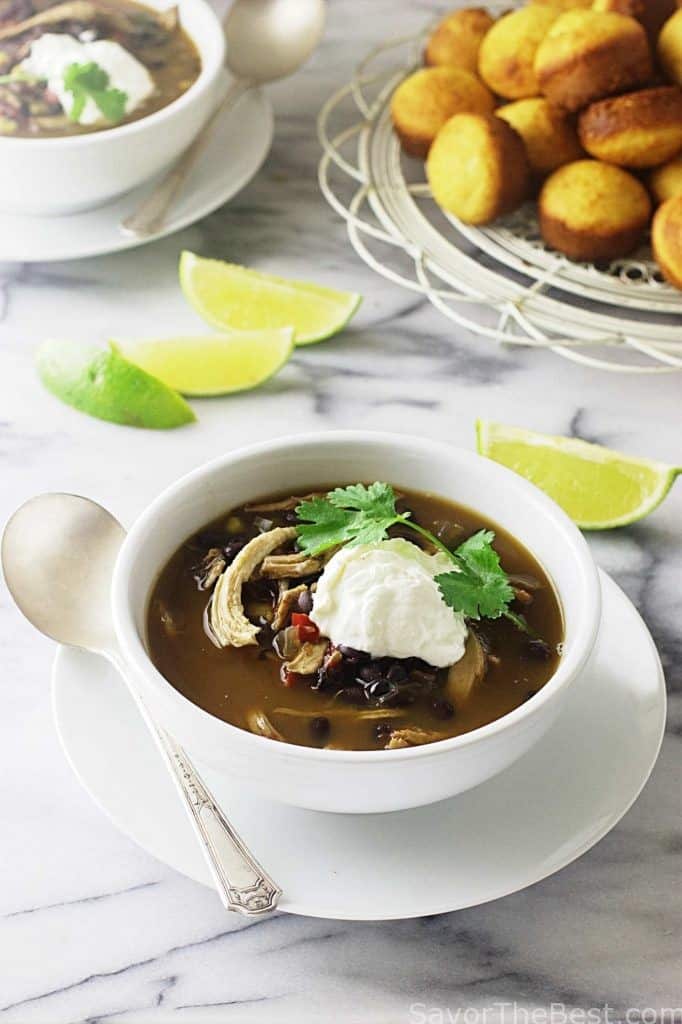 After an overnight soaking, the beans were cooked for 30 minutes, then we added the diced tomatoes, chicken broth, onions, garlic, red bell pepper, chipotle chili and the dried seasonings. Everything was simmered together for an hour until those beans were tender but still firm. Then we added the defrosted corn and the shredded chicken and simmered it all just long enough to heat through and let all those flavors meld together.
While the soup was simmering that last 30 minutes, we stirred up a batch of cornbread mini-muffins. You are going to love these golden nuggets that are soft on the top yet they have a crisp little shell on the bottom and outside edges and they are moist and fluffy inside.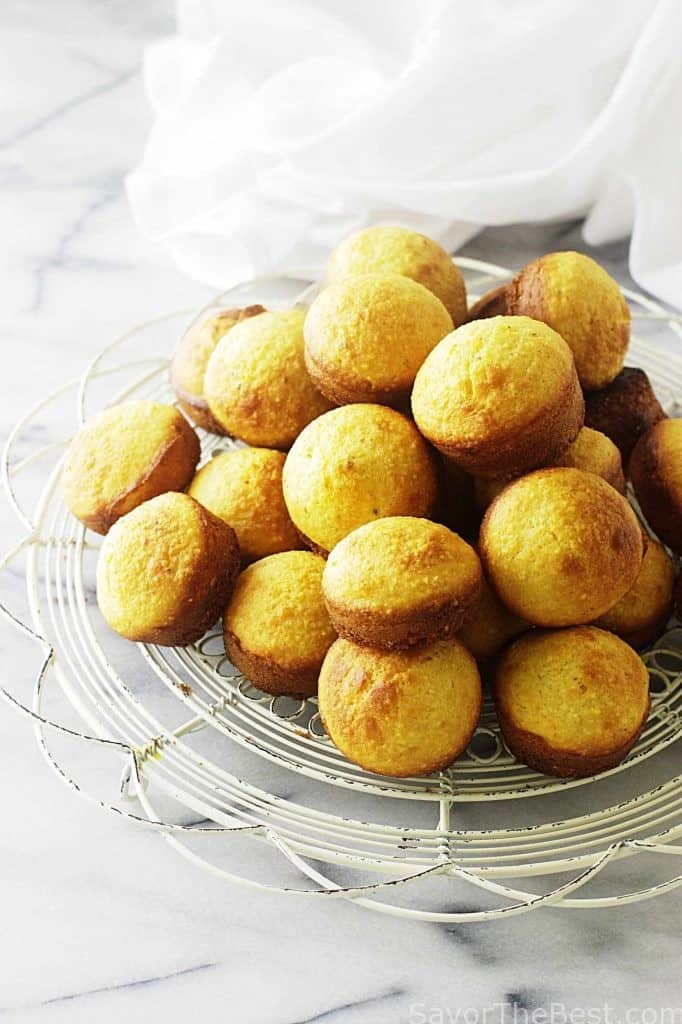 We used medium-grind cornmeal and white spelt flour to make these little gems but it is the magic of the cream-style corn and yogurt that makes them so moist and tender. I love the taste of those little bits of corn studded throughout each one. These cornbread mini-muffins taste amazing and are perfect paired with a bowl of this hearty bean soup.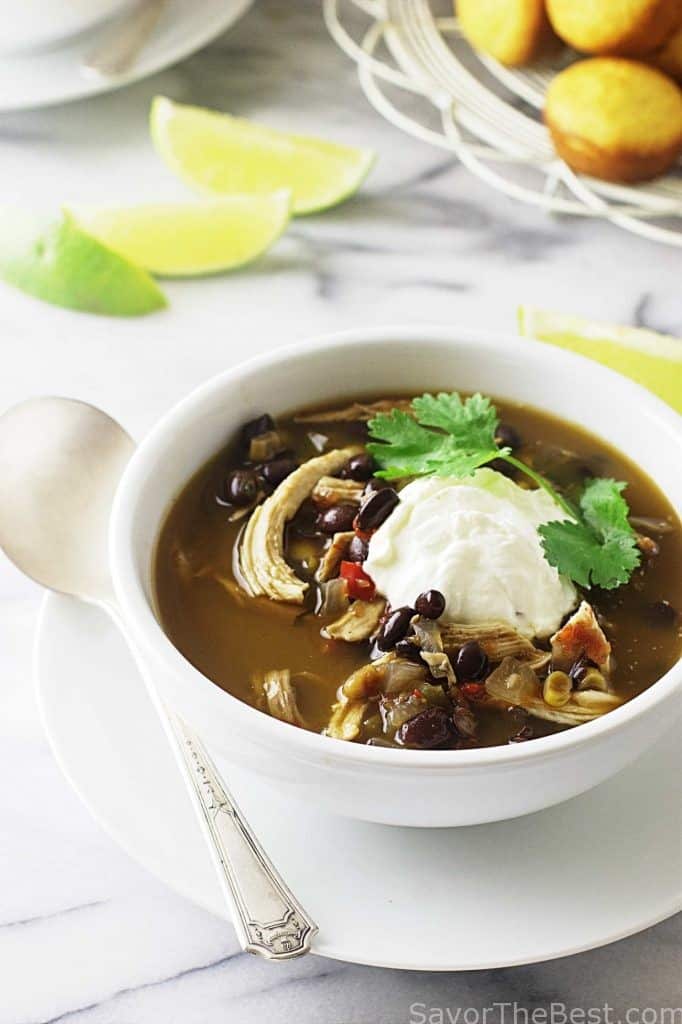 There is flavor in every bite of this soup with the back beans, shredded chicken, corn, spices and fresh herbs, plus a little heat from the chipotle chilis. And, this soup has even more flavor-punch the next day!
More soup/chowder recipes you may like: Roasted Tomato-Garlic Soup Corn and Shrimp Chowder Smokey Split-Pea Soup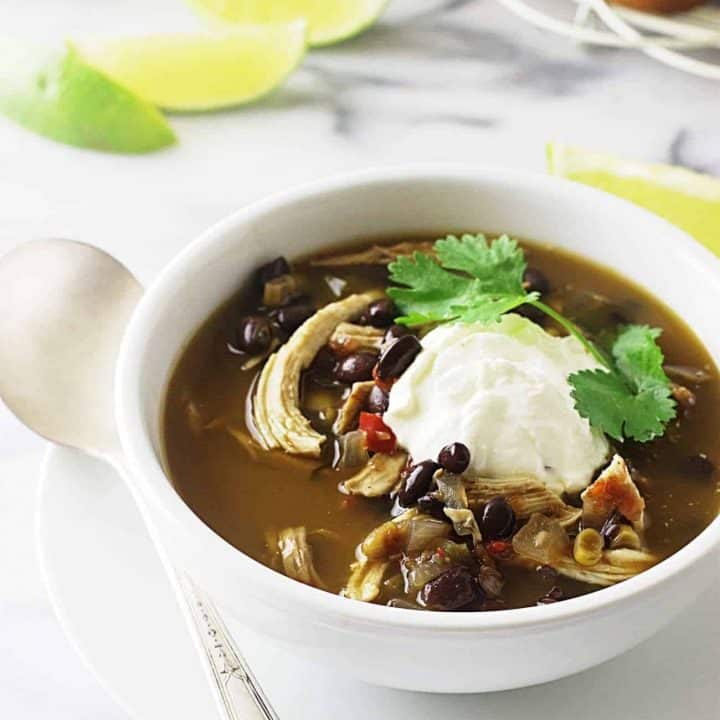 Southwest Black Bean-Chicken Soup
Cook Time:
2 hours
30 minutes
Total Time:
3 hours
30 minutes
This Southwest Black Bean Soup is chock full of black beans, shredded chicken and corn. There is huge flavor from the spices and fresh herbs, plus a little heat from the chipotle chilis. And, this soup has even more flavor-punch the next day! The cornbread mini-muffins are fluffy and moist inside and crisp on the outside, a perfect accompaniment for this nutritious soup.
Ingredients
For the Southwest Black Bean-Chicken Soup:
1 pound dried black beans
6 cups chicken broth
2 cans (14 ounces each) diced tomatoes
1 large onion, chopped
4 garlic cloves, minced
1 red bell pepper, coarsely chopped
1 canned chipotle chili, pureed (see Notes)
1 teaspoon salt
1/4 teaspoon black pepper
2 teaspoons cumin powder
1 teaspoon chili powder
1 teaspoon dried Mexican spice mix
10 ounces whole-kernel corn, defrosted
2 cups cooked, shredded chicken breast (see notes)
2 tablespoons chopped fresh oregano
2 tablespoons chopped fresh cilantro
Sour cream and cilantro sprigs for garnishment
For the Cornbread Mini-Muffins:
2 eggs
1/2 cup oil
1/2 cup yogurt
1 cup cream-style corn
1 cup yellow cornmeal
1 cup white spelt flour or regular all-purpose flour
2 tablespoons sugar
1 tablespoon baking powder
1/4 teaspoon baking soda
1 teaspoon sea salt
Instructions
For the Southwest Black Bean-Chicken Soup:
Sift through the dry beans to remove any small bean-size rocks. Place the beans in a bowl or pot, cover with cold water, and allow to soak overnight. Drain the beans and rinse them in a colander.
Add the soaked beans to a large soup pot or Dutch oven with enough cold water to cover them by 3-inches. Bring the pot to a boil, reduce the heat to low and simmer the beans for 30 minutes.
Add the tomatoes, chicken broth, onions, garlic, red pepper, chipotle chili and the dried spices. Bring to a boil, reduce the heat to low and simmer for 1 hour. Add the corn and the shredded chicken, taste for seasoning and adjust as needed. Bring the soup back to a boil, reduce the heat and simmer for an additional 30 minutes.
When the beans are tender, remove from the heat and stir in the chopped oregano and cilantro. Ladle into soup bowls and add a dollop of sour cream and a sprig of cilantro to each serving with mini-cornbread muffins.
For the Cornbread Mini-Muffins:
Preheat oven to 425°F spray mini-muffin pans with oil spray.
Beat eggs and oil on medium speed for 2 minutes until foaming. Whisk in yogurt and creamed corn until well combined. Set aside
Whisk together the cornmeal, flour, sugar, baking powder, baking soda and salt. Make a well in the center and add the wet mixture, stirring just to combine and no streaks of the cornmeal-flour mixture is visible.
Using a small-size cookie scoop fill each mini- muffin cavity of the prepared pan 2/3 full, transfer to the oven and bake for 13-15 minutes, remove from the oven, transfer the muffins to a wire rack to
Notes
Two chicken breasts, poached and shredded. I used the breast meat from a rotisserie chicken. When opening a can of chipotle chiles I usually only need one or two of them. The remaining chiles are pureed and portioned into 2-ounce lidded containers and frozen for future use.I used a 24-cavity mini-muffin tin, this recipe makes enough batter for 40 cornbread mini-muffins. Be sure to re-spray the muffin cavities again for the remaining batch.
Nutrition Information:
Yield:

18
Serving Size:

1
Amount Per Serving:
Calories:

157
Total Fat:

1g
Sodium:

333mg
Carbohydrates:

24g
Fiber:

5g
Protein:

14g