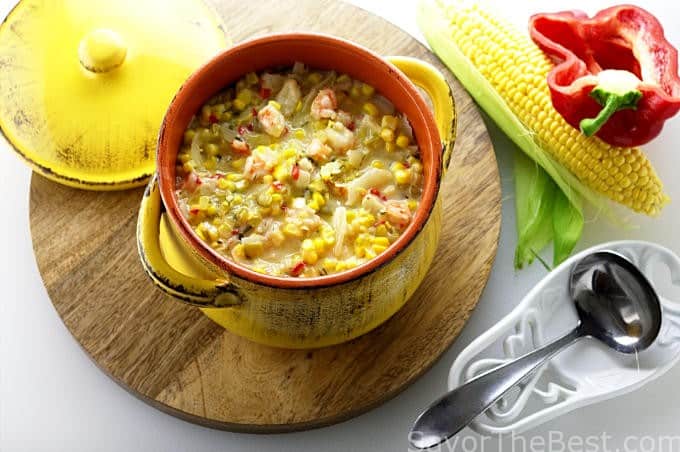 I bought eight ears of fresh corn at a roadside produce stand last week and today I bring you a hearty pot of corn and shrimp chowder. As long as there is still fresh corn in the farmers' markets it feels like it is still summertime. However, it may not last much longer as the days are cooler and Fall is in the air, signaling the end of corn season.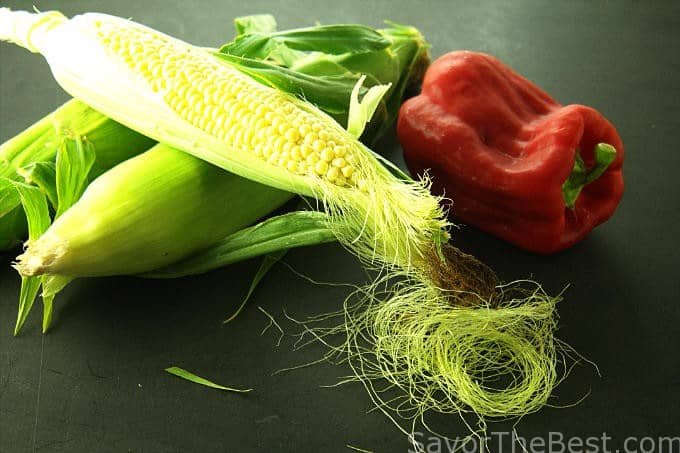 This chowder is thick and full of flavor, it is like a meal-in-a-bowl with bites of shrimp mixed into a creamy goodness of fresh bits of red pepper, leeks and potatoes and of course lots of fresh corn. The corn is crisp and you can just taste the freshness of it which is so much tastier than the frozen variety. Ladle this into a big soup bowl, top it off with a succulent shrimp and a sprig of dill. All that is needed to complete the meal is just a crusty chunk of bread and maybe a salad…..yum, so good!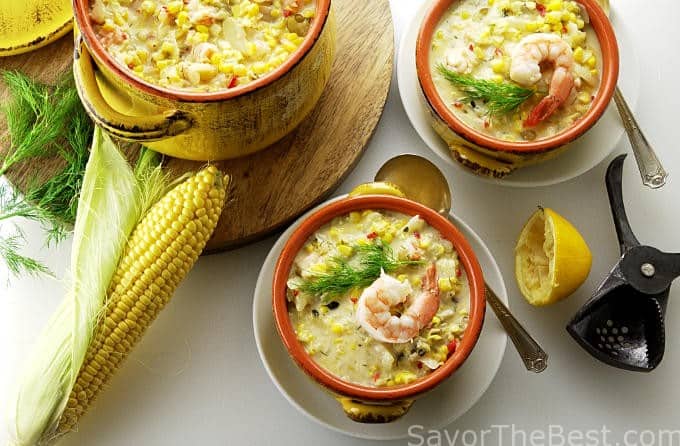 Don and I were on our way home from a nice little five day trip to the Canadian Rockies and we stopped along the roadside at a fresh produce stand where I bought this corn, red peppers and several varieties of squash. We stashed our loot in the car and spent the next three hours driving home where Don discovered he lost his wallet at the produce stand. Bummer, bummer, bummer!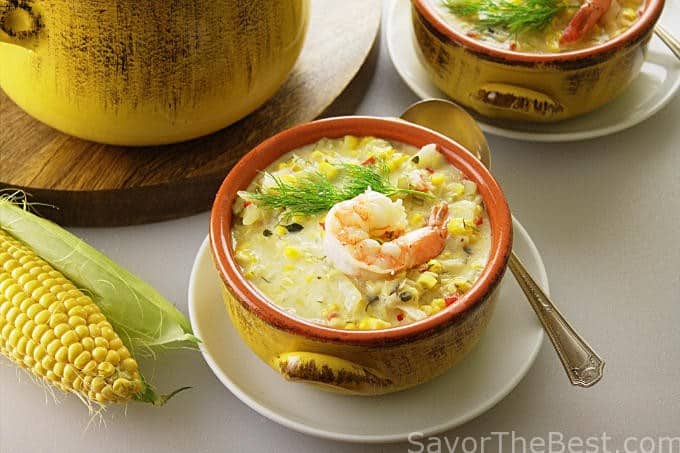 He immediately cancelled all his credit cards and early the next morning we headed back to the produce stand, without any expectation of finding that wallet. Oh, but happy day! It had been found and the clerk had it behind the counter. We were amazed, delighted and thankful.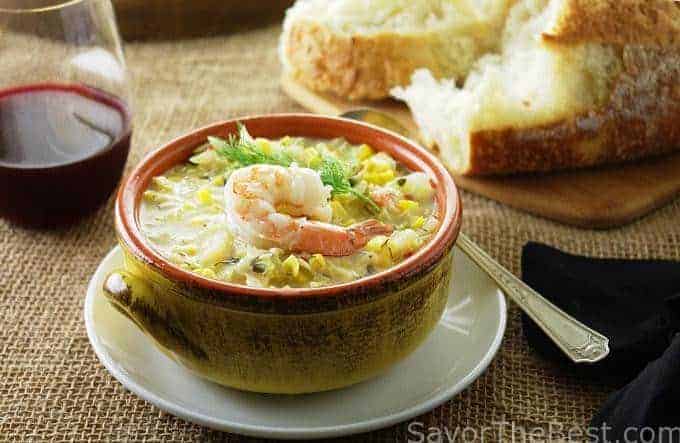 Still have fresh corn that you want ideas for? Try this Mexican Street Corn Salad or Chipotle Pork Skillet Dinner for some amazing ways to enjoy the end of the season's sweet fresh corn.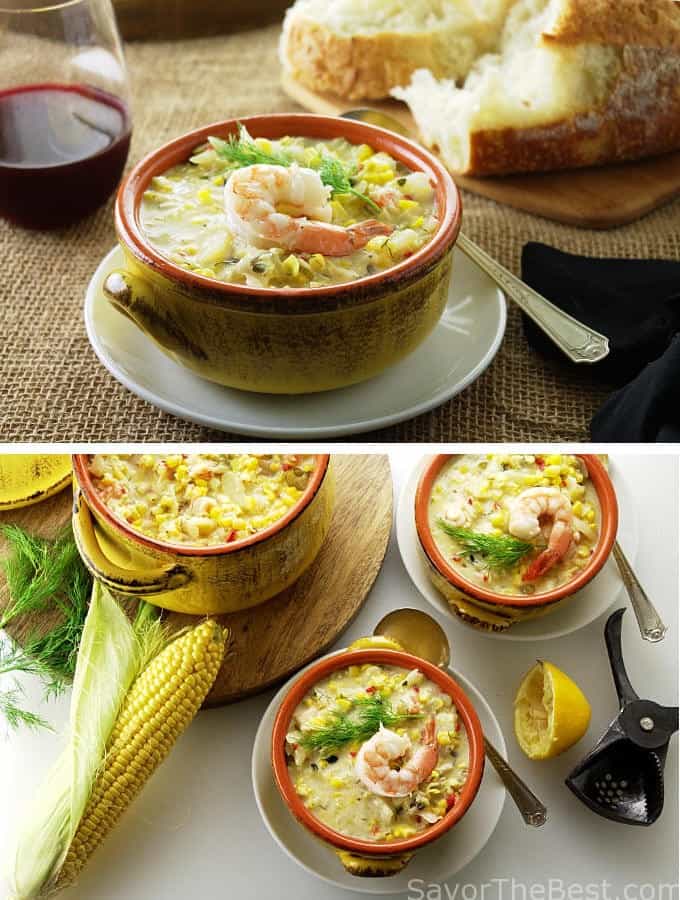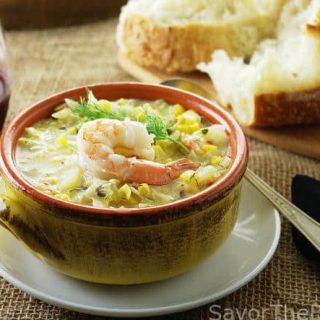 Corn and Shrimp Chowder
Yield: 6 servings
Prep Time: 30 minutes
Cook Time: 25 minutes
Total Time: 55 minutes
This recipe for corn and shrimp chowder is thick and full of flavor, it is like a meal-in-a-bowl with succulent bites of shrimp mixed with corn, red pepper, leeks and potatoes all in a creamy goodness.
Ingredients
2 tablespoons olive oil
1 medium leek, white and light green very finely chopped
1/2 cup finely chopped celery
1/2 cup finely diced red bell pepper
1 large potato, (12 ounces) chopped or large grated
3 cups chicken broth
1/2 cup dry white wine
1 1/2 cups whole milk
4 tablespoons soft butter
1/4 cup flour
2 cups of fresh corn kernels, or substitute frozen
1 teaspoon chopped fresh dill
1 teaspoon chopped fresh thyme
1/2 teaspoon sea salt
1/4 teaspoon freshly ground black pepper
8 ounces peeled, deveined shrimp and cut into small pieces
Fresh squeezed lemon juice from 1/2 of a lemon
Fresh dill for garnish
Instructions
Add the oil to a large stock pot or Dutch oven over medium-high heat and when it is hot add the chopped leek and celery, stirring frequently, cook about 5 minutes, until slightly softened. Add the red bell pepper, potatoes, chicken broth, wine and milk. Bring to a boil, reduce the heat to low and cook for 5-8 minutes.
In a small dish, add the softened butter and the flour and mash them together with the back of a spoon to make a paste. Whisk the paste into the soup pot, raising the heat back to medium-high and cook for 2 minutes while continuing to whisk. Add the corn kernels, dill, thyme, salt and black pepper. Bring the chowder back to a brisk boil, reduce to simmer and cook for 8 to 10 minutes. Add the shrimp and turn off the heat, allowing the shrimp to cook in the hot chowder.
Just before serving, squeeze the juice from the lemon over the top and stir to combine. Ladle into soup bowls, and serve piping hot with shrimp and dill garnishment.
Nutrition Information:
Yield: 6
Serving Size: 1
Amount Per Serving:
Calories: 336
Total Fat: 16g
Sodium: 509mg
Carbohydrates: 36g
Sugar: 7g
Protein: 12g