Our recipe for Thai Butternut Squash Soup is thick and creamy, with a bold, vibrant flavor. Roasting the vegetables brings out the sweetness in the soup, while fresh ginger, red curry paste and a chili oil garnish add that spiciness we love about Thai cuisine.
Roasted butternut squash soup is the ultimate fall soup, and our Thai version is brimming with extra flavor from coconut and Thai seasonings! And, we don't stop with the soup itself. The goodness continues with the tasty garnishes that add texture and even more YUM.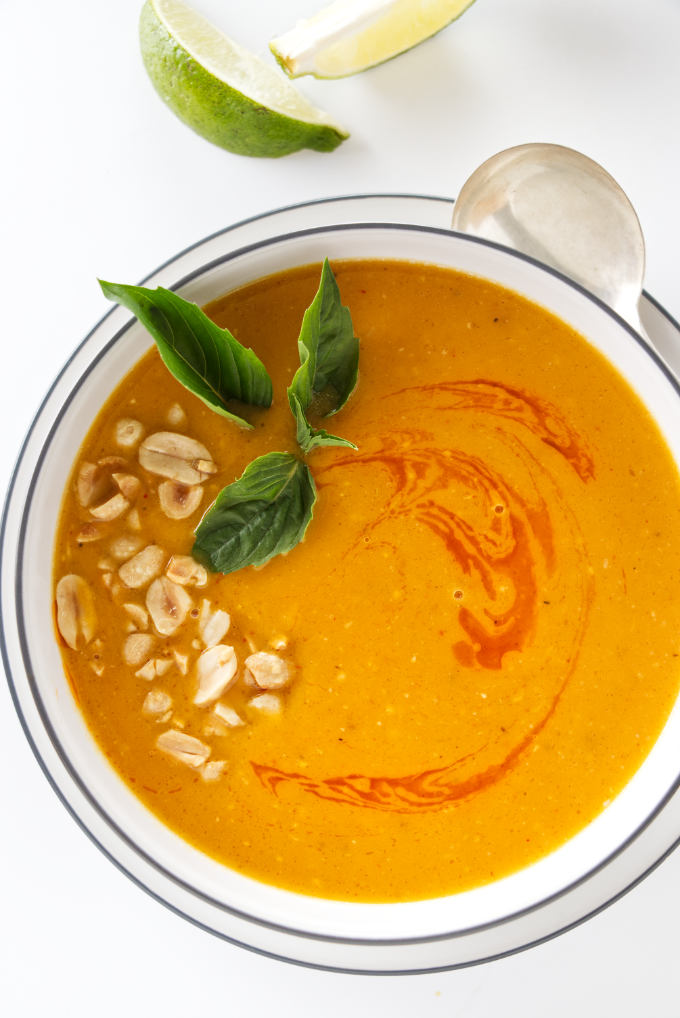 Top this butternut squash ginger soup with fresh Thai basil, a drizzle of chili oil and chopped peanuts. Go a step further and serve it with crispy, homemade garlic croutons. Oh, and we can't forget about a slice of freshly-baked spelt sourdough bread!
Once you try this Thai squash soup, it will become a soup season staple! Rich flavors of roasted butternut squash, roasted onion and roasted garlic give an extra sweetness to this soup that is enhanced even more by the sweet coconut cream.
Why You Will Love It:
Thai butternut squash soup is a delightful fusion of warm flavors that we can't get enough of! Just like this Yellow Thai Coconut Chicken Curry and our Thai Coconut Chicken Soup, "sweet" and "spicy" combine in the perfect way.
it is simple to make
it's wholesome, hearty and delicious
this is a healthy, dairy-free Thai butternut soup
it's a versatile dish you can serve for lunch or dinner, as a starter or main dish
Ingredients for Thai Butternut Squash Soup
Butternut squash
Yellow onion, peeled and cut in half
Whole head of garlic
Oil
Grated ginger
Chicken broth
Grated lemongrass (white part only)
Red curry paste
Garlic chili sauce
Fish sauce
Fresh lime juice
Kaffir lime leaves
Coconut cream
Garnishes: Lime wedges, fresh Thai basil, chopped peanuts, and red chili finishing oil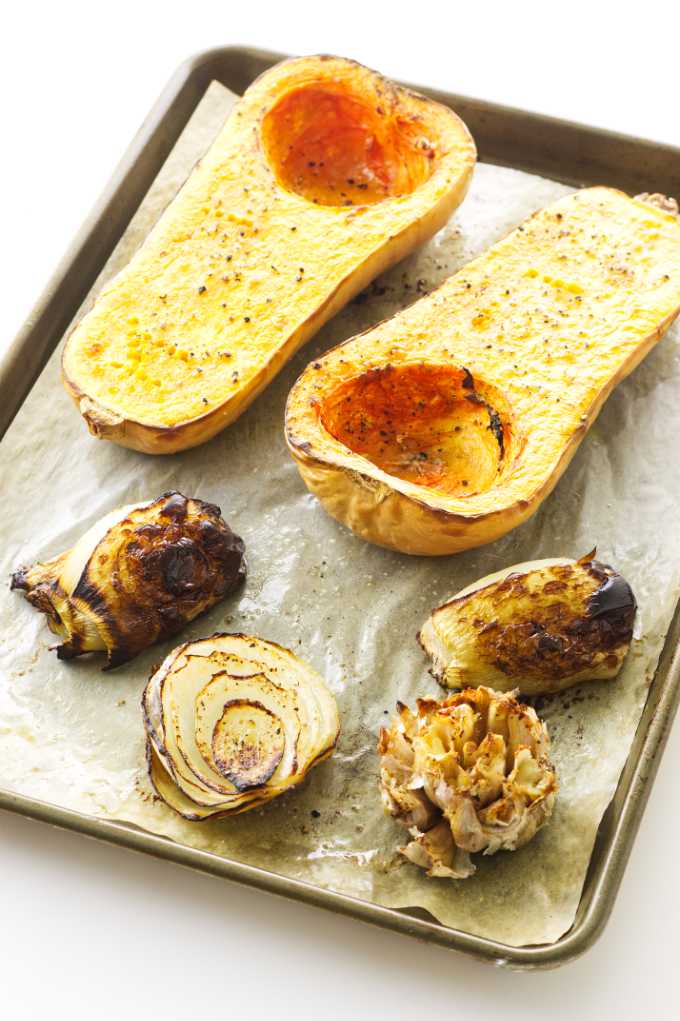 How to Make Thai Butternut Squash Soup with Coconut
The first step in this process is one you definitely don't want to skip: roasting the vegetables. It's what gives this butternut squash soup with coconut milk an extra rich depth of flavor. Think caramelized and toasted and nutty. If there's one way to infuse even more flavor into Thai butternut soup, it is by roasting the vegetables.
Bottom line: roasted veggies > non-roasted veggies. 😉
So, how do you make Thai curry butternut soup? Here's a brief look at the process (scroll to the printable recipe card all of the ingredients and instructions):
Roast the vegetables: After they finish cooking, allow the veggies to cool.

Purée the veggies: Use a blender to make a thick purée.

Make the soup: Start by sautéing the aromatics to bring out the flavor, then add the rest of the ingredients.

Serve the soup: Remove the kaffir lime laves and ladle spoonfuls of the soup into bowls. Serve with lime wedges and garnish each bowl with Thai basil leaves, chopped peanuts and a swirl of hot chili finishing oil.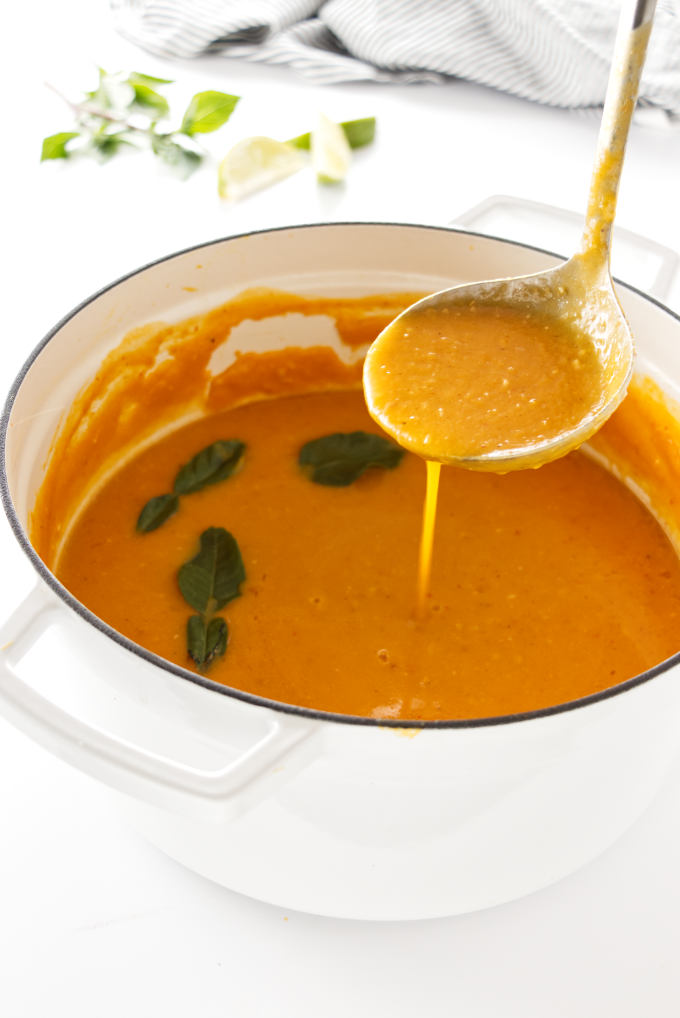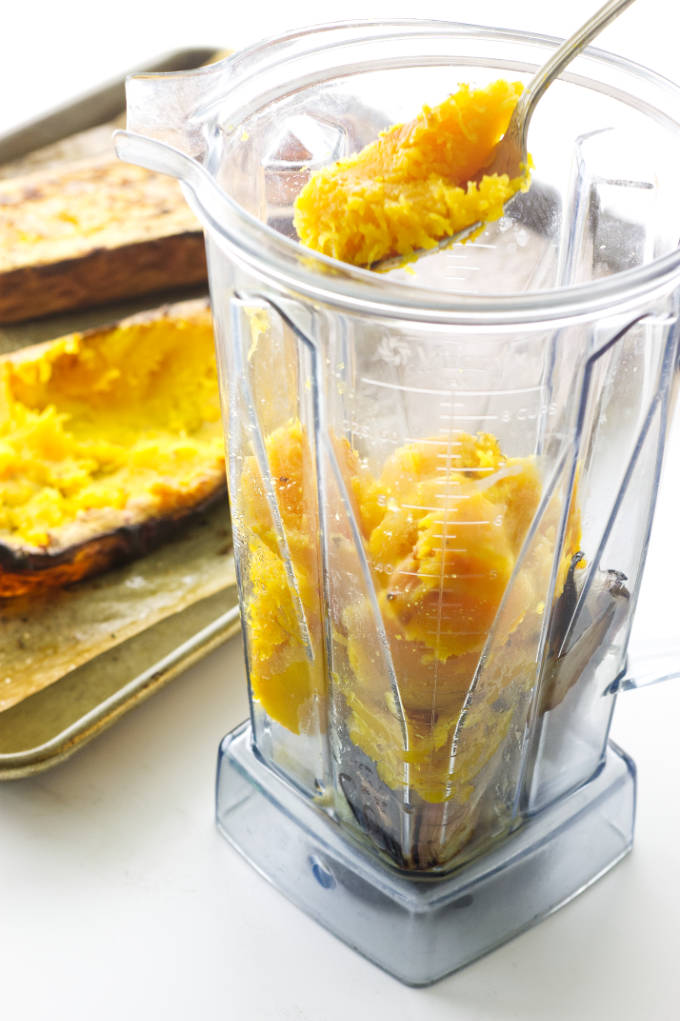 Tips for the best results
Roasting the butternut squash not only brings out its natural sweetness, but it also eliminates the need to peel it!

Do not overfill the blender bowl with the hot veggie mixture- process it in batches, if necessary.

If you do not have fresh lemongrass, feel free to substitute prepared lemongrass paste. Most produce sections carry it.

You can find packages of kaffir lime leaves in the produce section along with the fresh herbs.

When using the hot chili oil, be cautious with it as it is very spicy! A few drops adds a lot of zing. You can find it in the Asian section of most grocery stores or on Amazon.
Thai roasted butternut squash soup is creamy, dreamy, and so incredibly flavorful! From the sweet roasted butternut squash to the spicy red curry paste and creamy coconut milk, each ingredient plays its own unique role to make this butternut squash ginger soup recipe a delight!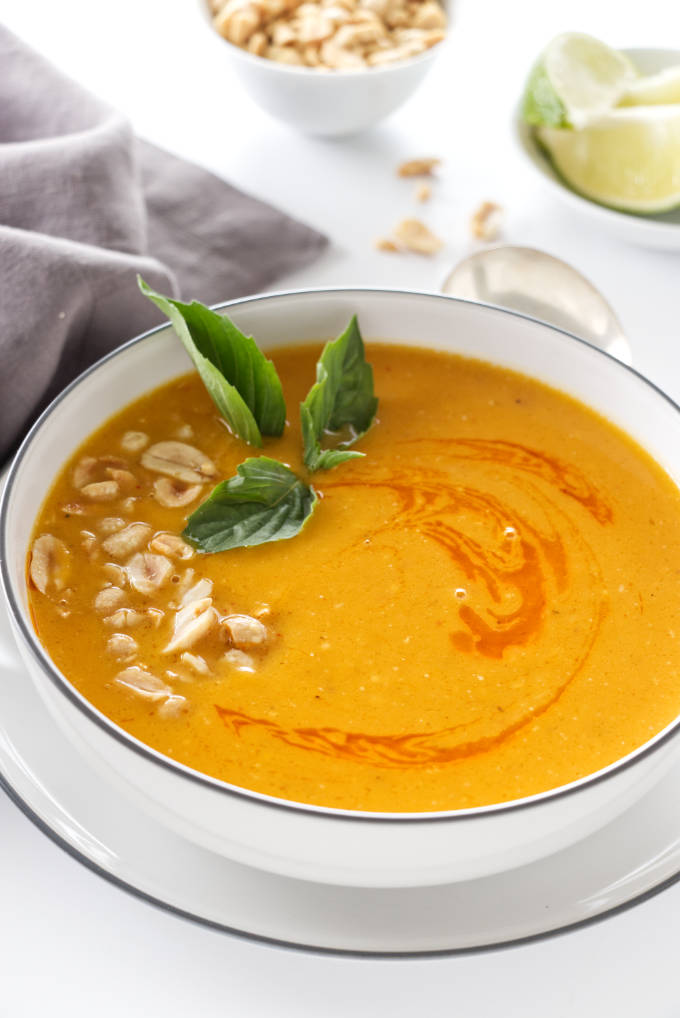 Some Other Recipes We Are Sure You Will Love:
Our Potato Broccoli Cheddar Soup has everything you will love in a potato soup! It is thick, creamy and cheesy with the added bonus of crunchy broccoli florets. Plus, we added bacon and everything is good with bacon!
Serve up a big bowl of our Fire Roasted Tomato Soup and you will be serving seconds, it is that good! It is thick, with bits of charred tomatoes which give it a bisque-like texture. Using canned tomatoes makes this an easy soup option.
Tender chunks of lean lamb and robust veggies with bold, flavorful tastes. This Vegetable and Lamb Soup is a hearty main-dish soup that tastes like a traditional Irish stew.
Connect With Savor the Best:
Please follow us on our social media accounts
Facebook * Instagram * Pinterest * Youtube * Twitter
Did you make this recipe? We would love to hear from you. Drop us a comment below.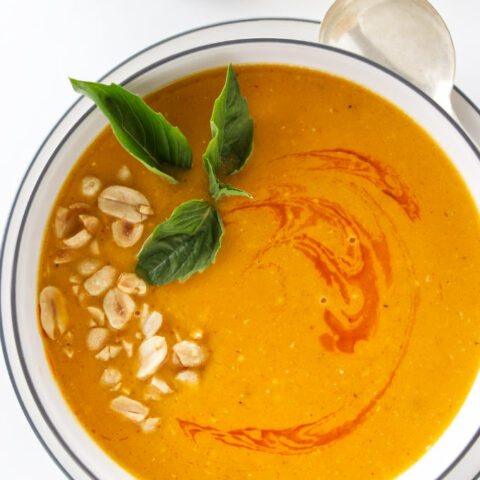 Thai Butternut Ginger Soup
Total Time:
1 hour
15 minutes
The magic of roasting brings out the sweetness of this vibrant Thai butternut ginger soup. Thick and spicy with fresh ginger, red curry while the coconut cream adds a creamy texture. Garnished with fresh Thai basil, chopped peanuts and a chilli finishing oil for some zing.
Ingredients
1 butternut squash, 3 to 3-1/2 pounds
1 large yellow onion, peeled and cut in half
1 garlic head
3 tablespoons oil, divided
3 tablespoons grated ginger
6 cups chicken broth, divided
2 tablespoons grated lemongrass, white part only (see notes)
1 tablespoon red curry paste
1 tablespoon garlic chili sauce
3 tablespoons fish sauce
2 tablespoons fresh lime juice
2-3 kaffir lime leaves (optional)
1 can (15oz) coconut cream
Lime Wedges
Fresh Thai Basil
Chopped peanuts
Red chili finishing oil
Instructions
Roast the Vegetables:
Preheat the oven to 425°F and line a baking sheet with parchment paper.
Place the butternut squash on the baking sheet, cut side up, with the onion. Cut 1/2-inch off the garlic, drizzle with oil and wrap in foil.
Brush the flesh of the squash and the onions with oil and sprinkle with salt and pepper. Transfer to the oven and roast until the vegetables are tender, about 45-50 minutes. Remove from the oven and allow to cool.
When the vegetables are cool enough to handle, spoon the squash into a blender bowl along with the onions. Unwrap the garlic and pick out the cloves and place them into the blender bowl. Add 2 cups of the chicken broth and turn the machine on to low, gradually increasing the speed.
Process the vegetables to a thick purée adding additional chicken broth if needed. When smooth and creamy, remove the container from the machine and reserve.
Make the Soup:
Heat the remaining 2 teaspoons of oil in a 6-quart Dutch oven or heavy bottomed pan, set over medium heat. Add the ginger, lemongrass and red curry paste, sauté for 1-2 minutes stirring frequently.
Pour in the puréed vegetables and stir in the remaining chicken broth, chili-garlic sauce, fish sauce, lime juice and the kaffir lime leaves, if using. Bring the soup to a low boil, then reduce the heat to low, stir in the coconut cream and simmer for 10 minutes.
To Serve:
Remove and discard the kaffir lime leaves and ladle the soup into bowls. Serve with lime wedges and garnish each serving with Thai basil leaves, chopped peanuts and a swirl of hot chili finishing oil.
Notes
Roasting the butternut squash eliminates the need of peeling it and also brings out the sweetness of the squash.
Do not overfill the blender bowl with the hot vegetable mixture, if necessary process in batches.
Fresh lemongrass can be substituted with a prepared lemongrass paste such as Gourmet Gardens usually found in most produce areas.
Packages of kaffir lime leaves can be found in the produce section along with various herbs.
Hot chili oil is very spicy and a few drops adds a lot of zing. It is available in the Asian section of most grocery stores.
Nutrition Information:
Yield:

8
Serving Size:

1
Amount Per Serving:
Calories:

191
Total Fat:

13g
Saturated Fat:

3g
Trans Fat:

0g
Unsaturated Fat:

9g
Cholesterol:

21mg
Sodium:

1552mg
Carbohydrates:

12g
Fiber:

2g
Sugar:

3g
Protein:

7g
Nutrition information is a guideline only, is calculated automatically by third-party software, and absolute accuracy is not guaranteed.