This Roasted Butternut Squash Salad with Mixed Greens is a fall favorite at our house. With the holidays right around the corner, it is a perfect side or full-meal salad.
The shining star in this colorful salad is the perfectly roasted cubes of butternut squash. They are slightly firm with a creaminess to the bite that compliments the three varieties of crisp greens. Sweet dried cranberries, crunchy roasted pecans, and spicy red onion rings bring this seasonal salad to perfection.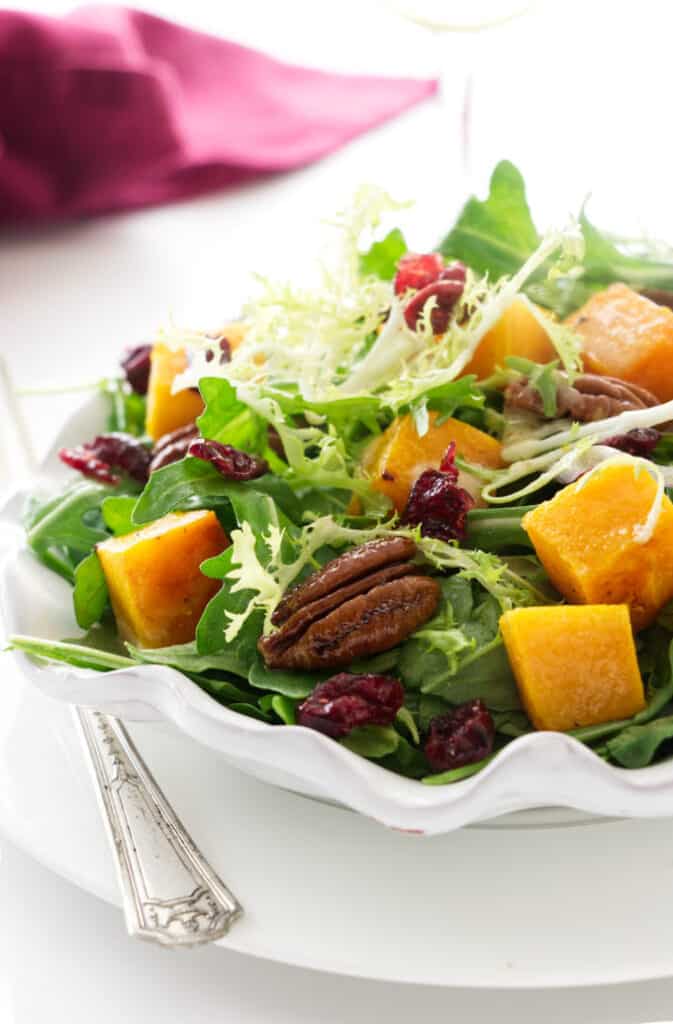 We tossed this great salad with a sweet and tangy Creamy Orange Champagne Vinaigrette.
Butternut squash is available year-round and this is a delicious, nutritious salad that adapts well with the different seasons. Try combining the roasted butternut squash cubes with cherries or blueberries in the spring, strawberries or melons in summer, figs and apples in the fall. Anything goes and bits of cheese is always acceptable! ♥️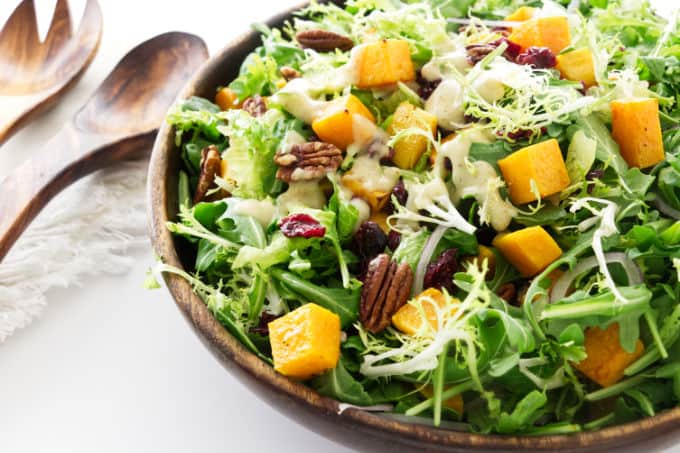 Roasted Butternut Squash Salad with Mixed Greens:
We love this green salad
It is a perfect fall salad with the nutty butternut squash.
The creamy, roasted butternut contrasts deliciously with the crunchy pecans and crisp fresh greens.
It is a nice change from ordinary, boring green salads.
Filling enough to be a full meal for a meatless dinner.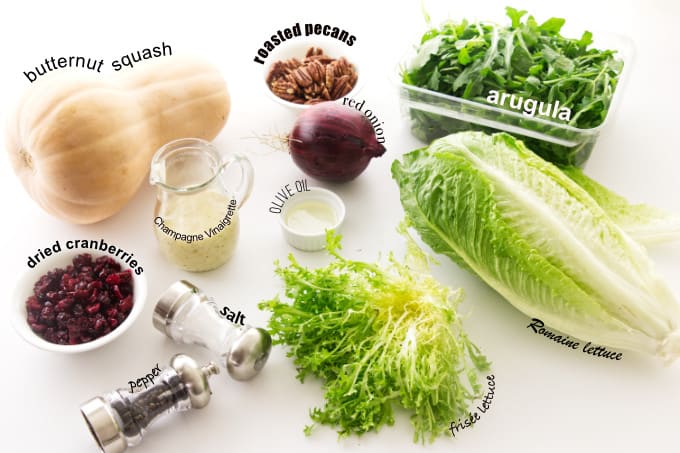 What goes in this salad.
I like to buy large butternuts with the long necks as they are easier to cut into cubes for roasting. Packages of pre-cut butternut squash are available in most major grocery stores which can be a short-cut if you are in crunch for time. Here's what you need to make this salad:
Butternut squash
Olive oil
Coarse salt
Freshly ground black pepper
2 cups romaine lettuce
5 ounces arugula
Frisée lettuce or Belgian endive
Red onion
Dried cranberries
Roasted pecans
Creamy Orange Champagne Vinaigrette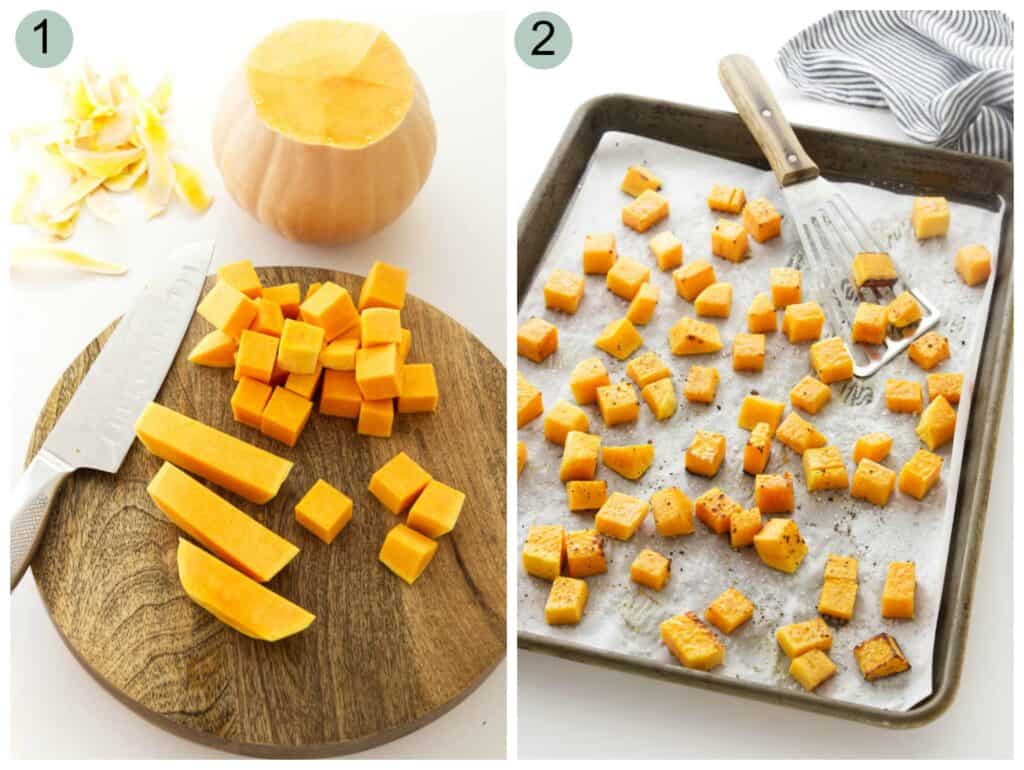 Tips for a great butternut squash salad
Choose a ripe butternut squash. Knock on the fattest end of the squash. If you hear a hollow sound, it is ripe. Also make sure the squash does not have any green stripes on the skin.
Cut the butternut squash in cubes that are all the same size so they finish cooking at the same time.
Increase the roasting time if you cut larger chunks of squash.
Do not over-cook the squash or it will become too soft and mushy. Check it with a fork and remove it from the oven when it is still firm but tender enough to pierce with a fork.
Mix things up with different types of lettuce for a variety of color, flavor and texture.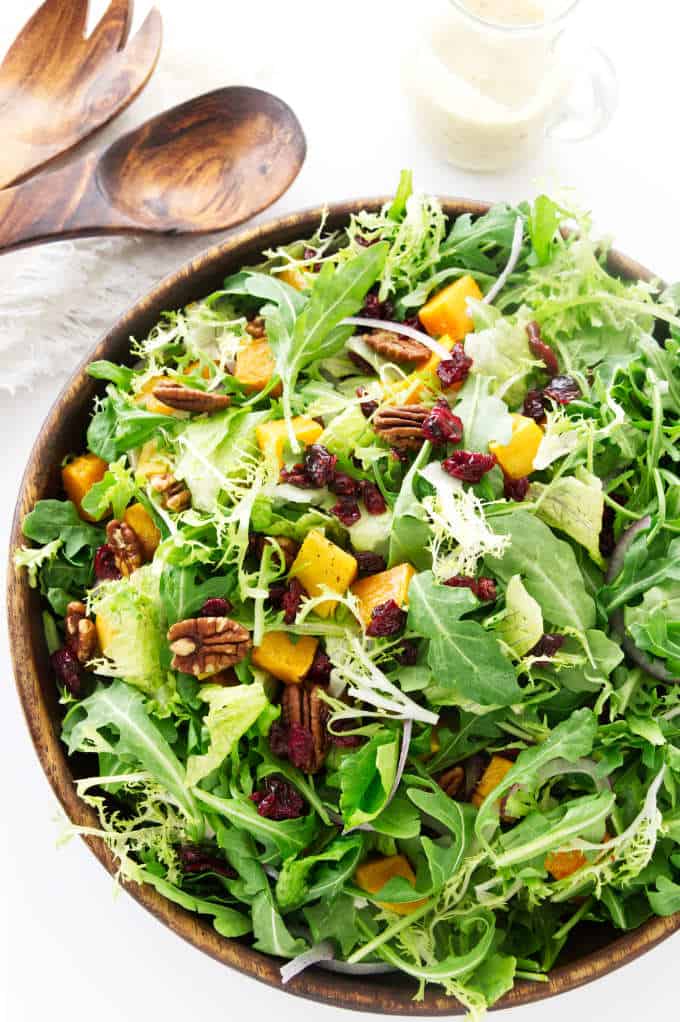 SOME OTHER RECIPES WE ARE SURE YOU WILL LOVE:
CONNECT WITH SAVOR THE BEST!
Be sure to follow us on our social media accounts
Facebook * Instagram * Pinterest * Twitter * Youtube
Did you make this green salad with butternut squash? We would love to hear from you. Drop us a comment below.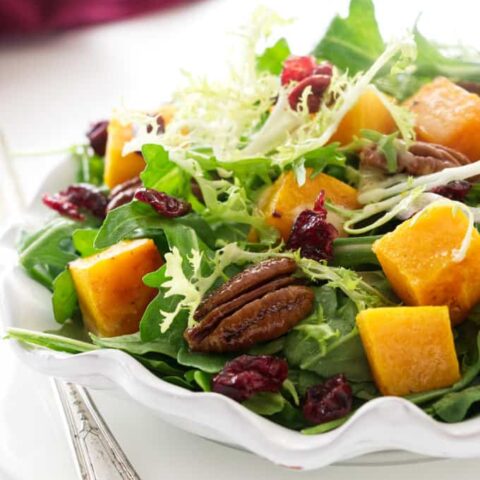 Butternut Squash Salad with Mixed Greens
Yield: 4-6 Servings
Prep Time: 15 minutes
Cook Time: 15 minutes
Total Time: 30 minutes
A colorful butternut squash salad with mixed greens, dried cranberries, roasted pecans and red onion rings. A creamy sweet/tangy vinaigrette toss the salad together.
Ingredients
2 pounds butternut squash
2 tablespoons olive oil
1/2 teaspoon coarse salt
Freshly ground black pepper
2 cups romaine lettuce
5 ounces arugula (1 container)
1 cup (packed) torn frisée lettuce or Belgian endive
1/4 medium red onion, thinly sliced
1 cup dried cranberries
1/2 cup roasted pecans
1/3 cup (5-6Tablespoons) Creamy Orange Champagne Vinaigrette
Instructions
Preheat the oven to 400°F and line a baking sheet with parchment paper
Peel the butternut squash and cut into 1/2-inch cubes, place in a bowl, drizzle with olive oil and toss to combine.
Spread the butternut cubes on the baking sheet, sprinkle with salt and pepper; then transfer to the oven. Roast for 12-15 minutes, until tender but still firm, stirring at the half-way point. Remove from the oven and allow to cool on the pan.
Rinse the salad greens in cold water and spin dry. Tear the romaine into bite-size pieces and add to a large salad bowl with the arugula, frisée or Belgian endive.
Add the cooled butternut squash cubes, onion slices, dried cranberries and the pecans.
Drizzle the vinaigrette on the salad and gently toss to combine.
Notes
If cutting larger cubes of butternut squash increase the roasting time. Do not over-cook the squash, they should be slightly firm when added to the salad.
Different varieties of lettuce and greens may be used. Choose the sturdy greens such as kale, spinach and romaine as the lighter lettuces are too delicate for this salad.
Nutrition Information:
Yield: 6
Serving Size: 1
Amount Per Serving:
Calories: 218
Total Fat: 7g
Saturated Fat: 1g
Trans Fat: 0g
Unsaturated Fat: 6g
Cholesterol: 0mg
Sodium: 248mg
Carbohydrates: 43g
Fiber: 8g
Sugar: 25g
Protein: 2g
Nutrition information is a guideline only, is calculated automatically by third-party software, and absolute accuracy is not guaranteed.