These bright red radishes are so beautiful and they make a delicious red radish salad. Actually, radishes are very versatile and can be used in more ways than just added to a crudités platter. Have you ever ate a bread and butter sandwich filled with thick slices of red radishes? I loved that sandwich when I was a kid.
Radishes are well known for being one of the easiest to grow garden vegetables. They are also one of the first to be harvested from the garden in the early Spring. We don't have to wait for Spring though as they are available all year in the grocery produce section. Or, you can plant and grow your own, the garden-seed section has a variety of choices in shapes and colors to choose from. Those long white ones called 'Icicles' are very good, they can grow almost to the size of a carrot.
This red radish salad is a nice refreshing salad change, it is crisp and crunchy and mixes nicely with the arugula greens. The lemon and garlic vinaigrette has a touch of honey that balances out the zing in the radish.
I used my mandoline slicer to make the radishes paper thin, plus a few ribbons of carrot to garnish it up. The mandoline slicer is a new addition to my kitchen that I have been playing with and so far I still have all my fingers. If you don't have a mandoline slicer a sharp paring knife works just fine and a vegetable peeler for the carrot ribbons.
Yield: 4 servings
Red Radish Salad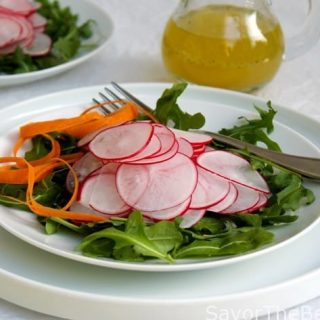 A crisp, crunchy red radish salad on arugula greens and garnished with carrot ribbons. The lemon-garlic vinaigrette has a touch of honey that balances out the zing in the red radish.
Prep Time 10 minutes
Total Time 10 minutes
Ingredients
For the Vinaigrette:
1 garlic clove, minced
1/4 cup fresh lemon juice
2 tablespoons honey
1/2 teaspoon sea salt
1/8 teaspoon freshly ground black pepper
1/2 cup olive oil
For the red radish salad:
2 large bunches of red radishes, trimmed and rinsed
1 long carrot, peeled
1-5 ounce container of baby arugula greens
Instructions
For the vinaigrette:
To a small dish or a pint jar, add the minced garlic, lemon juice, honey, salt and pepper. Whisk together and add the olive oil.
For the red radish salad:
Add the arugula greens to four (4) salad plates.
Slice the radishes and carrot paper thin with a mandoline slicer or a vegetable peeler and paring knife and arrange the slices attractively on each plate. Garnish with carrot ribbons and spoon or pour the vinaigrette to each salad.