This is a simple pulled pork sliders recipe that makes the perfect party food! Slow-cooked pulled pork is tossed in a smoky barbecue sauce then piled onto brioche buns and topped with a crunchy, fresh coleslaw.
These delicious pork sandwiches are perfect for game day, summer barbecues, and special occasions. Plus, it's an easy pork recipe that relies on already-prepared ingredients (like leftover pulled pork!) and takes under 30 minutes to assemble.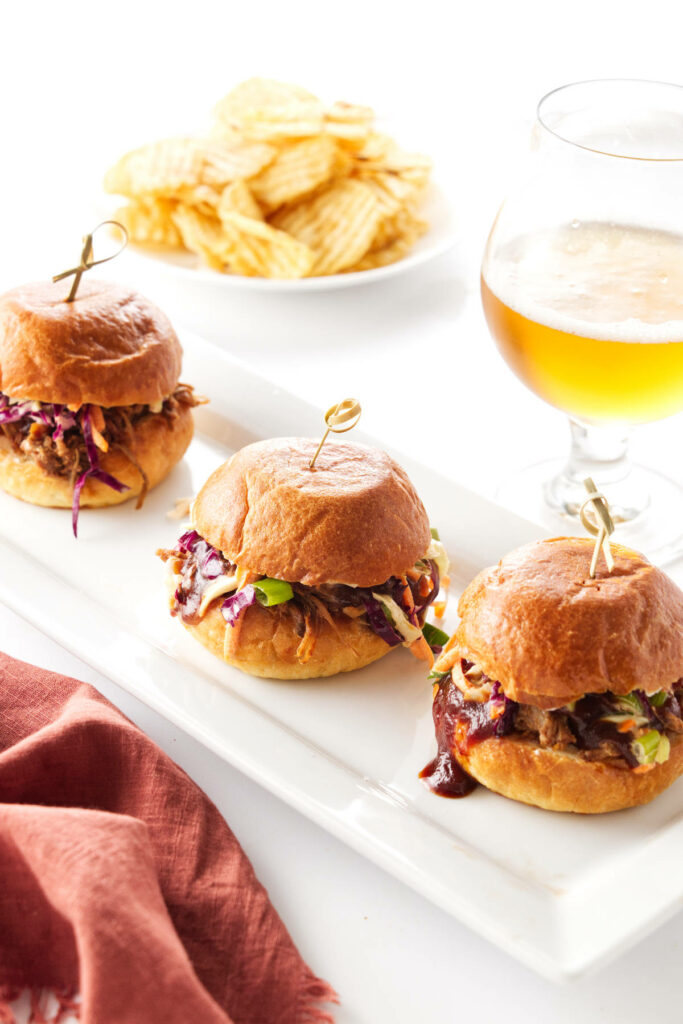 Smoky, saucy meat and a sweet coleslaw are served on tender Brioche rolls or Hawaiian rolls. Brioche buns are rich, lightly sweetened and always fluffy, which hands-down makes them one of the best slider rolls there are.
However, if you prefer something like Hawaiian rolls or a different kind of slider bun, feel free to substitute. Pulled pork plus crunchy slaw, tucked into a soft and fluffy slider roll, is an unbeatable combination.
Why This Pulled Pork Sliders Recipe Works
Boneless pork shoulder (or pork butt) is the best cut for delicious pulled pork. The roasted pork shreds beautifully and cooks low and slow to create a moist and tender pork roast that falls apart and melts in your mouth.

You can follow our Chipotle Pulled Pork recipe (or try our cider-braised pork or Dutch oven pork shoulder) and toss the meat in a sweet and smoky barbecue sauce.

Coleslaw adds sweet, savory tang and a crisp texture. Save some time and go with a store-bought coleslaw or make our homemade coleslaw for pulled pork!

The recipe is simple to prepare, ready in 30 minutes, and a quick and easy dinner option.

It is fun finger food that works for any sort of gathering.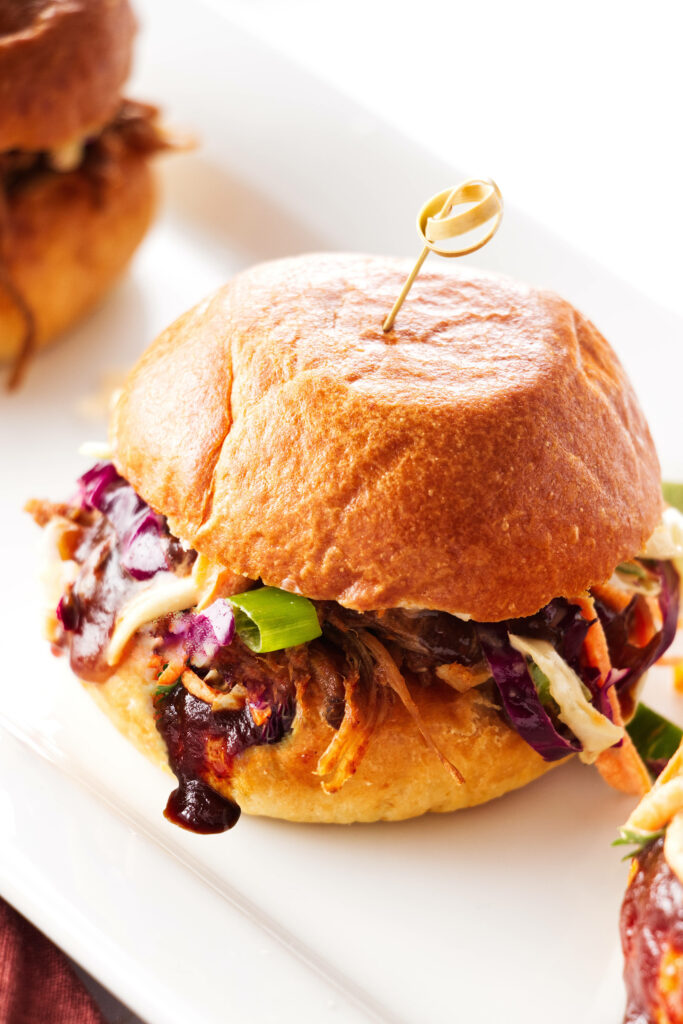 The Ingredient List
Whether you're going the homemade route with these bbq pulled pork sliders or you're choosing to save some time and effort by picking up some pre-made items at the grocery store, you'll love the end result.
To make them, you will need:
Slider buns. King's Hawaiian rolls and Brioche buns are perfect for these bbq sliders.
butter, room temperature
Dijon mustard
smoky barbecue sauce (store-bought or homemade BBQ sauce will work)
shredded pulled pork
coleslaw. Have fun with the flavors and try our kimchi slaw or chipotle slaw.
Our Simple Pulled Pork Sliders Recipe
Our recipe will make about 12 sliders total, the perfect amount for simple party starters or a finger food dinner.
Here is a quick overview. Be sure to scroll down to the bottom of the page to check out the full printable recipe card.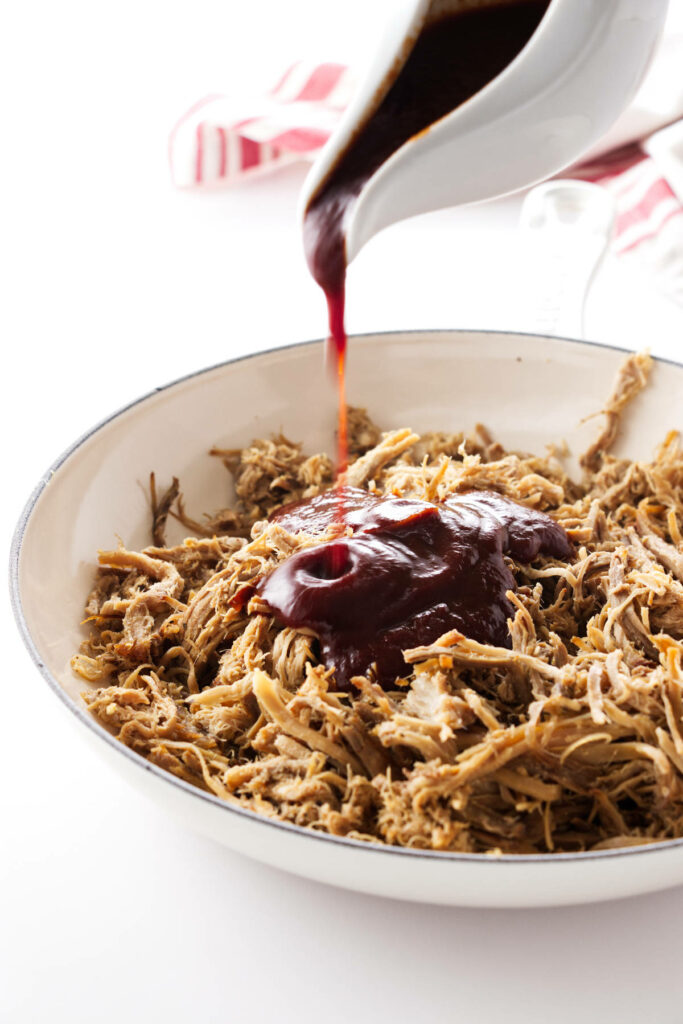 Split the buns in half and toast them in the oven until they're golden brown.
Spread butter on the bottom bun of each half and spread Dijon mustard on the top bun (or try our chipotle aioli).
Mix the BBQ sauce and pulled pork together then heat it up.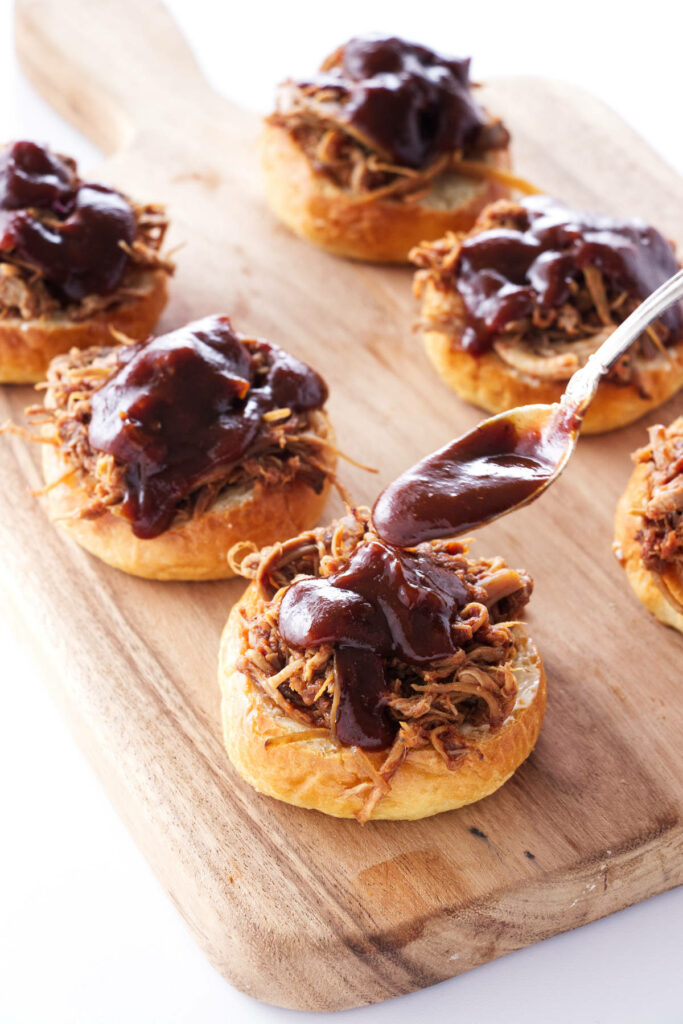 Lay the toasted buns on a workspace, top with the meat and extra barbecue sauce, then add a couple of spoonfuls of the slaw. Place the top of the rolls on each slider and secure it with a sandwich pick. Serve and enjoy!
If you want to take these little pork sandwiches over the top, add some pickled red onions or caramelized onions to them. You won't regret it 😉
Some more great toppings to add to these barbecue pork sliders are:
Cheese
Jalapeno or pepperoncini slices
Fried onion rings
Dill pickles
Grilled pineapple (for delicious Hawaiian roll sliders)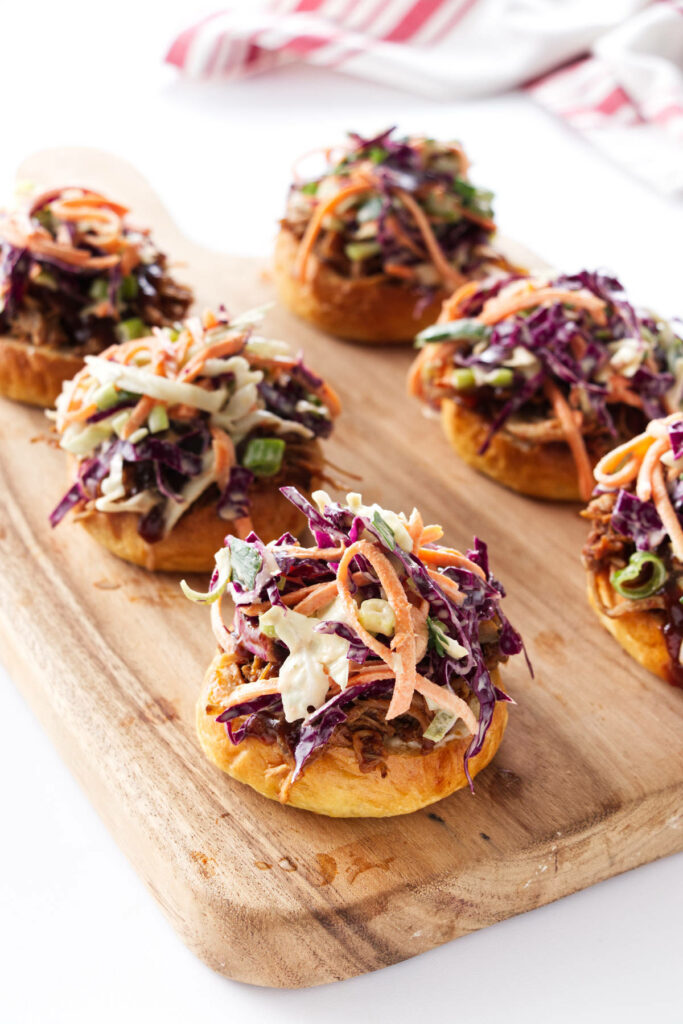 Recipe Tips for the Best Results
You can take a shortcut by purchasing a package of pre-made coleslaw.

For Hawaiian pulled pork sliders, substitute the Brioche buns with Hawaiian buns.

Choose your favorite BBQ sauce or make our chipotle bbq sauce.

You can prepare and assemble pulled pork sliders about 1-2 hours in advance. Simply cover them with plastic wrap or aluminum foil until it is time to serve them.

The best way to store any leftovers is to keep the cole slaw and barbecue pork separate in airtight containers. They will keep for up to one week.
What to Serve with Pulled Pork Sliders
Here are a few delicious recipes and food items that will go great alongside these sweet and savory sliders!
Warm German potato salad or an American-style potato salad makes a perfect match for these sandwiches. And you can't go wrong with our air fryer French fries.
Here are some more suggestions.
Crispy potato chips
Crunchy dill pickles
Baked beans, packed with savory spices and sweet brown sugar
The list is endless, really. These little pork sliders go with just about any side dish.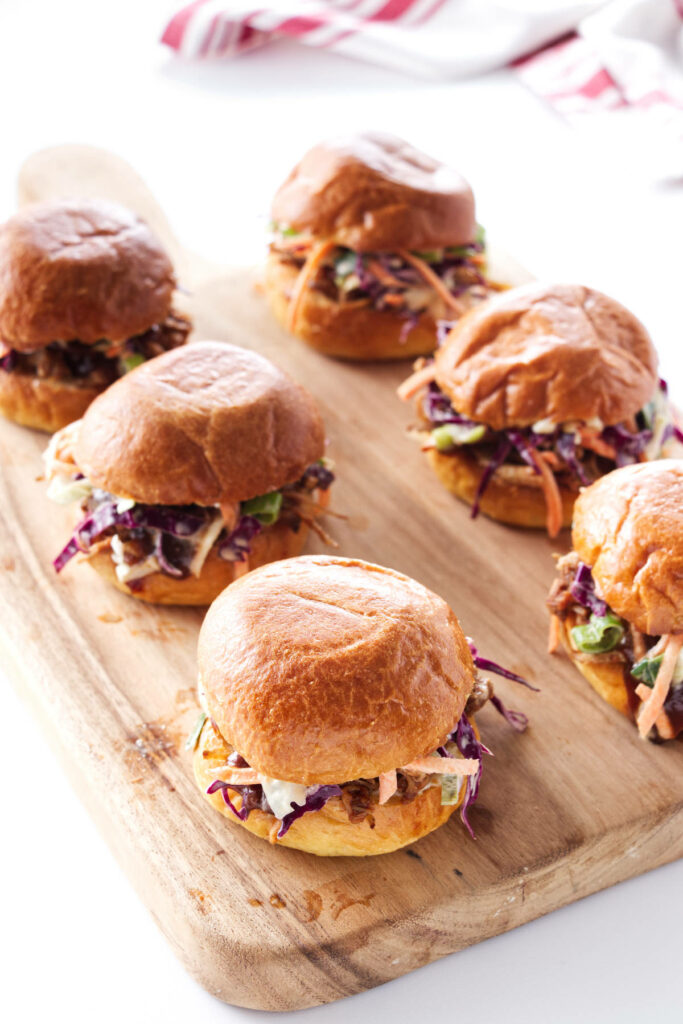 Frequently Asked Questions
How do you keep pork sliders from getting soggy?
If you toast the slider rolls and slather some butter on the bottom bun, it will help prevent the slider sandwiches from getting soggy. You can also keep the buns and sandwich fixings separate until it is time to serve the sliders.
How do you keep BBQ pork sliders warm?
You can keep them warm if you place them on a baking tray, cover them with aluminum foil, and transfer them to the oven (preheated to 200°F).
This pulled pork slider recipe has all the best things going on. A delicious coleslaw mix of crisp Napa cabbage and red cabbage tossed in a creamy apple cider vinegar and mayonnaise dressing. Tender, shredded pork smothered in a smoky barbecue sauce. Pillowy-soft slider buns.
You only need some potato chips and a cold drink on the side to achieve dinner perfection!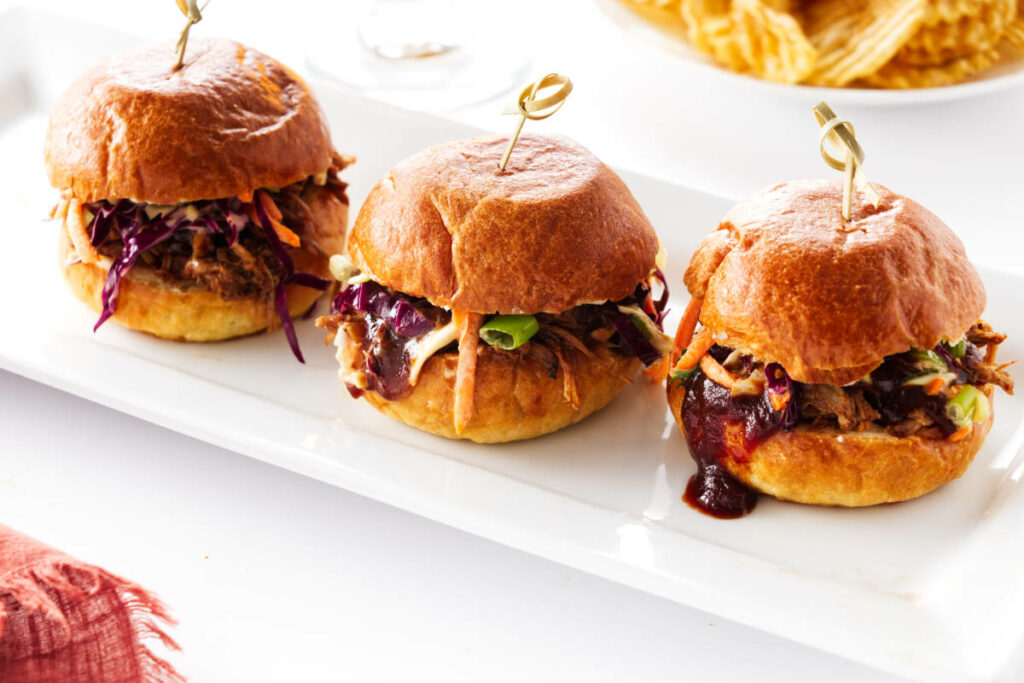 Some Other Recipes We Are Sure You Will Love:
This savory Grinder Salad Sandwich combines meats and cheeses plus crunchy vegetables that all balance together for the perfect sandwich treat.
Make a grilled cheese sandwich with kimchi. Kimchi adds a spicy, salty, tangy flavor and pairs well with the creamy warm cheese. Serve it with fire-roasted tomato soup.
Our Mediterranean Pinwheels are the ultimate make-ahead party sandwiches! This is a quick and easy vegetarian appetizer to add to your party table.
Connect With Savor the Best:
Please follow us on our social media accounts
Facebook * Instagram * Pinterest * Youtube * Twitter
Did you make this recipe? We would love to hear from you. Drop us a comment below.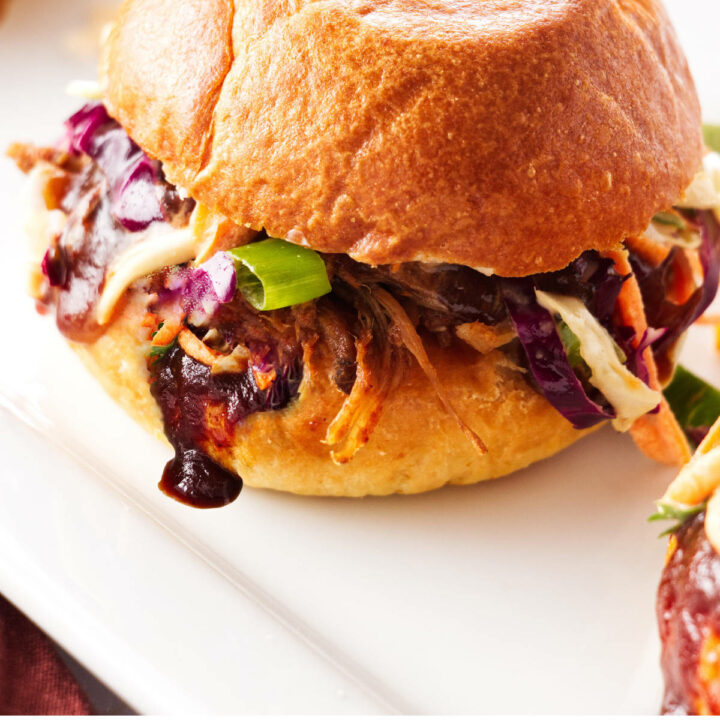 Pulled Pork Sliders
These simple pulled pork sliders are the perfect party food. Pulled pork mixed with a smoky barbecue sauce, piled onto tender slider buns, and topped with crunchy coleslaw.
We used rich, tender, buttery brioche buns. King's Hawaiian rolls are also fantastic with pulled pork sliders.
Ingredients
12 slider buns (Brioche or Hawaiian rolls)
2 tablespoons butter, room temperature
4 oz. Dijon mustard
1-1/2 cup smoky BBQ sauce
3 cups coleslaw
12 wood sandwich picks
Instructions
Preheat the oven to 425°F and line a baking sheet with parchment paper.
Split the buns in half and place on the prepared baking sheet. Transfer to the oven and toast to a light golden brown, about 4-5 minutes.
Remove the buns from the oven, and when cool, spread the bottom half of each bun with butter and spread the top half with Dijon mustard.
Place the pulled pork in a microwavable bowl or medium saucepan. Add 1 cup of the BBQ sauce and mix until the pork is coated in the sauce. (You will save the extra BBQ sauce for later when you assemble the sliders).
Heat the pork mixture in the microwave or on the stovetop. Stir frequently to distribute the heat evenly.
Lay the toasted buns on a workspace. Pile 2 tablespoons of pulled pork on each bun.
Spoon some of the remaining BBQ sauce on each pile of shredded pork.
Add 2 or 3 tablespoons of coleslaw to the pork, then cover with the top of the bun. Stick a sandwich pick into each slider to hold it together.
Notes
A bag of prepared coleslaw can be substituted for homemade slaw.
Use your favorite BBQ sauce.
These sliders can be prepared and assembled 1-2 hours in advance, cover with plastic wrap until ready to serve.
Toasting the bread and adding butter to the bottom bun will help prevent the sliders from getting soggy.
Nutrition Information:
Yield:

12
Serving Size:

1
Amount Per Serving:
Calories:

335
Total Fat:

25g
Saturated Fat:

15g
Trans Fat:

1g
Unsaturated Fat:

13g
Cholesterol:

128mg
Sodium:

550mg
Carbohydrates:

30g
Fiber:

5g
Sugar:

37g
Protein:

18g
Nutrition information is a guideline only, is calculated automatically by third-party software, and absolute accuracy is not guaranteed.