Bring this Roasted Potato Salad to your next pot luck or backyard barbecue and it will be a hit! Tiny, bite-sized potatoes are crisp-roasted with blistered grape tomatoes for a new twist on a potato salad. Bits of red onion, fresh chives, thyme elevate the salad to a new flavor level and we dress it all up with the bright flavor of our Preserved Lemon Vinaigrette.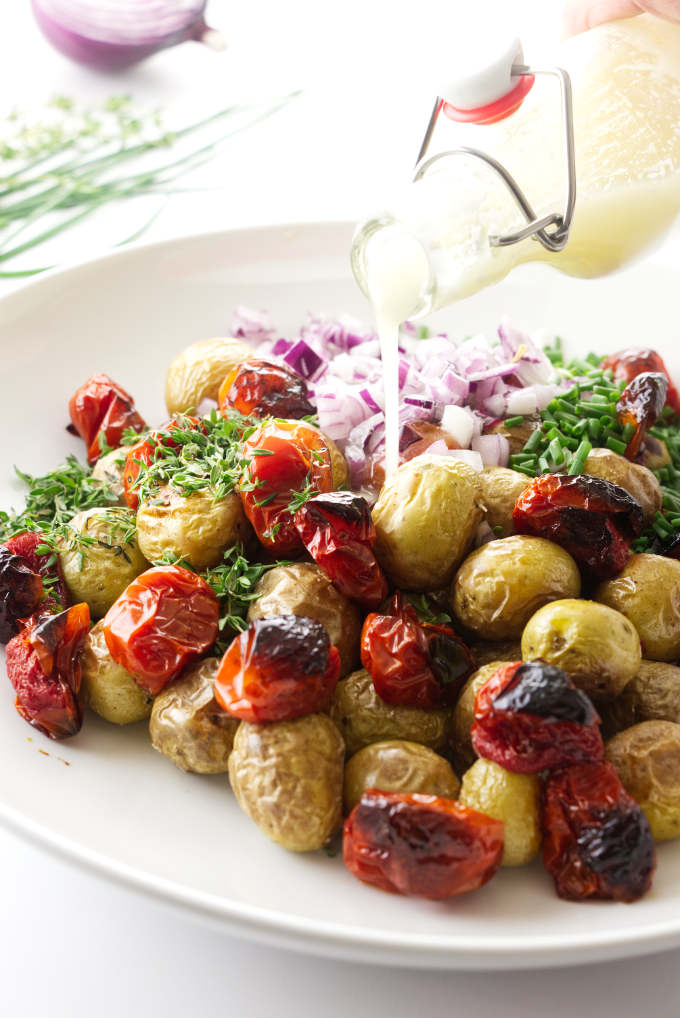 We love potato salads, especially in the summertime as we gather for backyard cook-outs. This roasted potato salad is our newest addition to our potato salad recipes and joins our old-fashioned Picnic Potato Salad and the fresh taste of our Dill Potato Salad and hearty bacon and egg potato salad.
Ingredients You Need
This roasted potato salad is so simple to put together you may find yourself making it frequently all through the year, not just at summertime cookouts. Adding the fresh flavors of chopped herbs can be varied with your favorites.
We dressed the salad with preserved lemon vinaigrette but you can switch the dressing up for buttermilk ranch, Caesar dressing, or blue cheese dressing.
Baby, one-bite potatoes
Grape tomatoes
Olive oil
Salt/pepper
Red onion
Fresh chives
Fresh thyme leaves
Preserved Lemon Vinaigrette. Or choose one of our other suggestions for salad dressing to get a different flavor profile.
How To Make this Potato Salad:
This is an easy potato salad that you will want to put on the menu often. For a full list of ingredient amounts and instructions, please scroll to the bottom of the post.
Toss the tiny potatoes and grape tomatoes with olive oil, sprinkle with salt and pepper and roast in a hot oven.
Add the cooled vegetables to a large bowl, and combine with the chopped red onion and the fresh herbs.
Drizzle with the vinaigrette, serve and enjoy!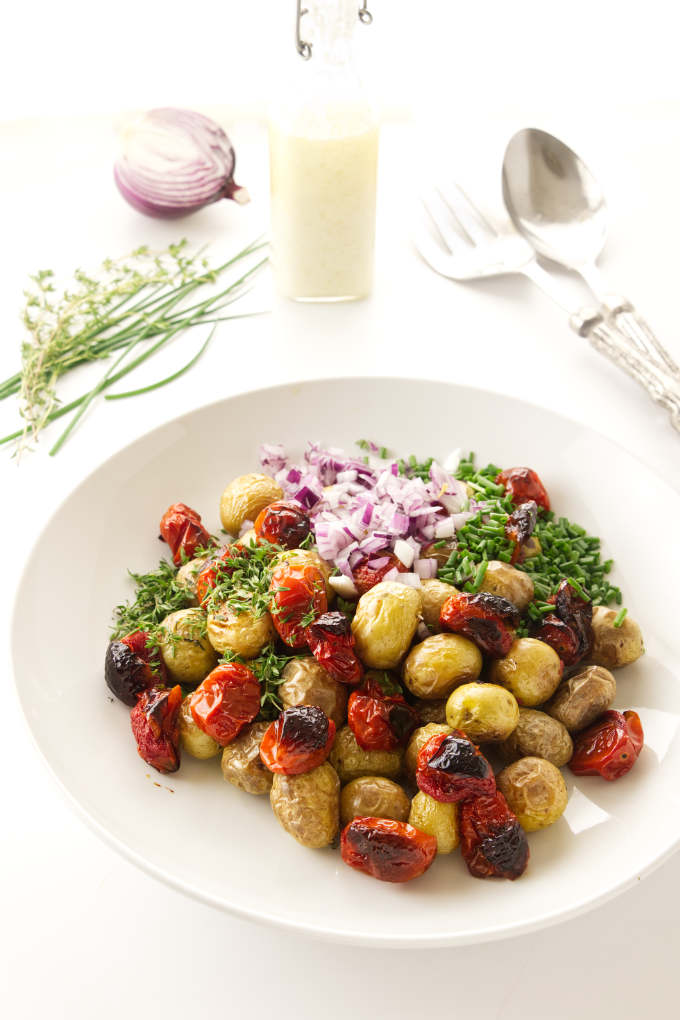 Tips for Success
Select small, bite-sized baby potatoes. If you use larger potatoes, cut them into bite-sized cubes before you roast them.
Add just a portion of the dressing to the salad initially. After you toss it with the dressing, taste it and add additional dressing if needed.
If you store the potato salad for a few hours, the potatoes will absorb some of the dressing and you may want to add more before serving it.
Store the potato salad in the fridge for 3 to 4 days. Keep it in an airtight container.
You can serve the salad cold or warm.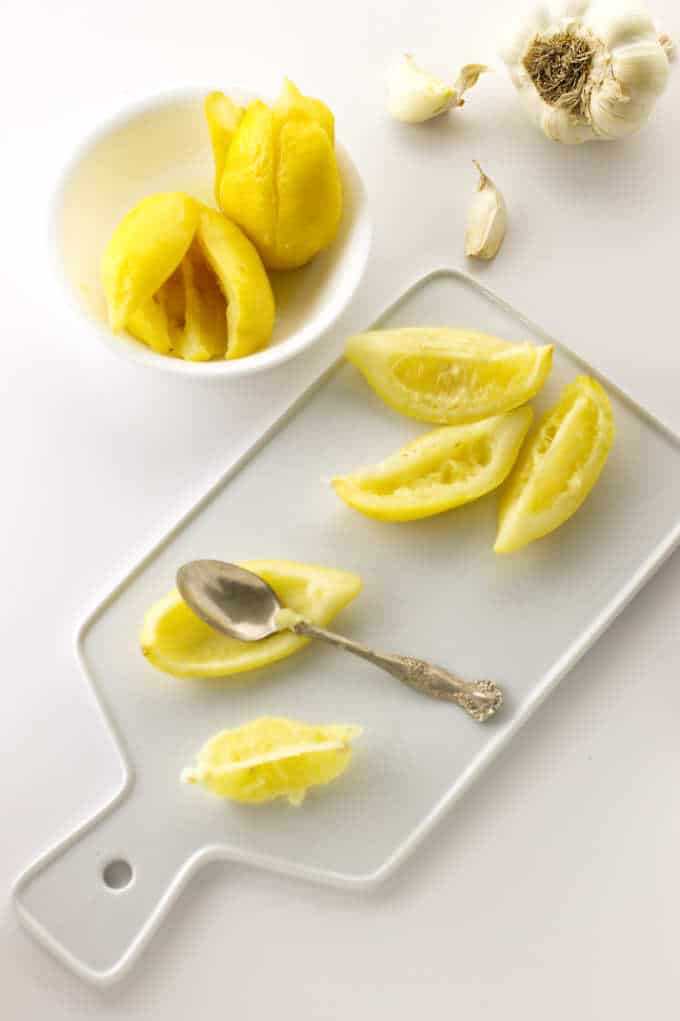 Where to Get Preserved Lemons
If you are fortunate enough to have a jar of preserved lemons in your refrigerator then you are probably familiar with this unique-tasting salty lemon. If not, you can source them from the quick-delivery system of Amazon and sometimes in a local Home Goods store.
But….why not be adventurous and make your own supply? Follow the easy instructions in our Preserved Lemons post. All that is needed to make your own supply are lemons, kosher salt, and a clean sterilized lidded jar. Plus, about a month of curing time of course. 😊
And, of course, if you don't have any preserved lemons, don't let that stop you from making this roasted potato salad. The roasted potatoes and tomatoes taste great with any combination of vinaigrette or dressing.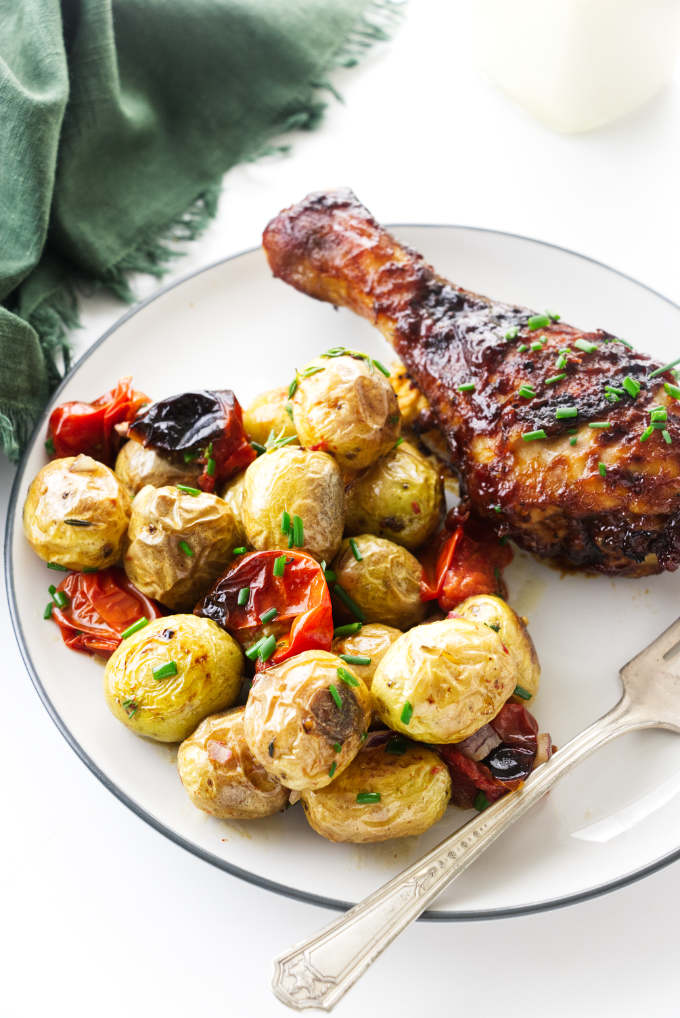 We served this roasted potato salad with a big batch of BBQ Baked Chicken Legs.
Some Other Recipes We Are Sure You Will Love:
Salade Lyonnaise with Poached Duck Egg: The frizzy, fluffy frisée lettuce is the star ingredient of this famous salad. It combines its slight bitterness with salty pancetta, caramelized onions, creamy poached egg and garnished with crunchy croutons.
Sweet potatoes are one of nature's low-fat, high fiber foods and we combine them with nutritious kale and black rice in this Sweet Potato Kale Salad with Back Rice for a healthy lunch or a great side salad.
Shaved Brussels Sprout Salad with Caesar Dressing: The crisp, crunchy, shaved brussels sprouts and fresh parsley is an amazing combination with our creamy caesar dressing. This salad can be made in advance as there will be no worry of a wilted salad.
Connect With Savor the Best:
Please follow us on our social media accounts
Facebook * Instagram * Pinterest * Youtube * Twitter
Did you make this recipe? We would love to hear from you. Drop us a comment below.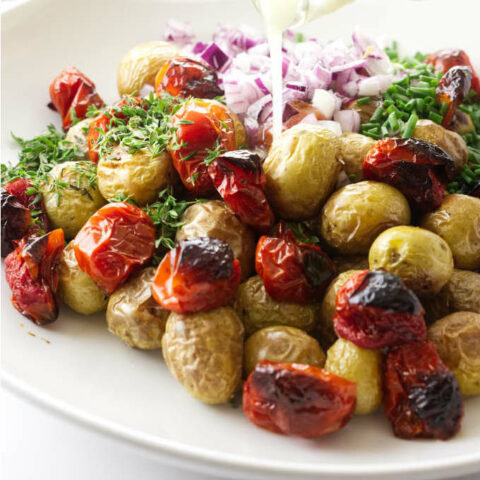 Roasted Potato Salad
Try this Roasted potato salad for your next cookout! Baby, bite-size potatoes and grape tomatoes are roasted then tossed with fresh herbs, red onion and a light lemony vinaigrette.
Ingredients
1-1/2 pounds baby, one-bite potatoes
14 oz. grape tomatoes
2 tablespoons olive oil
Salt/pepper
1/2 cup chopped red onion
1/4 cup snipped fresh chives
2 tablespoons fresh thyme leaves
3 to 6 tablespoons Preserved Lemon Vinaigrette
Instructions
Heat the oven to 425°F
Place the potatoes and tomatoes in a large bowl, toss with the olive oil and spread out on a rimmed baking sheet. Sprinkle with salt and pepper then transfer the pan to the oven and roast the vegetables until the potatoes are golden, fork-tender and the tomatoes have burst, about 15-18 minutes.
Remove from the oven and allow to cool for 10-15 minutes.
Transfer the potatoes and tomatoes to a large bowl and add the onions, chives, and thyme leaves.
Toss the potato salad with 1/4 cup of the preserved lemon vinaigrette or ranch dressing and serve either warm or chilled.
Notes
Options for other herb choices would be fresh rosemary, tarragon, parsley, or mint.
Options for a different vinaigrette or dressing are: Caesar dressing, orange champagne dressing, blue cheese dressing, or Greek salad dressing.
If you make the preserved lemon vinaigrette, be sure to rinse the lemon rind well before adding it to the blender.
Additional salt will not be needed in the lemon vinaigrette.
The lemon vinaigrette will keep in a lidded glass container for up to 2 weeks.
Nutritional value is for the salad only. 1 tablespoon of the vinaigrette is 133 calories and 14 grams of fat.
Nutrition Information:
Yield:

4 Servings
Serving Size:

1
Amount Per Serving:
Calories:

96
Total Fat:

7g
Saturated Fat:

1g
Trans Fat:

0g
Unsaturated Fat:

6g
Cholesterol:

0mg
Sodium:

152mg
Carbohydrates:

8g
Fiber:

2g
Sugar:

4g
Protein:

2g
Nutrition information is a guideline only, is calculated automatically by third-party software, and absolute accuracy is not guaranteed.