This chocolate chipotle barbecue sauce has a delicious blend of dark chocolate and the smokey spice from chipotle. Combined with the tangy, sweetness that traditional barbecue sauces have, this chocolate chipotle sauce will make your next barbecue ribs finger-licking good.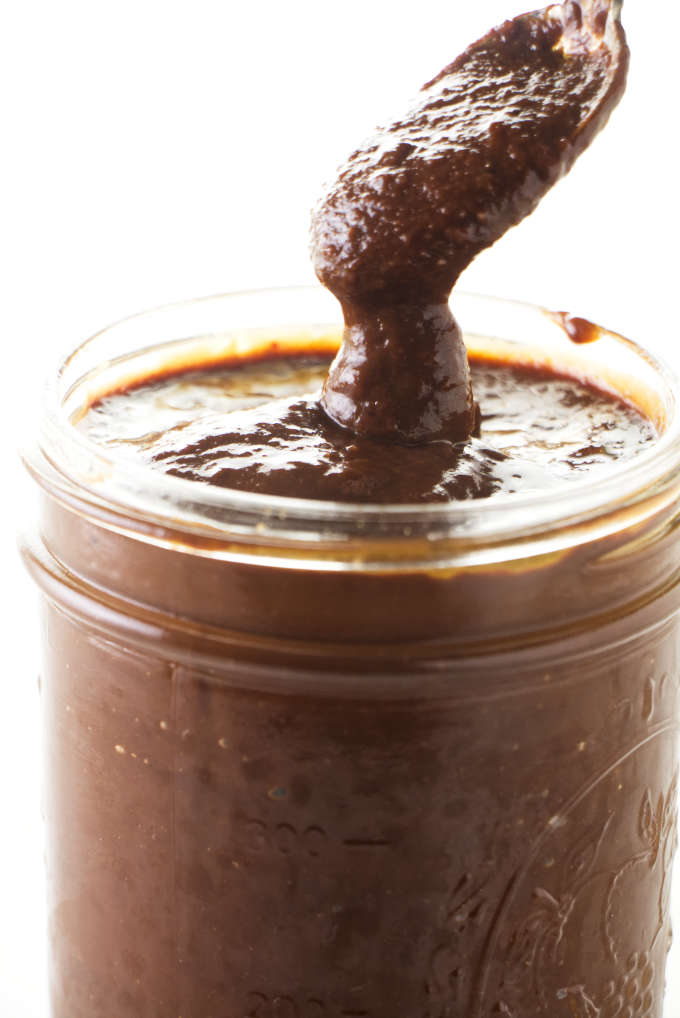 If chocolate sounds like a strange thing to put in a savory sauce, I'll remind you that everyone's favorite mole sauce has chocolate in it. The chocolate brings an incredible depth of flavor to the bbq sauce and cuts the sweetness down by a few notches.
This chipotle chocolate sauce isn't as sweet as our raspberry chipotle sauce or typical grilling sauces. It brings a new flavor to your summer grilling recipes and goes with just about any protein.
The chipotle peppers give this bbq sauce that little something extra. Chipotle doesn't just add spice but it has an amazing complexity of flavor that can't be beat. We use it in a lot of recipes. Take for instance our chipotle aioli sauce or our chipotle black bean soup. When you add chipotle to a dish, you turn ordinary into extraordinary.
How To Use Chipotle Peppers:
If you are new to using chipotle peppers or even dried chipotle chili powder, I want to warn you that a little bit goes a long way.
One small can of chipotle peppers in adobe sauce will be enough for several recipes. You don't need to toss the chipotles that you don't use. You can freeze them for later.
I usually stick them in a small freezer proof bag and stash them in the door of my freezer. If I have time, I will freeze them in ice cube trays first because the ice cube tray portions the peppers perfectly.
Is This a Chocolate Barbecue Sauce?
There is a good amount of chocolate in this sauce but the flavor from the chipotle peppers is more pronounced than the chocolate. You will be able to taste a hint of chocolate but it is more of a chipotle barbecue sauce with extra depth of flavor from the chocolate.
The great thing about making your own barbecue sauce is that you can adjust the flavors. If you want a more chocolate-forward flavor, just add a bit more cocoa. Do you like the smokey, spicy heat from chipotle peppers? Just add an extra chipotle pepper.
There is a certain satisfaction in creating something yourself and having control over the ingredients.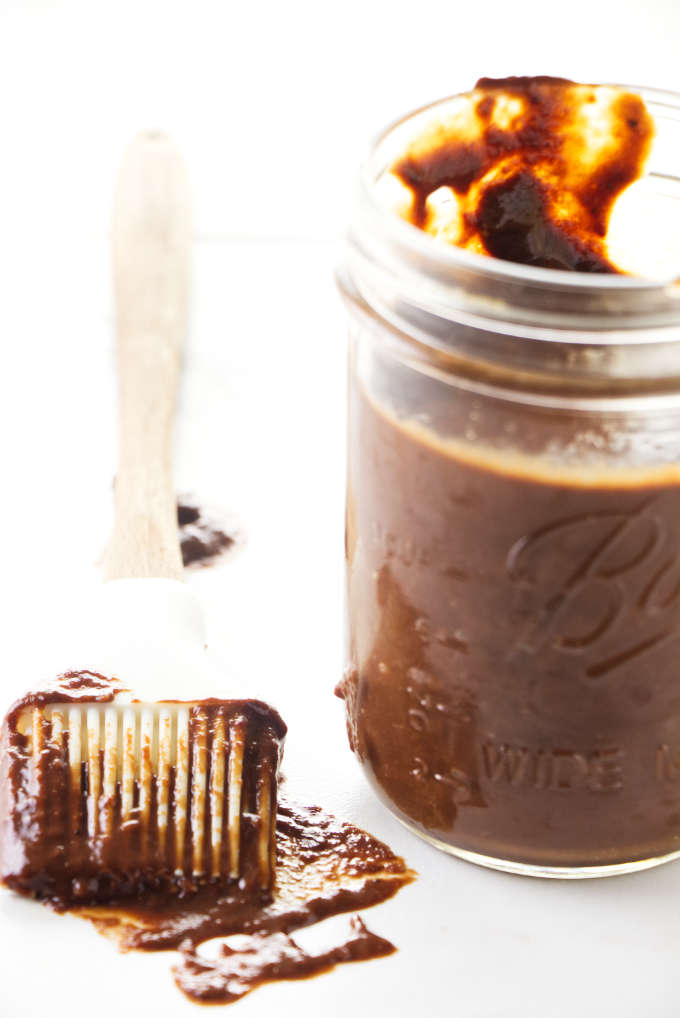 Ingredients For Chipotle BBQ Sauce:
Onion. The astringent flavor in the onion will mellow out when you cook it.
Garlic.
Beer. The type of beer you choose will have an impact on the flavor complexity in this BBQ sauce. Choose a dark stout if you want to bring out some malty chocolate flavors. Choose a pale ale for mild hoppy flavors.
Cocoa powder. Use unsweetened cocoa powder.
Ketchup.
Molasses.
Tomato sauce.
Chipotle peppers or chipotle chili powder. If you can't find canned chipotle peppers you can use chipotle chili powder.
Balsamic vinegar.
Worcestershire sauce.
Salt and pepper.
How to Make Chipotle BBQ Sauce:
Saute the onion and garlic then add the beer and let it burn off the alcohol.
Combine the rest of the ingredients and simmer.
Puree the sauce in a blender or with a blender stick.
Tips for Success:
Make sure you don't use the whole can of chipotle peppers. You can always add more peppers if you want it spicier but you can't take the peppers out if you add too much.
Let the sauce simmer for a while to concentrate the flavors.
Want a smokier flavor? You can always add some of the adobo sauce that comes with the canned chipotle peppers. Or you can add a drop or two of liquid smoke.
Want a sweeter chipotle barbecue sauce? You can always add extra molasses or even some brown sugar.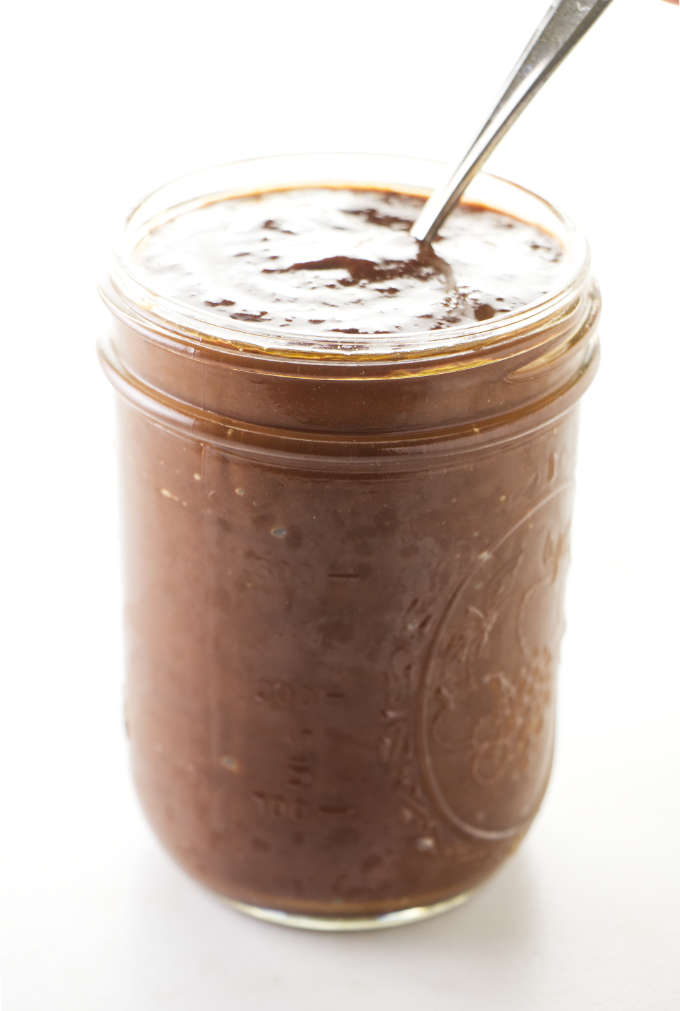 What Goes with Chipotle BBQ Sauce?
The chocolate and chipotle peppers give this homemade bbq sauce a bold flavor. I wouldn't put it on mild flavored fish like cod, but here is a list of meat that it does go well with.
Beef
Chicken
Pork
Lamb
Venison
Goat
It also goes well on pizza or in casseroles and enchiladas. Try it on our chipotle chicken enchiladas.
Helpful Tools:
Some of the following are affiliate links. If you click on these links and purchase something, we may receive a small commission. You don't pay any extra but it will help us keep the lights on.
Some Other Recipes We Are Sure You Will Love:
Our chipotle chicken pasta salad is a great way to use up leftover chicken. The chipotle dressing gives this salad a special flavor that will have everyone asking for seconds.
Our raspberry chipotle barbecue pork ribs are perfect for your next summer grilling event.
This chipotle pork chop dinner is all made on a sheet pan. It makes a great dinner for busy weeknights and you only have one dish to clean.
Connect With Savor the Best:
Please follow us on our social media accounts
Facebook * Instagram * Pinterest * Youtube * Twitter
Did you make this recipe? We would love to hear from you. Drop us a comment below.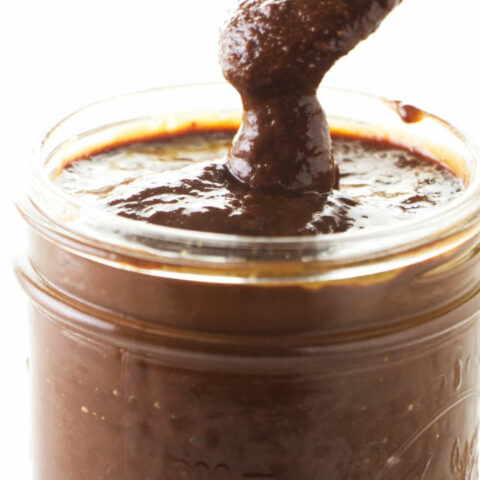 Chocolate Chipotle Barbecue Sauce
This recipe for chocolate chipotle barbecue sauce is a delightful mix of sweet and savory with a taste of beer added into it.
Ingredients
2 tablespoons oil
1 onion, finely diced
4 to 6 garlic cloves, minced
1 cup beer
1 cup ketchup
1/2 cup molasses
1 (15 ounce) can tomato sauce
1/2 cup cocoa powder
2 teaspoons chipotle chili powder (or 2 to 3 chipotle peppers)
1/4 cup balsamic vinegar
3 tablespoons Worcestershire sauce
1/2 teaspoon salt
1/2 teaspoon black pepper
Instructions
Heat the oil over medium heat in a large saucepan. Add the onions and cook about 10 minutes until translucent. Add the garlic and cook for 1 minute then pour in the beer and let it simmer for 2 minutes to burn off the alcohol.
Stir in the rest of the ingredients. Cook uncovered over medium heat for 20 to 3 0 minutes to concentrate the flavors.
Remove the saucepan from the heat and allow the sauce to cool down for 15 minutes or until no longer steaming hot. Working in batches, pour the sauce into a blender and puree until smooth (alternatively, you can use a stick blender and blend it right in the saucepan).
Nutrition Information:
Yield:

40
Serving Size:

2 tablespoons
Amount Per Serving:
Calories:

36
Total Fat:

1g
Saturated Fat:

0g
Trans Fat:

0g
Unsaturated Fat:

1g
Cholesterol:

0mg
Sodium:

114mg
Carbohydrates:

7g
Fiber:

0g
Sugar:

5g
Protein:

0g
Nutrition information is a guideline only, is calculated automatically by third-party software, and absolute accuracy is not guaranteed.
This chocolate chipotle barbecue sauce was originally published on January 21, 2014. We updated the photos in the post but left one of the original photos below.