This chipotle chicken pasta salad is a great way to use up leftover chicken. It is perfect for lunch or dinner and it travels well for potlucks and picnics. The spicy chipotle dressing gets counter-balanced with naturally sweet sun dried tomatoes and a crisp crunch from fresh veggies.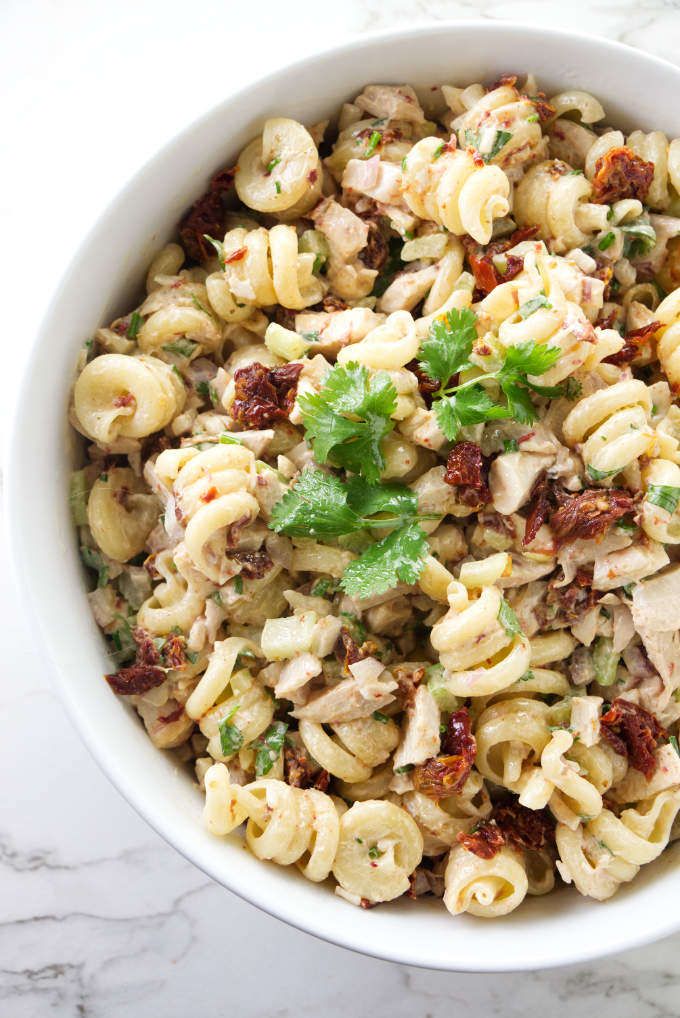 If you have been following Savor the Best for a while, you know we love cooking with chipotle. Our raspberry chipotle sauce is pretty epic and our chipotle pork chops and chicken tortilla soup are just a couple more of the several chipotle recipes on our site.
This is a zesty pasta salad with plenty of creamy chipotle dressing. The chipotle dressing is mayonnaise-based but it is lightened up a bit with sour cream.
Since there is a generous amount of chicken in the salad, it makes a great protein lunch that will hold you over until dinner time. Try packing this salad instead of a sandwich for an interesting switch to your work lunch.
The Ingredients:
Pasta. You can use any pasta you have but short pasta works best. Try penne, macaroni, ziti, or bow ties.
Olive oil.
Pre-cooked chicken. Use leftover chicken or pre-cook a couple of grilled chicken breasts. You can also use rotisserie chicken from the deli section of the grocery store. You could even make some frozen chicken breasts in the Instant Pot if you are pressed for time.
Red onion.
Celery.
Chives. You can substitute with green onions.
Cilantro. If you don't have a palate for cilantro, you can use parsley.
Sun dried tomatoes. The kind that get packed in oil is more tender. If you purchase the sun-dried tomatoes that are in a dry packet, soak them in hot water for 5 or 10 minutes.
Chipotle aioli. You can make our recipe for homemade chipotle aioli or purchase chipotle mayonnaise in the grocery store. It is a popular condiment and we see it frequently.
Sour cream.
Sugar. A small amount of sugar will balance and enhance the flavors. You can substitute honey if you want.
Vinegar. For acid and tang. Both the sugar and vinegar add balance to the flavor profile.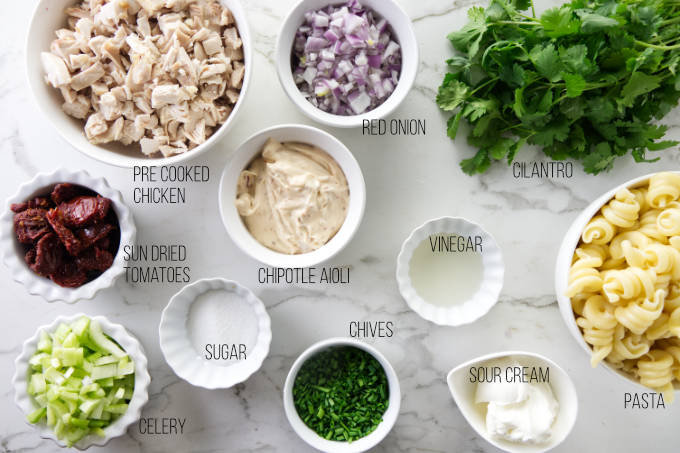 Recipe Tips:
Cook the pasta according to the package directions. The cooking time will depend on the type of pasta you choose.
You can cook the pasta in advance and store it in a covered container in the fridge until you make the salad. If you cook the pasta in advance, toss it with a bit of olive oil to keep the pasta from clumping together.
If you choose to make your own homemade chipotle aioli, you can easily adjust the level of spice.
Some store-bought aioli is pretty mild. If you want a bit more heat, add 1/2 to 1 chopped chipotle pepper to the aioli.
Don't use the whole can of chipotle peppers when you make the chipotle aioli. You only need 1 or 2 peppers (3 if you like things really hot). Store the remaining chipotle peppers in the freezer.
Sun-dried tomatoes packed in oil will be tender and soft but if you purchase the kind that is dry-packed you will want to soak them in water to soften them up.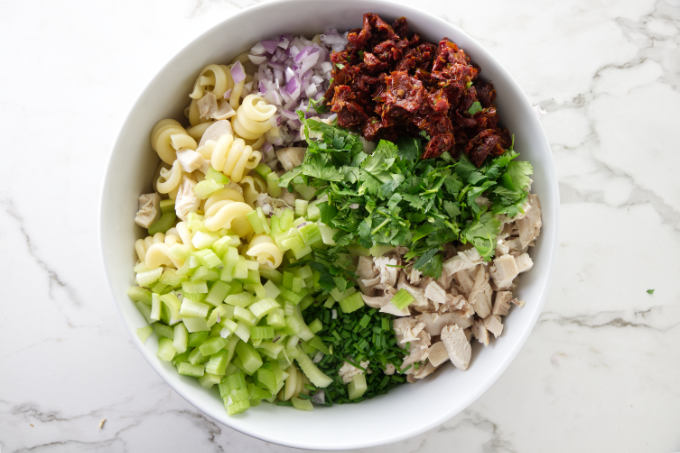 Serving This Chipotle Chicken Pasta Salad:
Most pasta salads taste better when you serve them at room temperature. You don't need to leave them out for very long, just let it sit out for 20 or 30 minutes before serving. That will take the chill off and allow the flavors to settle.
The chipotle dressing will taste creamier and the pasta will have a better texture if it all comes to room temperature. However, don't let the pasta sit out for longer than two hours.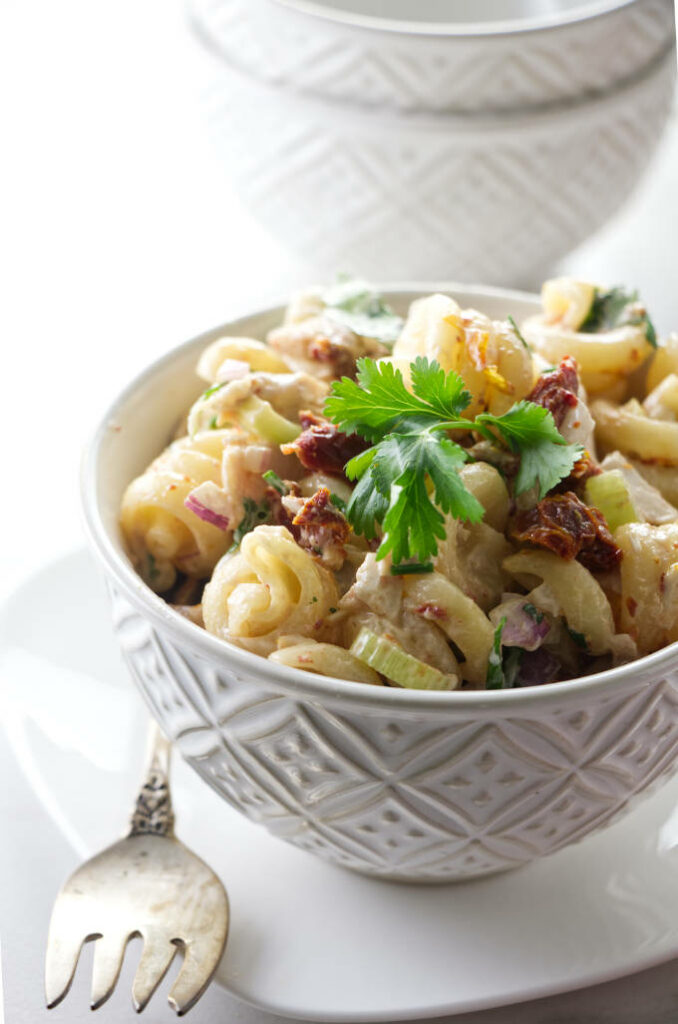 Storing This Chicken Pasta Salad:
Keep this salad covered in the fridge for up to 5 days. You don't have to worry about this salad getting wilted so it is great to make in advance and eat it for a couple of days. Pack it in individual containers to bring to work or school.
We don't recommend freezing this salad. Since the dressing is mayonnaise-based, it will split or separate once it thaws out. It will still be safe to eat, however, the texture will change.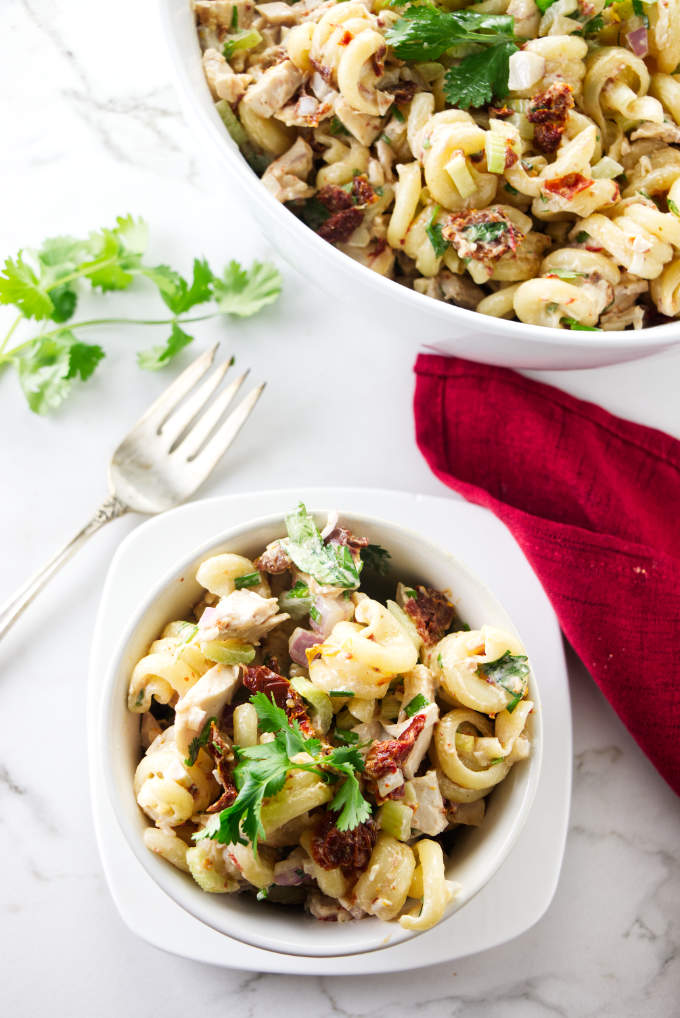 This spicy chicken pasta salad is perfect for picnics and barbecues. It also travels well so keep it in the books for potluck gatherings.
Connect With Savor the Best:
Please follow us on our social media accounts
Facebook * Instagram * Pinterest * Twitter * Youtube
Did you make this recipe? We would love to hear from you. Drop us a comment below.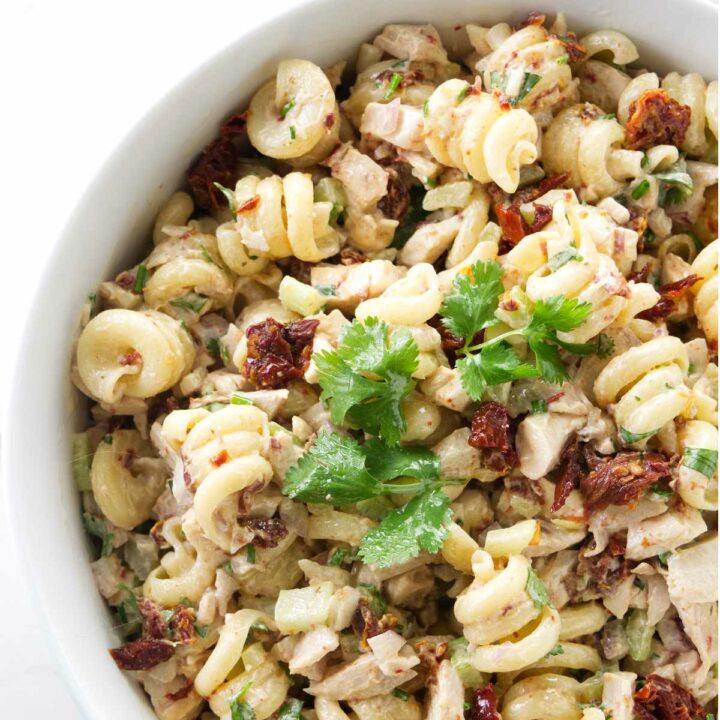 Chipotle Chicken Pasta Salad
Yield: 6 servings
Prep Time: 20 minutes
Cook Time: 12 minutes
Total Time: 32 minutes
This is a great way to use leftover chicken and it makes a pasta salad that travels well. The chipotle dressing adds a zesty kick and the veggies give it a fresh crunchy bite.
Ingredients
8 ounces pasta
1 tablespoon olive oil
2 grilled, chicken breasts, chopped or 2-1/2 cups shredded rotisserie chicken
1/2 cup red onion, about 1/2 an onion
1/2 cup diced celery, about 3 stalks
1/4 cup fresh chives, finely chopped
1/4 cup fresh cilantro or parsley, finely chopped
1/2 cup sun-dried tomatoes, packed in oil
1/2 cup chipotle aioli homemade or storebought
2 tablespoons sour cream
1 tablespoon sugar or honey
1 tablespoon white vinegar
Salt and Pepper to taste
Instructions
Add the pasta to a large pan of boiling, salted water and cook according to the package instructions. Place in a large salad bowl.
Add the shredded or chopped chicken to the bowl. Toss in the red onion, celery, chives, and cilantro.
Place the sun dried tomatoes a strainer and drain the oil. Empty the tomatoes onto a triple layer of paper towels, fold the towel over the top and press down to release the rest of the oil. Rough chop the tomatoes and add to the salad bowl.
In a small dish, mix the chipotle mayonnaise, sour cream, sugar, and vinegar together. Add the dressing to the salad and toss until well combined. add salt and pepper to taste. Cover the bowl with plastic wrap and chill until ready to serve.
Notes
Any type of pasta will work. We used Trottole pasta that has a lot of swirls and curves to hold the sauce.
Two chicken breasts will make about 2-1/2 to 3 cups of shredded or chopped chicken. If you purchase a rotisserie chicken, shred part of it and measure out about 2-1/2 cups for the salad.
Nutrition Information:
Yield: 6
Serving Size: 3/4 cup
Amount Per Serving:
Calories: 360
Total Fat: 17g
Sodium: 439mg
Carbohydrates: 34g
Protein: 20g
This post was originally published on September 1, 2014. We updated the photos.