Making your own authentic Mole Sauce from scratch does not have to be complicated. It will take some time to complete, but it is worth the effort. We will show you how to make this recipe in a little over one hour.
Mole sauce is often called the national dish of Mexico, and for a good reason- it's insanely delicious! Use this versatile condiment with vegetables, meat & seafood, or smother chicken enchiladas and chimichangas with the sauce. You can even put mole sauce on eggs. The list is endless.
Charring the ingredients adds smokiness and caramelizes the sugar in the fruits and vegetables, giving them an incredible depth of flavor. You can't get this kind of flavor from store-bought mole sauce.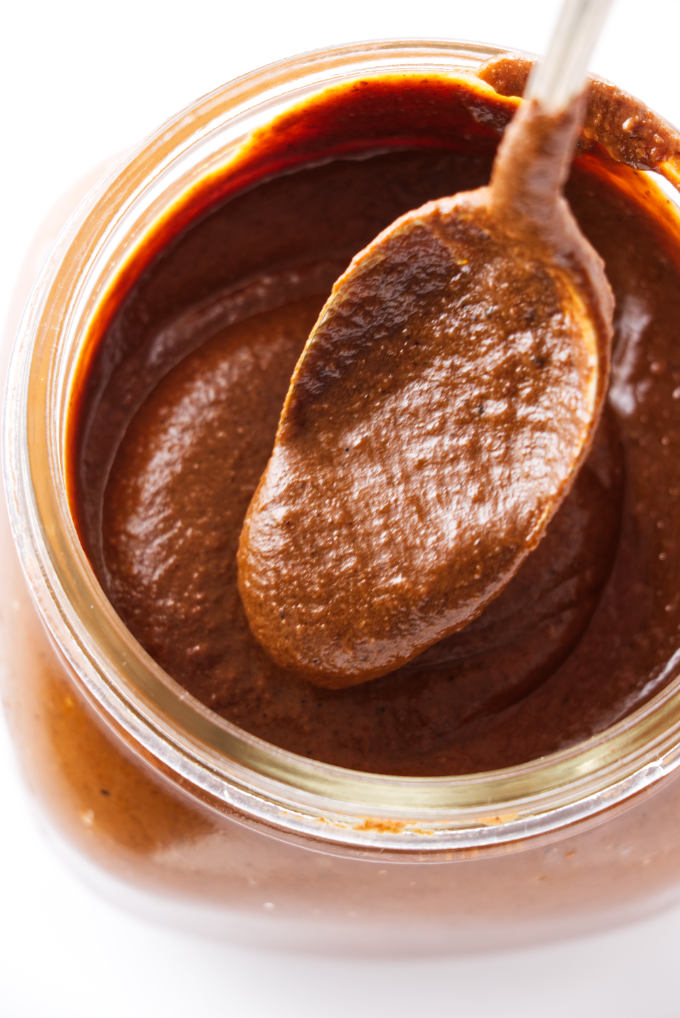 What is Mole Sauce?
Mole sauce, pronounced, "Moe-lay", is a traditional Mexican dish with roots in the Aztec empire. You can make it with one or more varieties of chile peppers, including ancho, guajillo, and chipotle.
The spice mix varies by region but typically includes cinnamon, cloves, allspice, and cumin. The ingredients will also often include fruits such as tomatoes, tomatillos, and dried raisins or prunes.
There are countless variations of mole sauce, depending on the region and kitchen that prepares it. Although the main ingredients remain the same – chiles, garlic, and tomatoes – from there, all bets are off. There is no right or wrong way to make mole sauce.
This recipe uses chocolate to add rich, deep complexity to the flavors, and it is the most famous mole sauce. It's also known as mole Rojo or mole poblano because it calls for ancho or mulato chiles, both of which are dried poblanos. The deep red color comes from the red chile peppers.
How to Use Mole Sauce:
You can use chocolate mole sauce for almost any dish you would use tomato sauce or Romesco sauce in. It will transform our clams in red sauce and add a fusion of flavors to beef and sausage meatballs.
Since you have to gather several ingredients and it takes a while to make the sauce, I recommend making a full batch or even doubling the recipe.
This recipe makes a little over 10 cups of thick sauce which you can thin out as needed.
You can store leftover mole sauce in the freezer for up to six months.
Here is why this recipe works:
Charring the ingredients gives the sauce a smoky flavor and enhances the natural sugars.

The addition of bacon fat intensifies the rich flavor.

Combining several types of dried chiles will add complexity.

Chocolate adds a rich, complex flavor and mellows the heat in the chiles.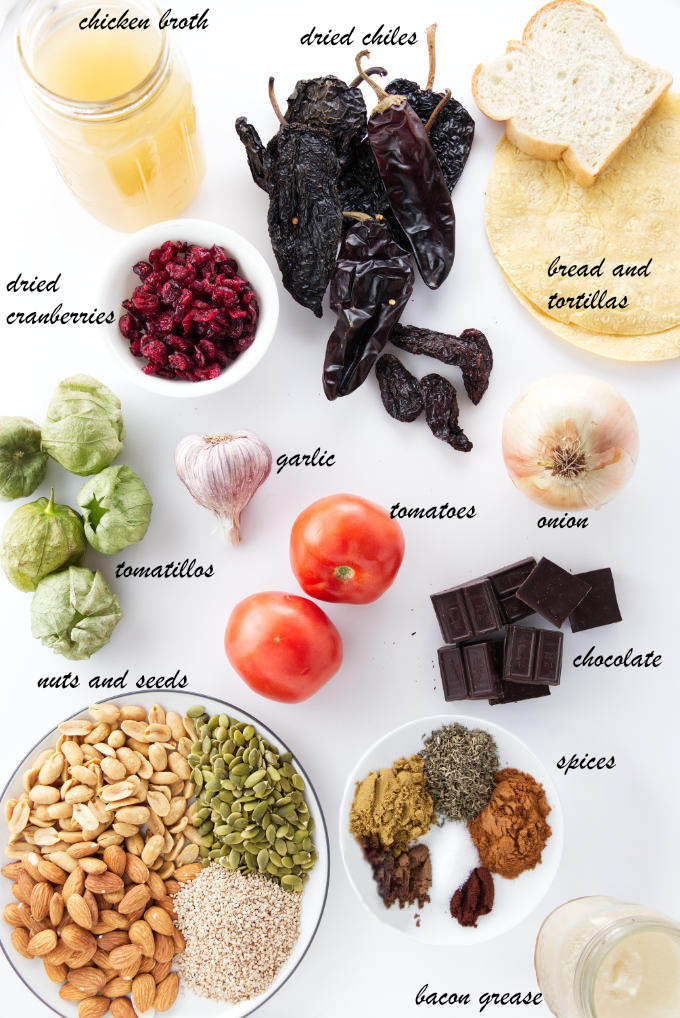 The Ingredients:
Chicken broth. Some recipes use water to soak the dried chile peppers, but we increase the flavors by using a flavorful broth.

Bacon grease. You don't have to use bacon grease but it will add SO MUCH FLAVOR. If you would rather have a healthier mole sauce, substitute it with a drizzle of oil.

Dried chiles. Chiles are essential to a good mole sauce. A combination of different chile peppers will give the mole sauce a more intricate flavor. We used dried chipotle, ancho, and guajillo peppers.

Corn tortillas and bread. Adds body, texture, and thickness to the mole sauce. For added flavor, choose sourdough bread or rich challah bread. You can substitute corn chips for tortillas or toss in a hunk of jalapeno cornbread.

Tomatoes. Charring them will bring out some of their sweetness.

Tomatillos. These little fruits look like small green tomatoes wrapped in a paper-like husk. They have a slight tart and acidic flavor that mellows as they cook, transforming into mildly sweet and savory fruit.

Onion. White onions tend to have the most assertive flavor, but any onion will work.

Garlic. If the garlic cloves are small, toss in a few extra cloves. Sometimes I will double or triple the amount of garlic that the recipe suggests.

Dried cranberries. The cranberries add sweetness and a mild hint of tartness.

Nuts and Seeds. Use a combination of peanuts, almonds, sesame seeds, and pumpkin seeds. They add body, texture, thickening, and complexity to the sauce.

Spices. You can use whole spices or ground spices. We provided the amounts of whole spices you need in the recipe notes.

Chocolate. Counteracts the heat of the chili peppers and adds a complexity that is unique to Mexican chocolate mole sauce.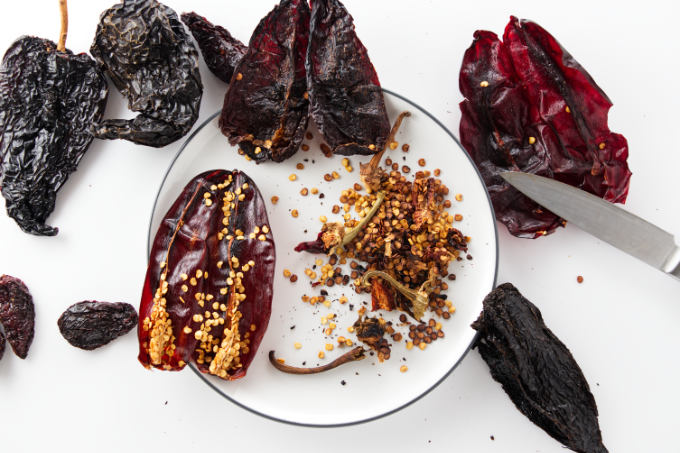 How To Make It:
Here is a quick overview of the recipe so you can get an idea of the process. I broke it down into five simple steps so you can see that it isn't difficult, it just takes time to finish all the steps. Make sure to scroll down to the printable recipe card for all the details.
Heat some broth in a large pot and remove the stems and seeds from the chile peppers.

Char the ingredients. Work in batches as you brown them, then add them to the broth.

Puree the mixture in a high speed blender until smooth.

Simmer the mole sauce. Transfer the sauce to a pot and heat it over medium heat.

Stir in the chopped chocolate. Taste and season.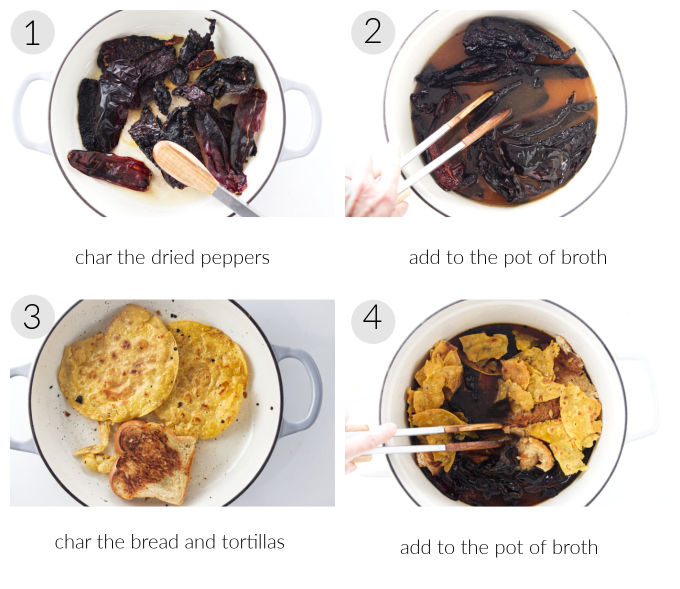 Start with the chile peppers so you can get them into the hot broth to soak, then leave them in the hot broth while you finish up your ingredients.
They need about 30 minutes to get soft, so you can finish this recipe in under an hour if you soak them first.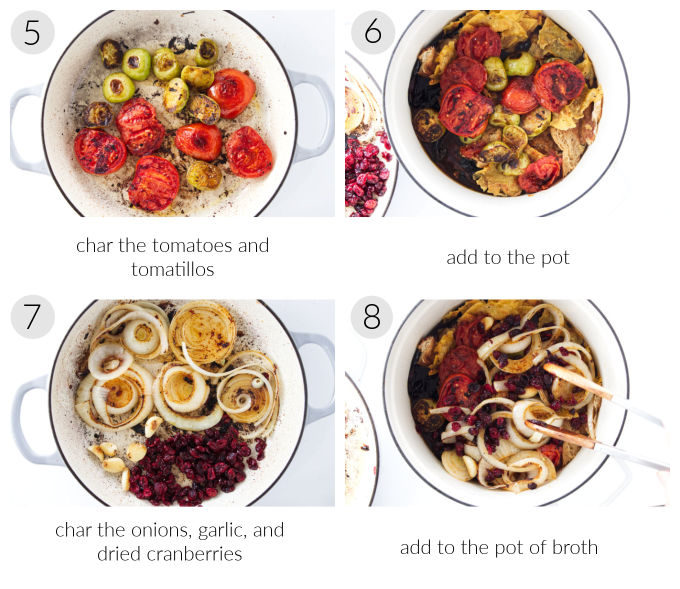 The fruits and vegetables will take the longest to char. They should take between 8 to 15 minutes depending on how dark you want them to get.
If you have a bit of grease in the skillet, the cranberries will soak up the fat and get soft and plump.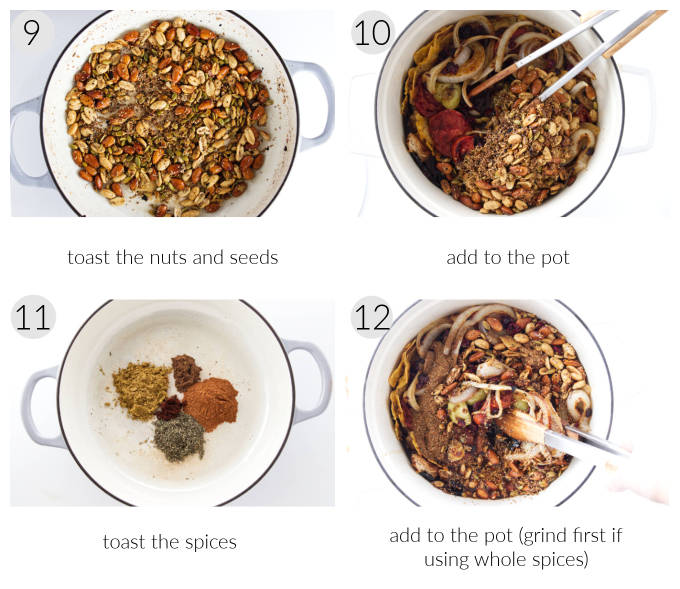 The nuts and seeds take the least amount of time. Keep a close watch on them so they don't burn. Turn the heat down a bit when you add the spices.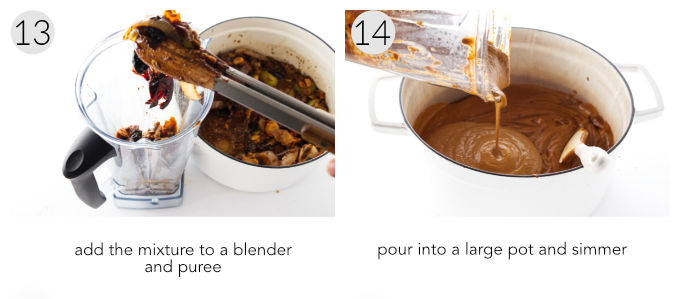 Blend the mixture in batches and add additional broth as needed so the blender can puree everything.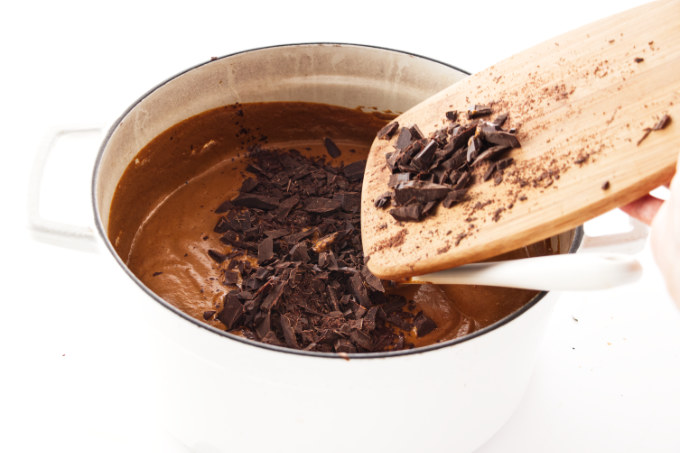 Helpful Tips:
Let the chiles soak. The dried chiles need to soak for at least 30 minutes to get soft. As long as you toast the chiles first, they should have plenty of time to soak while you prepare the other ingredients.

Ancho and mulato chiles are both dried poblano peppers. Ancho chiles are dried when the poblano pepper ripens to a red color. The mulato chiles are dried when the pepper is dark brown.

You can use either one or use both if you have them. Even though both chiles come from the poblano pepper, they have different flavor profiles, and they each add something unique to the mole sauce.

Watch how much you char the ingredients. A dark char adds layers of flavor but too much charring will make the mole sauce bitter.

For a spicier mole sauce, leave some of the seeds in the chile peppers. Alternatively, you could add some chile powder toward the end and adjust the heat level to your liking.

We recommend adding chile powder at the end if you want the sauce spicier. That way you can control the spice level much easier.

Choose a bar of unsweetened dark chocolate. Some recipes call for sweetened chocolate like Abuelita, which tastes more like sugar than chocolate.

You will get a more authentic Mexican mole sauce if you start with pure, unsweetened chocolate. You can always add a bit of sweetness later in the process.

Make it your own. If you're missing an ingredient or you just want to add your own flare, it's easy to substitute the ingredients or add a few extra.

The table below shows you a few ways you can customize this mole sauce.
Ingredient Swaps:
For a Change
Try One of These
For different nuts or seeds


Walnuts
Pecans
Pinenuts
Sunflower seeds
Want a sweeter mole sauce?
Sugar
or…Honey
or…Maple syrup
Want a smokier flavor?


2 teaspoons smoked paprika
or…A dash of liquid smoke
or… A drizzle of Adobo sauce
(from canned chipotle)
Want to add fresh fruit?


Add a grilled plantain.
or try a slice or two of fresh pineapple
Want to use different dried fruit?
Raisins
Dates
Prunes
Figs
ingredient substitutions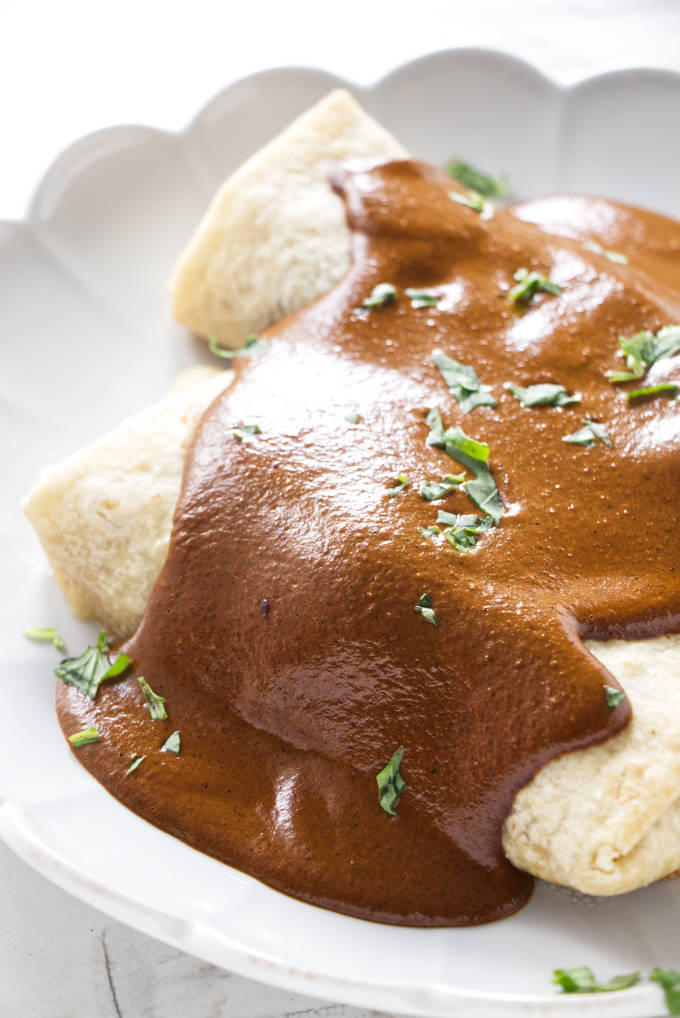 The first time I made this mole sauce was on a day following Thanksgiving. I served it with our leftover roast turkey and everyone raved. We ate it with mushroom stuffing and wilted greens with bacon. I used the leftover mashed potatoes to make loaded baked potato croquettes to dip into the mole poblano sauce.
Frequently Asked Questions:
Does mole sauce taste like chocolate?
There is only a small amount of chocolate in this mole sauce and it does not taste like chocolate.
Mole sauces do not always include chocolate, although the ones that do have a deep, complex flavor.
How long can I store mole sauce?
You can store mole sauce for 3 days in the refrigerator or up to 6 months in the freezer.
Should mole sauce have a thin or thick consistency?
Mole sauce should have a medium consistency similar to gravy. However, you can make it as thick or thin as you want. To thin it out, add more chicken broth. If you want it thicker, simmer it a little longer until it reduces. Alternatively, add less liquid when you puree it in the blender.
Helpful Tools
Some of the following are affiliate links. If you click on these links and purchase something, we may receive a small commission. You don't pay any extra but it will help us keep the lights on.
We recommend using a cast iron pan when you char the ingredients. Please don't use a non-stick pan. Since you need to use higher heat to get a char, a non-stick pan will get ruined. We like using a ceramic-coated cast iron pan because it is easy to scrub clean.
A regular blender will work just fine to puree the mole sauce, but a high-speed blender will make a much smoother sauce.
Some Other Recipes We Are Sure You Will Love:
This chocolate chipotle barbecue sauce is a delectable combination of dark chocolate and the smoky spiciness of chipotle. It is a great switch from the traditional BBQ sauce.
This Lemon-Dill Aioli Sauce is smooth and creamy, with a pronounced dill taste. It that perfectly with fish and chicken.
This rich, creamy caramel sauce tastes better than store-bought, and it doesn't have all of those pesky ingredients!
Our Tarragon Cream Sauce is silky smooth and delicious. It's a great addition to any chicken, fish, rice, or vegetable-based dish.
Connect With Savor the Best:
Please follow us on our social media accounts
Facebook * Instagram * Pinterest * Youtube * Twitter
Did you make this recipe? We would love to hear from you. Drop us a comment below.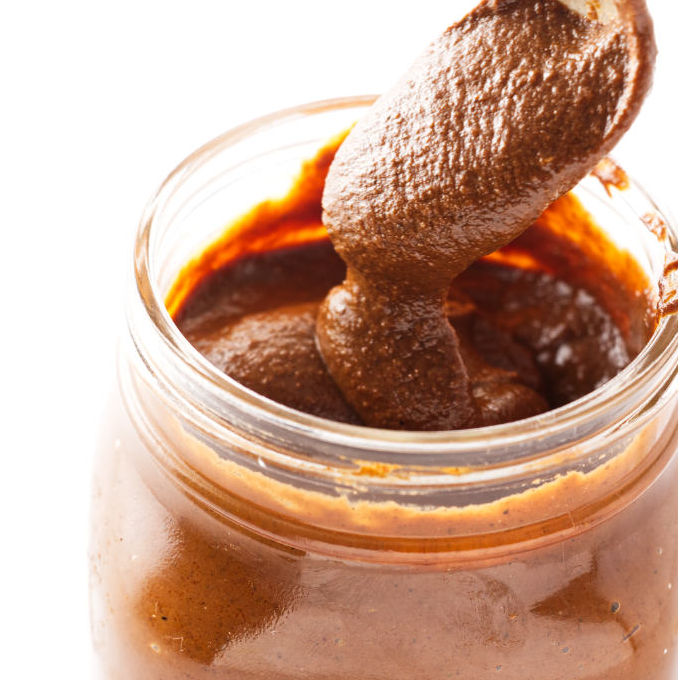 Mole Sauce
Total Time:
1 hour
15 minutes
A smokey mole sauce that is a mix of dried chilies, dried herbs and spices a little dried fruit, and chocolate. Also known as mole poblano or mole rojo, this Mexican mole sauce is easy to adjust to your own taste. See the notes if you want to add additional fruits and spices.
This recipe makes about 10 cups of thick sauce that you can thin down as needed. When I thin it down to a gravy-like consistency, I get about 12 to 14 cups of sauce. Since you have to gather a lot of ingredients, it's worth making a large batch and freezing what you don't use.
Ingredients
Chiles and Broth
6 to 7 cups chicken broth
5 to 6 tablespoons bacon grease, divided
7 to 8 dried ancho or mulato chiles
6 dried guajillo chilies
3 to 4 dried chipotle chiles
Bread
1 slice of white bread
2 corn tortillas (or use 1 cup of tortilla chips)
Fruit and Vegetables
2 tomatoes, cut in thick slices
5 tomatillos, cut in half
1 onion, sliced
6 to 8 garlic cloves, peeled
3/4 cup dried cranberries
Nuts and Seeds
3/4 cup peanuts
1/2 cup almonds
1/4 cup pumpkin seeds
3 tablespoons sesame seeds
Spices and Chocolate
(see the notes if you are using whole spices)
1 tablespoon ground cumin
1 tablespoon dried thyme
1 tablespoon ground cinnamon
2 teaspoons ground allspice
3/4 teaspoon ground cloves
1-1/2 teaspoons salt
4 ounces unsweetened chocolate, coarsely chopped
Instructions
Add 3 to 4 cups of the chicken broth to a large pot (save the rest for later when you blend the ingredients). Bring it to a boil over medium-high heat, then reduce the heat to low and simmer.
Make sure you use a pot that is large enough to hold all the ingredients since you will add each of the ingredients to the pot after you char them in a skillet.
While the broth is simmering, cut the stems from the chiles and scrape out the seeds. Heat 2 tablespoons of the bacon grease in a heavy-bottomed skillet over medium-high heat. Add the dried chiles, stirring constantly until they get slightly charred and release their fragrance.
Transfer the chiles to the pot of hot broth. Remove the pot from the heat and let the chiles soak in the broth while you prepare the rest of the ingredients.
Melt some more bacon grease in the same skillet. Add the bread and the tortillas and toast them on both sides over medium-high heat. Tear them into pieces and add them to the pot with the broth and chiles. Push them down into the liquid.
Add the tomatoes and tomatillos to the skillet and cook, turning after 4 or 6 minutes until they get soft and have blackened char marks on them. Add them to the pot with the chiles and bread.
Melt some more bacon grease in the skillet over medium heat. Stir in the onion, garlic, and dried cranberries. Cook, stirring frequently until the onions and garlic are golden and the cranberries are soft, about 8 to 10 minutes. Transfer the mixture to the pot with the chiles.
Add some more bacon grease to the skillet. Add the peanuts, almonds, pumpkin seeds, and sesame seeds. Toast the nuts and seeds over medium heat, stirring frequently until they get golden brown and fragrant. The sesame seeds will start to "pop" when they get toasted. Add them to the pot.
Reduce the heat under the skillet to medium-low. Add the spices to the skillet and stir until they are fragrant, about 2 minutes. Transfer the spices to the pot and give the mixture a stir.
Working in batches, transfer the mixture to a blender. Blend until smooth. Add enough additional broth or water to get the blender to puree everything well.
Transfer the puree into a large saucepan over medium heat and add the salt. Bring the mixture to a simmer and add the chopped chocolate, stirring until the chocolate is completely melted.
Simmer the sauce for at least 15 minutes or as long as 1 hour. The longer you simmer the sauce, the deeper the flavors will develop. Make sure you stir the sauce frequently from the bottom so it doesn't burn on the bottom.
Add additional broth if you want the sauce thinner.
Taste the mixture and season to your liking.

Notes
If you prefer a sweeter mole sauce you can add a little honey or brown sugar to the finished sauce and sweeten it to your desired taste. You can also replace some of the broth with orange juice or puree fresh or canned pineapple into the sauce for a sweeter flavor.
For a spicier mole, add chili powder in 1/2 teaspoon increments or add a pinch of cayenne pepper.
If the sauce appears to be thicker than you desire, add additional hot chicken broth to reach the desired consistency.
To make the sauce thicker, simmer it longer until it reduces down. Typically, mole sauce should be thickened to gravy-like consistency but you can thicken it up and use it as a chip dip or thin it out and make it brothy if you like.
We used pre-ground spices to eliminate the possibility of having whole spices remain in large chunks if they don't get pulverized well. See below if you want to use whole spices.
If you want to use whole spices, use the following amounts: 2-1/2 teaspoons whole cumin seeds, 1 cinnamon stick, 12 to 20 whole cloves, and 10 whole allspice berries. Toast the spices until fragrant then pulverize them with a mortar and pestle or spice grinder.
Nutrition Information:
Yield:

40
Serving Size:

1/4 cup
Amount Per Serving:
Calories:

107
Total Fat:

7g
Saturated Fat:

2g
Trans Fat:

0g
Unsaturated Fat:

4g
Cholesterol:

7mg
Sodium:

1105mg
Carbohydrates:

9g
Fiber:

2g
Sugar:

5g
Protein:

4g
Nutrition information is a guideline only, is calculated automatically by third-party software, and absolute accuracy is not guaranteed.
Watch our Web Story here.
This recipe was originally published on November 30, 2015. We updated the photos, added several process photos, and did some general housekeeping. The original photo is below.