A smokey authentic Mexican mole sauce of dried chilies, dried herbs and spices, and a bit of dried fruit and chocolate. Serve this mole sauce with turkey drums or any type of meat.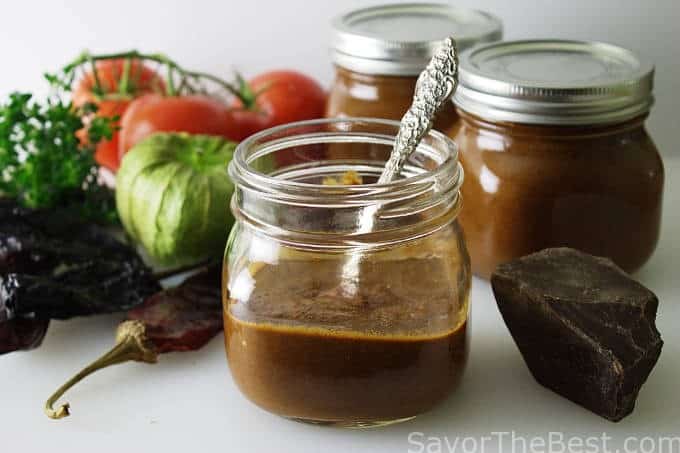 Oh, boy! Do I have leftovers from Thanksgiving! Lot's of turkey, so I have made a mole sauce and served it with the turkey drums to make a wonderfully, delicious dinner. The rich smokey chiles, plus the spices and sweetness of the dried fruit add a complexity to this sauce with a hint of chocolate.
This was my first experience in creating a mole sauce and while doing a little research, I was shocked at the number of ingredients in some of the recipes. This recipe, adapted from All Recipes, is not too complicated with ingredients and it is smokey, spicy and not too sweet. There is a good balance to the mix of flavors with just a hint of the chocolate flavor.
Mole sauce is a thick complex sauce of flavors consisting of sweet, salty, spicy and sour and there seems to be all kinds of combinations of ingredients using a mix of chiles, spices and dried fruit and nuts but they all agree on one ingredient. Dark chocolate! This recipe makes about five cups of mole sauce and there is only a four ounce chunk of chocolate added to it so I was surprised that I could actually taste the delicious chocolate notes in the sauce.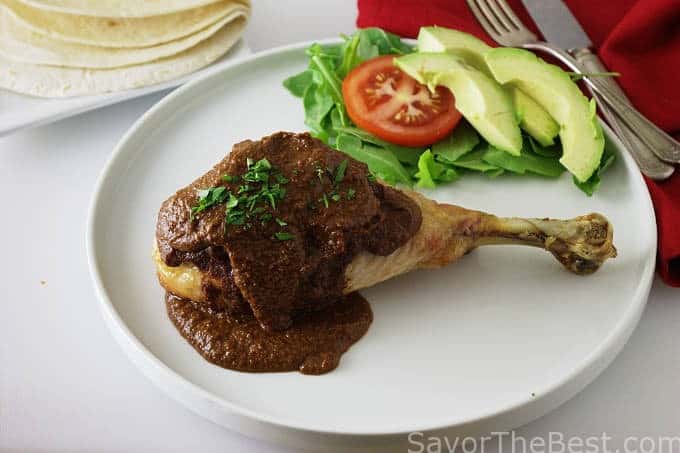 That was a nice tender and juicy roast turkey we served for Thanksgiving dinner and it was accompanied with a sage, lemon and mushroom stuffing and a side dish of wilted greens with bacon. We had leftover mashed potatoes that made delicious loaded baked potato croquettes.
It will take an hour or so to create this mole sauce but it is well worth the time and effort. Plus it will keep in the refrigerator for a several days and it freezes well.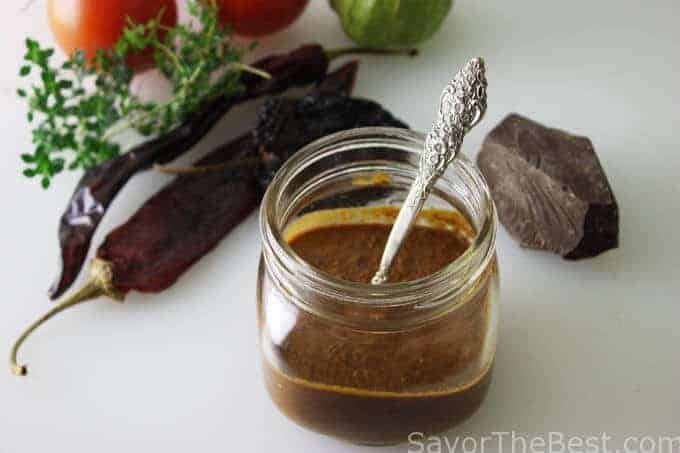 Other sauces to check out: Chocolate Chipotle Barbecue Sauce and Lemon-Dill Aioli Sauce, Salted Caramel Sauce
CONNECT WITH SAVOR THE BEST!
Be sure to follow us on our social media accounts
Facebook * Instagram * Pinterest * Twitter * Youtube
Did you make this recipe? We would love to hear from you. Drop us a comment below.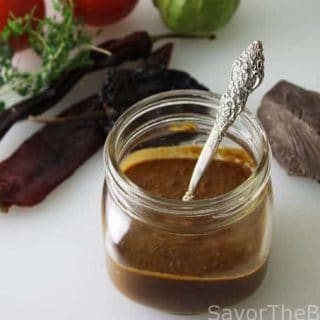 Mole Sauce
Yield: 5 cups
Prep Time: 30 minutes
Cook Time: 45 minutes
Total Time: 1 hour 15 minutes
A smokey mole sauce that is a mix of dried chilies, dried herbs and spices a little dried fruit and chocolate.
Ingredients
3 cups chicken broth, divided
2 dried guajillo chiles
2 dried ancho chiles
3 dried chipotle chiles
1 slice of white bread
2 corn tortillas
2 tomatoes, cut in thick slices
5 tomatillos, cut in thick slices
1 tablespoon coconut oil or vegetable oil
1 onion, chopped
6 garlic cloves, peeled and sliced
1/3 cup peanuts
1/4 cup dried cranberries
2 tablespoons cumin seeds
1 tablespoon dried thyme
1 tablespoon ground cinnamon
1/2 teaspoon ground cloves
1/2 teaspoon ground allspice
1 teaspoon sea salt
4 ounces dark chocolate, coarsely chopped
Instructions
Add 2 cups of the chicken broth to a small saucepan and over medium-high heat, bring it to a boil then reduce the heat to low and simmer.
While the broth is simmering, cut the stems from the chiles and scrape out the seeds, heat a cast iron or heavy-bottomed skillet over medium heat and add the dried chiles, stirring constantly until they are warm and releasing their fragrance. Transfer to a blender.
Add the bread and the tortillas to the dry skillet and toast them on both sides, over medium heat. Tear them into pieces and add them to the blender with the broth and chilies, push them into the liquid and allow to soak until soft, about 10 minutes. Process the mixture to a smooth puree.
Add the tomatoes and tomatillos to the dry skillet and cook, turning after 3 or 4 minutes until they are soft and blackened. Add them to the blender with the chile puree.
Add the oil to the skillet over medium heat and when it is hot, stir in the onion, garlic, peanuts, cranberries, cumin seeds, thyme, cinnamon, cloves and allspice. Cook, stirring frequently until the onions are soft and golden, about 8 minutes. Transfer the mixture to the blender with the chile puree and tomato mixture. Blend until smooth.
Transfer the chile puree into a large saucepan over medium heat and add the remaining 1 cup of chicken broth and salt. Bring the mixture to a simmer and add the chocolate, stirring until the chocolate is completely melted and the sauce is thick and has reduced in volume slightly, about 15 minutes.
Notes
If you prefer a sweeter mole sauce you can add a little honey to the finished product and sweeten to the desired taste.
If the sauce appears to be thicker than you desire, add additional hot chicken broth to reach the desired consistency.
Nutrition Information:
Yield: 20
Serving Size: 1/4 cup
Amount Per Serving:
Calories: 91
Total Fat: 5g
Saturated Fat: 2g
Trans Fat: 0g
Unsaturated Fat: 2g
Cholesterol: 1mg
Sodium: 266mg
Carbohydrates: 11g
Fiber: 2g
Sugar: 6g
Protein: 2g
Nutrition information is a guideline only, is calculated automatically by third-party software, and absolute accuracy is not guaranteed.