This Quinoa Breakfast Bowl is a nutritious 'Get Your Day Going' breakfast filled with hot quinoa, crisp bacon, fresh vegetables and topped off with a poached egg.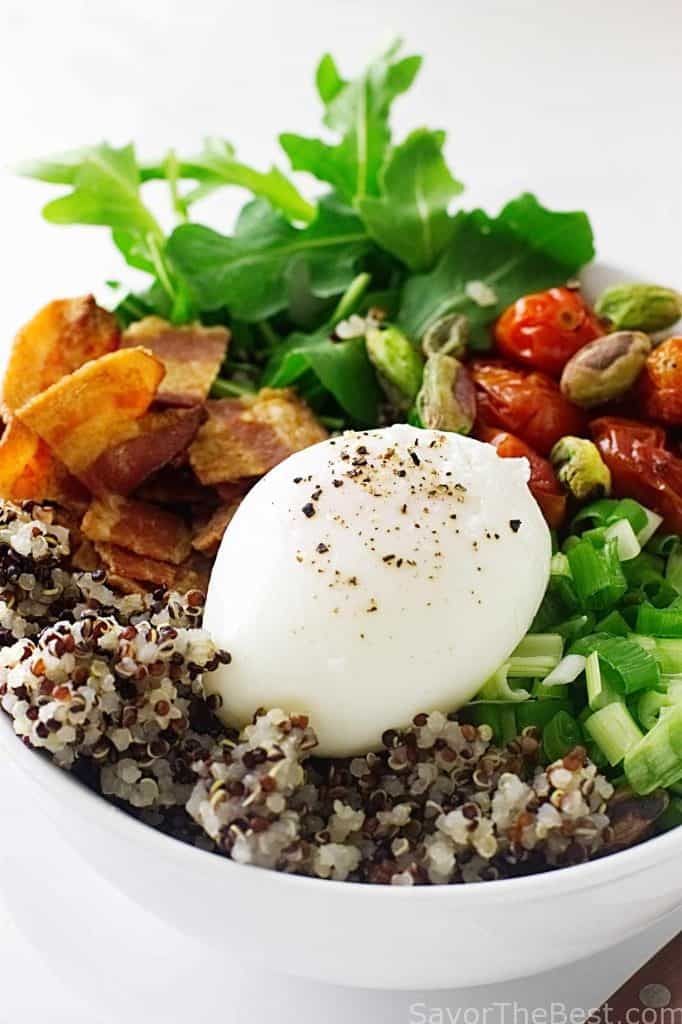 In the daily rush, it is so easy to fall into the habit of preparing the same old breakfast ideas.
What does your breakfast routine look like? If it's more of the same old cereal, toast, and coffee, consider switching things up with a quinoa breakfast bowl. Not only is this dish loaded with healthy ingredients – but you'll also feel fuller for longer.
Here is Why You Will Love This Breakfast
Great balance of protein, vegetables, and carbs.
It is a great switch from an ordinary breakfast.
Easy to customize with your favorite toppings.
Gluten-free
The best way to start your day is with a healthy and delicious breakfast. This savory breakfast quinoa will hit the spot and keep you fueled for the day.
If you're looking for more quinoa breakfasts, try our quinoa breakfast muffins, or our quinoa and black bean breakfast burger.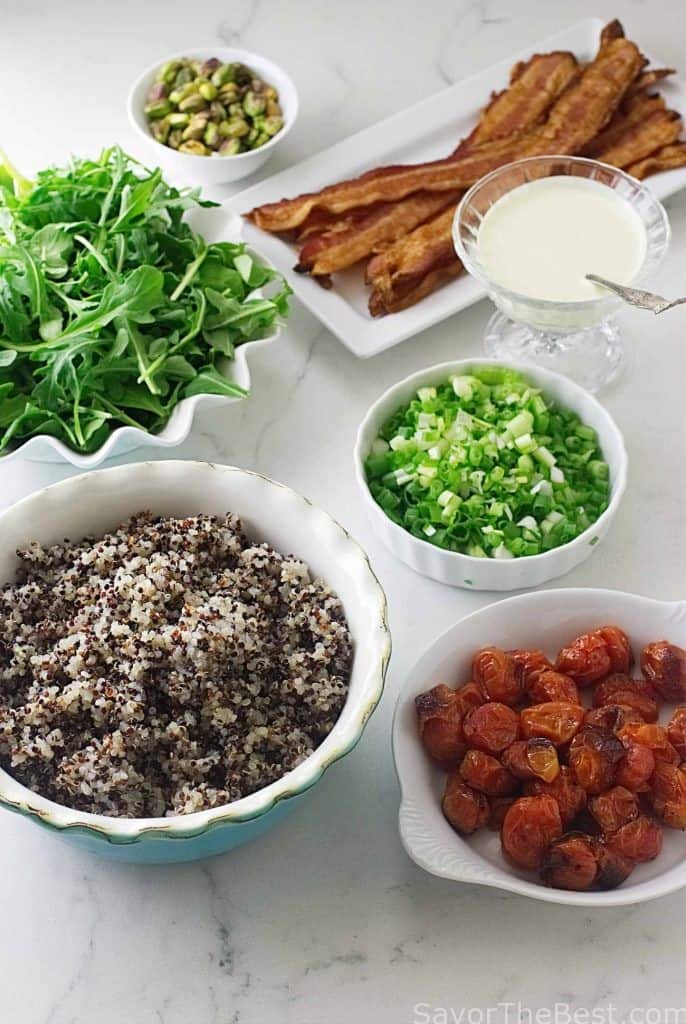 The Ingredients
Here is the list of ingredients you will need for this hot, savory quinoa breakfast.
Quinoa. You can use any kind of quinoa: white, red, tri-color.

Grape tomatoes.

Bacon. Cooked crispy (or however you prefer).You can substitute with ham or sausage links.

Arugula. You could also use spinach, endive, or watercress.

Scallions. Also known as green onions.

Pistachios. Or substitute with almond slivers.

Eggs. Increase the amount of eggs if desired.

Sour cream or Greek yogurt. The base for the sauce.

Mayonnaisse. The mayonnaise adds richness and body to the sauce but if you are not a fan of mayo, substitute with some olive oil.

Lemon juice. For the sauce.

Dijon. Also for the sauce.
You will also want olive oil, salt, and pepper
There is a lot of protein in the quinoa and poached egg….one cup of cooked quinoa has eight grams of protein and the average egg has seven grams of protein. Then the fresh arugula, green scallions, and tomatoes are filled with vitamins.
How To Make It
This is a quick overview so you can see how easy it is to make this breakfast bowl. Scroll down to the printable recipe card for all the details.
Roast the tomatoes in the oven.
Rinse and cook the quinoa.
Poach the eggs.
Add hot quinoa to serving bowls and layer all the toppings over the quinoa.
Mix the sauce in a dish and drizzle over the breakfast quinoa.
We roasted the grape tomatoes for 20-minutes and while they were in the oven, we cooked the quinoa. The quinoa was portioned into bowls with tomatoes, green scallions, arugula, bacon, and nuts. Then the bowl was topped off with a three-minute poached egg and drizzled with a creamy sauce.
This filling quinoa breakfast is worth repeating.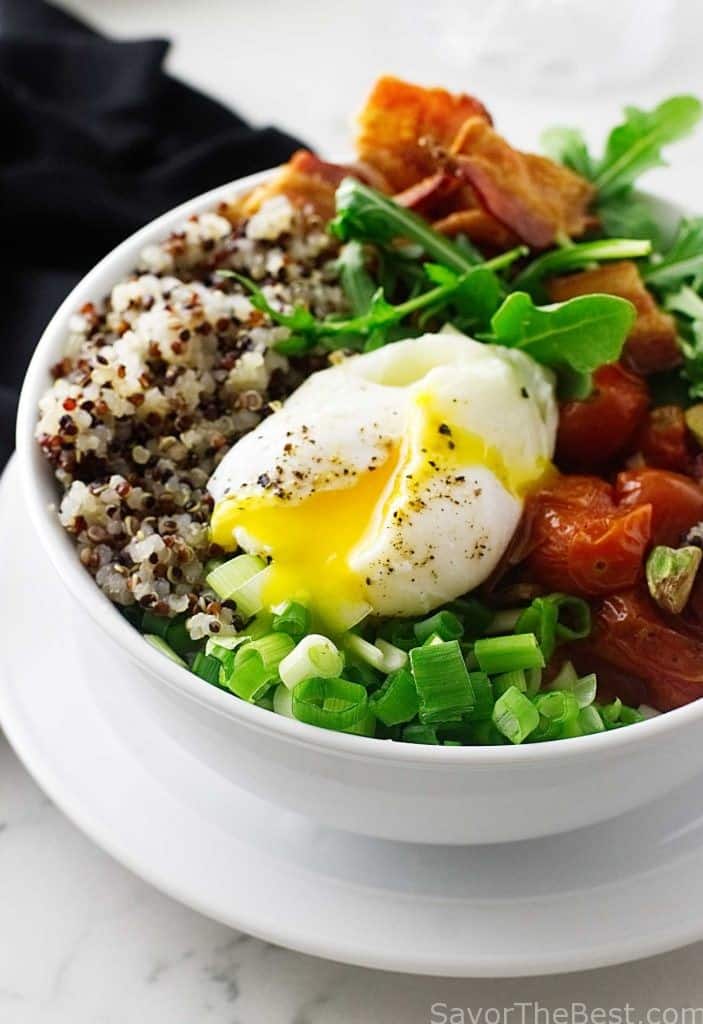 What is Quinoa?
Quinoa is an 'ancient grains' dating back 4000 years. Actually, it is a seed rather than a grain and it is gluten-free, which is good news to all gluten-free lovers.
There are many varieties of quinoa but the most common are white, black and red. Quinoa has a natural coating that requires an easy cold-water rinse to remove before cooking.
If left un-rinsed it will leave the cooked quinoa with a bitter taste. Quinoa cooks quickly, which means it works for your breakfast when you are in a rush.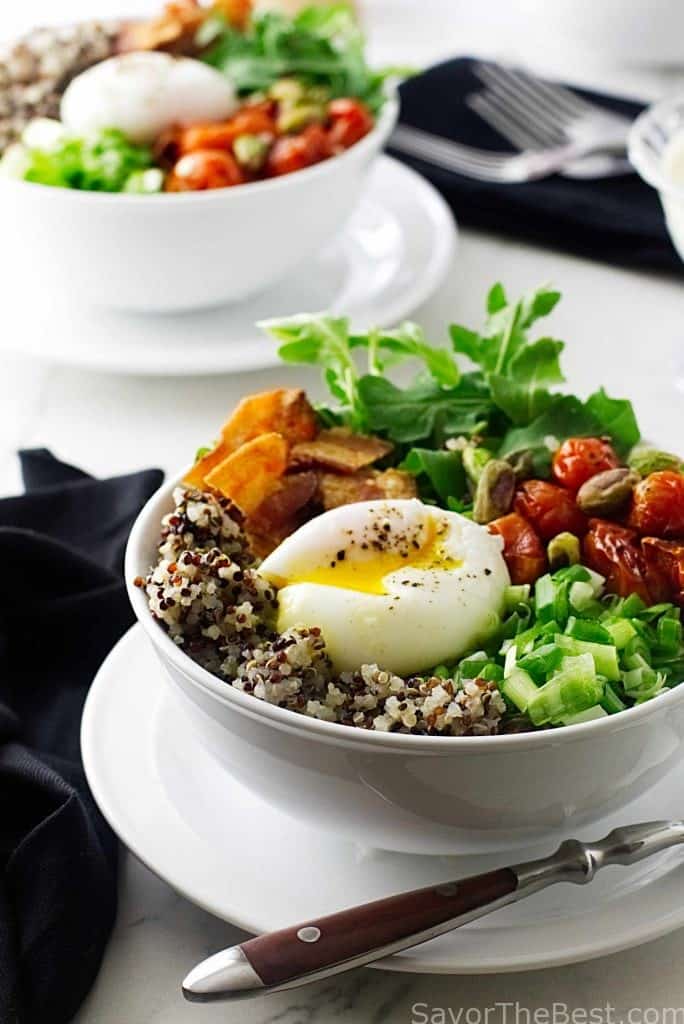 You can have this quinoa breakfast bowl sitting in front of you in less time than it takes to stir up, cook, and serve a batch of waffles, pancakes, or French toast.
More Breakfast Ideas
Einkorn Breakfast Pilaf with Poached Egg
Connect With Savor the Best:
Please follow us on our social media accounts
Facebook * Instagram * Pinterest * Youtube * Twitter
Did you make this recipe? We would love to hear from you. Drop us a comment below.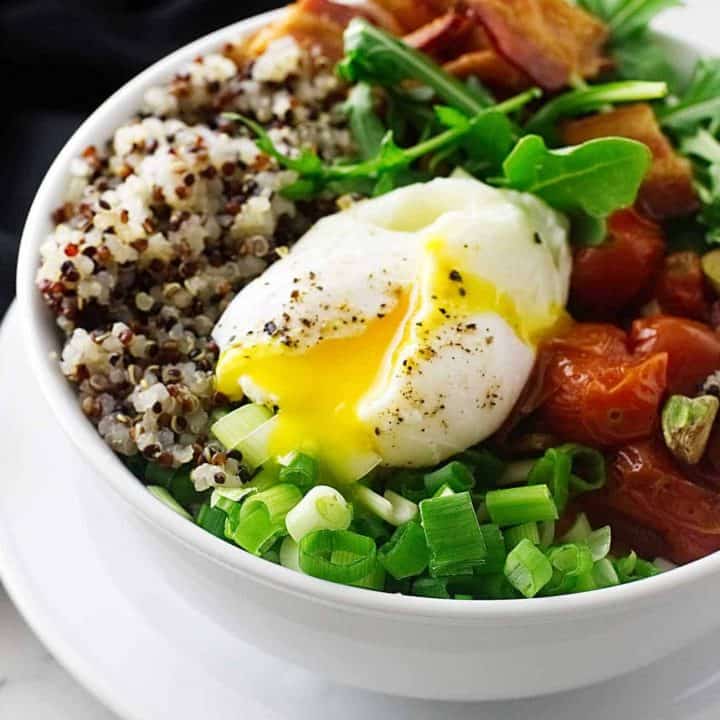 Quinoa Breakfast Bowl
Our Quinoa Breakfast Bowl is a nutritious 'Get Your Day Going' breakfast filled with hot quinoa, crisp bacon, fresh vegetables and topped off with a poached egg.
Ingredients
1 cup quinoa
1 pint grape tomatoes
1 tablespoon olive oil
salt and fresh pepper
8 thick slices bacon, cooked
4 cups fresh arugula
1 bunch green scallions, thinly sliced
1 cup roasted pistachios (or nuts of your choice)
4 large eggs
For the Sauce:
1/2 cup sour cream
1/4 cup mayonnaise
1 teaspoon Dijon mustard
1/4 cup lemon juice, freshly squeezed
Salt and pepper to taste.
Instructions
Preheat the oven to 400 degrees F.
Add the tomatoes to a baking sheet and drizzle lightly with olive oil. Sprinkle generously with salt and pepper. Roast for 15 minutes, until the tomatoes are soft. Transfer the tomatoes to a small plate.
While the tomatoes are roasting, add the quinoa to a fine-mesh strainer and rinse under cold tap water swishing around with your hand to get that bitter coating washed off. Add the quinoa to a small saucepan, stir in 2 cups of water or broth, bring to a rolling boil. Turn heat down to the lowest setting, cover and cook for 15 minutes. Remove the pot from heat and let stand for 5 more minutes, covered then fluff with a fork.
Fill a medium-sized saucepan with water and bring to a boil, reduce to the lowest temperature and carefully add 4 eggs and simmer for 3-minutes, or until preferred doneness.
Meanwhile, divide the quinoa, hot tomatoes, bacon, arugula, scallions and pistachios between 4 bowls.
In a small dish Add the sour cream, mayonnaise, Dijon mustard and lemon juice and whisk together until smooth.
Remove the poached eggs from the simmering water and add one egg to each bow. Serve with the sauce.
Notes
Nutrition Values do not include the sauce. The sauce makes 1 cup/16 tablespoons. Values for the sauce are: 1 tablespoon Cals. 35, Fat 1, Carbs 3, Prot. 1
Nutrition Information:
Yield:

4
Serving Size:

1
Amount Per Serving:
Calories:

461
Total Fat:

32g
Saturated Fat:

7g
Trans Fat:

0g
Unsaturated Fat:

23g
Cholesterol:

209mg
Sodium:

748mg
Carbohydrates:

23g
Fiber:

6g
Sugar:

5g
Protein:

24g
Nutrition information is a guideline only, is calculated automatically by third-party software, and absolute accuracy is not guaranteed.