A simple and healthy breakfast made with whole-grain einkorn wheat berries and topped with a poached egg. This savory einkorn breakfast pilaf will keep you full and satisfied.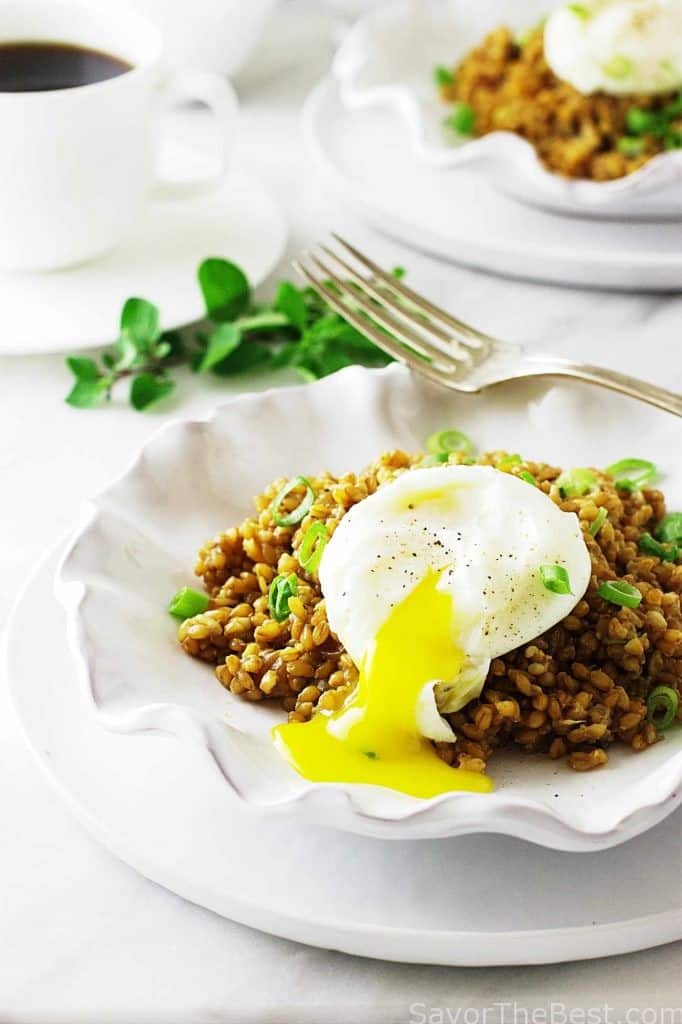 With the bran and fiber intact, whole grain einkorn wheat berries are a complete package and make a great start to your day. The fiber helps lower cholesterol, improve digestive health, slows the breakdown of starch to maintain a steady blood sugar and lower your risk of heart disease.
Adding whole grains to your diet isn't difficult if it tastes good and this einkorn breakfast pilaf tastes amazing. The einkorn wheat berries are cooked with herbs and chicken broth then topped with a perfectly poached egg with a creamy, custardy yolk.
This is a breakfast for champions. It is nourishing, savory, and filling.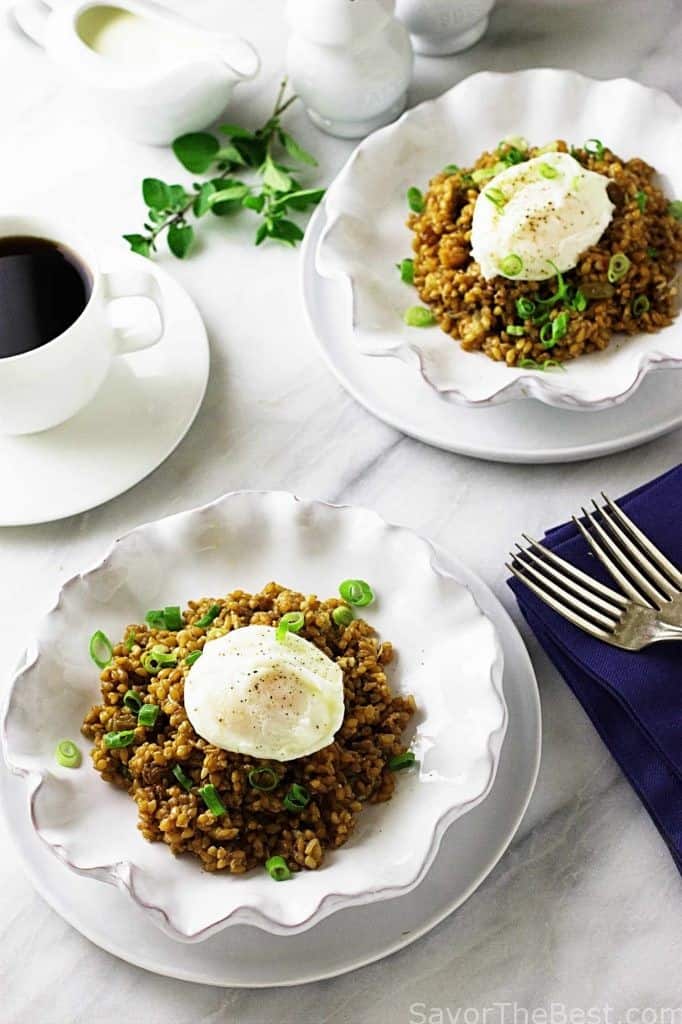 Aside from the health benefits of whole grains, einkorn offers a higher nutritional value than modern wheat berries so you are getting a double whammy for your buck with this breakfast.
Einkorn is the original wheat. It is wheat the way God designed it, never hybridized or changed. This is what wheat was in ancient days before people hybridized it and changed it's structure, nutritional profile, flavor and gluten content.
Einkorn still has gluten in it but the protein structure of the gluten is different and many people that find regular wheat difficult to digest have found that they can eat einkorn without any problems.
Check out this article for the nutrition values of einkorn and this article about the reasons einkorn is easier to digest than regular wheat.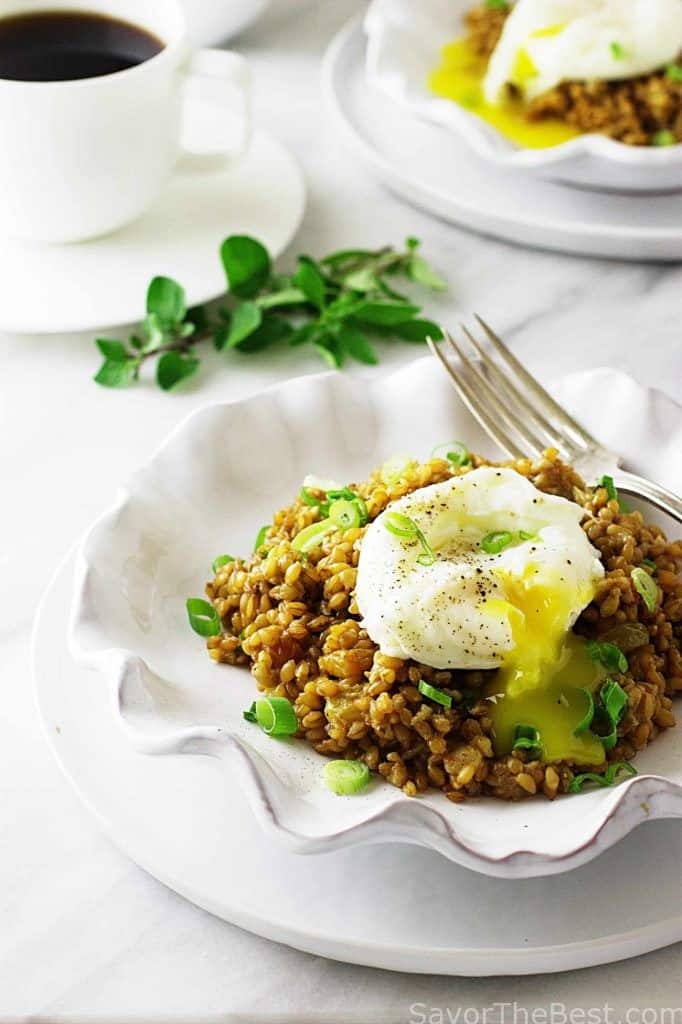 You might also like our Whole Grain Einkorn Blueberry Pancakes or our Einkorn Wheat Thins or our Einkorn Coconut Curry Risotto
CONNECT WITH SAVOR THE BEST!
Be sure to follow us on our social media accounts
Facebook * Instagram * Pinterest * Twitter * Youtube
Did you make this recipe? We would love to hear from you. Drop us a comment below.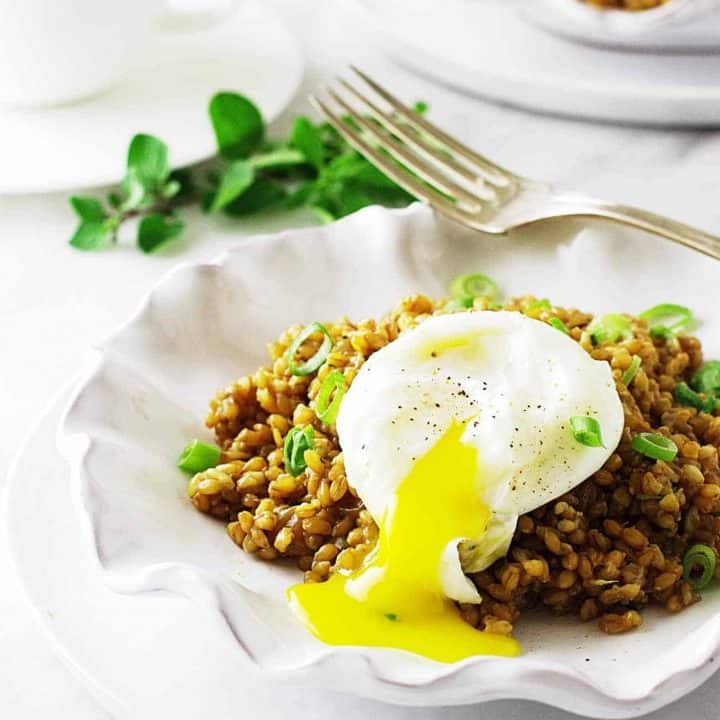 Einkorn Breakfast Pilaf with Poached Egg
Yield: 4 servings
Prep Time: 15 minutes
Cook Time: 25 minutes
Total Time: 40 minutes
A savory breakfast pilaf made with einkorn wheat berries and topped with a poached egg.
Ingredients
1 tablespoon coconut oil
1 small white onion, diced
2 garlic cloves, minced
2 teaspoons fresh thyme, chopped (or 1/2 tsp. dried thyme)
1 cup einkorn wheat berries
½ teaspoon salt
2 cups chicken broth
4 large eggs
Sliced green scallions for garnish
Instructions
For the einkorn pilaf:
Heat a tablespoon of olive oil oil in a large saucepan over medium high heat. Add the onion, garlic and and thyme, sauté until soft.
Add the einkorn berries, salt and chicken broth to the saucepan. Bring to a boil over high heat then reduce the heat to medium and place a lid on the pan.
Cook over medium heat for 20 to 25 minutes then set aside while you prepare the eggs.
To poach the eggs:
Fill a large saucepan three-quarters full of water. Bring the water to a boil, reduce the heat to simmer.
Working with one egg at a time crack it into a fine mesh strainer, swirl it around allowing the watery white to drain off, transfer the egg into a small half-cup plastic cup or a ladle that has been sprayed with cooking spray. (I use the individual serving containers that applesauce are sold in.)
Do the same process with the second egg. Float the containers on top of the hot simmering water for 30 seconds, or if your using a ladle then hold it only slightly submerged, then gently tip the egg out of the container and into the simmering water. Cook an additional 2-3 minutes, or according to your preference.
To Serve:
Divide the einkorn pilaf into 4 separate bowls then top with a poached egg and sliced scallions.
Notes
You can use boiled or fried eggs instead of poached eggs
Nutrition Information:
Yield: 4
Serving Size: 1
Amount Per Serving:
Calories: 193
Total Fat: 9g
Saturated Fat: 4g
Trans Fat: 0g
Unsaturated Fat: 3g
Cholesterol: 188mg
Sodium: 800mg
Carbohydrates: 19g
Fiber: 3g
Sugar: 2g
Protein: 11g
Nutrition information is a guideline only, is calculated automatically by third party software, and absolute accuracy is not guaranteed.