You are going to love this easy recipe and the tangy flavor of t
hese Lemon Chicken Piccata cutlets. They are
perfectly
cooked, tender, delicious and coated in a tangy sauce with briny capers.
Serve this impressive Italian classic dish at your next dinner party and WoW! your guests. This is a simple recipe that provides maximum flavor from the tart lemon-butter sauce.
Lemon chicken piccata is an easy recipe that you can put together on a busy weeknight. It takes 10 to 15 minutes to prep the ingredients and about 15 minutes to cook the entire meal.
The tender and juicy chicken cutlets get to swim in a tangy lemon caper sauce. The sauce only has 6 ingredients and it comes together in 5 minutes. You will be surprised at how much flavor is in this lemon sauce. This is a meal you will want to keep on books for frequent repeats!
How To Prepare Lemon Chicken Piccata:
For this easy recipe of lemon chicken piccata, thin chicken breast cutlets have a coating of regular flour and semolina flour. The semolina flour adds a nice crisp crust to the chicken cutlets and the coating gives the chicken a lovely crusty surface for the lemon-caper sauce to cling to. If you don't coat the chicken in the flour it will still be a delicious dinner but it really is so much better with the crusty coating of flour.
Making The Lemony Piccata Sauce:
The sauce is so easy to put together! It is the briny capers that gives this lemon chicken piccata the magical touch. This is all that is in the sauce:
Butter

Garlic
Lemon juice
Chicken stock
Capers
Lemon slices
To add a fancy flair and more delicious flavor, you could add a bit of good dry white wine to the sauce. Be sure to buy one you enjoy drinking and finish off the bottle with your dinner. We have found some really affordable wines that would go well with this chicken piccata dish. If you would like a recommendation then choose a Chardonnay or Sauvignon Blanc, but honestly, any white wine you enjoy would go well with this dish.
We made this tangy lemony sauce of butter, garlic, chicken broth, lemon juice, lemon slices, and bottled capers. Let the sauce boil for a few minutes to reduce and thicken. Then we added the chicken cutlets to the sauce and let it simmer for a few minutes more to reheat the cutlets.
What are capers?
Cool fact: capers are tiny flower buds that come from a plant called the Flinders rose bush. They are actually very bitter if you eat them straight off the bush but for some reason, someone decided they would taste good if they were pickled. And whoever that creative person was, they were right.
Capers
have a salty, lemony flavor that just 'pop' in your mouth. They go perfect with this lemon sauce.
To serve this delightful lemon chicken piccata dish we transferred the cutlets to a serving platter
.
We spooned the tangy lemony sauce over the cutlets and garnished the top with parsley and the lemon slices.
That delicious sauce would also taste fantastic spooned over a pile of tender linguine!
What sides go with lemon chicken piccata?
Make this a meal with some simple side dishes. Cook some linguine pasta in a flash or make these amazing
parsley baby potatoes
then steam some broccoli for a fast veggie side. If you have extra hungry eaters then a simple garden salad with
Greek salad dressing
will fill in the gaps.
This recipe has been adapted from: Cooking Light, The New Way to Cook Light
More Chicken Recipes to Check Out:
CONNECT WITH SAVOR THE BEST!
Be sure to follow us on our social media accounts
Facebook * Instagram * Pinterest * Twitter * Youtube
Did you make this lemon chicken piccata? We would love to hear from you. Drop us a comment below. This is such a fast and easy recipe, you have to put in in your regular rounds.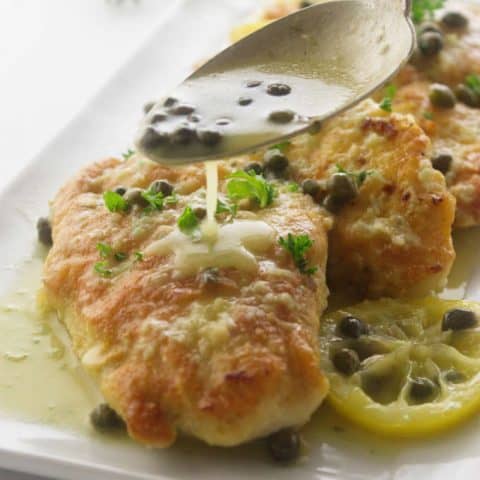 Lemon Chicken Piccata
A classic Italian dish of lemon chicken piccata chicken that is perfectly cooked, tender, delicious and coated in a tangy lemon-caper sauce.
Ingredients
4 skinless boneless chicken breast halves (about 6 oz. each)
3/4 cup all-purpose flour
1/4 cup fine grind semolina flour
1 tablespoon fresh thyme, finely chopped
1 teaspoon salt
1/2 teaspoon black pepper
2 tablespoons coconut oil or peanut oil
For the Sauce:
2 tablespoons butter
1 garlic clove, grated
1/2 cup low-sodium chicken broth
1/4 cup freshly squeezed lemon juice
1 whole lemon, thinly sliced
1/4 cup capers, drained
1/4 cup chopped fresh flat-leaf parsley (for garnish)
Instructions
Place chicken breasts between 2 sheets of plastic wrap and gently pound chicken with the flat side of a meat pounder or rolling pin to 1/2 inch thick.
In a shallow dish stir together flour, semolina flour, chopped thyme, salt, and the pepper.
Using paper towels, wipe the chicken pieces to remove the moisture then dredge all of the chicken pieces in the flour mixture, coating each one completely and shaking gently to remove excess. Place on a plate.
Heat the oil in a large heavy skillet over moderate heat until hot but not smoking. Working in batches of 2 chicken breasts at a time, add the dredged chicken cutlets to the skillet. Cook the cutlets for 2-3 minutes (depending on how thin you pounded them), until golden brown, carefully turn them over and cook the other side for 2-3 minutes. Transfer the cutlets to a platter and proceed with frying the remaining two cutlets. It may be necessary to add a little more oil to the skillet. Cover the cooked cutlets with foil to keep them warm.
For the Sauce:
Pour off any remaining oil in the skillet and wipe it out with a paper towel. Over low heat, add the butter and heat until the foam subsides. Add the garlic and cook just until fragrant, add the broth, lemon juice, and the lemon slices. Bring the sauce to a boil, and cook for about 5 minutes to reduce and thicken slightly, stir in the capers. Return the chicken to the sauce, reduce the heat to low and simmer for 3 to 5 minutes.
To serve: Transfer the chicken to a serving platter and spoon the lemon sauce over the chicken, sprinkle generously with the chopped parsley and garnish with the cooked lemon slices.
Notes
You can find bottled capers in the condiment area of local supermarkets
Some supermarkets offer an olive bar in their deli section where capers can be purchased in the amount you desire.
Nutrition Information:
Yield:

4
Serving Size:

1 Chicen Breast
Amount Per Serving:
Calories:

390
Total Fat:

21.5g
Saturated Fat:

12g
Cholesterol:

112mg
Sodium:

989mg
Carbohydrates:

13g
Fiber:

1.1g
Sugar:

0.4g
Protein:

34.9g