Our Creamy Paprika Chicken recipe is a hearty yet effortless dinner that you can whip up in just half an hour. While it might sound like a weekend-only endeavor, it's surprisingly weeknight-friendly.
This dish pairs beautifully with your choice of pasta, mashed potatoes, or rice and delivers deep flavors without complicated steps. It's a nod to the kind of meals our grandparents made but adapted to fit into our busy lives. We're using quality whole ingredients and a couple of shortcuts to make your cooking experience as stress-free as possible.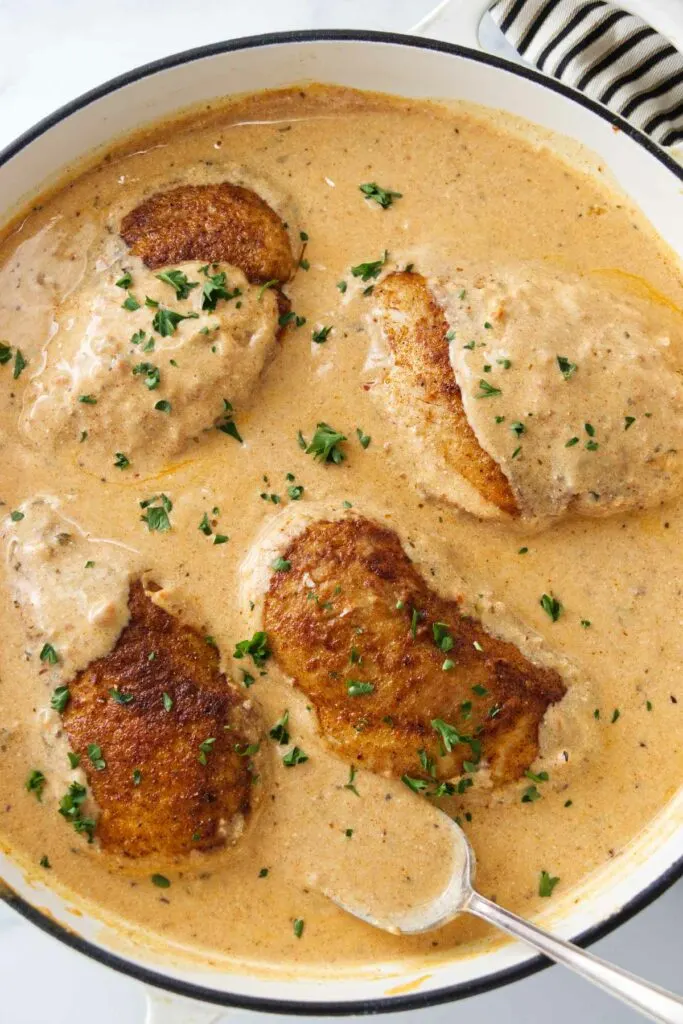 Here is Why This Paprika Chicken Recipe Works
Quick and Easy, Yet Elegant: This dish effortlessly marries simplicity with sophistication. You get the flavors of a meal that tastes like it took hours to create, but in reality, it's on the table in under 30 minutes.
One skillet meal: Everything is cooked in one pan, so cleanup is a breeze!
Customizable: Whether you're a garlic lover or want to opt for a non-alcoholic version, this recipe is easily adaptable.
Depth of Flavor: Smoked paprika has a complex flavor profile that's a blend of sweetness, smokiness, and mild heat. It has a great flavor if it is fresh.
Ingredients for Creamy Paprika Chicken
Here is a list of the ingredients you will need for this recipe. Scroll down to the printable recipe card for all the details.
Meat: Chicken breasts
Seasonings and spices: Smoked paprika, salt, and pepper, Italian seasoning.
Pantry: Flour, chicken broth, oil.
Other: White wine
Fridge: Butter, cream, Parmesan cheese
Produce: Lemon, garlic, parsley
Make sure your paprika is fresh. If it sits in the pantry too long, it will lose its flavor.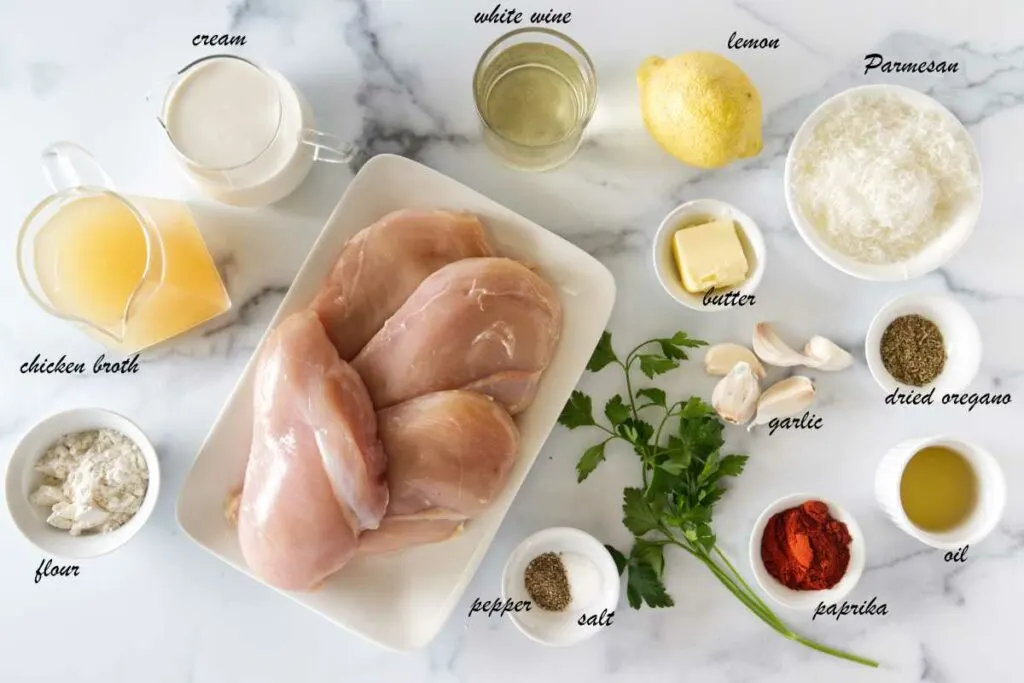 How to Make Skillet Chicken with Creamy Paprika Sauce
Here is a brief overview to get an idea of what to expect with the recipe. Scroll down to the printable recipe card for all the details.
Season Chicken: Sprinkle the seasoning mixture over the chicken breasts.
Sear Chicken: Sear the chicken briefly on both sides. Set aside.
Prepare Sauce Base: In the same skillet, melt the butter, sauté the garlic, and deglaze the pan with white wine and lemon juice. Add the chicken broth and cream. Let it bubble gently.
Thicken Sauce: Mix the remaining flour, Parmesan, and seasonings. Whisk into the sauce until creamy.
Finish Cooking Chicken: Submerge chicken in the sauce and simmer until the paprika chicken is fully cooked.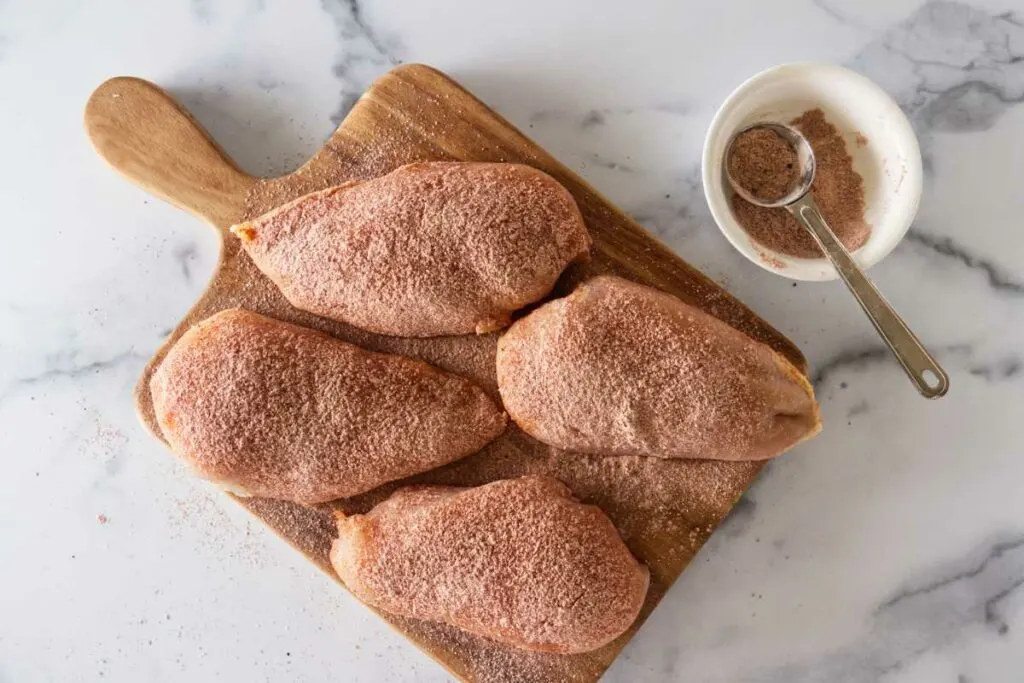 Coat the chicken in the seasoning blend.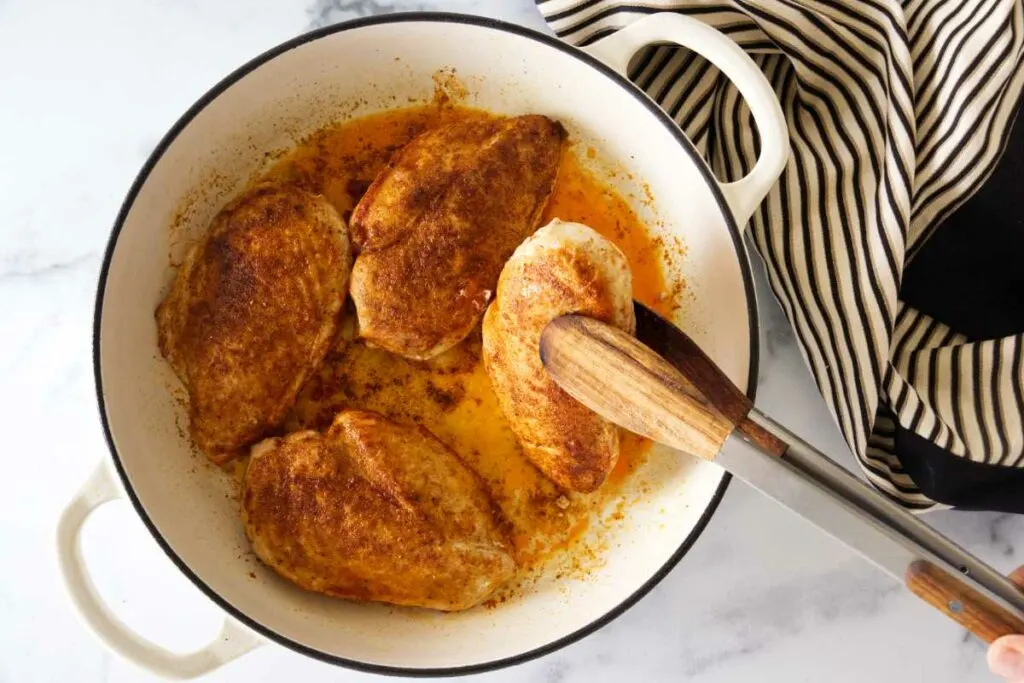 Brown the chicken then set aside. They don't need to be completely cooked at this point.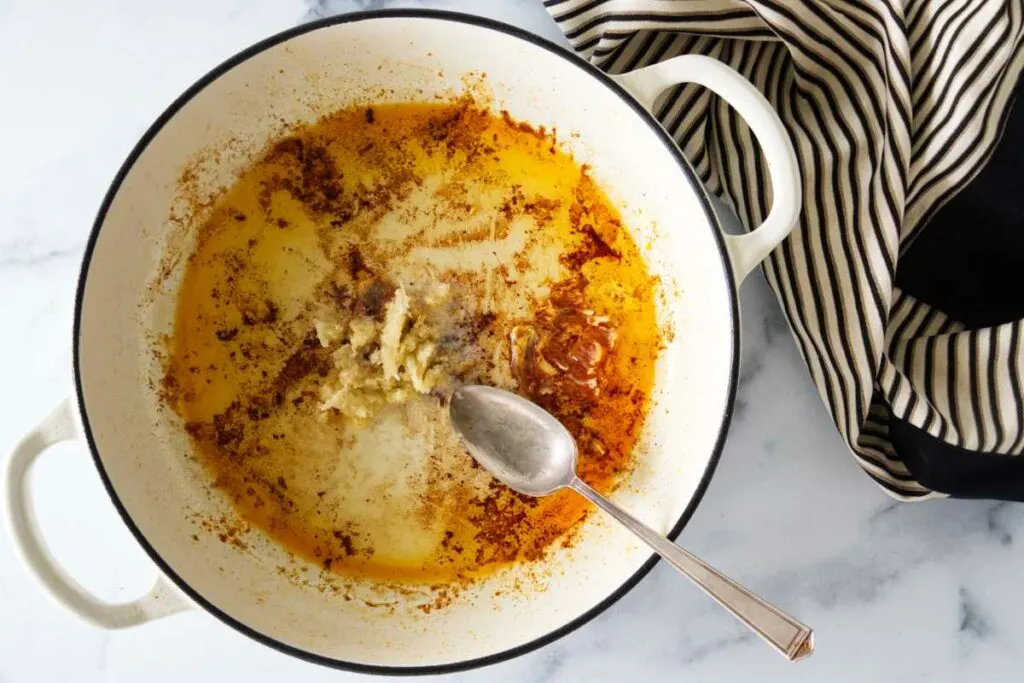 Deglaze the pan.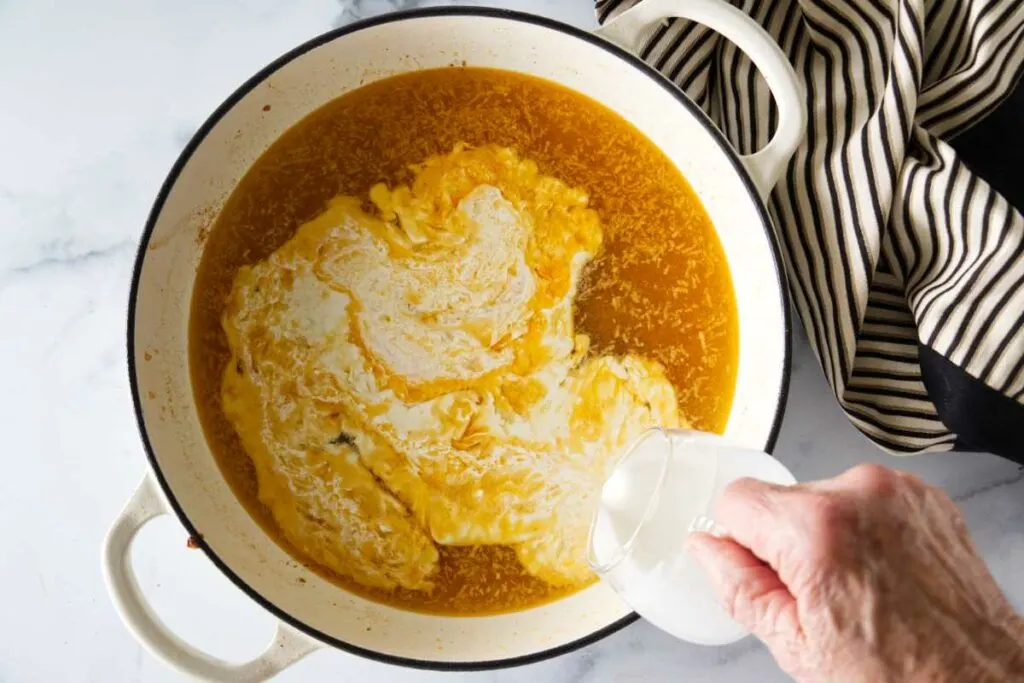 Stir in the cream, Parmesan, and the rest of the seasoning blend. Whisk until smooth and creamy.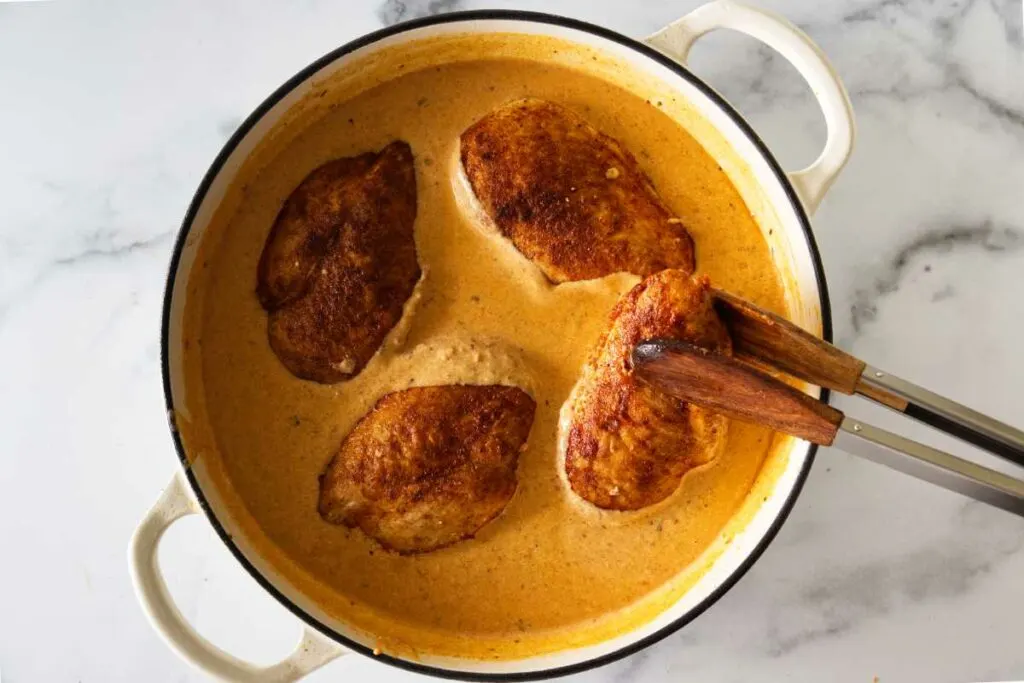 Add the chicken and simmer until cooked through,
Easy and Delicious Variations
Dairy-Free Version: Substitute the heavy cream with full-fat coconut milk and use nutritional yeast instead of Parmesan cheese. The coconut milk will give it a creamy consistency without the cream.

Spicy Kick: Add 1/2 teaspoon of cayenne pepper or crushed red pepper flakes to the creamy sauce along with the smoked paprika for some heat. You can also stir in a couple of teaspoons of hot sauce or chipotle in adobo sauce for an extra kick.

Veggie-Loaded: Add spinach, zucchini, or mushrooms along with the garlic. Sauté until tender before finishing with the sauce.
Pro Tips for Skillet Paprika Chicken
Use a cast iron skillet or stainless steel pan for the best browning.
Simmer uncovered until the creamy sauce thickens to desired consistency.
While the recipe uses dried Italian seasoning, you can swap it for fresh herbs like rosemary, thyme, and oregano if you have them on hand.
Serve with your favorite sides such as mashed potatoes, steamed vegetables, and toast.
To make sure your chicken gets cooked just right, try using a meat thermometer. Shoot for an internal temperature of 165°F.
If you don't have a meat thermometer cut into the chicken to check that it's no longer pink, and that the juices run clear.
Make sure the paprika is fresh. Fresh paprika has this amazing, well-rounded flavor that can really make your dishes pop. The smokiness, sweetness, and mild heat are all at their finest when the paprika is fresh.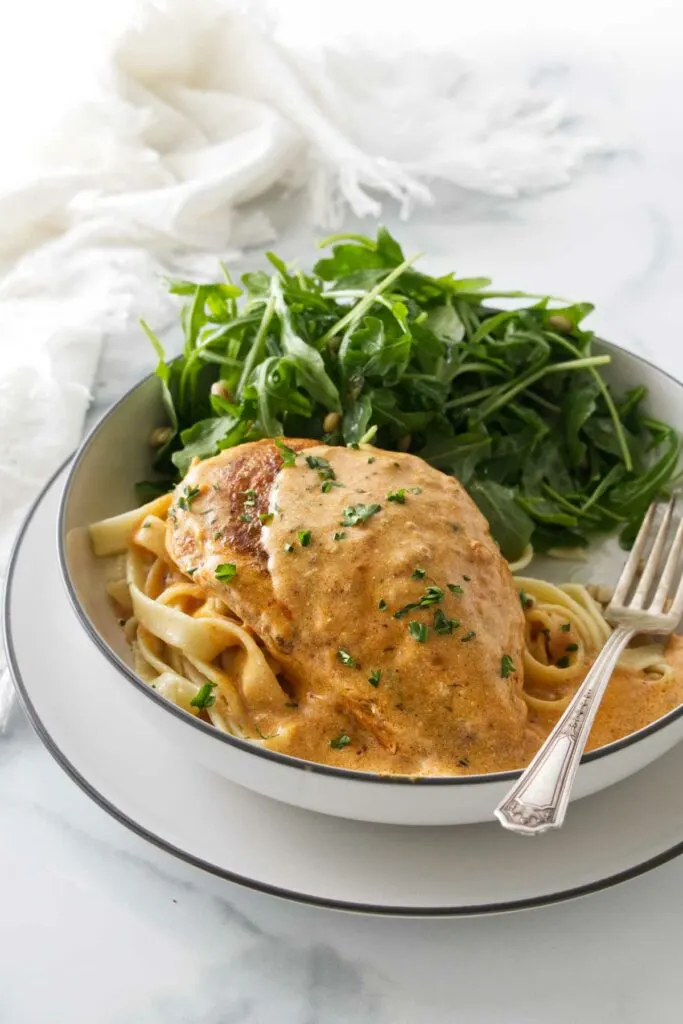 What to Serve with Chicken in Paprika Cream Sauce
To make this a complete dinner, serve it with buttered noodles or wild blend rice. There is plenty of creamy sauce for the rice to soak up. Add a side salad like our arugula apple salad and some grilled vegetables. Roasted asparagus with curry or sauteed zucchini would be delicious alongside this chicken. If you want a comfort food type of dinner, serve it with ricotta mashed potatoes and cheesy broccoli casserole.
To make it lighter, you can serve the chicken with a quinoa pilaf or roasted cauliflower steaks.
For dessert, try homemade chocolate marshmallow ice cream or mini lemon cupcakes.
Storage and Reheating
In the fridge: Place leftovers in an airtight container and store in the fridge for up to three days.

In the freezer: You can freeze this chicken dish for up to three months if stored in a heavy-duty freezer bag. Thaw overnight in the fridge.

To reheat: Reheat the chicken in a skillet over medium heat, stirring frequently until hot. You can also zap it in the microwave if you stop and stir it frequently. Don't get it too hot or the creamy sauce will curdle.
More Chicken Recipes
Frequently Asked Questions
Can I skip the wine?
Absolutely. If you'd rather not use wine, you can substitute it with additional chicken broth and a splash more of lemon juice or vinegar for acidity.
How can I make this recipe gluten-free?
You can substitute the all-purpose flour with a gluten-free blend or use a cornstarch slurry as a thickener. For a cornstarch slurry, mix 1 tablespoon of cornstarch with 1 to 2 tablespoons of cold water then whisk the slurry into the simmering sauce.
Can I make this recipe with chicken thighs?
Chicken thighs will work and are definitely more flavorful. You will need to simmer the chicken longer (add about 10 minutes to the cook time). Chicken thighs and drumsticks are dark meat and take longer for the connective tissue to break down. Although they are safe to eat when they reach 165°F, they will be more tender if you cook them to 185°F.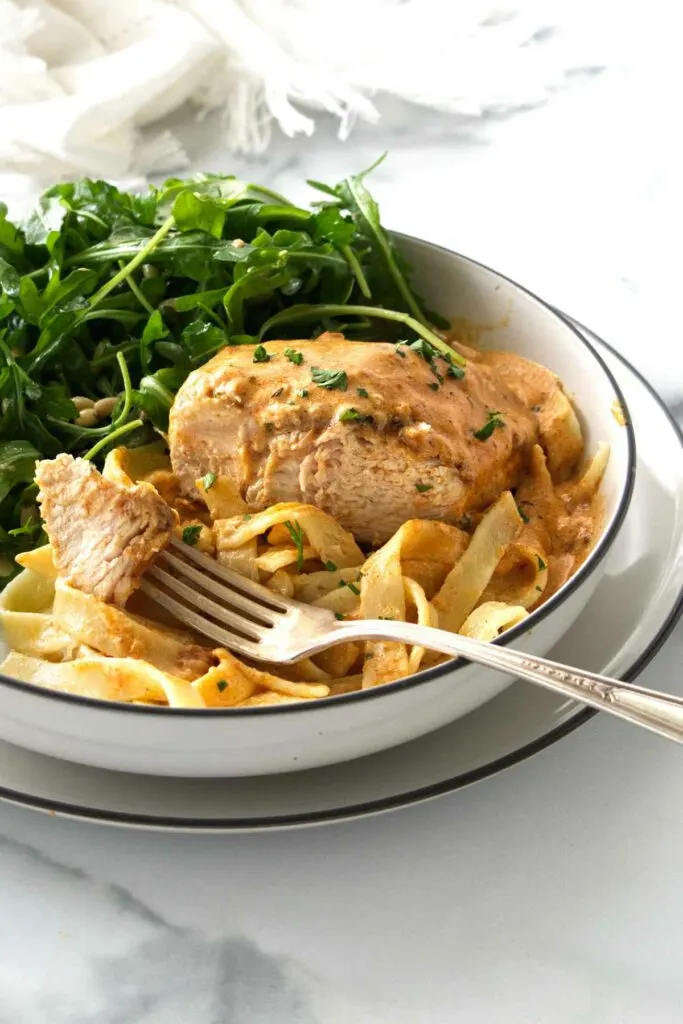 This skillet Paprika Chicken recipe brings together the comforting flavors of a creamy smoked paprika sauce and tender chicken in one unforgettable dish. This recipe is proof that you can have a delicious home-cooked meal without the hassle of spending hours in the kitchen.
Helpful Tools
Some of the following are affiliate links. We may receive a small commission if you click on these links and purchase something. You don't pay any extra, but it will help us keep the lights on.
More Recipes You Will Love: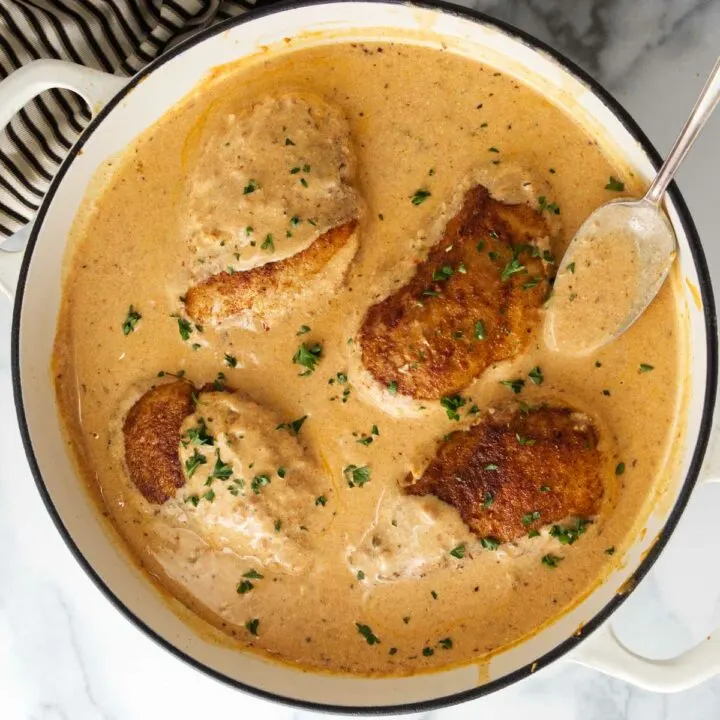 Garlic Chicken with Smokey Paprika
This is a fast and easy chicken dinner with a smokey, creamy paprika sauce. We used chicken breasts but if you want to swap it with chicken thighs or drumsticks, increase the cooking time when you simmer the chicken in the sauce (see the notes).
Ingredients
2 tablespoons smoked paprika, divided
2 tablespoons all-purpose flour, divided
1 teaspoon salt
½ teaspoon black pepper
4 boneless, (6 oz. each) skinless chicken breasts
4 tablespoons cooking oil
2 teaspoons butter
5 garlic cloves, minced
½ cup dry white wine
¼ cup freshly squeezed lemon juice
1-½ cups chicken broth
½ cup heavy cream
½ cup fine-grate Parmesan cheese
1 teaspoon dried Italian seasoning
Parsley to garnish
Instructions
In a small dish, combine 1 tablespoon of the paprika, 1 tablespoon of the flour, salt and pepper. Sprinkle the mixture on both sides of the chicken breasts.
In a large skillet set over medium-high, heat the oil, add the chicken and cook for 5 minutes on each side. Transfer to a plate. Note: the chicken will not be fully-cooked but will finish cooking in the sauce.
Reduce the heat to medium. Add the butter and when it has melted stir in the garlic, cooking just until fragrant, about 15-30 seconds. Pour in the white wine, stirring to loosen bits stuck to the pan and cook for 30 seconds to burn off the alcohol. Add the lemon juice, chicken broth and cream. Bring the sauice to a gentle simmer.
In a small dish add the remaining 1 tablespoon of flour, Parmesan cheese, Italian seasoning and the remaining 1 tablespoon of paprika. Toss to combine then whisk into the cream sauce cooking for 1 minute until smooth and creamy.
Reduce the heat to low and submerge the chicken breasts into the hot sauce. Simmer for 3-5 minutes, until the chicken breasts have an internal temperature of 165°F. If you have large, thick chicken breasts, you will need to increase the cooking time by a couple of minutes.
Transfer the skillet from the heat, garnish with chopped parsley and
Notes
To use chicken thighs or drumsticks, you will need to simmer the chicken longer (add about 10 minutes to the cook time). Chicken thighs and drumsticks have dark meat and take longer for the connective tissue to break down. Even though they are safe to eat when the internal temp reaches 165°F, they will be more tender if you cook them to 185°F.
Nutrition Information:
Yield:

4
Serving Size:

1
Amount Per Serving:
Calories:

552
Total Fat:

35g
Saturated Fat:

12g
Trans Fat:

1g
Unsaturated Fat:

20g
Cholesterol:

152mg
Sodium:

991mg
Carbohydrates:

11g
Fiber:

2g
Sugar:

2g
Protein:

43g
Nutrition information is a guideline only, is calculated automatically by third-party software, and absolute accuracy is not guaranteed.