Our Chicken Cordon Bleu with Asparagus is elegant, flavorful, and hearty. If you've never had Chicken Cordon Bleu, it's a Swiss dish made of a meat rolled with ham and cheese that gets breaded and baked or fried. We're bringing you a healthy baked version with the addition of asparagus.
This version of the French classic Chicken Cordon Bleu is tender on the inside and crunchy on the outside. The Panko breadcrumb crust gets crispy and brown in the oven while the cheese becomes gooey and melty.
The name is fancy but it is a pretty straight-forward stuffed chicken breast and we know you will love it.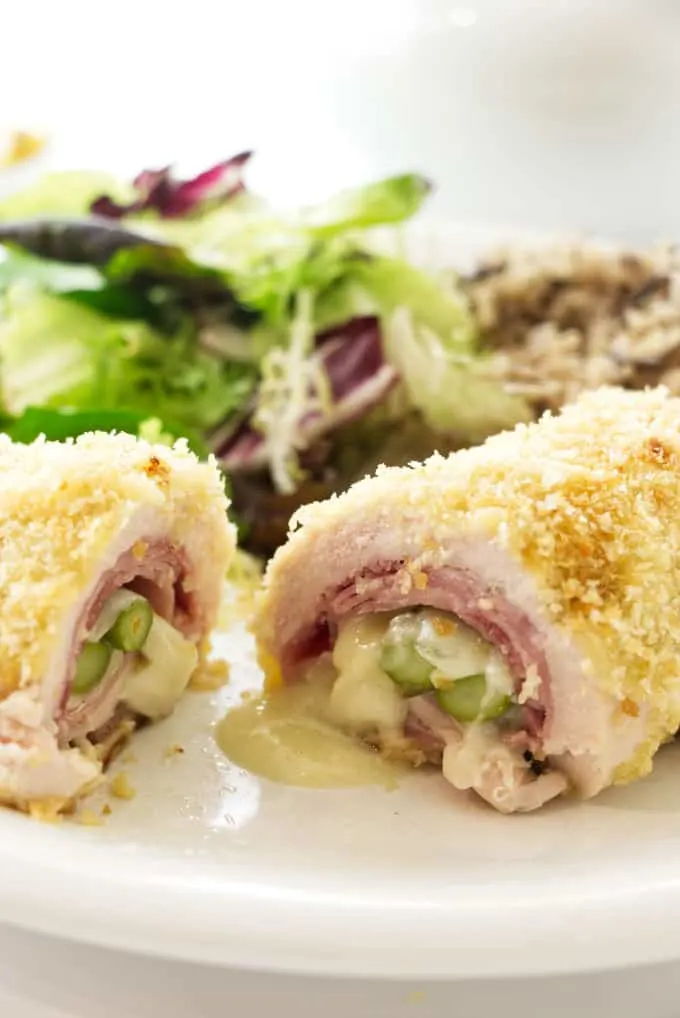 Smother this chicken cordon bleu in our Creamy Tarragon Sauce, and you've got yourself a delicious meal. It's guaranteed to please your family!
Why you'll love Chicken Cordon Bleu with Asparagus
We love comforting recipes that are also healthy. We know you'll love this one as much as we do, and here's why:
This is a hearty and tasty dish everyone in your family will love
It's a healthy take on a classic dish, baked instead of fried, with the addition of asparagus
The ingredients are budget-friendly
It's a great way to use up leftover deli items, including your deli meats and sliced cheeses
You probably already have many of the ingredients in your fridge and pantry.
No exotic or fancy ingredients to buy.
Once you make this try our bacon wrapped stuffed chicken. It's is another fan favorite.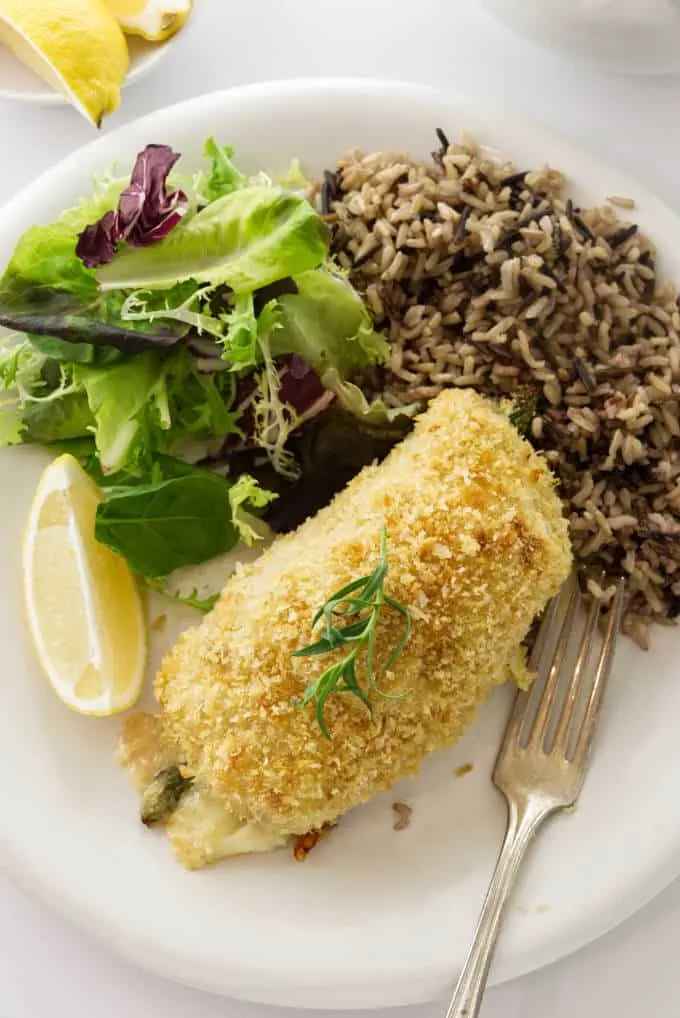 Ingredients needed for Chicken Cordon Bleu with Asparagus
Here's a quick list of all the items you'll need to make this stuffed chicken breast, in case you need to do some shopping:
Panko breadcrumbs: They're super crunchy and less prone to burning or charring
Oil spray: To prevent sticking
Salt & pepper: For seasoning
Chicken breasts: To be sliced into cutlets and tenderized
Fresh tarragon leaves: For aromatics, similar to anise
Deli ham: For the filling
Swiss cheese: For the filling, any melting cheese will work
Asparagus: For a fresh, crunchy filling
All-purpose flour: To help the eggs and breadcrumbs adhere to the chicken
Eggs: They help the breadcrumbs adhere to the chicken
Toothpicks: To keep your Cordon Bleu rolls intact
Creamy Tarragon Sauce: You can make the sauce in advance for convenience.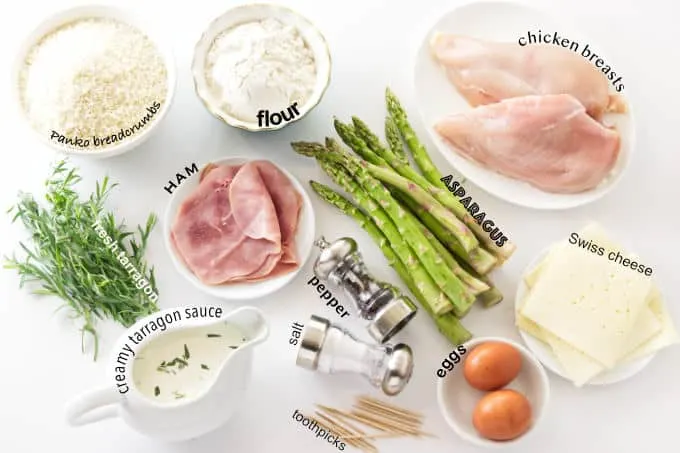 How to make Chicken Cordon Bleu with Asparagus
Here are the basic steps to prepare this stuffed chicken breast. Be sure to scroll to the recipe card for the full and detailed, printable recipe.
Bake Breadcrumbs: Spread the panko breadcrumbs on a baking sheet and lightly brown them for 3-5 minutes in the oven. Let cool.
Tenderize the Chicken: Slice your chicken breasts into cutlets. Pound with a meat mallet to ¼ inch thickness. Season with salt and pepper. Distribute with tarragon leaves.
Assemble Rolled Chicken: Place a slice or two of ham and cheese on top of the chicken cutlet. Place 2 asparagus spears at one end. Roll the cutlet. Secure with toothpicks.
Coat the Chicken: Set up your breading station. One dish should contain flour. Beat your eggs into another dish. Pour your cooled breadcrumbs into a third dish. Cover each rolled chicken breast with flour. Dunk into the egg mixture. Then, fully coat with breadcrumbs. Place each on a plate and refrigerate for 15 minutes.
Bake: Line a baking sheet with parchment paper. Lightly spray with oil. Bake the breaded chicken for 20 to 25 minutes until golden brown.
Serve: Remove the toothpicks and serve with Creamy Tarragon Sauce.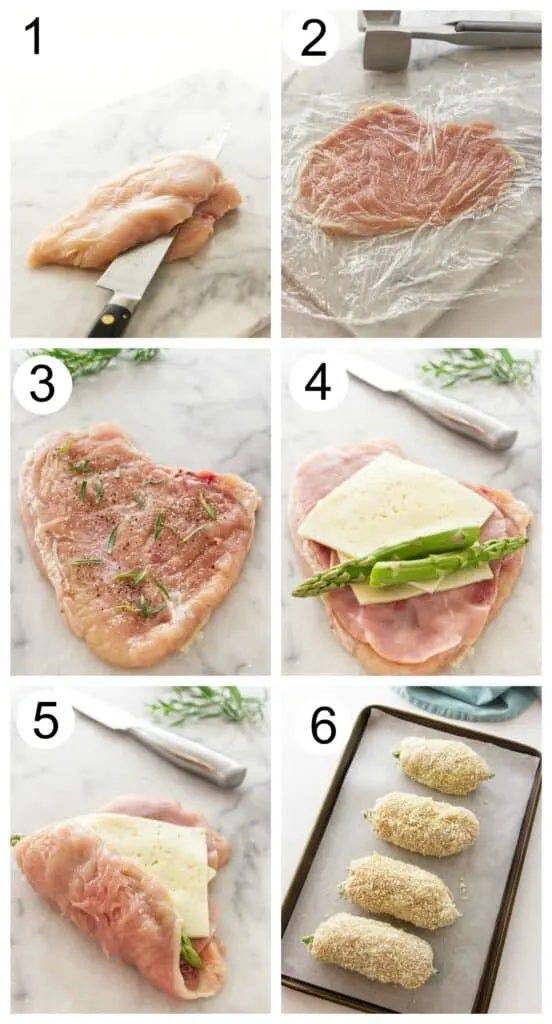 Tips for recipe success
To slice the chicken breast in half, carefully hold it flat with one hand and slice horizontally using a sharp knife. Go slow and keep your eyes on the blade.
A partially frozen chicken breast makes the slicing much easier and safer.
Use plastic wrap when pounding your cutlets to ¼ inch thickness. You can lay one sheet of plastic wrap on your cutting board. Place your chicken in the center. Then, cover with another piece of plastic wrap. Use a good meat mallet and pound away. Be gentle to prevent tearing.
Alternatives for a meat mallet: If you don't have a meat mallet but you want to make this recipe, you can use an empty wine bottle, mason jar, or rolling pin. Make sure you cover the chicken with plastic wrap to avoid contamination.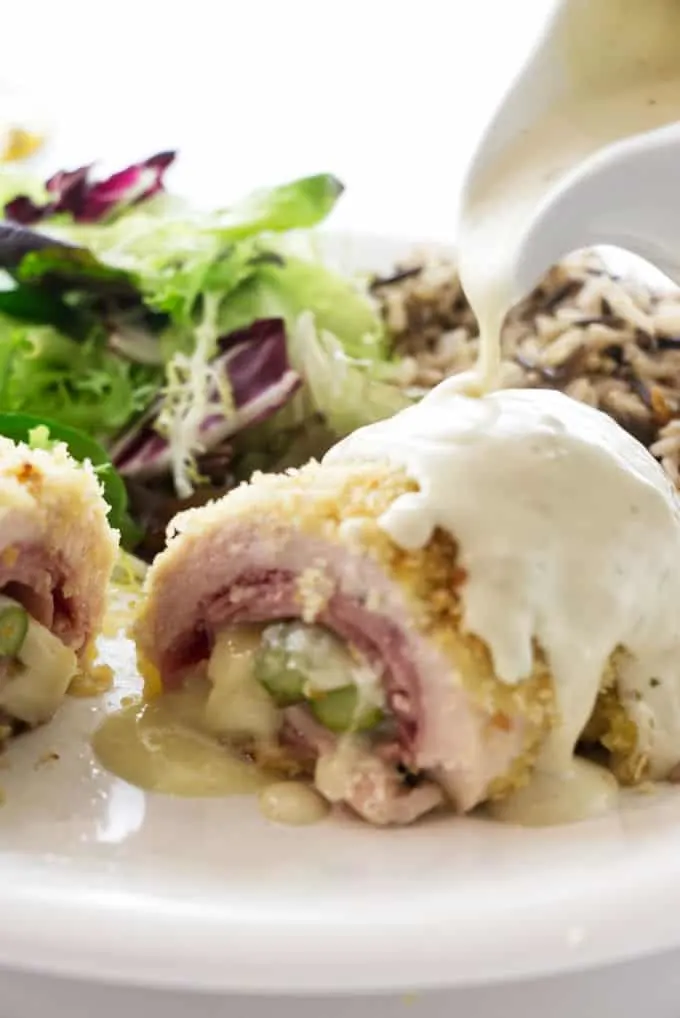 Frequently asked questions
Can I substitute the chicken breast for another meat?
Yes! You can substitute the chicken breast for veal, pork, or chicken thigh meat if you prefer. Follow the same process for tenderizing the meat. Roll, coat, bake, and enjoy.
What are some good sides for Chicken Cordon Bleu?
Chicken Cordon Bleu with Asparagus is lovely with a side of green salad. A simple lemon and olive oil vinaigrette would be quite refreshing next to our crunchy and tender Chicken Cordon Bleu with Asparagus. You could also serve this dish with your favorite vegetables, lightly steamed or roasted.

We highly recommend you prepare our Creamy Tarragon Sauce alongside the Chicken Cordon Bleu. The sauce is velvety and luscious. It adds a creamy and tangy flavor to the dish.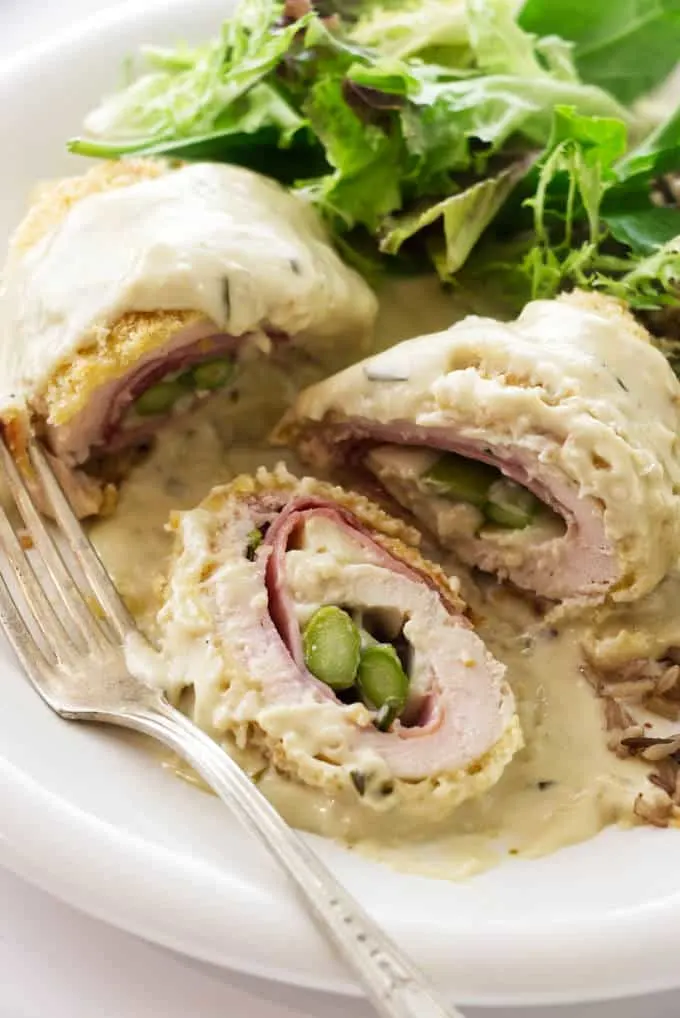 SOME OTHER RECIPES WE ARE SURE YOU WILL LOVE:
Chicken in Mushroom Cream Sauce: An easy weeknight dinner. Meaty chicken thighs in a creamy mushroom sauce. Serve it with rice or mashed potatoes to spoon the rich sauce over.
Instant Pot Chicken Broccoli Rice Casserole: This Instant Pot chicken broccoli rice casserole is a cheesy, creamy, comfort food. It comes together in a flash and it is made completely from scratch.
Chicken Francese: A classic Italian-American recipe of golden-crusted chicken breasts in a rich, savory lemon-wine sauce.
CONNECT WITH SAVOR THE BEST!
Be sure to follow us on our social media accounts
Facebook * Instagram * Pinterest * Twitter * Youtube
Did you make this recipe? We would love to hear from you. Drop us a comment below.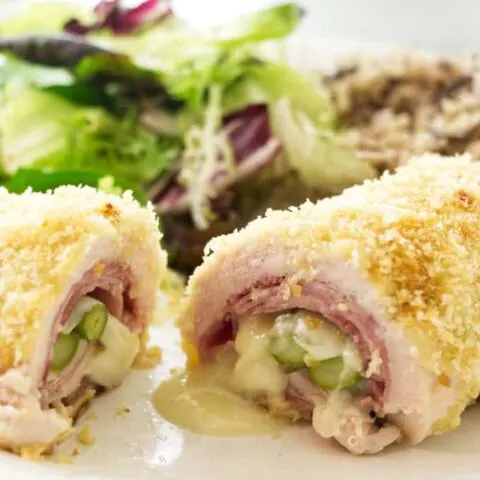 Chicken Cordon Bleu with Asparagus
Chicken Cordon Bleu with Asparagus is our version of the French classic! Crunchy-crusted chicken breasts rolled up with ham, cheese and asparagus spears. Oven-baked to a crispy golden brown and served with a creamy tarragon sauce.
Ingredients
1-1/2 cups Panko breadcrumbs
Oil spray
Salt/pepper
2 large chicken breasts, about 1-1/4 pounds
Fresh tarragon leaves
4-8 slices deli ham
4-8 slices Gruyère or Swiss cheese
8 asparagus spears
1-1/2 cups all-purpose flour
2 eggs
Toothpicks
Tarragon sprigs for garnish
Instructions
For the Breadcrumbs:
Preheat the oven to 425°F and line a baking sheet with parchment paper.
Spread the panko breadcrumbs in an even layer onto the parchment paper and transfer to the oven. Bake the breadcrumbs for 3-5 minutes until very light golden brown. Remove from the oven and allow to cool. (turn off the oven for now)
Prepare the Chicken:
Place the chicken breasts on a cutting board and slice each one in half horizontally for a total of 4 cutlets.
Working with one cutlet at a time, lay a piece of plastic wrap on the cutting board, place a cutlet on the plastic and cover with another piece of plastic wrap.
With a meat mallet, pound the cutlet to a 1/4 inch thickness. Sprinkle with salt and pepper. Distribute the chicken cutlet with tarragon leaves.
Add 1 or 2 slices of ham and 1 or 2 slices of cheese to cover; then place 2 asparagus spears at the lower end of the cutlet and begin rolling the cutlet. Secure the cutlet with a toothpick. Set the rolled cutlet aside on a plate and continue the process with the remaining cutlets.
Set up a 3-dish breading station with flour in the first dish, two lightly beaten eggs in the second dish, and the cooled breadcrumbs in the third dish.
Roll each chicken first in the flour, then the egg mixture, and finally, into the breadcrumbs, pressing the crumbs firmly to adhere to the chicken roll. Slide a toothpick into the chicken to secure the roll. As each chicken roll is completed place on a plate. Cover the plate with plastic wrap and transfer the plate of completed chicken rolls to the refrigerator for at least 15 minutes.
Bake the Chicken:
Preheat the oven to 400°F.
Remove the plate of breaded chicken from the refrigerator and transfer to a parchment-lined baking sheet. Spray the rolls lightly with oil spray, (this helps to give that nice golden color to the breadcrumbs).
Transfer to the oven and bake for 20 to 25 minutes to a golden brown.
Remove the toothpicks and serve with Creamy Tarragon Sauce.
Notes
Pre-sliced chicken breasts are available in some grocery stores. You can also ask the butcher to open a package of chicken breasts and slice each one into cutlets.
A rolling pin or a can of vegetables wrapped in plastic wrap will sub for a meat mallet.
When pounding the chicken breast, be gentle to avoid pounding holes in the chicken.
Choose a melting cheese. Gruyère, Provolone, Gouda, Mozzarella and Fontina are good choices.
The long, 4-inch toothpicks work best as they can be inserted on an angle from one end to another. If using the short, regular toothpicks you may need 2 picks in each roll.
Set the unbaked chicken rolls in the refrigerator for at least 15 minutes to set the breadcrumbs.
Spray the chicken rolls lightly just before baking to encourage browning.
You can make the chicken rolls in advance and hold them in the refrigerator for up to 4 hours before baking.
Be sure to remove the toothpicks before serving.
Nutrition Information:
Yield:

4
Serving Size:

1
Amount Per Serving:
Calories:

803
Total Fat:

24g
Saturated Fat:

9g
Trans Fat:

0g
Unsaturated Fat:

12g
Cholesterol:

190mg
Sodium:

1232mg
Carbohydrates:

92g
Fiber:

6g
Sugar:

6g
Protein:

51g
Nutrition information is a guideline only, is calculated automatically by third-party software, and absolute accuracy is not guaranteed.