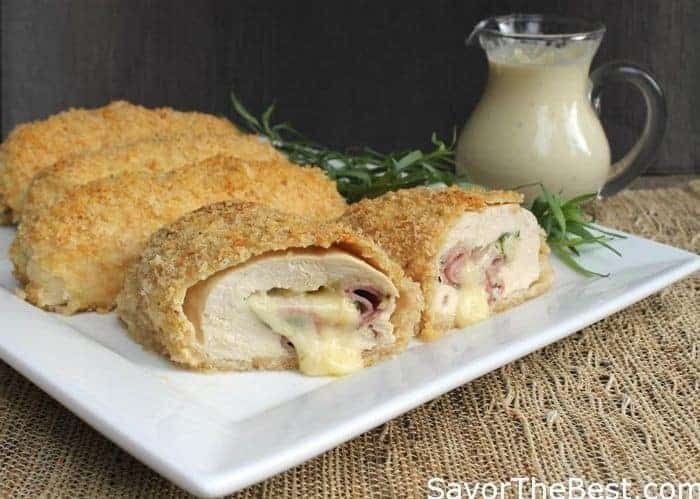 When our kids were growing up a birthday was a big celebration at our house. Each one had their own special 'birthday dinner menu' that I fixed for them and it was aways an exciting and fun day. December was usually a stressful month for me as there are three birthdays, 8th, 15th and the 30th, plus Christmas on top of that. But September is Burl's birthday and his favorite was chicken cordon blue with mashed potatoes, gravy and string beans. And of course we didn't forget the cake and ice cream.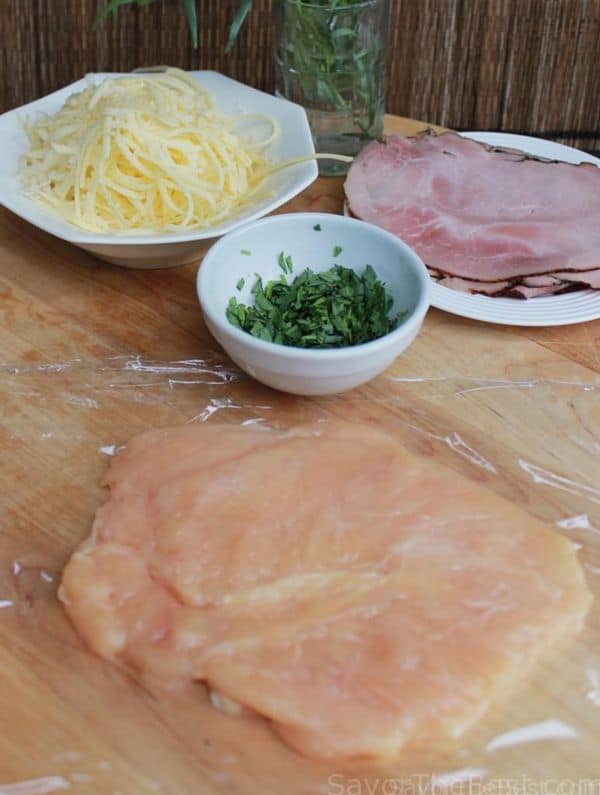 It has been many years since I have made chicken cordon blue. My old recipe called for a can of cream of mushroom soup and I wanted a healthier recipe.
I have created an updated version of my recipe by baking it rather than frying. Plus I added a new taste of fresh tarragon and garlic. I eliminated the gravy from the can of soup but included a dijon sauce to spoon on the chicken at serving.
The technique of using plastic wrap in rolling the chicken was borrowed from Tyler Florence of the Food Network, and I did not have to deal with those pesky toothpicks.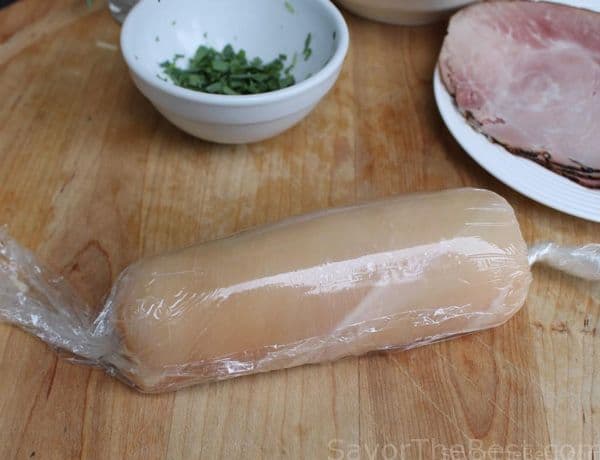 I have purposely selected large chicken breasts for this recipe as they are easier to roll and keep the cheese from melting out. I will serve this with wild rice and sautéd green beans. Sorry, Burl, no mashed potatoes.
I am confident that Burl will enjoy this new grown-up version of cordon blue just as well as the old recipe but why wait for September for his birthday?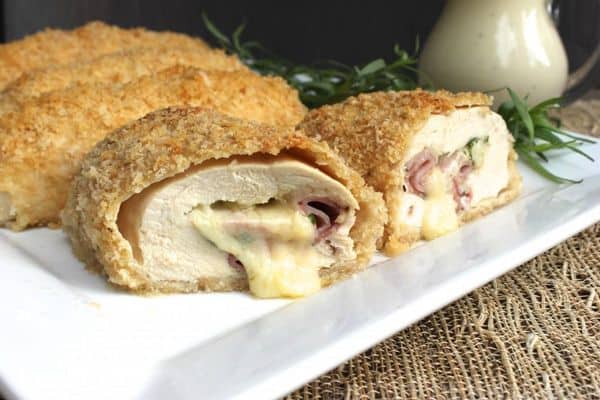 SOME OTHER RECIPES WE ARE SURE YOU WILL LOVE:
Roast chicken with freekah stuffing
Garlic chicken with smoky paprika
CONNECT WITH SAVOR THE BEST!
Be sure to follow us on our social media accounts
Facebook | Twitter | Youtube | Pinterest | Instagram
Did you make this recipe? We would love to hear from you. Drop us a comment below.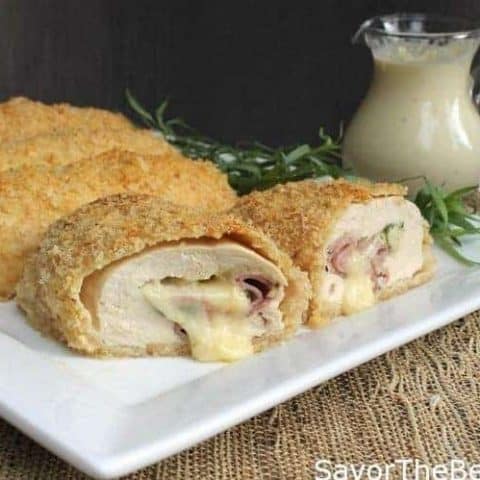 Tarragon Chicken Cordon Blue with Dijon Cream Sauce
Yield: 4 servings
Prep Time: 30 minutes
Cook Time: 40 minutes
Additional Time: 1 hour
Total Time: 2 hours 10 minutes
This chicken cordon blue recipe has a new twist to it by adding tarragon and garlic. It is tender, flavorful, and oozing with Gruyere cheese.
Ingredients
6 tablespoons butter, melted
4 cloves garlic, minced
1-1/2 cups Panko bread crumbs
4 slices deli ham (about 4 ounces)
2 cups shredded Gruyere cheese
4 boneless, skinless chicken breasts 7-8 oz. each (about 2 pounds)
4 tablespoons chopped fresh tarragon
3 egg whites
2 tablespoons Dijon mustard
¼ teaspoon salt
⅛ teaspoon pepper
1 cup all-purpose flour
Dijon Sauce:
1 tablespoon butter
1 tablespoon all-purpose flour
½ cup chicken broth
½ cup dry white wine
2 tablespoons dijon mustard
½ cup heavy whipping cream
salt and pepper to taste
Instructions
Preheat the oven to 450°F
In a small sauce pan or skillet melt the butter with the minced garlic and cook on medium heat for 1-2 minutes just long enough to soften the garlic and release the flavor into the butter. Place the bread crumbs in a bowl and drizzle the melted garlic butter over the bread crumbs and toss together. Transfer the crumbs to a baking sheet and bake in the preheated oven for 3 to 5 minutes, stirring occasionally, until the crumbs are toasted lightly. Transfer the crumbs to a shallow baking dish to cool.
Turn the oven off.
Lay each chicken breast between 2 pieces of plastic wrap. Using the flat side of a meat mallet, pound the chicken to ¼-inch thickness, being careful to not pound holes in the chicken. Remove the top sheet of plastic and sprinkle each chicken breast with 1 tablespoon of tarragon. Sprinkle one forth of the grated cheese over the tarragon, top the cheese with one slice of ham to cover the cheese. Tuck in the ends and sides of the chicken breast like an enchilada and roll up tight (using the plastic wrap to help with this process) and wrap in the plastic wrap. Twist each end and squeeze the log gently to seal and form a tight roll. Repeat with remaining chicken. Place the chicken rolls on a plate and refrigerate for 1 hour or more. This will firm up the stuffed roll making it easier to coat with the flour, egg and bread crumbs.
Preheat oven to 400°F
In a shallow dish, beat the egg whites until frothy and stir in the mustard, salt and pepper. In another shallow dish put the cup of flour. Set up the three shallow dishes of egg, flour and the cooled bread crumbs in an assembly line.
Remove the chicken from the refrigerator and unwrap and discard the plastic wrap. Working with one stuffed chicken breast at a time, dip the chicken roll in the flour mixture, covering both sides then dip it into the egg mixture coating it completely. Dredge the chicken in the mixture of toasted bread crumbs, pressing lightly to help the crumbs stick to the chicken.
Carefully transfer the chicken rolls to a lightly oiled (or sprayed with non-stick) baking sheet and place on the middle rack of the oven. Bake for 35 to 40 minutes or until golden brown and cooked through (160° on a thermometer).
When the chicken has finished baking transfer it to a carving board and allow it to sit for five minutes then divide each roll into two servings.
Dijon Sauce
While the chicken is baking prepare the dijon sauce: Over medium heat melt the butter in a small non-stick skillet or sauce pan. Add the flour and cook for one minute, whisk in the chicken broth, wine and dijon mustard. Reduce the heat to low and cook until it is thick enough to coat the back of a spoon, whisk in the cream and simmer for another 30 seconds. Remove from the heat and transfer to a small pitcher or dish and serve with the chicken.
Recommended Products
As an Amazon Associate and member of other affiliate programs, I earn from qualifying purchases.
Nutrition Information:
Yield: 4
Serving Size: 1
Amount Per Serving:
Calories: 1016
Total Fat: 54g
Carbohydrates: 48g
Protein: 89g