Our Sausage and Rice Skillet Dinner is the ultimate one-pan meal! Onions and peppers combined with seasoned sausage and tender rice is total comfort food in a bowl, and best of all, a quick and easy skillet dinner for the busiest of evenings. If you like this you will love our easy Italian chicken skillet or our pork fried rice.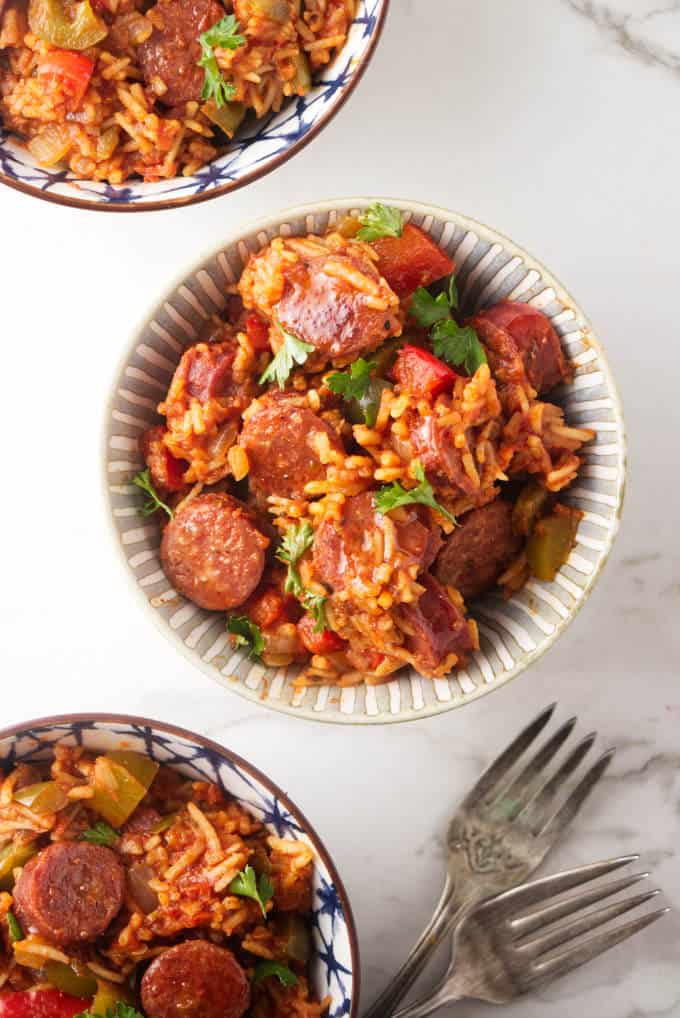 Sausage and rice skillet is made with basic ingredients that team up for a flavor-packed dish! It's a dinner-in-a-pinch kind of meal that works for any time of day, in fact, any kind of gathering.
We use kielbasa sausage rounds for their smoky, garlic-y flavor. Onion, bell peppers and smoked paprika give this tomato-based dish a delicious, Italian-inspired spin– pure comfort food that warms you up.
Our sausage and rice skillet dinner is:
Ingredients for this Skillet Dinner
To make this sausage and rice skillet dinner, you will need the following ingredients: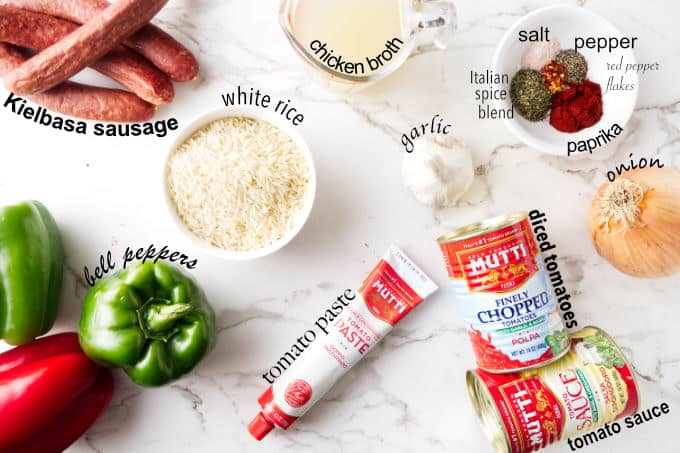 Here is How to Make a Sausage Skillet Dinner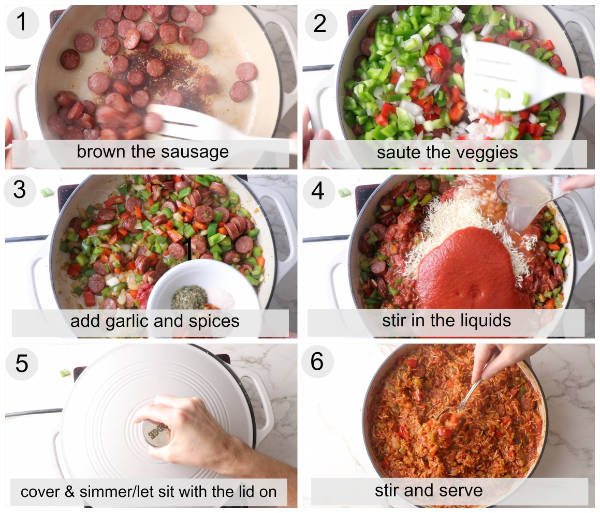 This sausage and white rice recipe is an easy one to follow, and we know you'll love this flavor-packed dinner!
Here's a quick look at the process: make sure you scroll to the printable recipe card below.
Brown the sausage. Browning the sausage will bring out more flavor.
Sauté the vegetables. Sauteeing the veggies will also enhance the flavors.
Add the garlic and spices.
Stir in the rice and liquids. Make sure the rice gets coated with all the sauce.
Cook the rice: After you add the liquids to the skillet, put the lid on and let the skillet dinner simmer on low.
Cool and serve: When the cooking time is up, leave the lid on and remove the skillet from the heat. Let the skillet sit with the cover on for 15 minutes then stir and serve.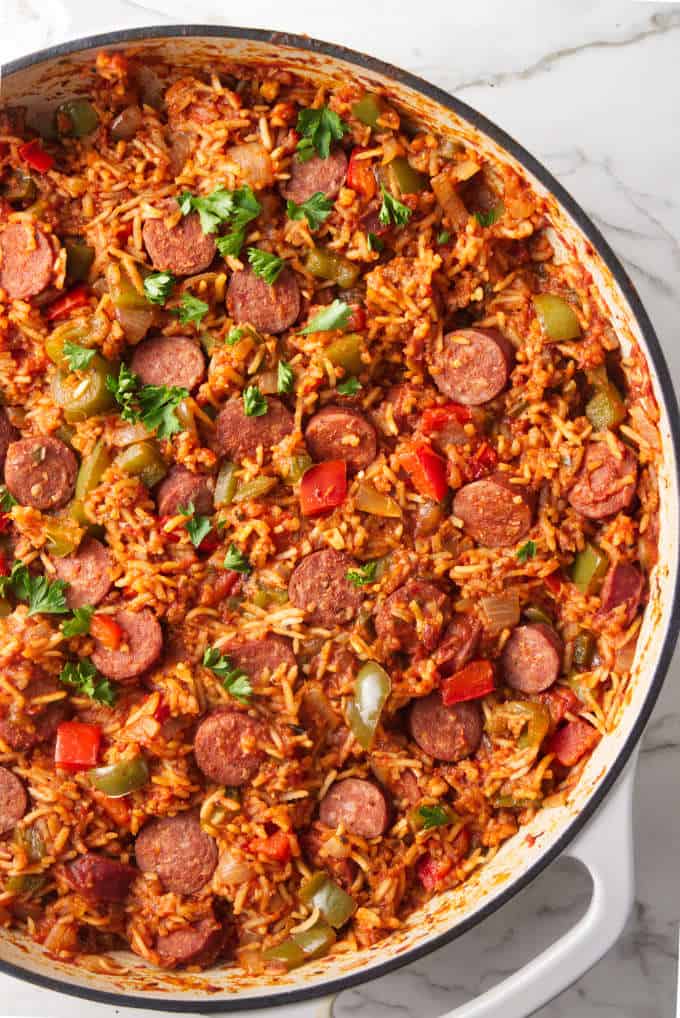 Can I Substitute the Kielbasa sausage?
If you don't have kielbasa, you can use another type of sausage that carries a bold, smoky flavor. Use a smoked sausage, an Italian spiced sausage, or andouille sausage if you'd like this skillet dinner to have more of a spicy, Cajun taste.
Storing Leftovers:
You can store leftovers in the fridge for 3 to 5 days or you can freeze it for up to 3 months. The flavors in this rice dinner are even better the next day so plan to save some for lunch or dinner later in the week.
Why We Love Skillet Dinners
Skillet dinners are quick, easy, and don't require a lot of meal prep. Plus, they're similar to a casserole in the sense that they will feed a crowd and leftovers keep well.
If you enjoy this sausage and rice skillet dinner, here are a few others we think you will love: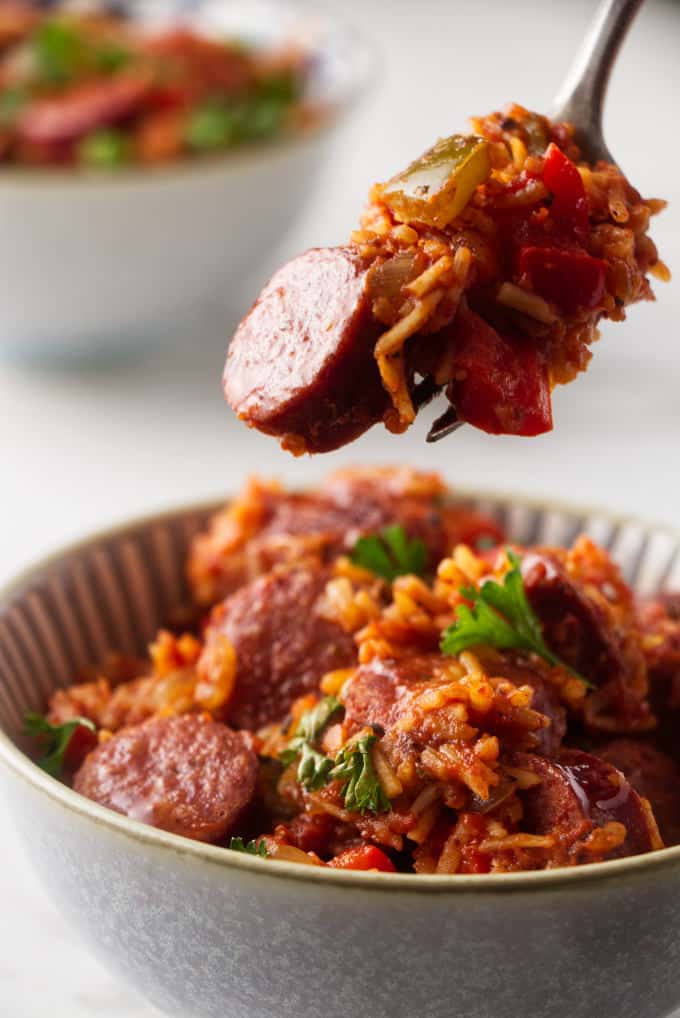 This is a tasty and easy recipe using sausage and rice, and we know you'll be a big fan of the simplicity of this sausage and rice skillet dinner. It's hearty and filling and full of bold flavors that the whole family will love! Plus, delicious dinners shouldn't always require a whole lot of effort, right? 😉 We definitely don't think so!
Helpful Tools
Some of the following links are affiliates. If you click on these links and purchase something, we may receive a small commission. You don't pay any extra but it will help us keep the lights on.
SOME OTHER RECIPES WE ARE SURE YOU WILL LOVE:
CONNECT WITH SAVOR THE BEST!
Be sure to follow us on our social media accounts
Facebook * Instagram * Pinterest * Twitter * Youtube
Did you make this recipe? We would love to hear from you. Drop us a comment below.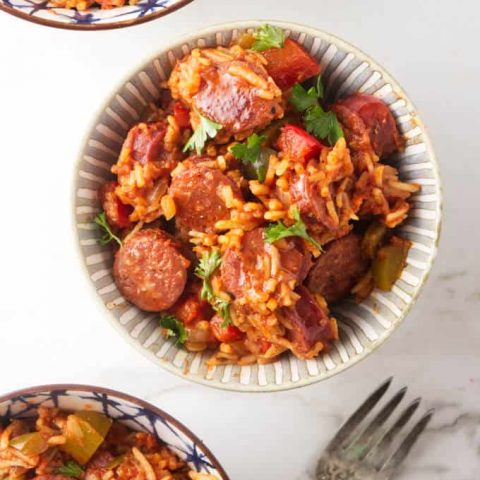 Sausage and Rice Skillet Dinner
Yield: 6 servings
Prep Time: 15 minutes
Cook Time: 25 minutes
Additional Time: 10 minutes
Total Time: 50 minutes
Sausage, rice, onions, and peppers combine for a complete dinner in one pan. This is comfort food that makes dinner your favorite meal of the day.
Ingredients
1 tablespoon olive oil
16 ounces kielbasa sausage, sliced into bite-size pieces
1 small yellow onion, chopped
3 bell peppers (red and/or green) chopped
2 to 3 garlic cloves, minced
2 tablespoons tomato paste
2 teaspoons smoked paprika
1 teaspoon dried Italian spice blend
1/2 teaspoon salt
1/2 teaspoon black pepper
1/4 to 1/2 teaspoon dried red pepper flakes
1-1/3 cups long-grain white rice (uncooked)
1 cup chicken broth
1 (15 ounce) can diced tomatoes
1 (15 ounce) can tomato sauce
Instructions
Place a large skillet over medium heat and add the olive oil. When the oil is hot toss in the sausage and cook for 2 to 3 minutes until the sausage begins to brown.
Add the onion snd bell pepper. Saute for 5 to 8 minutes until soft. Add the garlic, tomato paste, paprika, spice blend, salt, pepper and red pepper. Stir for about 1 minute until the garlic and spices are fragrant.
Add the rice, chicken broth, diced tomatoes (along with the juices) and tomato sauce. Use a wooden spoon or spatula to scrape the bottom of the skillet and loosen anything that may be stuck to the bottom. Stir well to coat all the rice grains.
Bring to a simmer then turn the heat down to medium-low and cover with a lid. Cook on medium-low heat for 25 minutes.
Remove from heat but keep the lid on and let it rest for 15 minutes.
Remove the lid, stir and serve.
Nutrition Information:
Yield: 6
Serving Size: 1
Amount Per Serving:
Calories: 439
Total Fat: 25g
Saturated Fat: 8g
Trans Fat: 0g
Unsaturated Fat: 16g
Cholesterol: 56mg
Sodium: 1271mg
Carbohydrates: 39g
Fiber: 2g
Sugar: 5g
Protein: 14g
Nutrition information is a guideline only, is calculated automatically by third-party software, and absolute accuracy is not guaranteed.