This Alfredo-style Creamy Chicken Pasta Skillet makes a quick and easy lunch or a light dinner. Full of nutrition with cooked chicken, crisp veggies and pasta in a creamy, cheesy sauce.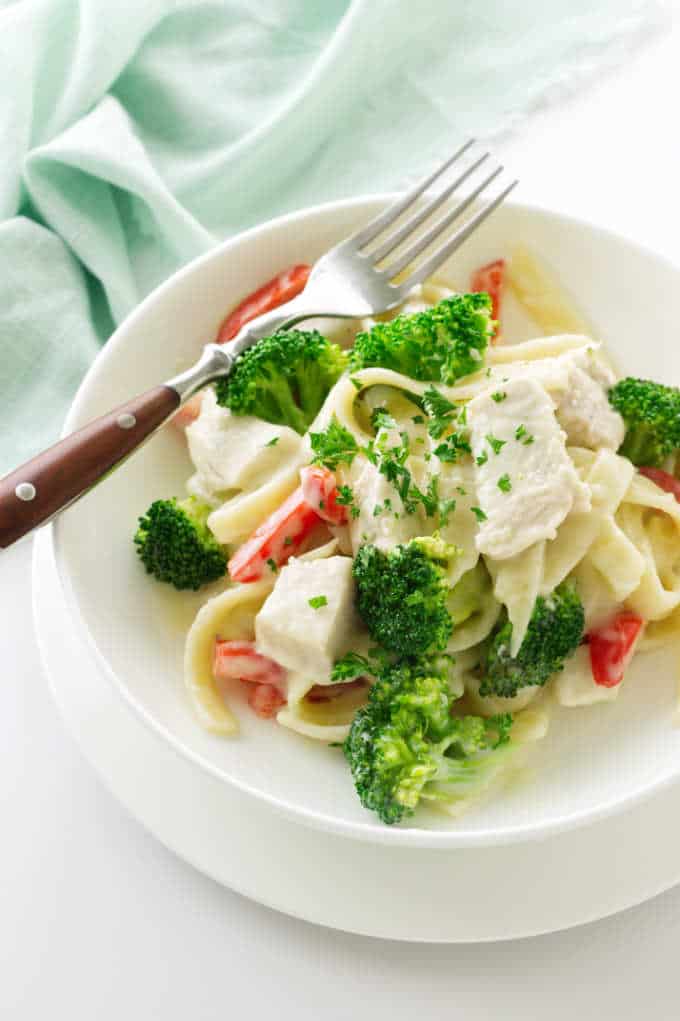 What is not to love about this alfredo-style skillet dinner? It's a creamy, cheesy, chicken and fresh veggies dinner that can be on your table in less than 30 minutes. Using pre-cooked rotisserie chicken is the key to a quick and easy dinner!
What you can do with a store-bought rotisserie chicken:
There are magical meals in store for you and endless ideas with a rotisserie chicken. A whole rotisserie chicken can feed a hungry family for a Sunday dinner with oven-roasted potatoes, carrots and a tossed green salad.
But there is so much more that you can do with this flavorful, nutritious bird. Here's a few ideas to consider:
Anytime you need a nutritious and quick dinner or lunch is a good time to pick up one of those hot, ready-to-eat rotisserie chickens. This creamy chicken pasta skillet is one of our favorite, quick recipes for either lunch or dinner.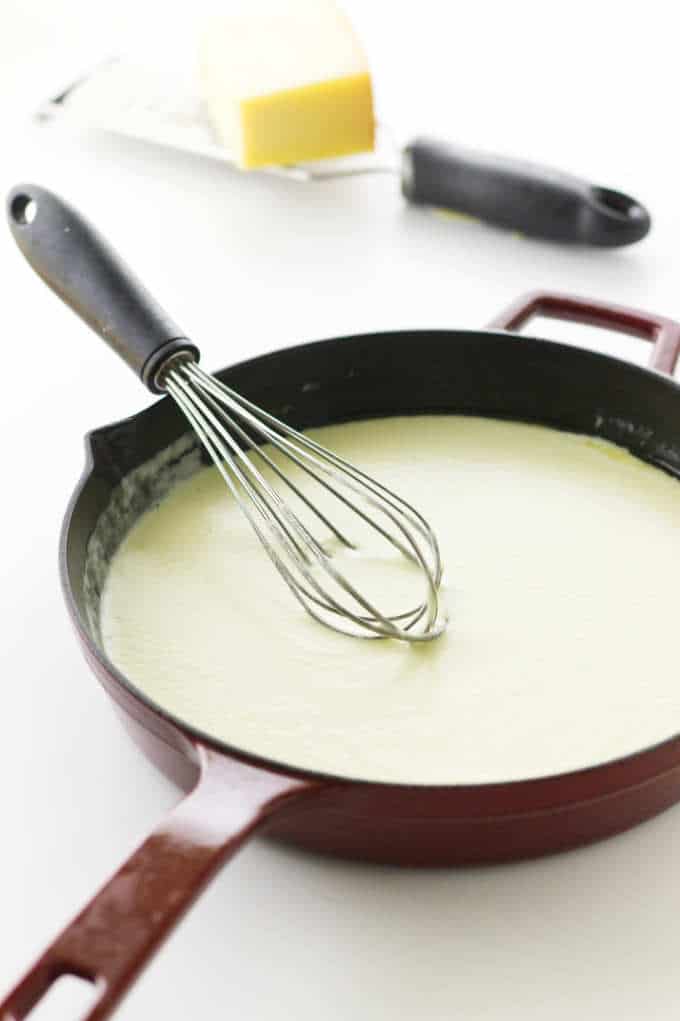 What you need to make this Creamy Chicken Pasta Skillet:
Dry pasta
Olive oil and Butter
Garlic, and Garlic powder
White wine
Milk, Cream, and Cream Cheese
Rotisserie chicken
Broccoli
Red bell pepper
Parmesan cheese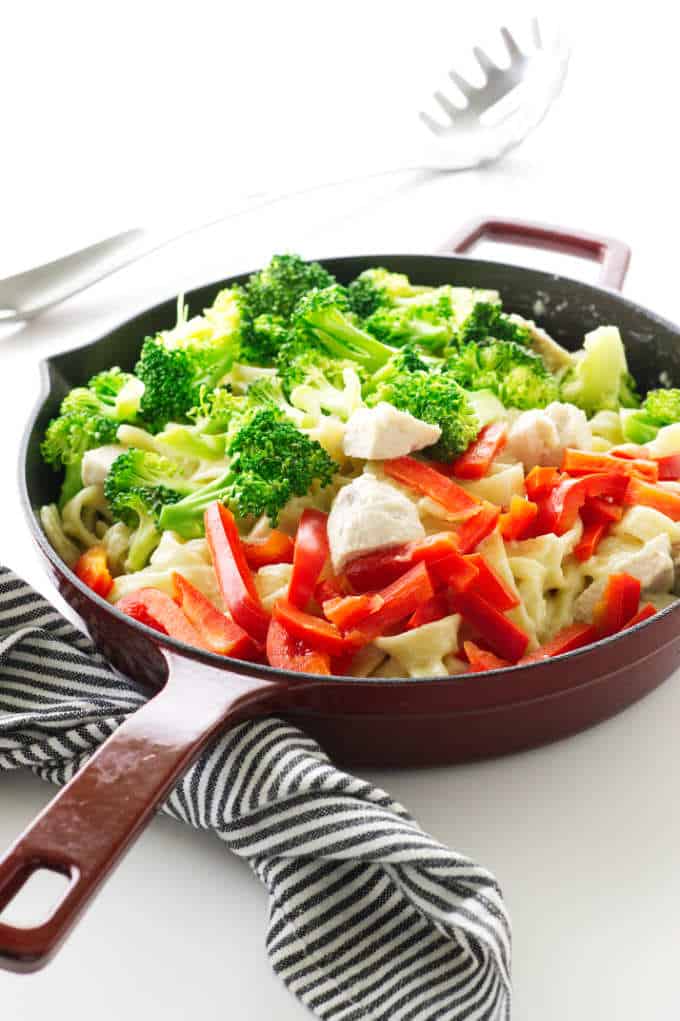 Let's put this Chicken Pasta Skillet Dinner Together:
Here is a quick look at how easy it is to make this skillet dinner.
Cook the pasta.
Make the sauce.
Steam the veggies.
Combine everything in the skillet. Stir in the Parmesan cheese and chicken until heated thoroughly then combine the pasta and veggies.
Tips for success
Choosing and cooking the pasta
You can choose whatever shape you have on hand for the pasta. Cook it according to the package directions. When it is al-dente, drain it, return it to the pot and toss it with a bit of oil to prevent it from sticking together. Cover the pot and set it aside while you make the sauce.
The creamy, cheesy sauce
When you make the sauce, use a large skillet so you have plenty of room to toss everything together. Don't boil the sauce, just keep it at a low simmer and stir it fairly frequently.
About the veggies
Save time by steaming the broccoli and red pepper while the sauce is simmering. Do not over-cook the veggies, it only takes a couple of minutes to steam them. You want them to be brightly-colored and crisp. Transfer the veggies from the saucepan to a plate. If you leave them sitting in the hot saucepan covered with a lid they will surely continue cooking and you risk overcooking.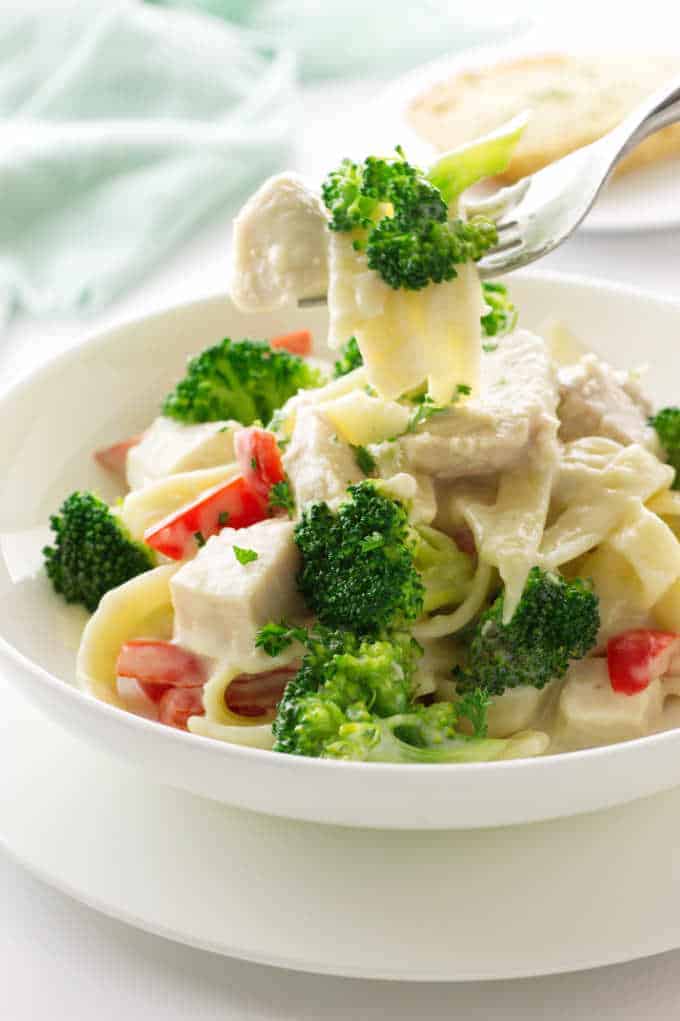 That's it! Add a tossed green salad or fresh fruit and some crusty bread and dinner is ready!
SOME OTHER RECIPES WE ARE SURE YOU WILL LOVE:
Saigon Chicken Salad: Saigon chicken salad is a great summer salad with moist, tender, flavorful shredded chicken, lots of good healthy crisp veggies, sweet mango slices, fresh herbs of Thai basil and mint. Lightly tossed with a tangy lime vinaigrette dressing and served with chopped salty peanuts and a spicy peanut sauce.
Spanish Chorizo and Shrimp Pasta: This is a quick and wonderful 20-minute dinner that you will be making on repeat! Thick fettuccine topped with spicy sausage, plump shrimp and salty olives in a lightly spicy flavorful sauce.
Salmon Salad with Spelt Pasta You will love this light, flavor filled salad! Filled with salmon, capers, dill, onions, chives and spelt pasta with a tangy lemon vinaigrette.
CONNECT WITH SAVOR THE BEST!
Be sure to follow us on our social media accounts
Facebook * Instagram * Pinterest * Twitter * Youtube
Did you make this recipe? We would love to hear from you. Drop us a comment below.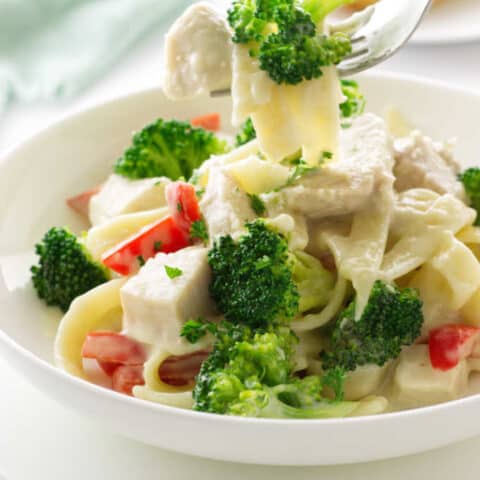 Creamy Chicken Pasta Skillet
Yield: 4 Servings
Prep Time: 15 minutes
Cook Time: 20 minutes
Total Time: 35 minutes
This Alfredo style creamy chicken pasta skillet makes a quick and easy lunch or a light dinner. Full of nutrition with cooked chicken, crisp veggies and pasta in a creamy, cheesy sauce.
Ingredients
Cook the Pasta
8 ounces pasta, any shape, cooked according to manufacturers' instructions
1 tablespoon olive oil
For the Sauce:
1 stick of butter (4 ounces)
1/2 teaspoon minced garlic
1/2 cup white wine
1 cup whole milk
1/2 cup heavy cream
4 ounces cream cheese, softened and cut into cubes
1/2 teaspoon garlic powder
16 ounces rotisserie chicken, cut into bite size pieces
For the Vegetables:
2 cups fresh broccoli florets, steamed
1/2 red bell pepper, thinly sliced and steamed
Salt and pepper to taste
1/2 cup grated Parmesan cheese
Instructions
Cook the pasta according to the package directions, drain and return to the cooking pot. Toss with the olive oil to prevent sticking, cover the pan and reserve.
Melt the butter in a large skillet then add the garlic and cook for 30 seconds. Pour in the wine, milk and cream. Stir in the cream cheese and garlic powder, stirring until the cheese has melted and the sauce is smooth and creamy.
Reduce the heat to low and simmer, uncovered, for 8 to 10 minutes or until thickened slightly, stirring frequently.
While the sauce is simmering, steam the broccoli and red pepper in a covered saucepan for 2 minutes, do not over cook. They should be bright-colored and crisp.
When the sauce has thickened, stir in the Parmesan cheese. Taste the sauce and add salt/pepper as needed. Stir in the cooked chicken and simmer 1 or 2 minutes until the chicken has reheated.
Add the cooked pasta, broccoli and red pepper, tossing to combine. Serve immediately.
Notes
Chicken breasts or thighs can be substituted for rotisserie chicken. I like to keep a supply of cooked chicken breasts in the refrigerator for quick lunches or full-meal salads.
Leftover baked chicken is also a good choice for this pasta skillet
Chicken broth can be used in place of wine
Frozen broccoli can be used if fresh is not available. Thaw throughly, then steam lightly.
Do not over cook the vegetables, the crisper and brighter in color the better they retain their nutrition.
Nutrition Information:
Yield: 4
Serving Size: 1
Amount Per Serving:
Calories: 674
Total Fat: 53g
Saturated Fat: 31g
Trans Fat: 1g
Unsaturated Fat: 18g
Cholesterol: 142mg
Sodium: 641mg
Carbohydrates: 32g
Fiber: 4g
Sugar: 7g
Protein: 14g
Nutrition information is a guideline only, is calculated automatically by third-party software, and absolute accuracy is not guaranteed.