Let's do a pasta night! Pasta is one of our old comfort foods. Creamy or spicy, they are all delicious. This super-simple recipe of Spanish Chorizo and Shrimp Pasta will go together in record time. You will love this bowl of thick fettuccine topped with smoky sausage, plump shrimp, and salty olives in a lightly spicy flavorful sauce.
Do you ever have a craving for a big dish of pasta? I can go weeks without thinking about pasta then all of a sudden I have an intense craving for something pasta. Anything pasta!
Spanish chorizo and shrimp pasta is a recipe that is easy enough to serve on a busy weeknight. It is also classy enough to serve for special dinner guests. Slices of Spanish chorizo and big meaty shrimp swim in a rich flavorful sauce.
The sauce consists of shallots, garlic, wine, fish broth, fresh tomatoes and tangy Kalamata olives. Smoky paprika adds a punch of flavor to the broth but it is that Spanish chorizo that really kicks up the flavor.
Is Spanish Chorizo the same as Mexican Chorizo?
Spanish chorizo and Mexican chorizo are not the same. They are both made from pork but from there they begin to differ.
Spanish Chorizo:
The spice profile in Spanish chorizo includes a lot of smoky paprika, garlic, and spices. This sausage is mildly spiced but it has so much flavor! It is the paprika that gives the sausage its red color and its prominent smoky flavor. Spanish chorizo is sold as cured or semi-cured. If cured, you can eat it 'as-is' just like a dry-cured Italian salami.
Semi-cured Spanish chorizo will require additional cooking. It is usually packaged in links and will take five to ten minutes to cook. Instructions for cooking will be on the package. Spanish Chorizo will be located in the same area as salami and cold-cut meats.
For our Spanish Chorizo and Shrimp Pasta, we used Seattle-made Uli's semi-cooked chorizo links with pure ingredients of pork, salt, dried garlic, spices and lots of smoky paprika powder. If you are unable to find Spanish chorizo the best substitute would be Portuguese linguica. Portuguese linguica has similar spices as Spanish chorizo but includes spicy chilies.
Mexican Chorizo:
Mexican chorizo usually has pork, beef or a combination of pork and beef. It has a spice profile that includes the Mexican flavors such as oregano and cumin. Plus, it will include a good amount of Ancho chilies which give it the red coloring and some heat!
Because of the added chile, Mexican chorizo will be hot and spicy rather than mild like its Spanish cousin. Mexican chorizo is sold raw and must be cooked before eating. You will find Mexican chorizo in the fresh meat section of the market in either bulk sausage or in its casings.
How to make our Spanish Chorizo and Shrimp Pasta:
Like we said above, this is a super-simple pasta dish. Put a pot of water on for the pasta and while it is cooking, sauté the chorizo in a large skillet, add the shallots, garlic, and seasoning. Next add a little white wine, fish broth, and tomato paste.
Fish broth really gives the sauce a great flavor but probably isn't something you keep in your pantry on a regular basis. You can find fish broth packaged either in a box located with the chicken and beef broths or frozen in the fish freezer section. Additionally, if you are in the mood, you could make your own fish broth from scratch. And you could also substitute the fish broth with chicken broth.
Once the sauce in the skillet begins to boil, add the sliced tomatoes, Kalamata olives and cook for a minute, then add the shrimp. Pull the skillet off the heat and let the shrimp cook in the residual heat. They will turn pink and begin to curl quickly.
Tip: To Poach the Shrimp:
Shrimp is easy to over-cook so you need to watch them closely. When the shrimp are pink and partially closed into the shape of a letter 'C' they are perfect. An overcooked shrimp will close up like the letter 'O' and will be a little tough and chewy.
By now, your pasta is ready and drained. Divide the pasta into bowls and scoop the chorizo-shrimp sauce over each portion. Garnish with chopped parsley and serve with grated Parmesan cheese and warm sourdough garlic bread to sop up the delicious sauce!
This Spanish chorizo and shrimp pasta can be a stand-alone dinner or dress it up with a glass of red wine and a crisp green salad. Enjoy! ❤️
More Recipes We Are Sure You Will Love:
CONNECT WITH SAVOR THE BEST!
Be sure to follow us on our social media accounts
Facebook * Instagram * Pinterest * Twitter * Youtube
Did you make this recipe? We would love to hear from you. Drop us a comment below. It really is a fast and easy meal to make, you have to try it.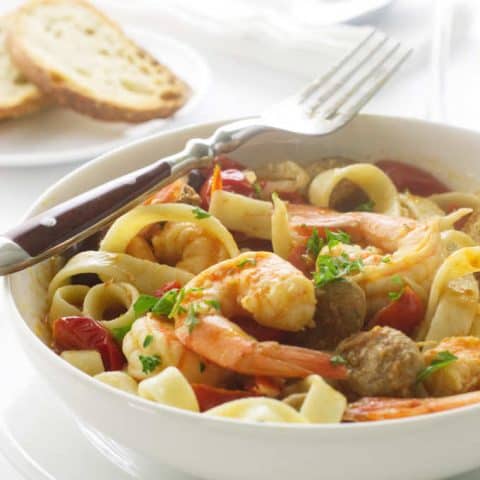 Spanish Chorizo and Shrimp Pasta
Yield: 6 Servings
Prep Time: 10 minutes
Cook Time: 20 minutes
Total Time: 30 minutes
Spanish Chorizo and Shrimp Pasta, thick fettuccine topped with spicy sausage, plump shrimp and salty olives in a lightly spicy flavorful sauce.
Ingredients
8 ounces dry fettuccine
2 tablespoons olive oil
8 ounces Chorizo, cut into 1/4-inch slices
2 medium shallots, sliced
3 garlic cloves, grated or minced
1/2 teaspoon table salt
1 teaspoon smoky paprika
1/2 cup dry white wine
2 cups fish broth (or sub with chicken broth)
3 tablespoons tomato paste
16 ounces grape tomatoes, sliced in half
8 ounces Kalamata olives
1 pound medium shrimp
1/2 cup grated Parmesan cheese
Parsley for garnish
Instructions
Fill a large pot with salted water and bring to a boil over high heat. Add the dry pasta and cook according to manufacturer's instructions.
Meanwhile,
Heat the oil in a large skillet set over medium heat, add the sliced chorizo and sauté for five minutes.
Add shallots and cook until lightly wilted, about 2-3 minutes. Add the garlic and cook just until the garlic becomes fragrant, about 30-seconds then add the salt, pepper and paprika.
Stir in the wine and cook for 1-2 minutes to burn off the alcohol. Add the fish broth and whisk in the tomato paste.
Bring the sauce to a boil, add the sliced tomatoes and Kalamata olives, cook for 2-3 minutes.
Remove the pan from the heat and add shrimp and let them cook in the hot sauce until they are pink and cooked through, about four minutes. Do not over cook the prawns or they will become tough.
To Serve:
Drain the fettuccine and portion into 4 pasta bowls. Spoon the hot mixture equally over the fettuccine. Garnish each portion with grated Parmesan cheese and chopped parsley.
Notes
For more sausage flavor throughout the sauce you can cut open each sausage link and break up the sausage with a fork and sauté to cook.
Nutrition Information:
Yield: 6
Serving Size: 1
Amount Per Serving:
Calories: 622
Total Fat: 32g
Saturated Fat: 9g
Trans Fat: 0g
Unsaturated Fat: 21g
Cholesterol: 200mg
Sodium: 2024mg
Carbohydrates: 42g
Fiber: 4g
Sugar: 5g
Protein: 37g
Nutrition information is a guideline only, is calculated automatically by third party software, and absolute accuracy is not guaranteed.