Trade something old for something fresh and new with this leftover roast beef pasta. There's something so wonderful about making another meal out of your leftovers. Last night's dinner doesn't have to be a repeat. You can take those leftovers and turn them into something fresh, exciting and delicious.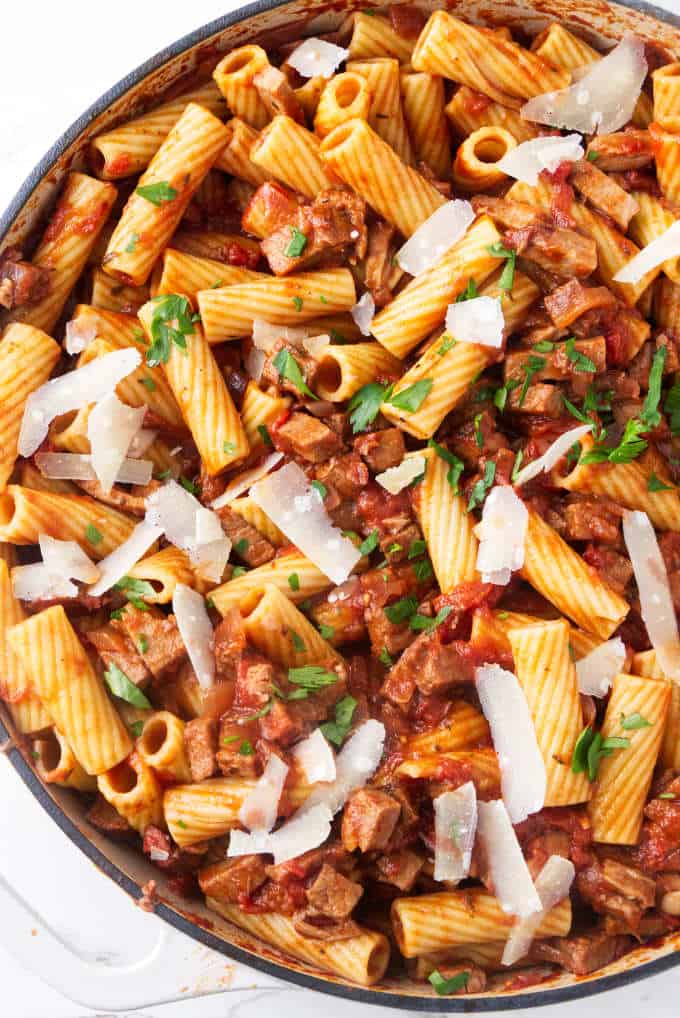 In this recipe, we're going to be fusing together a rich, herby pasta and some decadently savory leftover roast beef from our slow cooker pot roast. You can also use leftover tri tip roast or any beef from last nights dinner.
Normally, if you were making pasta with beef in it, you'd start off by frying the meat in a pan which leaves some leftover cooked-on bits that add flavor to the pasta dish. Here, though, since the beef has already been cooked, we're going to use a few other tricks to add layers of flavor to this pasta dish. Check out the tips and tricks below.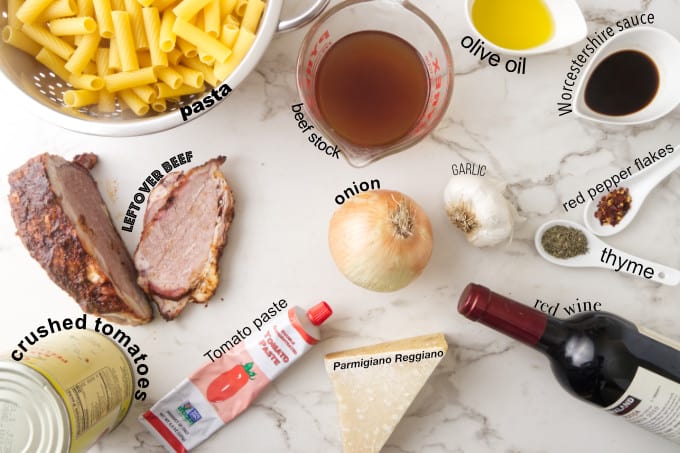 Ingredients for this leftover roast beef pasta skillet dinner
olive oil
onion
garlic
dried thyme
chili flakes
red wine
crushed tomatoes
Worcestershire sauce
tomato paste
beef stock
leftover, cooked beef (use leftover tri tip, roast beef, or pot roast)
Parmigiano Reggiano cheese (including the rind)
dried pasta (we used rigatoni)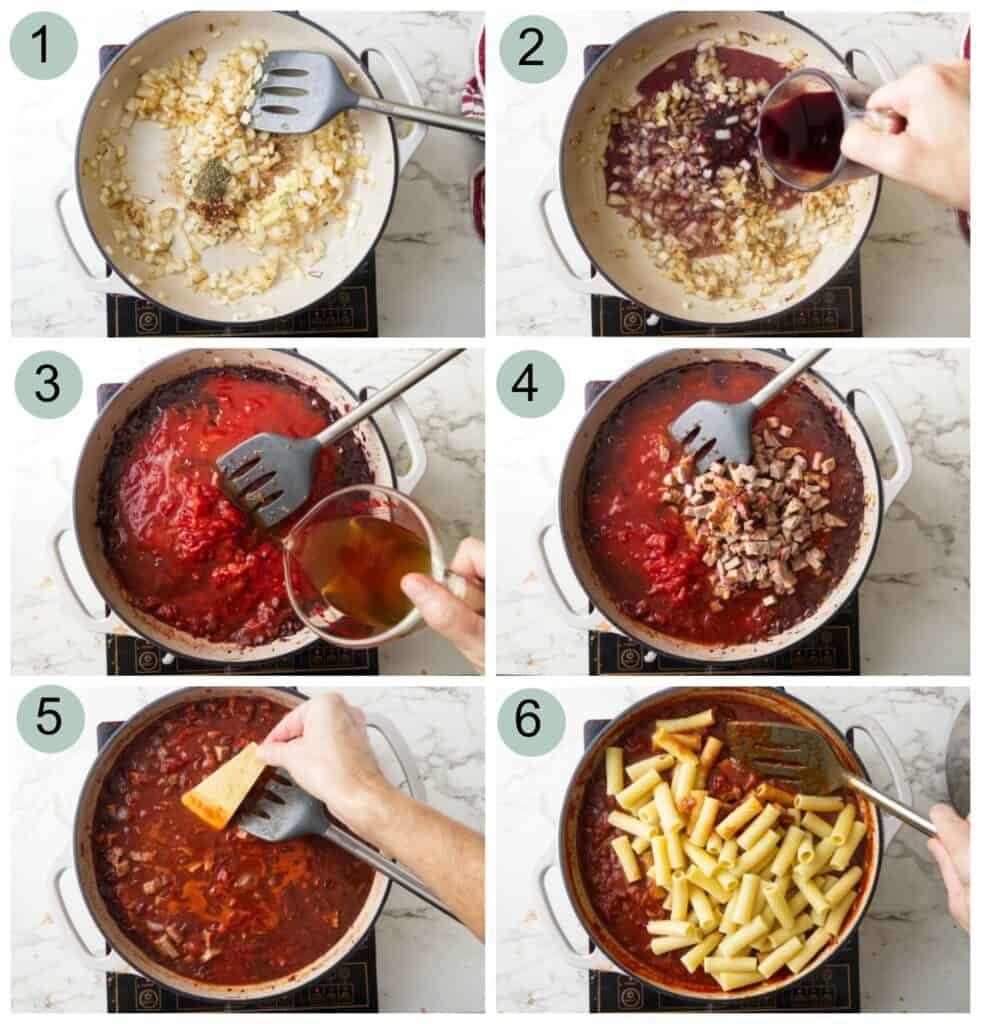 How to make this pasta taste great using leftover beef
Here is a breakdown of the instructions along with some tips. Be sure to scroll to the printable recipe card for all the details.
Start by cooking the onion and garlic. Roughly halfway through, you can add the thyme and chili flakes, and give them thirty seconds or so to become richly aromatic.
Next, you need to deglaze the pan. Add in the wine, and stir continually, cooking until the amount of liquid reduces by about half. This step adds a tremendous amount of flavor to the pasta sauce.
When you're happy with the liquid in the pan, add in all the other ingredients except the pasta. (One of our other secrets for getting the most flavor-packed pasta sauce is the rind from the Parmigiano Reggiano.)
After you've simmered the sauce for half an hour to an hour, reduce the heat a little and give it a good stir. Remove and dispose of the Parmigiano rind and scrape the sides of the pot down. Stir the thickened residue from the sides of the pot into the sauce: it's pure flavor!
When you're happy with the sauce, you can stir in your cooked pasta, making sure to get an even coating. If your sauce seems a little thin, add a splash or two of the starchy pasta water.
Allow the whole mixture to heat through for a moment so that everything is hot, then serve with grated parmesan or Parmigiano Reggiano.
Tips for recipe success
The Worcestershire sauce will add a rich, savory kick to this pasta dish. Since the beef is already cooked, it won't have as much opportunity to permeate flavors into the sauce. The Worcestershire sauce introduces a savory depth of flavor that enhances all the flavors.
When you buy blocks of hard cheese, cut the rind off and save it in your freezer for recipes like this. The rind from hard cheese will infuse flavors into the sauce as it simmers. It's another great tip that you can use in other sauces and soups. Next time you make turkey noodle soup, toss the rind in while the soup simmers.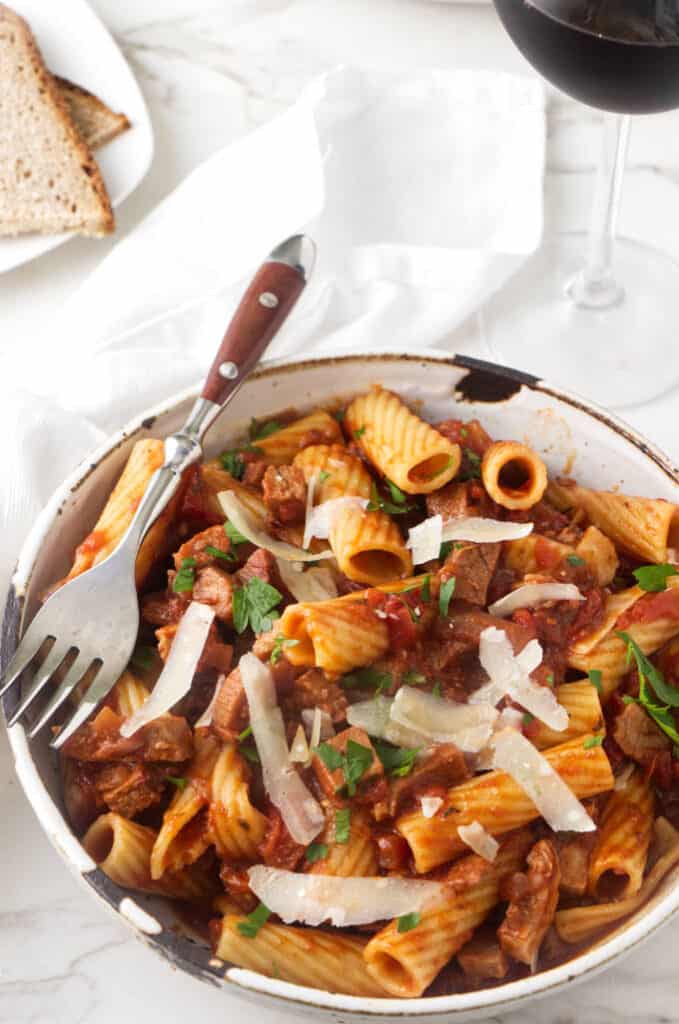 What to serve with this roast beef pasta
Serve this pasta skillet with some garlic bread and a wedge salad or a simple steamed broccoli.
Storing leftovers
Store leftovers in the fridge for up to 3 days or in the freezer for up to 4 months. When you re-heat the pasta, you may want to add some additional tomato sauce as the pasta will have absorbed some of the sauce.
SOME OTHER RECIPES WE ARE SURE YOU WILL LOVE:
This creamy garlic butter shrimp pasta is fast and easy to make. It is a perfect weekday meal.
Our turkey pasta bake uses leftover turkey to make a brand new meal. The creamy sauce and stringy cheese will please everyone.
Our turkey tetrazzini is another dish that makes great use with leftovers. This one-dish meal will make dinner easy and delicous.
CONNECT WITH SAVOR THE BEST!
Be sure to follow us on our social media accounts
Facebook * Instagram * Pinterest * Twitter * Youtube
Did you make this recipe? We would love to hear from you. Drop us a comment below.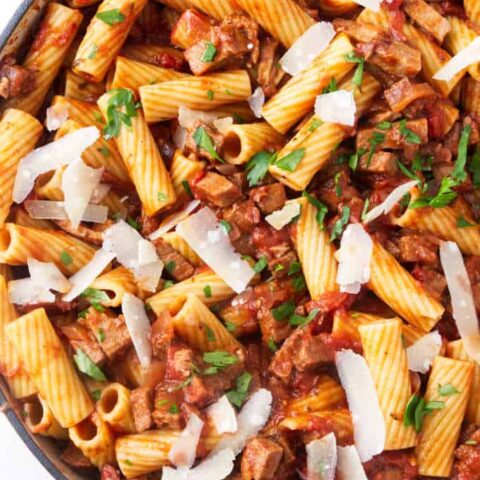 Beef Pasta Skillet
Yield: 6 servings
Prep Time: 10 minutes
Cook Time: 25 minutes
Total Time: 35 minutes
This is an easy weeknight dinner that makes good use of leftover roast beef or tri tip roast. The tomato-based sauce is similar to a quick ragu that only takes 20 minutes but if you have time, let it simmer for up to an hour. The sauce gets extra flavor from a rind of Parmigiano Reggiano cheese.
Ingredients
3 tablespoons olive oil
1 onion, chopped
3-5 cloves of garlic, finely minced
1-1/2 teaspoons crushed chili flakes
1 teaspoon dried thyme
1 cup red wine
28 ounce can crushed tomatoes
3 tablespoons Worcestershire sauce
3 tablespoons tomato paste
1 cup beef stock
2 cups shredded or cubed cooked beef (use leftover tri tip or roast beef)
Rind from a chunk of Parmigiano Reggiano cheese
14 to 16 ounces dried pasta (we used rigatoni)
To serve:
grated Parmigiano Reggiano
Instructions
Heat the olive oil in a large saute pan. Add the onion and cook until soft. Add the garlic, thyme, and chili flakes and cook for 30 seconds.
Pour in the wine and cook until it reduces by about half.
Stir in the crushed tomatoes, Worcestershire sauce, tomato paste, beef stock, leftover beef, and the rind from a block of pa (if you have leftover vegetables from a pot roast then add them in as well, they add great flavor).
Simmer for 20 minutes to bring out the flavors (if you have time, simmer for up to an hour).
Cook the pasta according to the package directions.
Stir in the cooked pasta and simmer for another 5 minutes. Season with salt and pepper if desired.
Remove the rind of cheese before serving and serve with grated cheese.
Notes
If you have extra time, make this an hour in advance so the sauce can simmer longer and develop more flavors
Recommended Products
As an Amazon Associate and member of other affiliate programs, I earn from qualifying purchases.
Nutrition Information:
Yield: 6
Serving Size: 1
Amount Per Serving:
Calories: 399
Total Fat: 17g
Saturated Fat: 6g
Trans Fat: 0g
Unsaturated Fat: 9g
Cholesterol: 44mg
Sodium: 1047mg
Carbohydrates: 34g
Fiber: 3g
Sugar: 5g
Protein: 21g
Nutrition information is a guideline only, is calculated automatically by third-party software, and absolute accuracy is not guaranteed.