With a crunchy, flavorful crust and a perfectly-roasted center, this Horseradish Crusted Prime Rib Roast is a mouthwatering and memorable special occasion meal.
This slow-roasted prime rib recipe uses a combination of zesty fresh horseradish along with jarred horseradish to create a flavor-packed, extra-crispy crust. Roast it to medium-rare for serious prime rib perfection.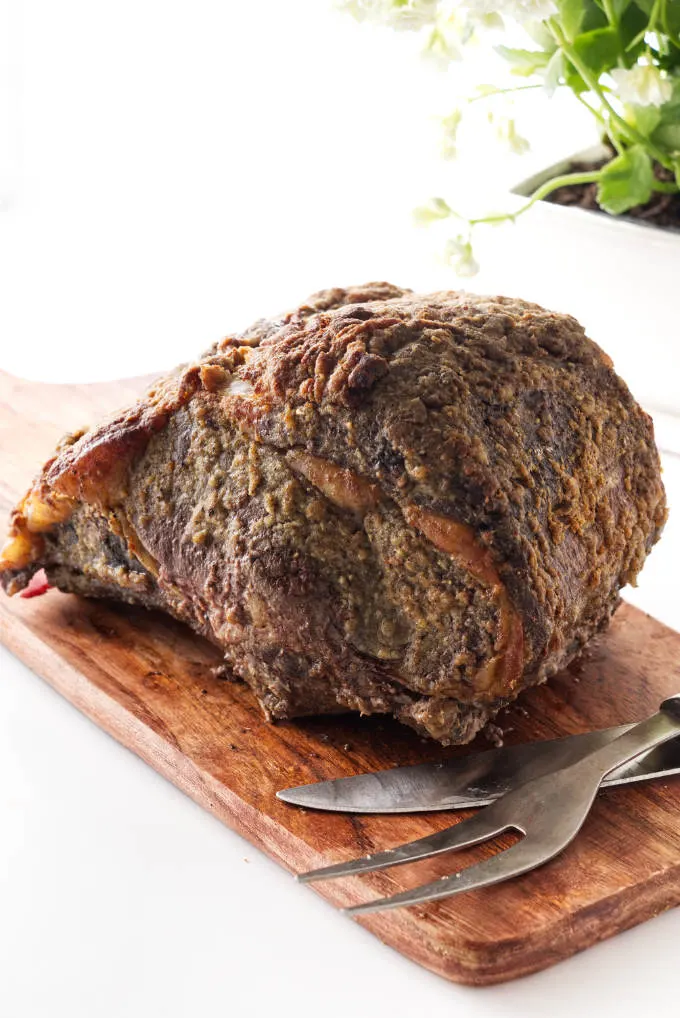 Prime rib is the roast of roasts, isn't it? Juicy and tender and full of flavor, it's easy to see why it's often a go-to for a special occasion meal.
Our Smoked Prime Rib and this classic Prime Rib Roast are two of our favorite roast recipes and are great options if you're looking for a more classic prime rib.
But if you love horseradish as much as we do, this horseradish crusted rib roast is the one for you!
Why this Recipe Works:
That extra crispy horseradish crust adds bold flavor and crunch to the tender, perfectly roasted meat.
Butter, herbs and aromatics- including fresh horseradish- is an unbeatable combination that infuses the roast with so much incredible flavor.
Our horseradish prime rib is:
Simple to prepare. Just a few minutes of prep time then the oven does all the work.
Extra flavorful. The horseradish and herb paste injuse flavor into the roast.
Tender and juicy. The horseradish crust locks in all the juices and makes the roast extra tender.
Roasted to perfetion. Using a leave-in thermometer will guarantee your prime rib is perfect.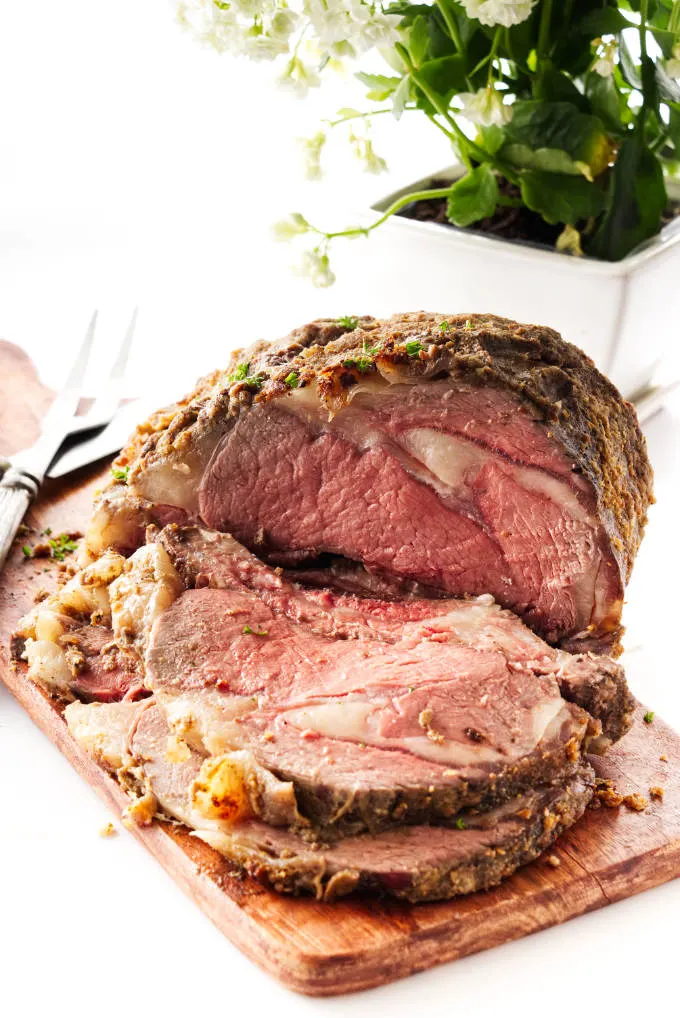 Horseradish Prime Rib Ingredients:
For this prime rib recipe, you will need:
Prime or choice cut of beef standing rib roast
Coarse salt
Butter, softened
Fresh ground black pepper
Dijon mustard
Prepared horseradish (we like Beaver Kosher horseradish)
Grated fresh horseradish
Anchovies, mashed
Garlic cloves, grated
Chopped parsley, for garnish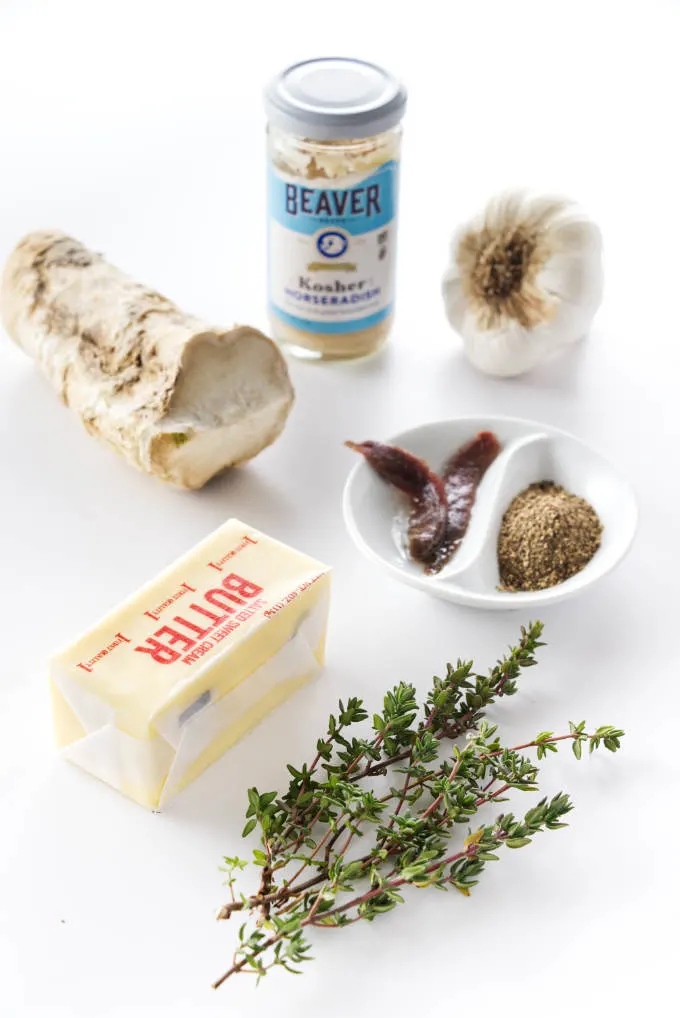 How to Make Horseradish Crusted Prime Rib:
Prime rib isn't too difficult to make but there are a few steps that we really recommend to get the best results!

For the full horseradish prime rib recipe, scroll to the bottom of the page to view the printable recipe card. Here's a quick look at the process:
Prepare the meat: Cut crosshatch slits in the surface of the fat cap. Rub the course salt over the entire roast and let the roast sit in the refrigerator for at least 24 hours (or up to four days!).
Make the horseradish mixture: Combine the ingredients in a bowl and mash them together.
Coat the meat: Slather the mixture over the top and sides of the roast and plae it on a sheet pan. Insert a meat probe thermometer into the top of the roast.
Roast the prime rib: Transfer to the oven and cook it until the meat thermometer reaches your desired doneness (view our temperature chart below). When it reaches that temperature, remove it from the oven and let it rest on the pan, tented with foil.
Sear the crust: Set the oven to "broil." Set the roast under the broiler, turning from side to side as the crust crisps up and turns a deep brown. Remove from the oven and carve/serve immediately.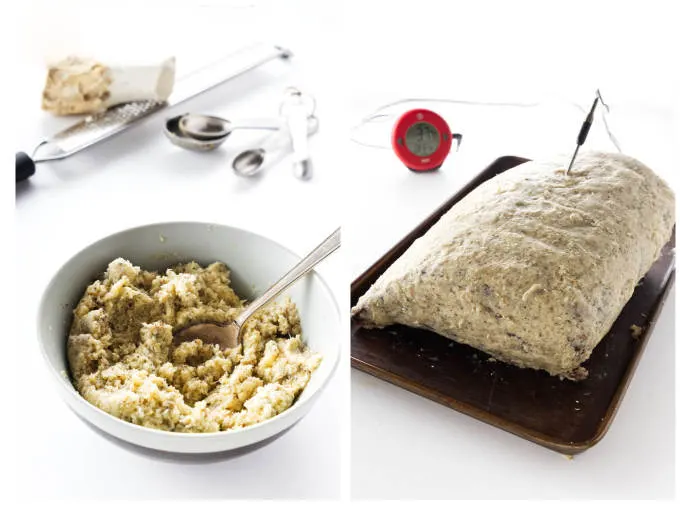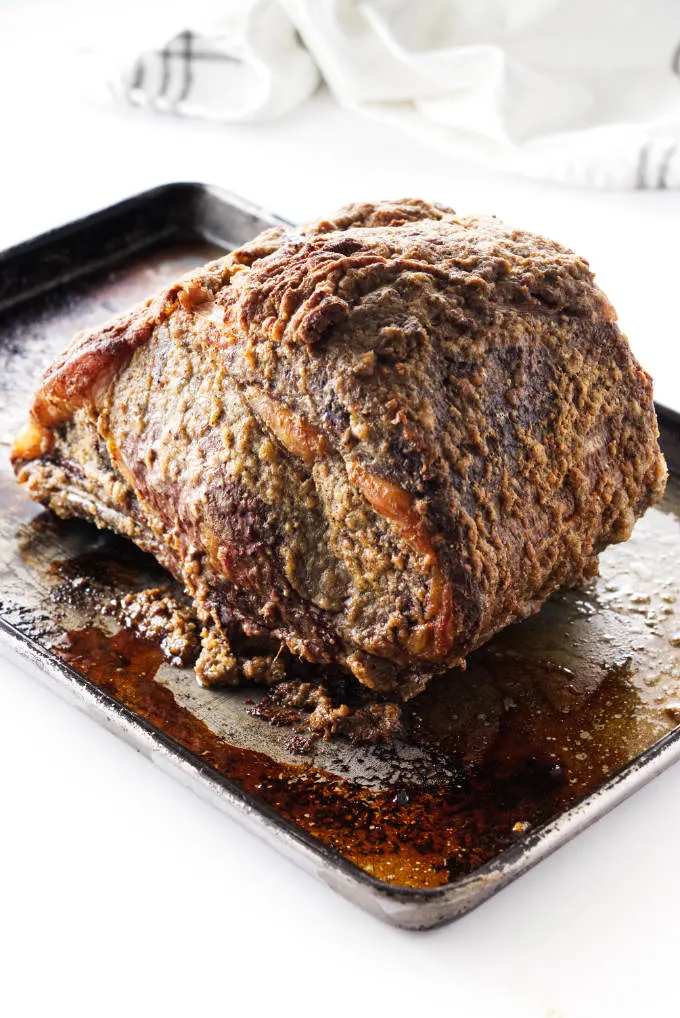 Tips for the Best Results:
A meat thermometer is necessary to perfecting prime rib and getting it at the exact level of doneness! We've included a handy chart in the recipe card notes at the bottom of the page.
Remove as much moisture as possible from the prime rib before slathering it with the butter/horseradish mixture. This will allow the butter to stick to the meat and you'll have a much easier time spreading it in an even layer.
Roasting the prime rib with the bones down allows the air to circulate around the roast since the bones serve as a rack.
Cooking times will vary based on the size of the prime rib. These are approximate times for a rare roast at 200°F. Add extra time if you'd like the roast cooked medium to well done.

4 lb. –2 hr. 30 min.
5 lb. — 3 hr. 10 min.
6 lb. — 3 hr. 50 min.
7 lb. — 4 hr. 30 min.
8 lb. — 5 hr. 10 min.
9 lb. — 6 hr. 30 min.
Doneness Temperature for Prime Rib:
Remember the above times are approximate and should only be used as a guideline for your menu and meal planning.
For best results, use a meat thermometer and cook the prime rib to the doneness level of your choice.
Rare 120°F
Medium rare 130 to 135°F
Medium 140 to 145°F
Medium well 150 to 155°F
Well done 160°F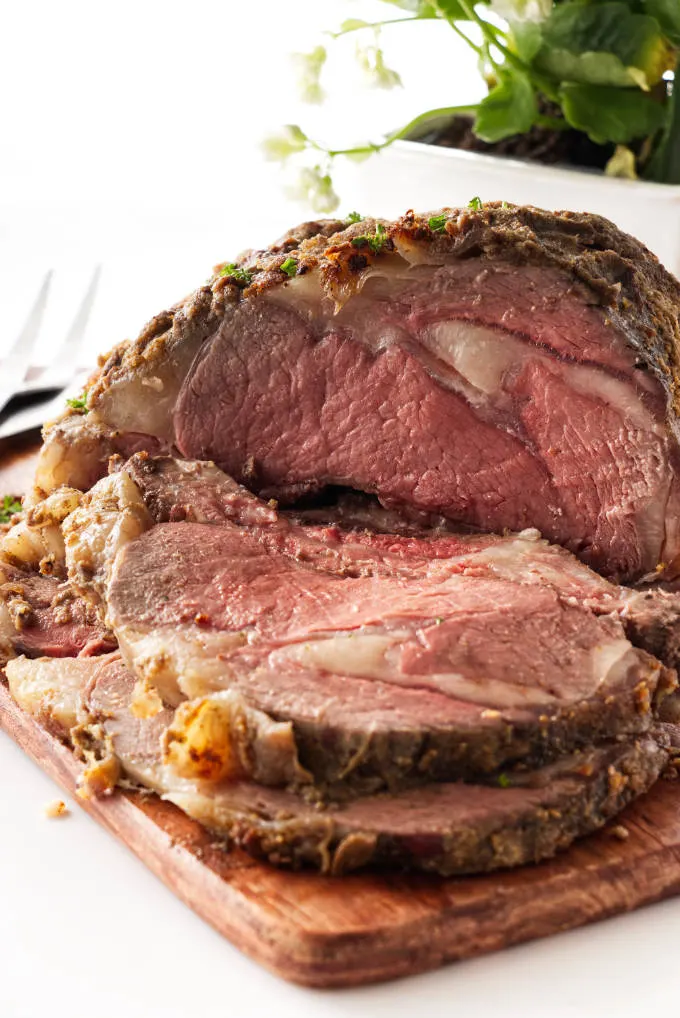 Frequently Asked Questions:
Why do you put horseradish on prime rib?
The sharp and zesty flavor of horseradish pairs really well with red meat. This horseradish crust recipe adds a layer of bold, horseradish flavor mixed with other herbs, butter, and aromatics. The flavor combination is incredible and it crisps beautifully under the broiler to create a crunchy, savory crust.
Do you cook a prime rib roast covered or uncovered?
Cook this prime rib roast uncovered. Make sure it is set on the sheet pan with the bones down so they can serve as a roasting rack of sorts. This allows the hot air to circulate under the roast.
Should I salt prime rib overnight?
Yes- salt the prime rib roast and leave it in the fridge for at least 24 hours and up to 4 days! The salt acts as a dry brine and makes the roast more succulent. When you're ready to roast the meat, use paper towels to pat it dry and remove as much moisture as possible.
What to Serve with Prime Rib:
What doesn't go with prime rib? You can embrace the classic meat-and-potatoes pairing or go with something a little more unique. However you serve this horseradish crusted prime rib, there will be empty plates and full bellies all around.
Here are a few side dishes we love alongside prime rib:
Horseradish crusted prime rib is such a treat and is, in fact, an easy prime rib recipe that anybody can take on!
Every morsel is rich and meaty with the zingy bite of horseradish and savory aromatics infused into the roast. It's better than any steakhouse cut and you'll have every reason to turn any day into a prime rib occasion.
Some Other Recipes We Are Sure You Will Love:
This majestic Crown Pork Roast takes center stage on your holiday table! We slathered this regal cut of pork with a mustardy, garlic-herb mix then slow-roasted it to a juicy, succulent deliciousness. The center of the roast has a savory cornbread sausage stuffing and the outside of the crown is surrounded with a garland of roasted sweet apples and caramelized cipollini onions.
For a small holiday gathering a turkey breast may be just what is needed! Try our Garlic-Herb Roasted Turkey Breast– it is moist, flavorful and succulent!
A roast rack of lamb is perfect for a holiday dinner or special event. We roasted this Garlic Rosemary Roasted Rack of Lamb to a perfect medium-rare with savory, garlic, and rosemary flavors in each juicy morsel.
Connect With Savor the Best:
Please follow us on our social media accounts
Facebook * Instagram * Pinterest * Youtube * Twitter
Did you make this recipe? We would love to hear from you. Drop us a comment below.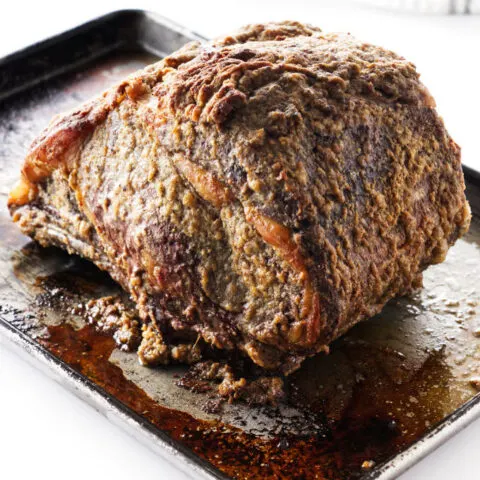 Horseradish Crusted Prime Rib Roast
Additional Time:
30 minutes
Total Time:
6 hours
50 minutes
A slow roasted horseradish crusted prime rib perfectly roasted to medium-rare. The crunchy coating mixture includes a combination of zesty fresh horseradish and jarred horseradish.
Ingredients
1 (9-pound) prime or choice cut of beef standing rib roast (4 bones)
2 tablespoons coarse salt
For the Crust Rub:
1/2 cup (8 tablespoons) butter, softened
1 tablespoon fresh ground black pepper
2 tablespoons Dijon mustard
4 ounces prepared horseradish
2 tablespoons grated fresh horseradish
2 anchovies, mashed
2 tablespoons fresh thyme leaves
8 garlic cloves, grated
2 tablespoons chopped parsley for garnish
Instructions
Using a sharp knife, cut slits, spaced 1-inch apart, in the surface of fat cap in a crosshatch pattern, being careful to cut down to, but not into, the meat.
Rub the coarse salt over the entire roast and into the slits. Transfer to a large plate, and refrigerate, uncovered, for at least 24 hours or up to 4 days.
When ready to roast the prime rib, remove the meat from the refrigerator and let stand on the kitchen counter for 1 hour.
Adjust the oven rack to the lower position and heat the oven to 220°F. Coat a rimmed sheet pan with non-stick oil.

Prepare the Horseradish Crust Mixture:

Place the softened butter in a bowl, add the mustard, both of the horseradishes, and the anchovies. Mash the ingredients together until well combined then stir in the thyme leaves.

Coating the Prime Rib:

Use paper towels to pat the surface of the roast to remove as much moisture as possible. This is key for getting the mixture to spread evenly over the prime rib.
With a silicone spatula or with your hands, slather the horseradish mixture over the top and sides of the roast.
Place the roast on the sheet pan, bones down. Insert a meat probe thermometer into the top of the roast to the center of the meat without touching fat or bone.
Transfer the roast to the oven. Set the thermometer alarm to sound at your desired doneness. Since this roast gets cooked at low heat, there will not be a lot of carry-over cooking.
Pull the roast from the oven and let it rest on the sheet pan, tented with foil for 20-30 minutes.

Sear and Crisp the Crust:
Set the oven temperature to the 'Broil' unit and let heat for 3-5 minutes.
Remove the foil from the roast and transfer the sheet pan/roast back into the oven and broil, turning from side to side as it colors, until the crust is crisp and a deep brown. Watch closely that it does not burn.
Remove from the oven, carve and serve. There is no need for a further 'rest' time.
Notes

Place the prime rib bone side down on the sheet pan. The bones will serve as a rack for the roast.
Temperature Doneness for Prime Rib
Rare = 120-130°F
Medium rare = 130-135°F
Medium = 135-145°F
Medium-well = 145-155°F
Well-done = +155-160°F

Approximate cooking times for a rare Prime Rib at 200°F
These are approximate times for a rare roast. Add additional time if you want your roast cooked more. Results will vary based on your oven and temperature fluctuations.
4 lb. --2 hr. 30 min.
5 lb. -- 3 hr. 10 min.
6 lb. -- 3 hr. 50 min.
7 lb. -- 4 hr. 30 min.
8 lb. -- 5 hr. 10 min.
9 lb. -- 6 hr. 30 min.
Recommended Products
As an Amazon Associate and member of other affiliate programs, I earn from qualifying purchases.
Nutrition Information:
Yield:

12
Amount Per Serving:
Calories:

670
Total Fat:

45g
Saturated Fat:

20g
Cholesterol:

195mg
Sodium:

950mg
Carbohydrates:

2g
Protein:

65g