A simple turkey breast gets a savory flavor boost with this Garlic and Herb Roasted Turkey Breast. Perfectly roasted, it is moist, tender and so flavorful! Come along with us and we will show you how to roast a turkey breast to its juicy perfection. And while you are here, check out our Roasted Turkey Breast with Garlic-Herb Butter for another great entree idea.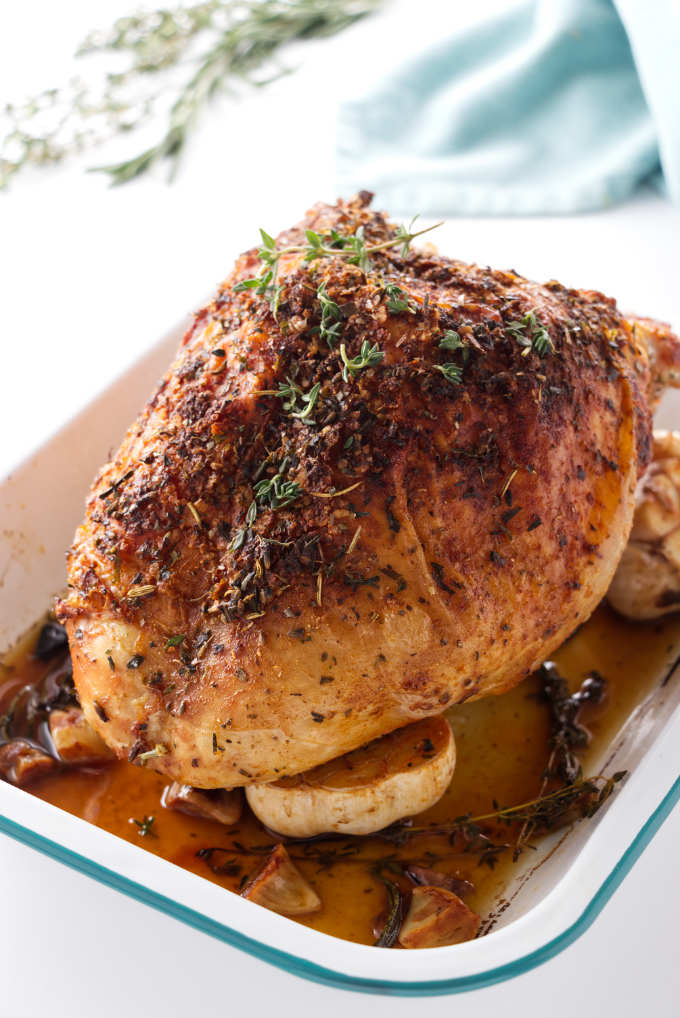 If you are having a scaled-down holiday dinner with four to six guests you may not want to wrestle with a large whole turkey. That is when a turkey breast is a perfect choice.
With traditional sides such as stuffing, mashed potatoes, gravy, sweet potatoes, a crisp green salad and green beans or Brussels sprouts you are all set for a grand holiday feast! And what holiday dinner would not have an apple pie or pumpkin pie for dessert?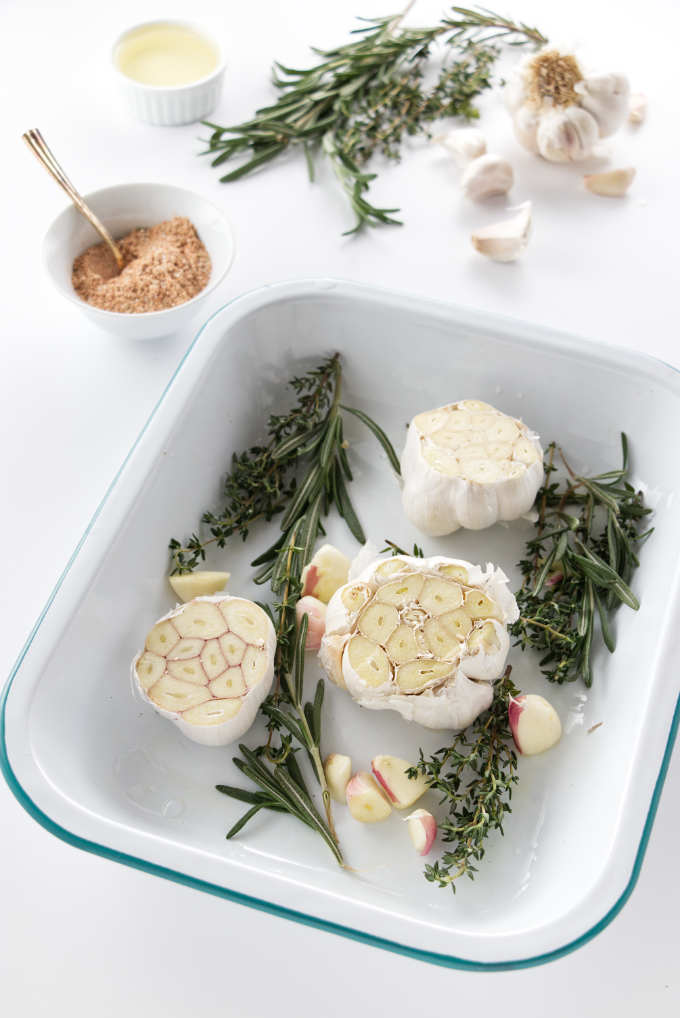 The key to a perfect turkey breast is keeping it tender and juicy. If you overcook this lean meat, it will get dry, tough, and leathery.
The two secrets to not over-cooking the turkey breast area:
Cooking the turkey to 155°F (not 165°)
When the turkey breast comes out of the oven, tent it and let it finish cooking from the residual heat.
Why Turkey Breast Gets Dry:
The USDA guidelines say that poultry is safe to eat at 165°F. However, if you remove the turkey from the oven at 165°F, it will continue to cook from the carry-over heat and it will get dry and over-cooked.
That is because residual heat during the rest time will continue to cook the turkey another 10-15 degrees.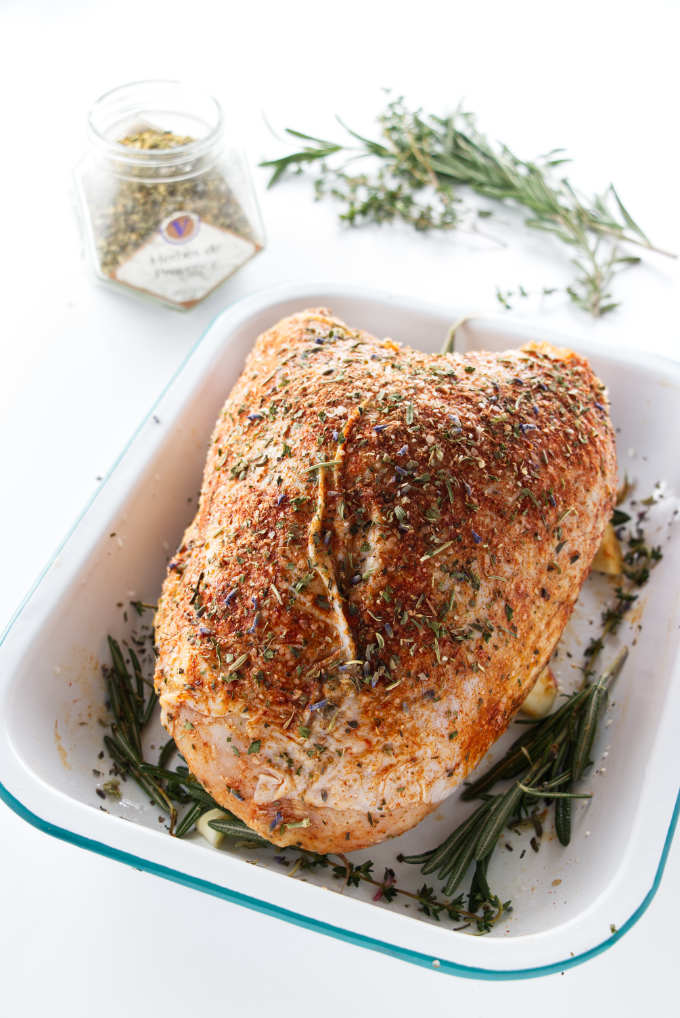 Ingredients Needed
Do be generous when seasoning the turkey breast. We like the addition of the ground fennel as it adds a unique flavor to the mix. Feel free to add or substitute your favorite flavor seasonings.
If you don't want to mix your own seasoning blend this turkey rub is fantastic. The Herbs de Provence adds so much flavor to this herb roasted turkey breast.
coarse salt
pepper
ground fennel seed
powdered sage
powdered garlic
smoked paprika
garlic, cut in half
fresh rosemary
fresh thyme
bone-in turkey breast
olive oil
white wine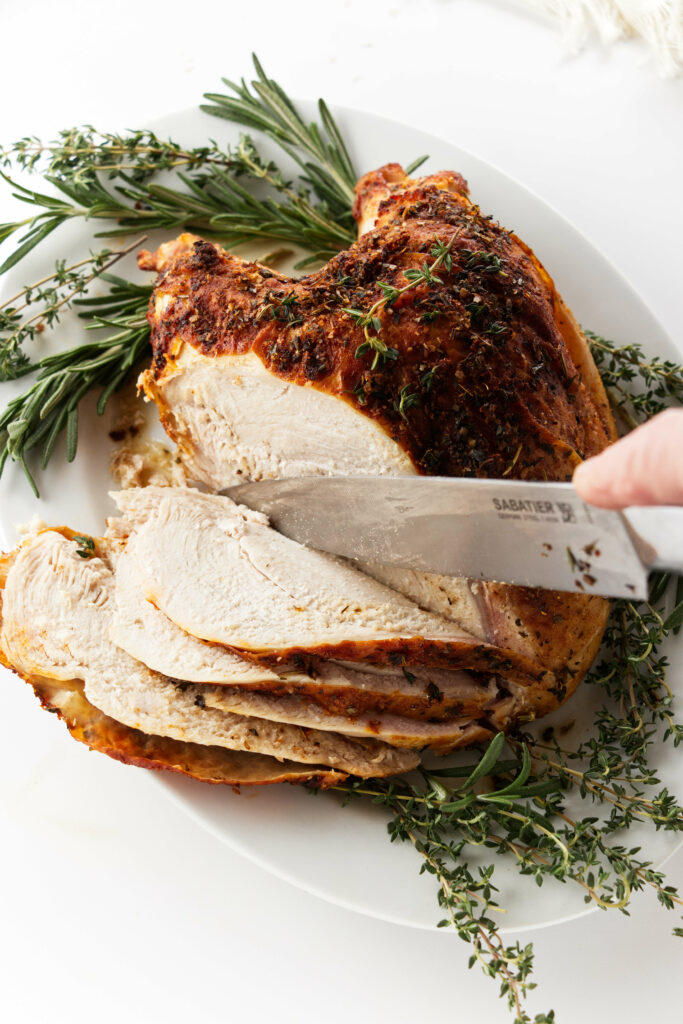 How to Make It
A turkey breast is easy to prepare. It is just the right size for a holiday feast for two to six. Depending on the size of the turkey breast, dinner can be on the table with all the trimming in under two hours.
This is a quick overview of the process. Be sure to scroll down to the printable recipe card for all the details. The garlic and herbs will serve as a rack to keep the turkey breast elevated and roast evenly.
Combine the seasoning mix in a small dish.
Arrange the garlic and herbs in a baking dish
Oil and season the turkey breast.
Place the turkey breast on top of the garlic and herbs.
Sprinkle generously with Herbs de Provence
Insert a meat thermometer probe into the thickest part of the turkey breast.
Roast until the meat thermometer reaches 155°F
Remove from the oven, tent and let rest for 15-20 minutes
Slice and serve.
Tips for Success
Cook the turkey based on temperature and NOT TIME. We give you an estimated time to help you plan your meal, however, don't rely on the time. A reliable probe thermometer is your biggest asset to a perfect turkey breast.
Make sure the turkey breast is completely thawed before you begin.
A bone-in turkey breast will be juicier and more flavorful than a boneless turkey breast.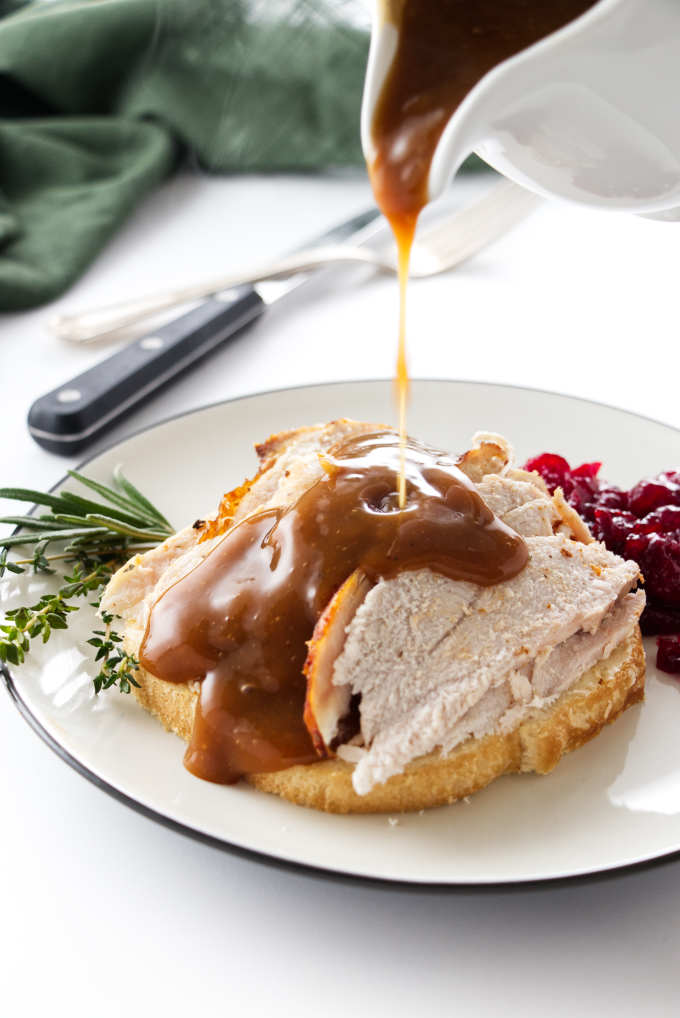 You don't need a special holiday meal to enjoy a turkey. It makes a great family meal and the leftovers are even better. Open-face hot turkey sandwiches, drizzled with rich, savory gravy is always a family favorite.
For the gravy,mix the pan juices with a little white wine, chicken broth, Dijon mustard, and a dash of Worcestershire sauce. Thicken it up with a little flour or cornstarch and you have a delicious gravy. Serve it with a scoop of homemade cranberry sauce and you have a weeknight meal or Sunday lunch!
Some Other Recipes We Are Sure You Will Love:
If you love the dark meat of the turkey but don't want to roast a whole turkey then try our Roasted Turkey Thighs with Mushroom Stuffing. The turkey cooks on top of the stuffing flavoring it with the juices.
This luscious and succulent Dry Brined Herb Roasted Turkey has a crisp, golden-brown exterior. Dried herbs put on top of the bird and within the cavity give it a lot of flavor.
Don't toss out the holiday turkey carcass, bag it up and freeze it then when you are in the mood, use it to make an old-fashioned Turkey Noodle Soup, loaded with turkey chunks, vegetables, and noodles. You will be glad you saved that carcass!
Helpful Tools
Some of the following are affiliate links. If you click on these links and purchase something, we may receive a small commission. You don't pay any extra but it will help us keep the lights on.
A leave-in probe thermometer. ThermoWorks makes the best thermometers we have ever used.
Connect With Savor the Best:
Please follow us on our social media accounts
Facebook * Instagram * Pinterest * Youtube * Twitter
Did you make this recipe? We would love to hear from you. Drop us a comment below.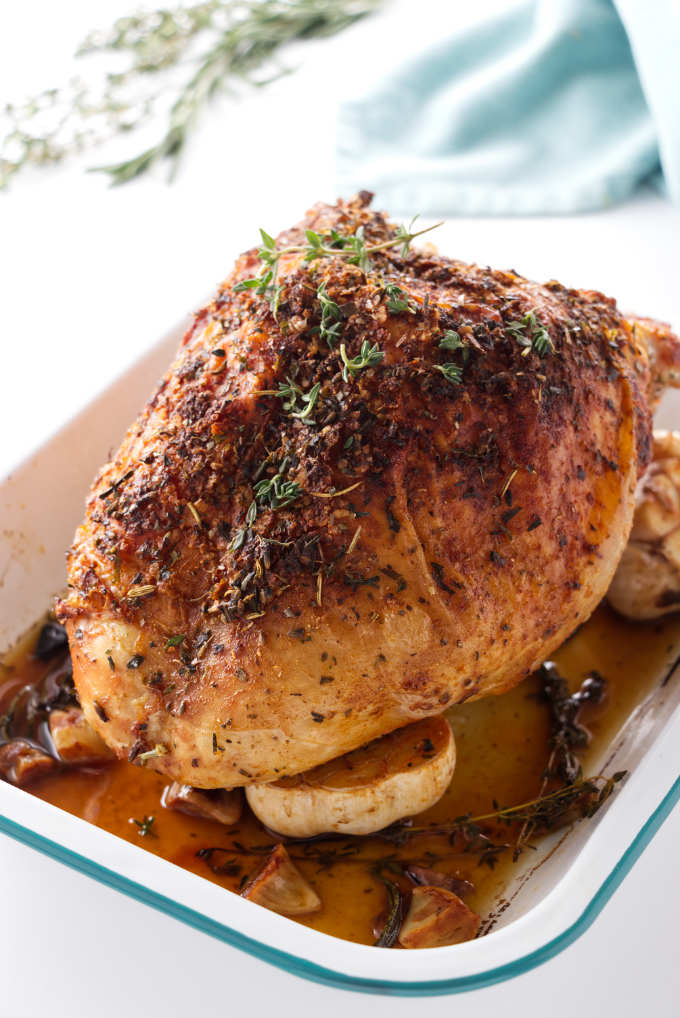 Herb Roasted Turkey Breast
Cook Time:
1 hour
30 minutes
Additional Time:
15 minutes
Total Time:
1 hour
55 minutes
A simple turkey breast gets a savory flavor boost with this Garlic-Herb Roast Turkey Breast. Perfectly roasted, it is moist and tender and so flavorful! This is a great option for a scaled-down holiday dinner.
Ingredients
For the Seasoning:
1 tablespoon coarse salt
1/4 teaspoon white or black pepper
1 teaspoon ground fennel seed
1 teaspoon powdered sage
1 teaspoon powdered garlic
1 tablespoon smoked paprika
For the Turkey Breast:
2-3 heads of garlic, cut in half
3 stems of fresh rosemary
1 bunch fresh thyme
4 to 8 pound bone-in turkey breast
2 tablespoons olive oil
2 tablespoon Herbs de Provence
1/2 to 1 cup white wine
Fresh rosemary and thyme for garnish
For the Gravy
Pan juices (save the juices from the roasting pan)
3/4 to 1 cup chicken broth
1 tablespoon Dijon mustard
1 teaspoon Worcestershire sauce
1/4 cup water
1 tablespoon cornstarch
Instructions
For the Seasoning
Preheat the oven to 350°F with the oven rack on the lower 1/3 position.
Combine the seasoning ingredients in a small dish and set aside. Optionally, use a good pre-made turkey rub (affiliate link).
For the Turkey Breast
Coat a baking pan or casserole dish with non-stick oil spray and add the garlic, rosemary, and thyme sprigs.
Trim excess fat and skin away from the turkey breast then pat dry with paper towels.
Brush the surface on all sides with oil then sprinkle generously with the seasoning. Place the halved garlic heads in a roasting pan, cut side up. Position the turkey breast on top of the garlic halves which serve as a shallow rack.
Sprinkle the surface of the turkey breast with Herbs de Provence and insert a thermometer probe into the thickest part of the turkey breast. Set the thermometer alarm to go off at 155°F (if your thermometer has this option).
Pour 1/2 cup of white wine into the bottom of the pan and transfer to the oven.
Roast the turkey breast until it reaches the target temperature of 155°F.
Remove the turkey breast from the oven, leave the thermometer in place and tent the turkey breast with foil. Allow the turkey breast to rest for 10 minutes. The residual heat will continue to cook the turkey bringing the temperature to at least 165°F.
For the Gravy
Strain the pan juices into a measuring cup. Add enough chicken broth until you have 1-1/2 cups.
Pour the broth into a saucepan. Add the Dijon mustard and Worcestershire sauce. Bring to a boil then reduce the heat to a simmer.
Combine the cornstarch and water in a small dish and stir until well combined. Whisk into the simmering broth and cook for 1 minute until thick. Don't let the gravy boil or cook too long or the cornstarch will lose its thickening power.
Notes
Pat the turkey breast dry before you brush it with oil.
The cooking time will vary depending on the size of the turkey breast and your individual oven. Rely on your leave-in probe thermometer to determine the proper time to remove the turkey from the oven.
Make sure you don't overheat the gravy. Cornstarch will lose its thickening power if it gets too hot.
Recommended Products
As an Amazon Associate and member of other affiliate programs, I earn from qualifying purchases.
Nutrition Information:
Yield:

8
Serving Size:

1
Amount Per Serving:
Calories:

733
Total Fat:

13g
Saturated Fat:

3g
Trans Fat:

0g
Unsaturated Fat:

8g
Cholesterol:

363mg
Sodium:

1246mg
Carbohydrates:

6g
Fiber:

1g
Sugar:

0g
Protein:

138g
Nutrition information is a guideline only, is calculated automatically by third-party software, and absolute accuracy is not guaranteed.