Roasted Turkey Thighs with Mushroom Stuffing is perfect for a small, two-person Thanksgiving dinner! Crisp, golden-brown turkey thighs baked right on top of the moist, flavorful mushroom stuffing. There is a generous portion of mushrooms and fresh herbs in the stuffing. As the turkey thighs bake, they release their juices, adding additional flavor to the stuffing.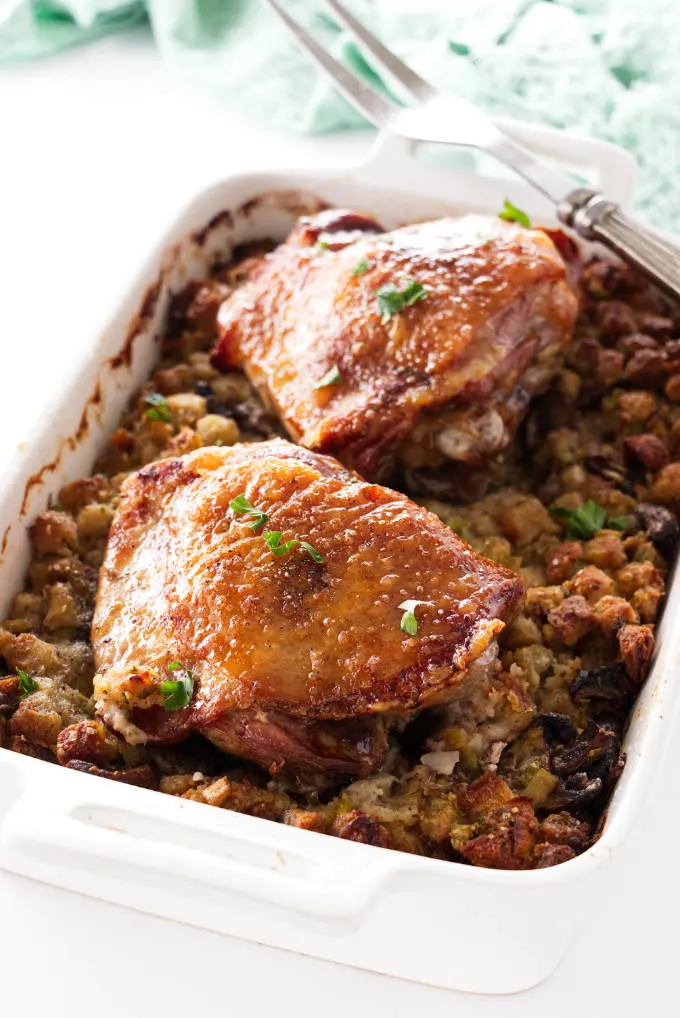 We baked our turkey thighs with a honey-butter glaze that gives the meat a delicious coating while the honey helps them brown beautifully. If you like this recipe you will love our baked turkey wings.
Serve these turkey thighs with two or three side dishes for a small Thanksgiving dinner. Try a squash and beet salad, jalapeno sweet potato mash, and Instant Pot braised green beans. For dessert, try our pumpkin mousse or an eggnog tart.
Here is Why You Will Love This Recipe:
Faster to cook than a whole turkey.
Perfect for a small Thanksgiving dinner (feeds 2 to 4 people).
The turkey juices release into the stuffing for extra flavor.
Turkey thighs stay moist and tender.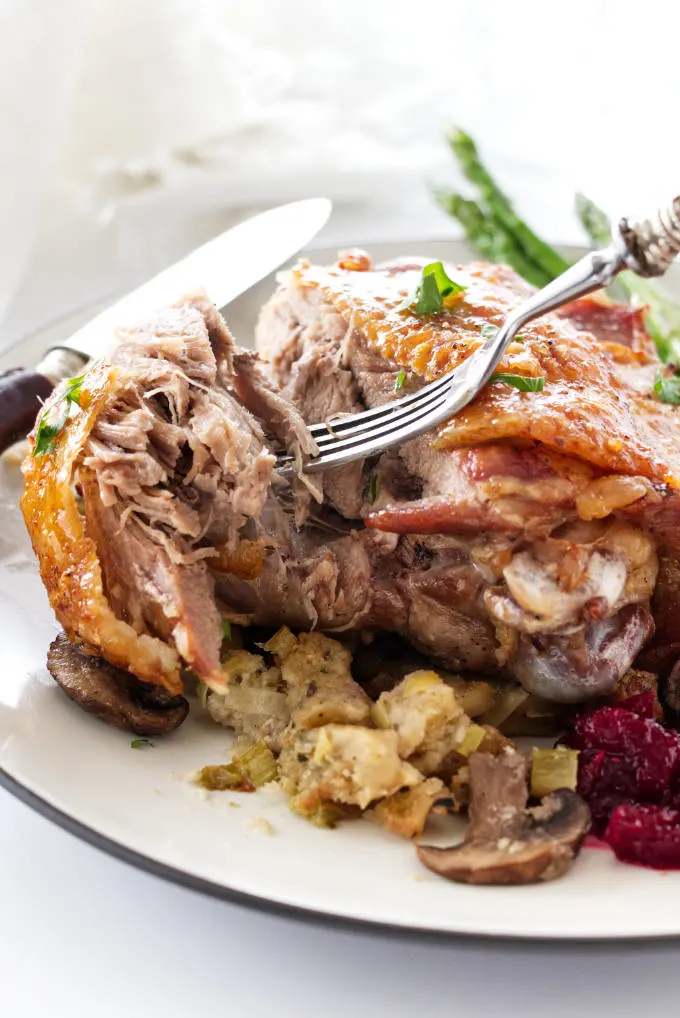 The Ingredients:
Here is the list of the ingredients you will need for the baked turkey thighs and the mushroom stuffing. Scroll to the printable recipe card for ingredient amounts.
Turkey thighs
Salt and pepper
Croutons or seasoned stuffing mix
White wine
Chicken broth
Onion, celery, and garlic
Mushrooms
Rosemary, sage, and thyme
Almond slices
Egg
Butter
Honey
Soy sauce
The mushroom stuffing makes enough for four servings. Depending on how many sides you serve, each turkey thigh will feed two people. If you don't have any extra sides then each turkey thigh will serve one person.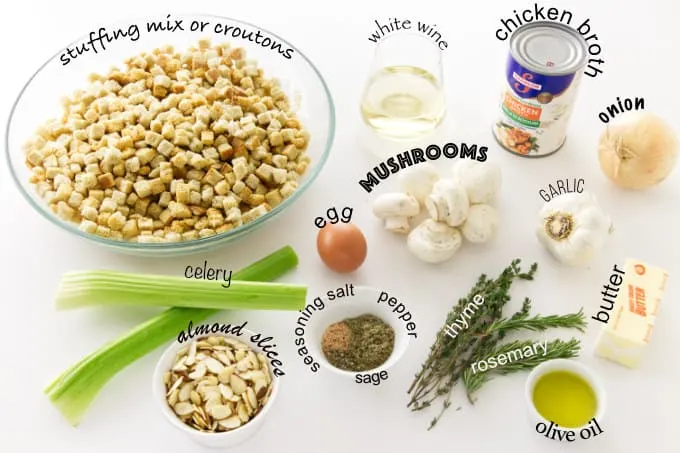 How to Cook Turkey Thighs:
Here is a quick overview so you can see how easy it is to make this turkey thigh recipe. Make sure to scroll down to the printable recipe card when you begin to cook.
Season the turkey thighs.
Prepare the stuffing and place it in a casserole dish.
Arrange the turkey thighs on top of the stuffing and transfer the dish to the oven.
Combine the ingredients for the glaze.
Remove the turkey thighs after 30 minutes of baking time and brush the glaze over the top.
Return the turkey thighs to the oven and continue baking until done.
That's it, just 6 steps to perfect turkey thighs. The stuffing absorbs all the juices from the thigh meat and becomes so flavorful and moist. If you have leftover stuffing, you can use it for a stuffed acorn squash the next night.
Tips for Success:
For crispy skin, roast the turkey thighs uncovered. Baste them with the honey butter glaze. If they get too dark before they finish cooking, you can cover them loosely with aluminum foil.

Use a meat thermometer (affiliate link) for best results. Turkey thighs are finished cooking when the internal temperature reaches 165°F. We like to roast thigh meat to 170° or 175°F to break down the connective tissue.

Since turkey thighs are dark meat, you can cook them to 175°F without drying them out.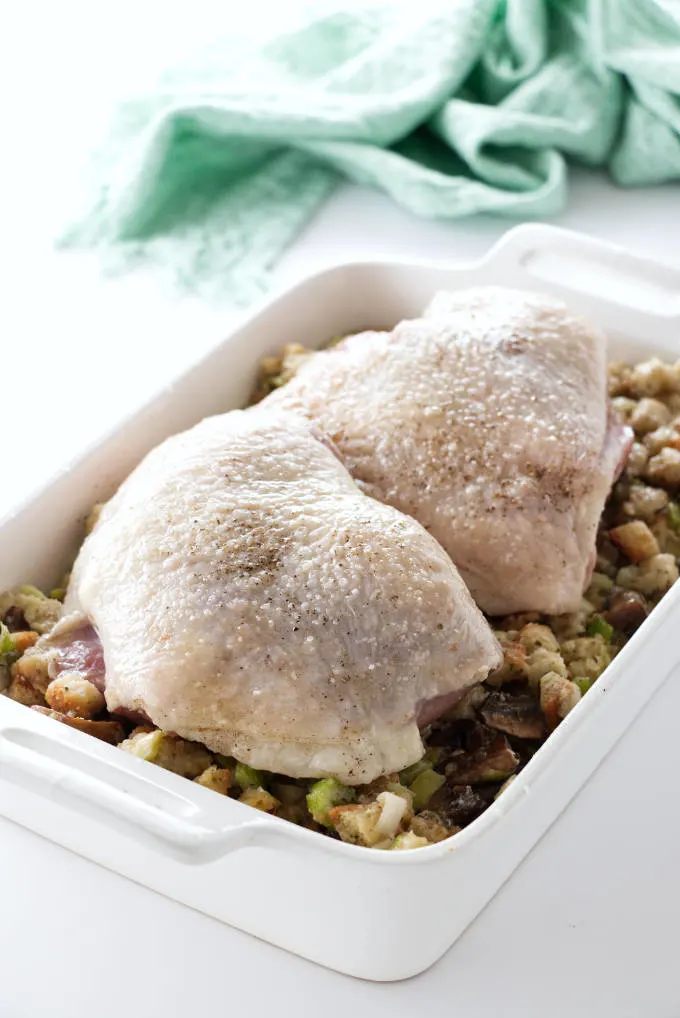 Adaptations and Variations
This is a versatile recipe and you can change things up to make it fit your needs.
Frequently Asked Questions
Can I make this for a large group?
Yes. If you want to double or triple the recipe make sure you use a larger container so you don't crowd the turkey thighs. You can even use two casserole dishes if you want to make a larger batch.
How long can I store leftovers?
You can store leftovers in the fridge for 3 to 5 days. You can also freeze leftovers for up to 6 months. Make sure the turkey thighs thaw overnight in the fridge.
How many people does one turkey thigh serve?
One turkey thigh makes a large serving for one person. If you serve several side dishes for your dinner, you can get away with serving two people per thigh.
Can you overcook turkey thighs?
Since turkey thighs are dark meat, they are harder to overcook than a turkey breast however, you can overcook them. They get dry and tough if you cook them too long.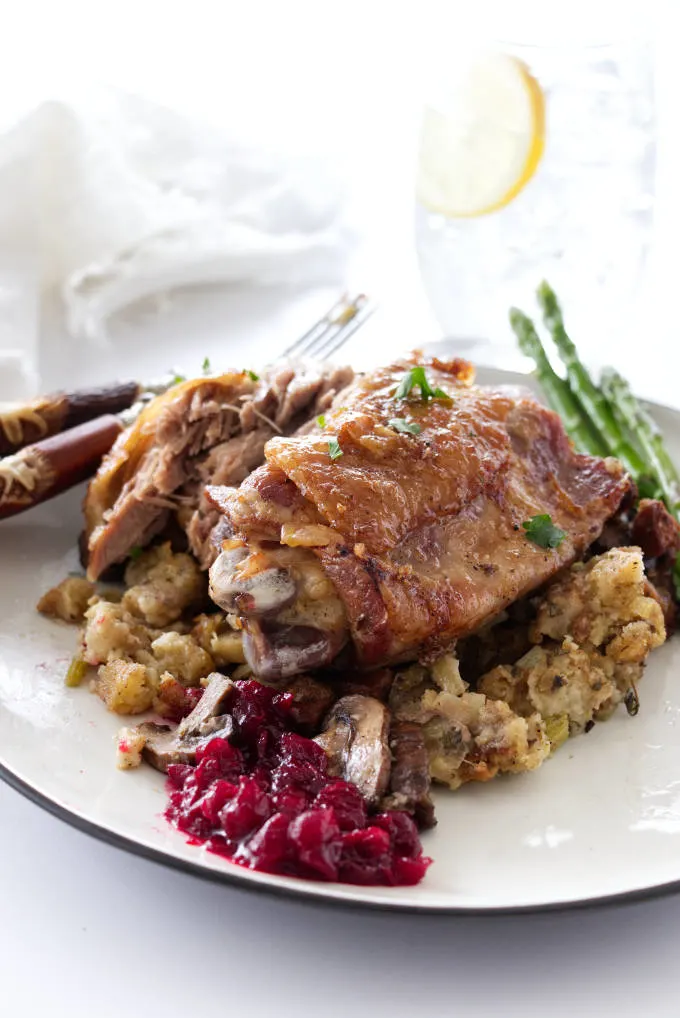 Some Other Recipes We Are Sure You Will Love:
This recipe for Roasted Turkey Breast with Garlic Herb Butter is the perfect size for a small, festive dinner! The skin becomes crisp and crunchy with the garlic herb butter under the breast allows for the breast to roast up moist and tender.
Roasted Cornish Game Hens with Wild Rice-Fig Stuffing Cornish Game Hens are the perfect size for individual servings for a festive dinner celebration! Crisp, golden skin, moist and tender and stuffed with a distinctively delicious savory stuffing of wild rice, mushrooms and the sweetness of dried figs.
A holiday dinner favorite is cranberry sauce and our Homemade Cranberry Sauce is easy to make and so much better tasting than a store-bought version. What's so great about homemade cranberry sauce? Fresh cranberries, sugar, orange juice a touch of salt to balance the sweetness and the magic of pure vanilla! Try it, you will love it!
Connect With Savor the Best:
Please follow us on our social media accounts
Facebook * Instagram * Pinterest * Youtube * Twitter
Did you make this recipe? We would love to hear from you. Drop us a comment below.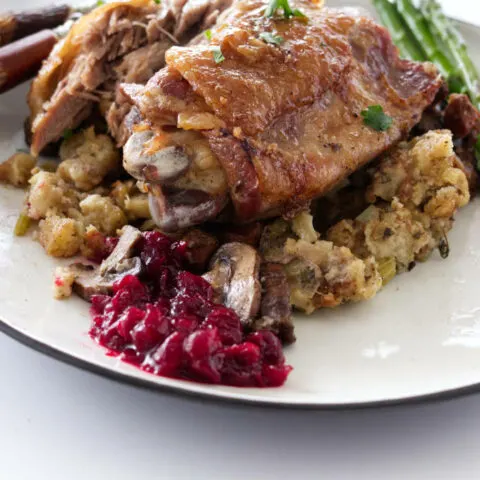 Roasted Turkey Thighs with Mushroom Stuffing
Cook Time:
1 hour
20 minutes
Total Time:
1 hour
40 minutes
Roasted Turkey Thighs with Mushroom Stuffing is perfect for a small Thanksgiving dinner for two! There is a generous portion of mushrooms and fresh herbs in the stuffing and the seasoned turkey thighs are baked right on the top of the stuffing!
Ingredients
For the Turkey:
2 turkey thighs, about 1 pound each, skin on, bone in
2 tablespoons olive oil, divided
Salt/pepper
For the Mushroom Stuffing:
1 box (10 oz) seasoned cubed stuffing mix
2 tablespoons olive oil
1 large onion, chopped
1 cup diced celery
3 garlic cloves, finely chopped
8 ounces mushrooms, sliced
2 teaspoons chopped fresh rosemary
1 tablespoon fresh thyme leaves
1-1/2 cup toasted almond slices
1 teaspoon poultry seasoning salt
1/8 teaspoon white or black pepper
1 teaspoon dried sage
1 large egg, lightly whisked
2 cups chicken broth
1/2 cup dry white wine
10 tablespoons butter, divided
For the glaze
4 tablespoons honey
4 tablespoons butter
2 tablespoons soy sauce
2 garlic cloves, minced
Instructions
Prepare the Turkey Thighs:
Pat the turkey thighs with a paper towel to remove any moisture, then coat with one tablespoon of olive oil, season both sides with salt and pepper and place on a plate while preparing the stuffing:
For the Stuffing:
Preheat the oven to 350°F and coat a 3-quart casserole dish with oil spray, reserve.
Add the stuffing mix to a large bowl and set aside.
Heat the remaining 2 tablespoons of olive oil in a skillet set over medium heat and add the onion and celery. Sauté until the onion is translucent then stir in the garlic and cook an additional 30 seconds. Remove the skillet from the heat and add the vegetables to the bowl with the bread cubes.
In the same skillet, sauté the mushrooms until they are nicely browned, about 5-8 minutes. Transfer the mushrooms to the bowl of mix and add the chopped rosemary, thyme leaves, and sliced almonds. Sprinkle the seasoning salt, pepper, and dried sage into the bowl.
Whisk the egg in a small dish, pour it over the mixture in the bowl, and toss to combine well.
Add the chicken stock, wine and 8 tablespoons of the butter to a saucepan and bring to a boil, then pour over the stuffing mix. Toss to combine.
Transfer the stuffing mix to the prepared casserole dish.
Bake the Casserole:
Arrange the seasoned turkey thighs on top of the stuffing and transfer to the oven.
Roast the casserole for 30 minutes, then remove from the oven.
In a small microwave-safe dish, combine the honey, butter, soy sauce, and garlic. Melt the mixture in the microwave, then brush the surface of the turkey thighs with the honey mixture.
Return the casserole to the oven and roast for another 25-30 minutes until the turkey thighs register 170°F to 175°F with a meat thermometer and they are crisp and golden brown. (It is safe to remove them from the oven when the thermometer reaches 165°F. We cook them longer to break down the connective tissue).

Notes
If you are not using wine in the stuffing, increase the chicken broth with an equal amount.
Feel free to increase the number of sliced mushrooms.
For variety, try adding dried cranberries or raisins to the mixture.
The turkey thighs will be finished cooking when they reach an internal temperature of 165°F, however, if you cook it to 170°F to 175°F, the meat will be more tender because the connective tissue breaks down. Since it is brown meat, it will not dry out if you cook it to 175°F.
Cooking time will vary depending on the size of your turkey thighs. For the most accurate cooking time, use a meat thermometer.
If the turkey thighs begin to get too brown before they are finished cooking, cover them loosely with aluminum foil.
Recommended Products
As an Amazon Associate and member of other affiliate programs, I earn from qualifying purchases.
Nutrition Information:
Yield:

4 servings
Serving Size:

1
Amount Per Serving:
Calories:

1246
Total Fat:

100g
Saturated Fat:

29g
Trans Fat:

2g
Unsaturated Fat:

66g
Cholesterol:

327mg
Sodium:

1662mg
Carbohydrates:

30g
Fiber:

10g
Sugar:

8g
Protein:

62g
Nutrition information is a guideline only, is calculated automatically by third-party software, and absolute accuracy is not guaranteed.