WooHoo….We served up Roasted Cornish Game Hens & Wild Rice-Fig Stuffing for a special-event dinner. These little birds are just the right size for an individual, elegant entrée. Crisp, golden skin on the outside, moist and tender inside and a savory stuffing sensation of wild rice, mushrooms and a touch of sweetness from dried figs.
If you have never roasted those tiny little Cornish game hens that you see in the frozen poultry freezer, or if they have been on your bucket list for awhile, now is the time to stretch your creative skills! Do not be intimidated with these baby birds. If you can stuff and truss a chicken or a turkey you can do this!
Cornish game hens are easy to prepare and relatively inexpensive for a sophisticated entrée. We paid $3.49 for each little bird weighing in at about a pound and-one-half apiece. Although we are serving each guest an entire stuffed game hen, that is a very generous serving indeed. With a salad and sides one bird could easily be portioned out to serve two. However, let it be known, I love having an entire bird all to myself! 🙂
Did you know that Cornish game hens are not really a game bird? They are hybrid broiler chickens that are a cross-breed between the Cornish Game chicken and the White Plymouth Rock chicken. They develop a large, meaty breast and are ready for the market as soon as 28 to 30 days as opposed to a regular chicken that are ready for market at 42 days.
Wild rice adds a huge earthy flavor to the stuffing mix, we added crisp bacon, shallots, mushrooms and celery to the wild rice and the pine nuts gave it a nice crunch. Speaking of pine nuts…..they are expensive but if you have a bulk foods section in your grocery store you can purchase just the amount you need without breaking the bank. If that isn't an option, a good alternative would be almonds. Along with all these rustic flavors we added just enough chopped dried figs to add a slight sweetness to the savory flavors, as well as a little ground cumin and chopped fresh sage and rosemary.
We filled the cavities of the Cornish Game hens lightly with stuffing, trussed each little bird, seasoned them well and gave them a good dusting with paprika. The paprika helps to achieve that nice golden color as they roast. We roasted these hens, breast side down for 15 minutes at 450°F, then reduced the heat to 375°F. Then we flipped each hen over, breast side up, and roasted them for an additional 30-35 minutes until they reached the proper degree of doneness.
During the last 30-35 minutes of the roasting time the hens were basted with a buttery-wine mixture every ten minutes which kept them moist and gave them a rich golden color and left some awesome dripping for a sauce.
While the Cornish Game Hens & Wild Rice-Fig Stuffing rested for a few minutes a simple sauce was prepared from the pan drippings, chicken broth and wine. We plated up these little hens, one per guest, and they made their grand entrance to the dining room table.
This entrée was served with a side of Honey-lemon Glazed Golden Beets but we are curious as to what you would serve as a side dish. We would love to hear your ideas 🙂
Check out these recipes: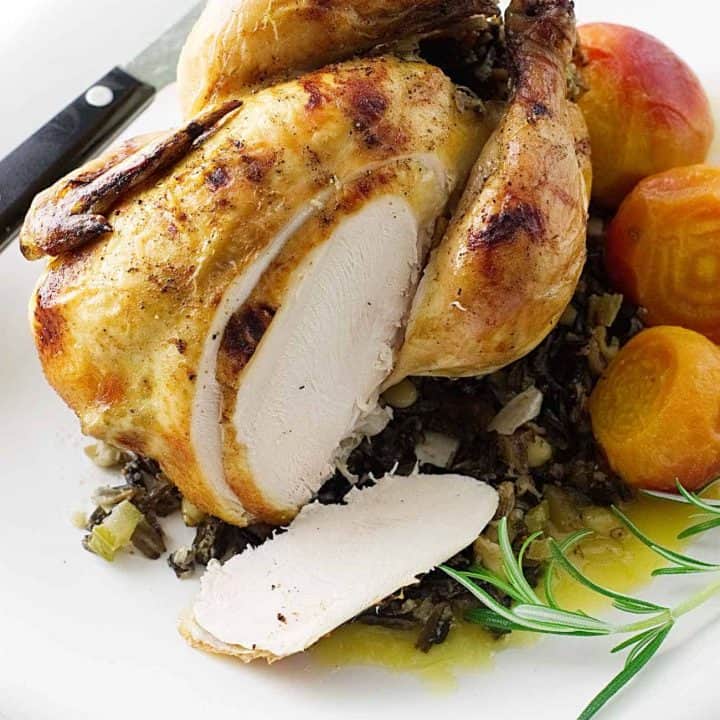 Roasted Cornish Game Hens & Wild Rice-Fig Stuffing
Yield: 4 servings
Prep Time: 15 minutes
Active Time: 1 hour 45 minutes
Total Time: 2 hours
These Roasted Cornish Game Hens & Wild Rice-Fig Stuffing are just the right size for an individual, elegant entrée. Crisp, golden skin on the outside, moist and tender inside and a savory stuffing sensation of wild rice, mushrooms and a touch of sweetness from dried figs.
Ingredients
For the Rice Stuffing
1 1/2 cups wild rice, rinsed
2 1/2 cups low sodium chicken broth
1/2 cup fresh lemon juice
1 teaspoon sea salt
4 slices bacon, chopped
1 shallot, chopped
6 ounces Crimini mushrooms, chopped
1/2 cup finely chopped celery
1 cup pine nuts
6 ounces dried figs, coarsely chopped
1 tablespoon ground cumin
1 tablespoon chopped fresh sage
1 tablespoon chopped fresh rosemary
1 large egg, lightly whisked
2 tablespoons butter, melted
For Game Hens
4 Cornish game hens, rinsed and patted dry
Paprika
1 cup white wine mixed with 4 tablespoons melted butter for basting
Fresh rosemary sprigs for garnish
Sauce:
1 1/2 cup chicken broth
1 cup white wine
Instructions
Make the Rice Stuffing
In a 2-quart saucepan, combine rice, chicken broth, lemon juice and 1 teaspoon salt. Bring to a boil, reduce heat, cover and cook until all the liquid has evaporated, 45 to 50 minutes. Transfer to a large bowl and allow to cool.
Preheat the oven to 450°F with rack in the middle. Line a baking sheet with foil and coat lightly with oil spray. Place a wire rack on the baking sheet and reserve until needed.
Add the bacon to a skillet set over medium heat and cook until crisp. With a slotted spoon, transfer the bacon to a paper towel-lined plate to drain. Reserve 2 tablespoons of the bacon drippings and discard any excess.
Add the shallots, mushrooms and celery to the 2 tablespoons of bacon drippings and cook until they are soft, about 5 minutes. Add the bacon and the cooked vegetables to the bowl of rice along with the pine nuts, figs, cumin, sage and rosemary. Whisk the egg lightly and stir into the rice mixture, combining well. Adjust salt and pepper as necessary.
Prepare the Game Hens
Pat each game hen dry with paper towels and sprinkle the body cavity lightly with salt. Fill the cavity of each game hen with equal amounts of stuffing, do not pack the stuffing as it will expand during roasting. If any stuffing remains add to an oiled baking dish, cover and bake during the last 20 minutes of the game hens' baking time.
Using kitchen twine, truss hens by tying the legs together tightly, looping each side of the string around a wing, and bringing the string all the way around the bird tightly to hold the legs together and the wings close to the body.
Brush the hens with the melted butter, season with salt and pepper. Dust the hens lightly with paprika and place breast side down on the prepared wire rack/baking sheet. Brush the back side with butter, season with salt and pepper and dust with paprika. Roast breast side down for 15 minutes to lightly brown.
Reduce oven temperature to 375°F.
Transfer the pan of game hens to the countertop and flip them over, breast side up and spoon some of the wine/butter over each one. Return the game hens to the lowered temperature oven and continue to roast, basting with the wine/butter every 10-15 minutes for an additional 30 to 45 minutes. Or, until the hens are dark golden brown and the juices run clear when pierced at the thigh. If using an instant-read thermometer it should read 165°F at the thick part of the thigh.
Transfer the stuffed game hens to a serving platter and cover with foil. Allow to rest for 10-15 minutes while preparing the sauce.
Make the Sauce
Place roasting pan on the stove over medium-low heat and deglaze the pan with 1/2 cup of the chicken stock, scraping loose the grubby bits from the pan. Carefully pour the mixture into a small skillet. Whisk in the remaining chicken broth and the white wine. Cook until the alcohol from the wine burns off and the sauce has reduced slightly. About 5-7 minutes. Taste and adjust seasoning as necessary. Transfer the sauce to a pitcher or dish and serve with the game hens.
Place one game hen on each of 4 plates. Pass the pitcher of sauce to be poured over hens and garnish with fresh sage bunches and rosemary sprigs.
Notes
Different brands of rice may not absorb all the liquid, if the rice is tooth-tender and there is liquid remaining just drain it off and fluff the rice.
After stuffing the birds there was about 1-1/2 of the stuffing that was added to a small oiled baking dish. It was added to the oven at the last 20 minutes of the roasting time.
When basting the birds, chicken broth can be substituted for the wine.
Nutrition Information:
Yield: 4
Serving Size: 1
Amount Per Serving:
Calories: 895
Total Fat: 45g
Saturated Fat: 10g
Sodium: 1060mg
Carbohydrates: 84g
Fiber: 10g
Sugar: 20g
Protein: 34g