Thanksgiving is just around the corner, and that can only mean one thing… lots of mouth-watering carbs! If you're looking for the best-tasting stuffing to accompany your roast turkey and green bean casserole, our sourdough stuffing is a must!
Golden and crunchy on the sides, soft and savory in the center, … you may just be tempted to eat it straight from the casserole dish!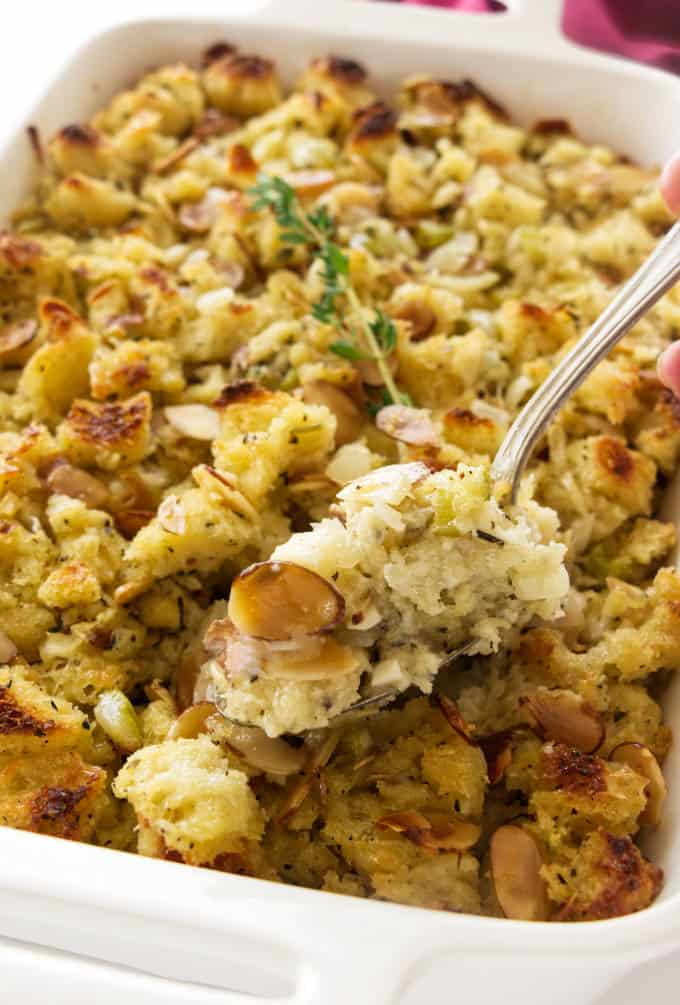 Traditional stuffing is usually made with shredded white bread or croutons. We are taking it up a notch with this recipe. Do you have extra sourdough bread? Use it in your stuffing for a sensational flavor profile. You won't want to use regular bread again.
Why you will love our sourdough stuffing recipe
If you're like us, no doubt you've made a sourdough starter over the last few months!
Whether you have store-bought or homemade sourdough bread, this stuffing is the perfect place to use it. Plus, it doesn't matter if your bread has gone a little stale, as you'll be crisping it up in the oven!
Other reasons this stuffing is so, so good include:
It's easy to make, just stir the ingredients together, put it in the oven and you're ready to relax in front of the tv!
No fancy ingredients here – it's all stuff you can easily buy from the store
If there are leftovers (highly unlikely!), then you can store them in the fridge for three days or your freezer for up to three months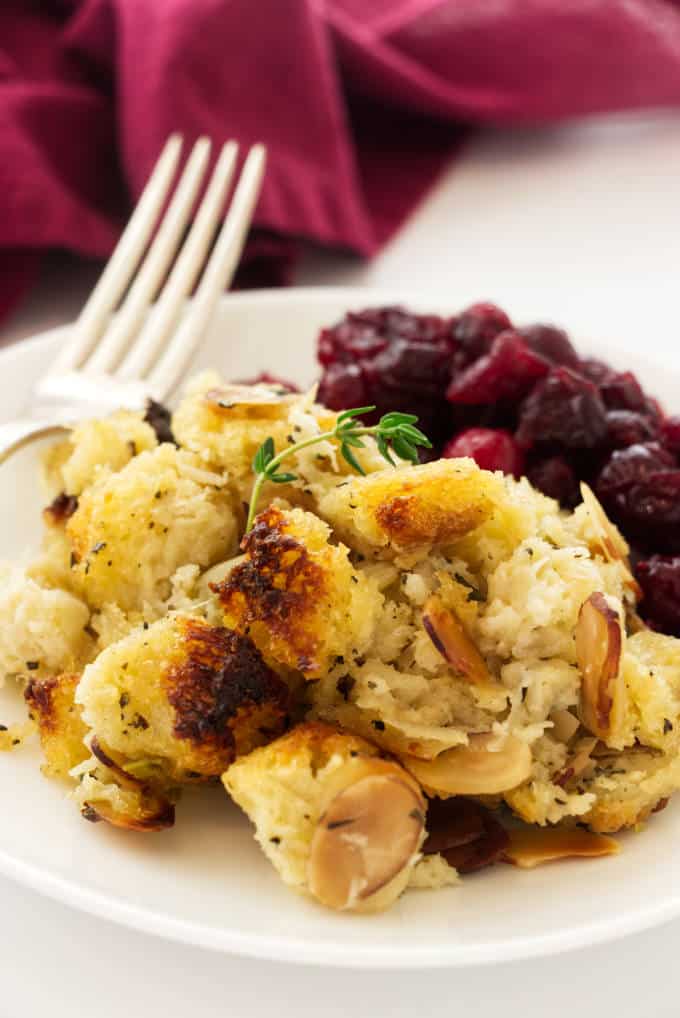 You might also want to try this sprouted brown rice and quinoa stuffing which will give a gluten-free option to your dinner.
Ingredients needed for sourdough stuffing
Although this stuffing does have a few ingredients, don't worry! They're all items you will have in your fridge or store cupboard.
Sourdough bread
Olive oil
Onion, celery, garlic cloves
Fresh rosemary and thyme
Sliced almonds
Poultry seasoning, pepper
Egg
Chicken broth
Dry white wine
Butter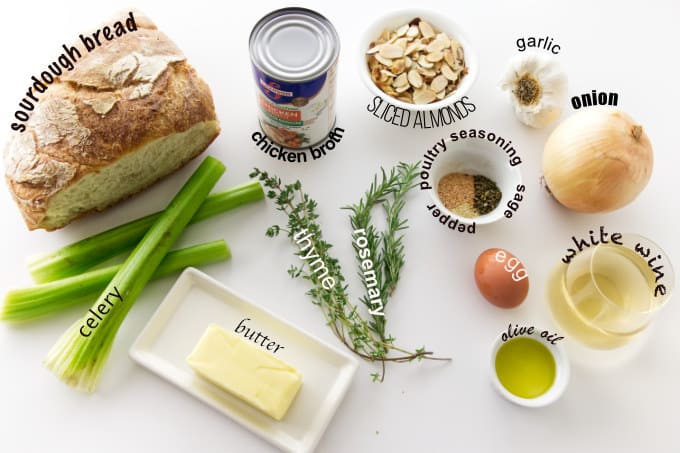 How to make this sourdough stuffing
This stuffing comes together with minimal prep, meaning you can get it in the oven and relax with friends and family over a well-deserved glass of wine! Be sure to scroll to the bottom of the page for full measurements and instructions:
Cut the bread into cubes and toast them in the oven then sauté the onion, celery and garlic.
Add the bread and sautéed vegetables to a bowl along with the rosemary, thyme and sliced almonds. Sprinkle in the rest of the seasonings then stir in the whisked egg.
Bring the chicken stock and wine to a boil in a saucepan and add the butter. When melted, pour the hot liquid over the stuffing and mix well.
Transfer the stuffing mix to a casserole dish and bake.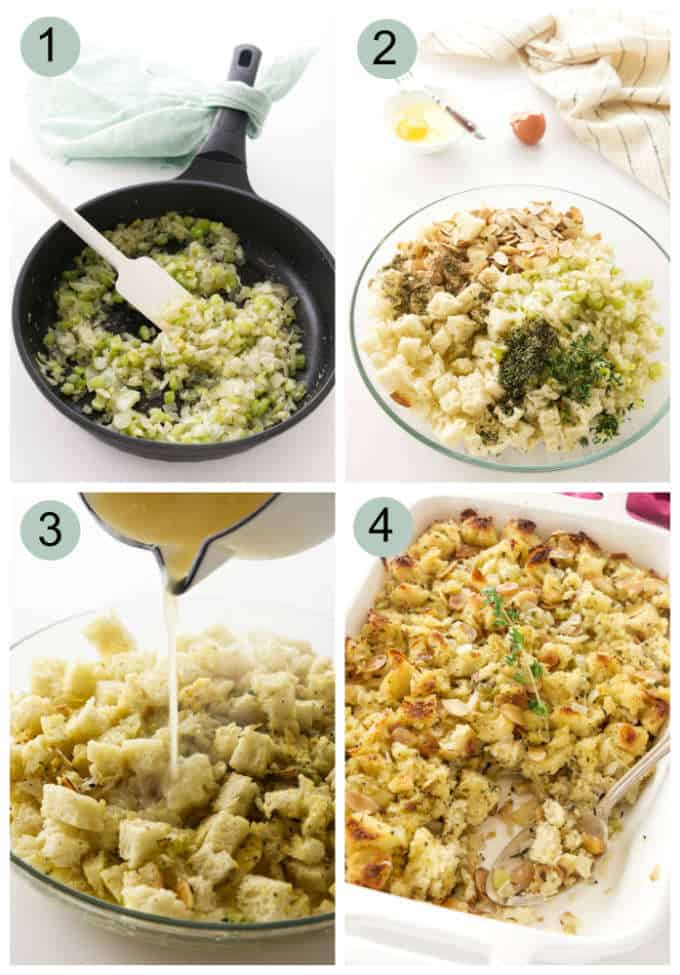 Frequently asked questions
Can I make this stuffing in advance?
You sure can! Make up the dressing as above but don't bake it. You can then cover it up and store it in your fridge for up to 48 hours. When you're ready to bake, let it sit at room temperature for 30 minutes and bake as directed.
If the dressing is still cold when you put it in the oven, add five or ten minutes to the bake time since colder stuffing will take longer to heat up and cook.
Why do you dry the bread out before making the stuffing?
It is important to dry the bread out so the stuffing will be the right texture. It only takes 15 to 20 minutes to get the pieces of bread toasted in the oven.
What is the difference between dressing and stuffing?
Dressing and stuffing are essentially the same things. Traditionally, stuffing is stuffed inside the turkey then cooked in the turkey as the bird cooks. Dressing is typically cooked outside of the bird, either in the oven or on the stovetop.
In the Northwest, where we are from, we use the words interchangeably but primarily call it stuffing regardless of how it is cooked. Even though this recipe is cooked in a casserole dish, we still call it stuffing. It is perfectly fine if you want to call it a dressing.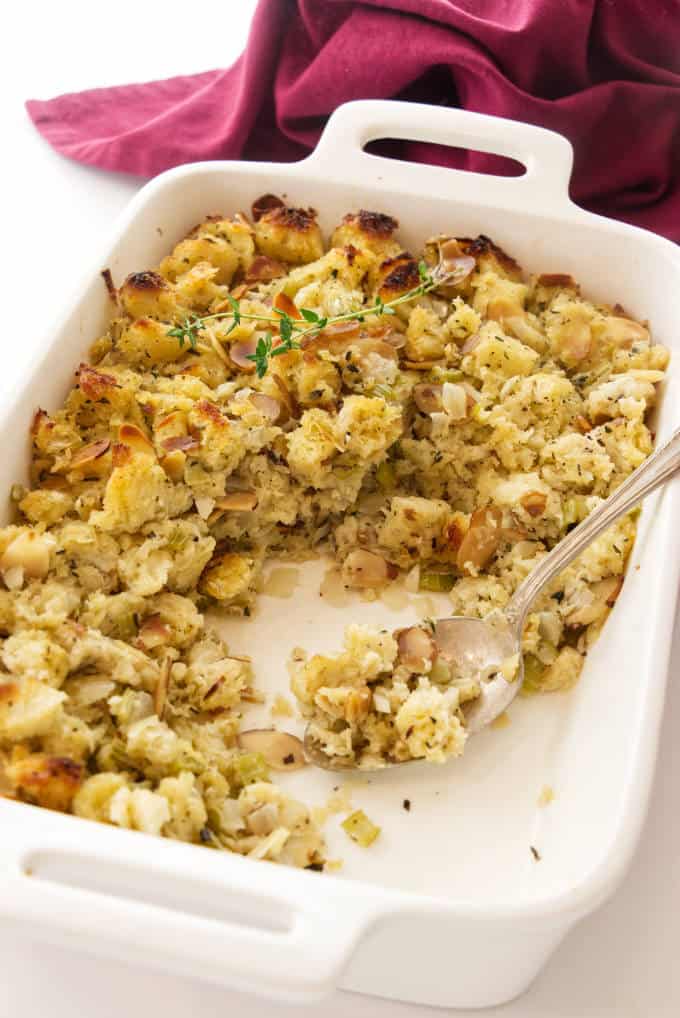 Easy, tasty and you can make it ahead of time too… this sourdough stuffing ticks all the boxes!
SOME OTHER RECIPES WE ARE SURE YOU WILL LOVE:
Roasted Cornish Game Hens & Wild Rice-Fig Stuffing These little Cornish game hens are the perfect size for an individual, elegant entrée. Wild rice is the basis of the stuffing with mushrooms and dried figs adding huge flavor enhancers.
If you are considering preparing a brined turkey for this year's holiday feast, check out our Brine Roasted Turkey for a crisp skin, moist turkey.
Roast Chicken and Freekah Stuffing: A crispy roast chicken stuffed with the smoky flavor of a grain called freekah. It has all the flavors of a traditional bread stuffing plus mushrooms, fresh herbs and white wine.
CONNECT WITH SAVOR THE BEST!
Be sure to follow us on our social media accounts
Facebook * Instagram * Pinterest * Twitter * Youtube
Did you make this recipe? We would love to hear from you. Drop us a comment below.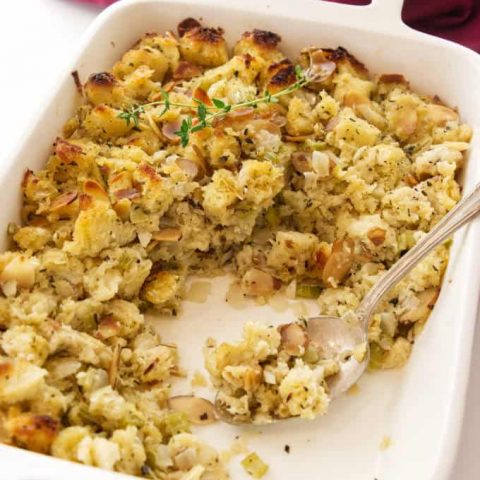 Sourdough Stuffing
Yield: 8 Servings
Prep Time: 20 minutes
Cook Time: 45 minutes
Total Time: 1 hour 5 minutes
Our Sourdough Stuffing is made with homemade sourdough croutons, onions, celery and fresh herbs. It is moist and flavorful with white wine, and chicken broth then baked and finished with a crunchy crust.
Ingredients
1-1/2 pound loaf sourdough bread cut into cubes
2 tablespoons olive oil
1 large onion, chopped
1 cup diced celery
3 garlic cloves, finely chopped
2 teaspoons chopped fresh rosemary
1 tablespoon fresh thyme leaves
1-1/2 cup toasted almond slices
1 teaspoon poultry seasoning salt
1/8 teaspoon white or black pepper
1 teaspoon dried sage
1 large egg, lightly whisked
2 cups chicken broth
1/2 cup dry white wine
1 stick butter
Instructions
Heat the oven to 300°F. Coat a 3-quart casserole dish with oil spray and reserve. Line a sheet pan with parchment paper.
Remove the crust from the bread and cut into 1-inch cubes. Scatter the bread cubes across the bottom of the lined sheet pan and place in the oven for 15-20 minutes to dry out. No need to toast them, just dry them crisp, then cool and place into a large bowl.
Increase the oven temperature to 350°
Heat the olive oil in a skillet and add the onion and celery. Sauté until the onion is translucent then stir in the garlic and cook an additional 30 seconds.
Remove the skillet from the heat and add the vegetables to the bowl with the bread cubes. Add the chopped rosemary, thyme leaves and sliced almonds. Sprinkle the poultry seasoning salt, pepper and dried sage into the bowl. Whisk the egg in a small dish, add it to the bowl and toss to combine well.
Pour the chicken stock and wine into a saucepan and bring to a boil, add the butter and when it has melted pour the hot liquid over the stuffing mix. Toss to combine.
Transfer the stuffing mix to the prepared casserole dish. Coat one side of a large piece of foil with oil spray and cover the dish. Transfer to the oven and bake for 30 minutes. Remove the foil and bake an additional 10-15 minutes until the top is a crusty, golden brown.
Notes
If you are not using wine, increase the chicken broth with the equal amount.
No sliced almonds? Walnuts or pecans are also great choices.
For variety, try adding dried cranberries or raisins to the stuffing mix.
Nutrition Information:
Yield: 12
Serving Size: 1
Amount Per Serving:
Calories: 455
Total Fat: 24g
Saturated Fat: 7g
Trans Fat: 0g
Unsaturated Fat: 16g
Cholesterol: 37mg
Sodium: 846mg
Carbohydrates: 46g
Fiber: 5g
Sugar: 6g
Protein: 14g
Nutrition information is a guideline only, is calculated automatically by third-party software, and absolute accuracy is not guaranteed.