Tsoureki or Greek Easter Bread is an enriched, brioche-like sweet bread. A delightful flavor comes from the essence of citrus and a spice called Mahlab. This soft fluffy bread is terrific for breakfast.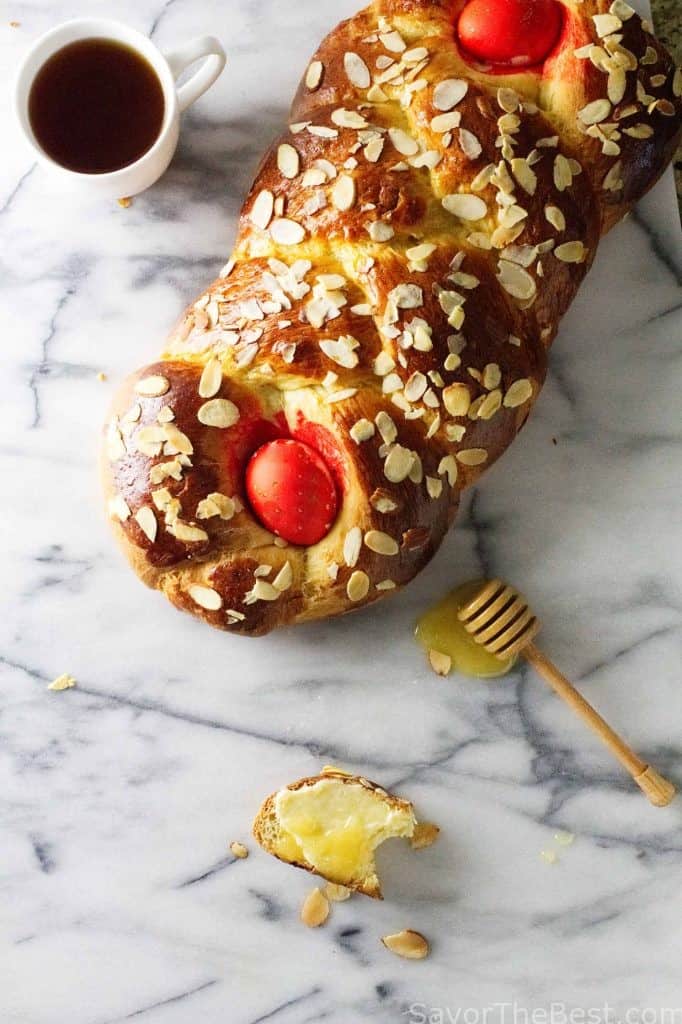 Greek Easter Bread (Tsoureki)
Although it is called an Easter bread, Tsoureki is associated with other holidays like Christmas and New Years and is certainly appropriate to eat all year long. The flavor essence from the Mahlab is really lovely.
Mahlab comes from the seeds of a cherry that is native to the Mediterranean. Although it is optional, mahlab gives the bread a unique subtle fruity flavor. You can find it in Mediterranean markets or online.
The symbolism of the Bread
The bread itself is laden with symbolism. It has a three-strand braid to represent the Holy Trinity, the Father, the Son, and the Holy Spirit.
The hard-boiled eggs get dyed red to symbolize the Blood of Christ. The egg is also a symbol of renewal and rebirth.
An egg wash gives it a shiny coating that symbolizes the Light of Christ.
Substitutes for Mahlab spice:
Like most yeast bread it takes some time to make but is well worth the effort. If you can't find Mahlab spice just omit it or perhaps substitute it with some cardamom, which will give the bread a unique depth of flavor. Vanilla extract also can be used for a lovely essence in this bread.
Over-cooked eggs:
The hard-boiled eggs get a bit overcooked and rubbery by the time the bread is baked. If you plan to eat them, I recommend starting from raw eggs which I have done in the past. They will still become a tad overcooked but will make an excellent egg salad.
Mostly, the eggs are there for symbolism so I don't worry about how rubbery they get by the time the bread finishes baking. If you really want some nice hard-boiled eggs, just make a few extra.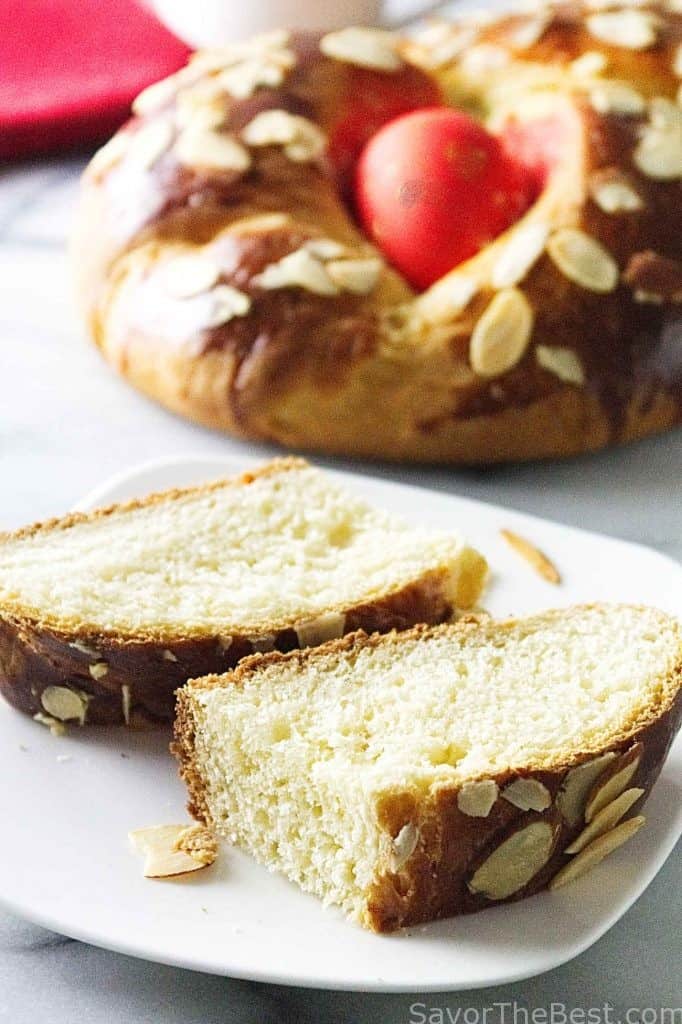 Why we celebrate Easter
Easter is the time we celebrate Gods love and sacrifice for us. God sent His son Jesus Christ to the world to pay for our sins. 1 John 4:9 says "this is how God's love was revealed to us: God sent His one and only Son to us so that we might live through Him." Jesus Christ paid the price for our sins that we could not pay for through our own actions, thoughts or power.
He knew that no matter how hard we try, we could never be pure, righteous or holy enough to be in the presence of God. By God's grace, He offers the gift of salvation through faith in Jesus and the blood that He shed for us.
It is a free gift to anyone who chooses to accept it and enter into a personal relationship with God. Once you accept this gift of salvation, God sees you in a new way as he looks at you through the sacrifice that Jesus made for you, you have been covered and protected by His blood.
I hope this Easter you have assurance, peace, and hope in the knowledge that not only did He die for you, but He concurred death through His resurrection. "He is risen".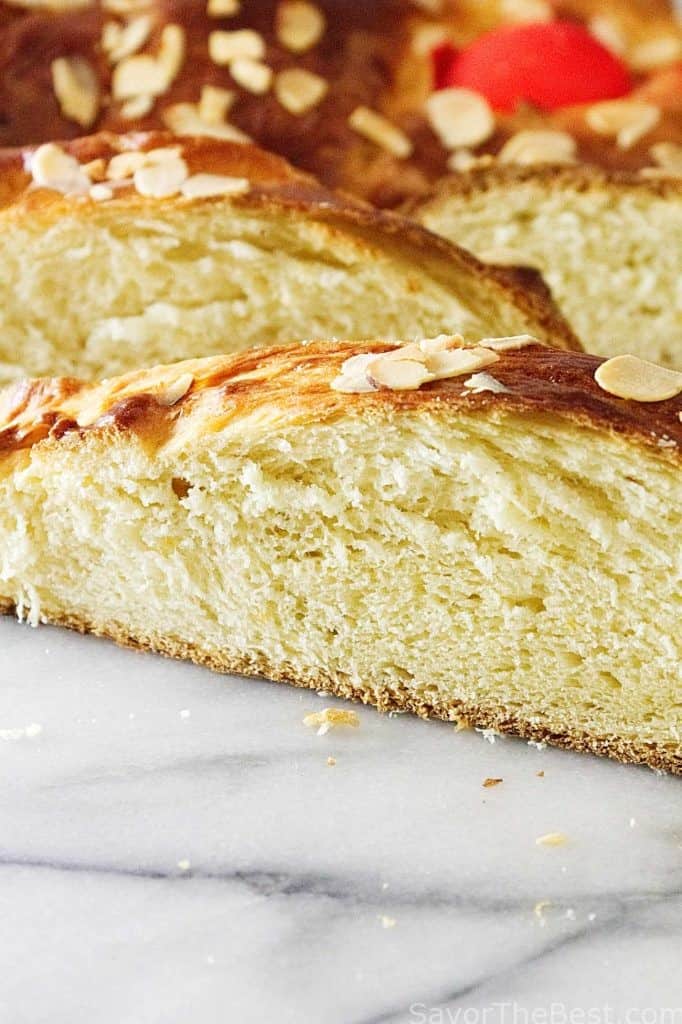 Greek Easter Bread doesn't have to come around on Easter. Keep this recipe on file to make throughout the whole year. You're going to love this sweet, rich bread. It is especially delicious for breakfast.
If you have leftovers, this bread is perfect for bread pudding. It has a richness from the eggs, butter, and milk and it is steeped with sweetness from the sugar. That makes it ideal for any dessert based recipes.
Some other recipes you might like:
Connect With Savor the Best
Please follow us on our social media accounts
Facebook * Instagram * Pinterest * Twitter * Youtube
Did you make this recipe? We would love to hear from you. Drop us a comment below.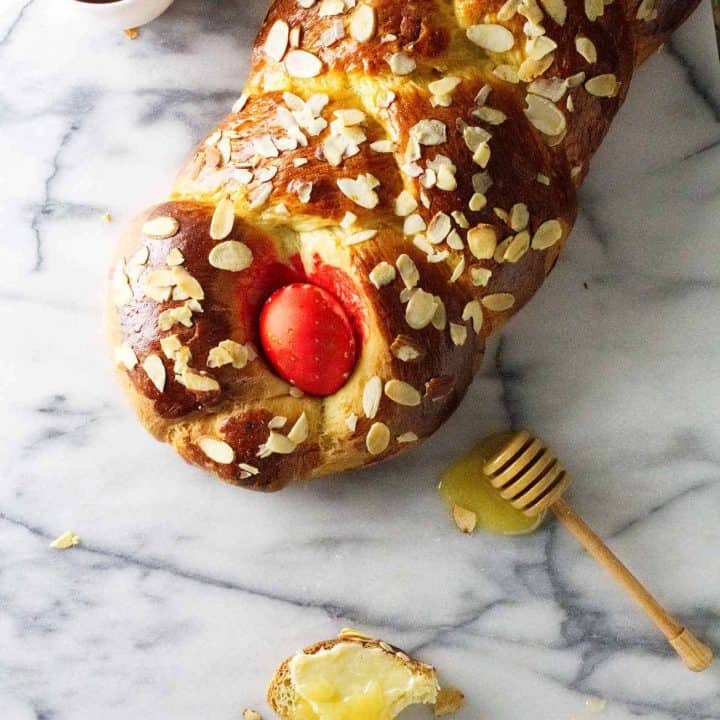 Greek Easter Bread (Tsoureki)
Yield: 2 loaves
Prep Time: 20 minutes
Cook Time: 45 minutes
Total Time: 1 hour 5 minutes
A sweet, rich yeast bread with hints of citrus and a unique Mediterranean spice
Ingredients
Makes 2 Loaves
9 to 10 cups bread flour, divided (1080 to 1200 grams)
4 teaspoons instant dry yeast
1 -1/2 cups sugar, divided (300 grams)
2 cups warm milk (472 grams)
2 teaspoons ground Mahlab (optional)
8 tbsp. butter, melted and cooled
5 eggs (room temperature) well beaten
1 teaspoon salt
2 tablespoons grated orange zest
1 tablespoon grated lemon zest
Topping
1 egg beaten
4 to 6 hard-cooked red-dyed eggs
¼ cup slivered almonds
Instructions
Add 2 cups of the flour, all of the yeast and 1/2 cup of the sugar to a bowl. Next, add the warm milk and mix (by hand or with a mixer) until all the lumps are gone (you will have a very thin mixture). Cover the bowl and let it stand for 30 to 45 minutes. This will develop the sponge and give the yeast a jump start.
Add the melted butter and eggs and mix well. Pour 5 cups (600 grams) of flour, the salt, remaining 1 cup of sugar, ground Mahlab, orange and lemon zest to the dough and mix thoroughly to blend all the ingredients. Slowly add the remaining 2 to 3 cups of flour to the dough and knead for about 10 minutes. If you are not using a stand mixer then turn the dough out onto a floured surface and knead by hand. The dough will be very soft and sticky but will get easier to work with after a long knead. It will also become firmer after it proofs. If you are tempted to add more flour, wait until after it proofs.
Form into a ball and place in a lightly greased bowl. Cover with a clean dishtowel and set aside to rise for 1 ½ to 2 hours.
Place the dough on a floured work surface. Divide into 6 equal sections, rolling each section into ropes about 15" long. For each loaf, braid 3 ropes, then press the eggs into each braid. Set bread aside to rise again for 1 hour on a greased baking sheet.
Preheat oven to 350˚. Brush bread with beaten egg, sprinkle with slivered almonds and bake until golden, 40–50 minutes
Notes
This recipe uses instant yeast. Using instant yeast eliminates the need to dissolve and proof the yeast prior to mixing the ingredients. Just toss the ingredients together and mix well.
The milk should be warmed to about 100° to 110°. I don't use a thermometer for this, I simply warm the milk until it is comfortably warm to the touch.
A bowl scraper and a bench scraper make it easier to work with the bread dough.
It is best to buy Mahlab whole and grind it as needed because the flavor starts to deteriorate within days after it is ground. Simply place the whole seeds in a spice grinder or use a mortar and pestle. If you can not find whole Mahlab then make certain the package is well sealed. If you can not find Mahlab or don't have time to order it, cardamom or vanilla extract make lovely substitutes. They don't have the same flavor as Mahlab but they give it an extra layer of depth.
Nutrition Information:
Yield: 24
Serving Size: 1 slice
Amount Per Serving:
Calories: 328
Total Fat: 7g
Saturated Fat: 3g
Trans Fat: 0g
Unsaturated Fat: 3g
Cholesterol: 66mg
Sodium: 152mg
Carbohydrates: 56g
Fiber: 2g
Sugar: 13g
Protein: 10g
Nutrition information is a guideline only, is calculated automatically by third party software, and absolute accuracy is not guaranteed.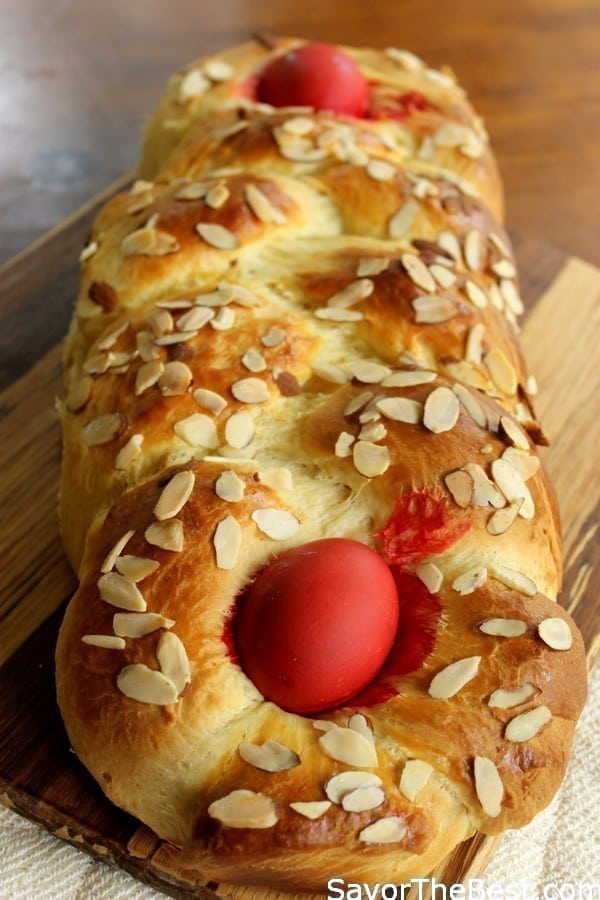 Have you made Greek Easter Bread or Tsoureki? We would love to see a picture. Send us a picture on Instagram.