Step up your holiday game this year and make a Smoked Prime Rib with Dry Rub for dinner. It will be your most epic holiday meal and the beginning of a new tradition. Our prime rib rub adds seasoning that complements the rich smokey flavor and the long, slow cook on the smoker will guarantee a perfect smoked prime rib.
Bonus: When you cook your Prime Rib on the grill/smoker, you free up oven space for all your side dishes. Cooking your holiday dinner has never been easier.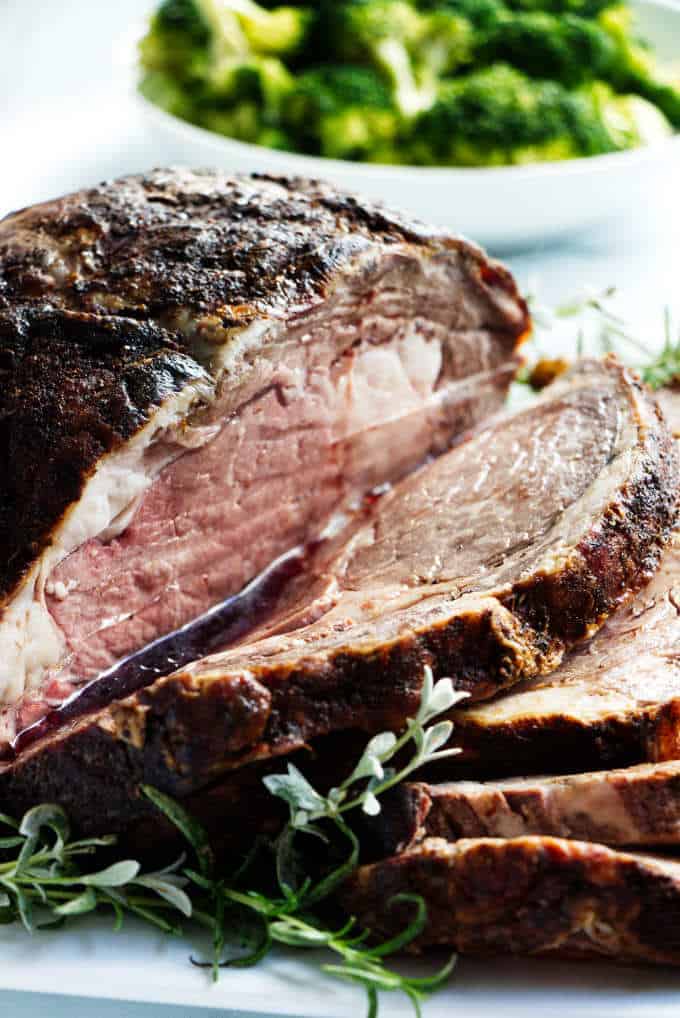 You are going to love the taste of this tender, smoky-flavored prime rib. We start out with an overnight dry brine that will seal in the juices and help create a beautiful crust to the meat.
Brine the prime rib.
Anywhere from 1 to 4 days before you smoke the prime rib, prepare it for the smoker with a salt brine.
Coat the meat with some kosher salt.
Place it in the fridge for 1 to 4 days. A full 24 hours will give you great results but if you have 3 or 4 days then it will be even better.
Keep it uncovered so the surface dries out. I actually cover mine LOOSELY with some plastic wrap. If you cover it, make sure air can circulate around the meat so it dries.
Why dry brine?
Prime rib is expensive so we are going to make sure we enjoy every dime we spend. Brining your prime rib will ensure that you get a spectacular result. The brine will tenderize the meat, make it more flavorful, and guarantee a juicy cut of beef.
A dry brine is easier and less messy than a wet brine.
No special equipment needed. Just stick it on a plate large enough to hold the roast and let it sit in the fridge.
It gives the prime rib a nice crust. After you salt the prime rib, let it sit in the fridge for 1 to 4 days to dry out. When the exterior of the roast dries, it will give you a nice crispy crust when it cooks.
This is how we prepared our prime rib for the oven too.
Prime rib rub.
When the prime rib is ready to smoke, mix up the ingredients for the rub and coat every inch of the roast. If you decide that you do not want to do a dry brine ahead of time then add 2 tablespoons of kosher salt (or 1 tablespoon of regular salt) to the dry rub.
If you did do a salt brine then you don't need any additional salt in the prime rib rub.
Bone-in or boneless?
We are going with a bone-in prime rib roast. The bone insulates the meat as it cooks. It gives it more flavor and makes it more tender. Some people like to have the butcher cut the bones off the roast then tie them back on with twine. That way the roast cooks with the bone on but you don't have to slice it off when it is finished cooking.
Prime grade or choice?
It says prime rib but is it prime grade? Most cuts of prime rib in the grocery store are actually sold as choice grade. The smoked prime rib in our video is a choice grade. It was almost 10 pounds and cost $100. A nice price actually. If I had upgraded to the prime grade roast I would have had to fork over an extra $80 to $90.
Prime grade has more flavor because it has more fat but if you follow this recipe for smoked prime rib you won't know that you are missing anything.
This dry brined smoked prime rib has AMAZING flavor! I won't stop you from spending extra $$ for a prime grade cut of meat (I would get prime grade if I had extra pocket change) but you don't have to.
How much should you buy?
Calculate about 3/4 to 1 pound per person for bone-in prime rib. After the prime rib gets smoked and you remove the bone, you will end up with about a 1/2 pound per person. You will actually have slightly less if you purchase prime grade because more fat gets rendered out.
When I buy prime rib based on this calculation, I ALWAYS have leftovers. That is primarily because I always serve several sides as well as appetizers. I probably could get away with purchasing 1/2 pound per person but I haven't tested that theory.
How long does it take to smoke prime rib?
A properly smoked prime rib is cooked low and slow. You want to give it time for the smokey flavor to penetrate into the meat. Plan ahead so you know how much time you need. The chart below is a good starting point but make sure you use a thermometer so you get precise results.
Smoking times for different sized prime ribs:
4 to 5 pounds (2 ribs) 2 to 2-1/2 hours
6 to 8 pounds (3 ribs) 3 to 4-1/2 hours
9 to 10 pounds (4 ribs) 4-1/2 to 5-1/2 hours
11 to 15 pounds (5 ribs) 5-1/2 to 7-1/2 hours
After you get a good idea for how long your prime rib will take to cook use a thermometer so you can have a PERFECT smoked prime rib.
Cook your smoked prime rib based on temperature, not time.
The list for times above should only be used as a general guide. You really want to finish smoking your prime rib based on temperature and NOT on the time.
The time can vary depending on how well controlled your fire is, how often you open the grill, the weather, the type of smoker you use, and how much fat the prime rib has.
I use a Thermopro digital thermometer. It has two temperature probes. One probe goes in the prime rib and the other probe sits on the grill. I am able to monitor the temperature from the smoker and the prime rib remotely.
If you use a remote thermometer you can keep an eye on the temperature while you're inside prepping all the side dishes and getting the rest of the dinner ready. It takes the guesswork out of smoking the prime rib. Plus you don't have to open the grill to check on the temperature. Remember that every time you open the grill, you will bring the temperature down pretty quickly and affect the cooking time.
So the next step is to decide how well done you want to cook the smoked prime rib. Check the list below to see what doneness you prefer. I usually shoot for just a little under medium-rare or about 125°F to 129°F. By the time I take it out of the smoker and let it rest, the carry-over heat usually brings it up by 5°F to 8°F.
Keep in mind that if the prime rib is rarer than what some of your guests would like, you can put a few slices on the grill or in a sauté pan. That way everyone will get what they want.
Doneness temperature for Prime Rib:
Rare 120°F
Medium rare 130 to 135°F
Medium 140 to 145°F
Medium well 150 to 155°F
Well done 160°F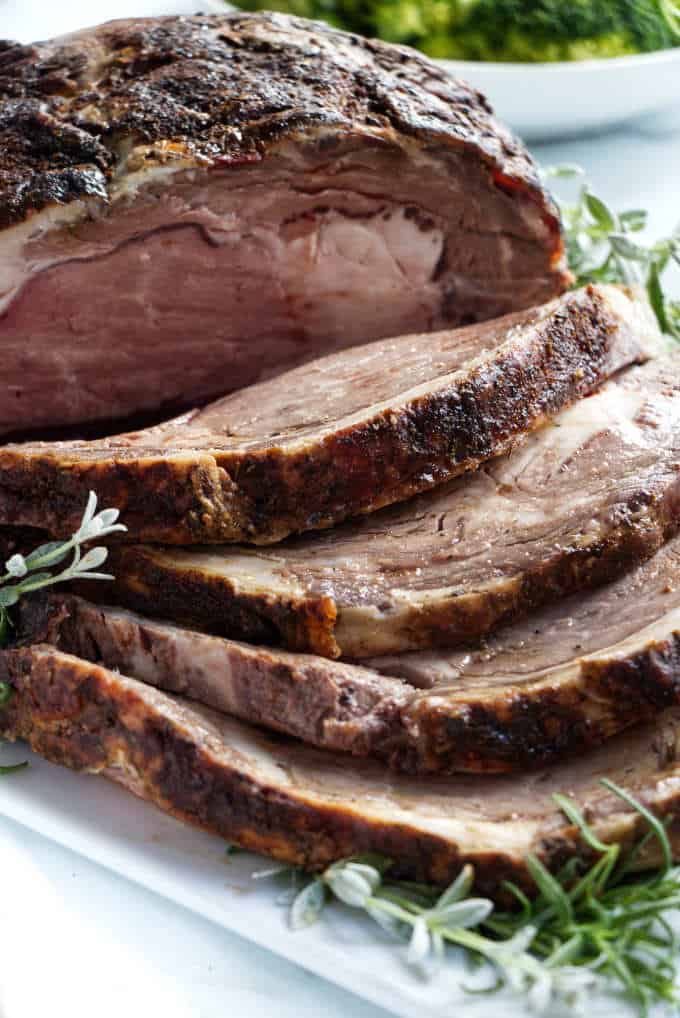 Helpful tools to make a smoked prime rib.
Thermometer. As mentioned above, I use a Thermopro remote digital thermometer. You don't need that specific thermometer but it is extremely helpful to use a remote thermometer. At the very least get one that lets you monitor the temperature of the meat without opening the smoker.
Grill gloves. A pair of high heat grill gloves will come in handy. If you need to adjust the thermometer probe on the grill they will spare you from burning yourself. You can also use them to pick up the hot smoked prime rib when it is finished cooking.
A smoker grill (of course). I used a charcoal grill with an offset smoker in the video. That type of grill requires a little more time and care to maintain the right temperature and amount of smoke. If you haven't practiced maintaining a fire and smoke with an offset smoker, I wouldn't recommend starting out with an expensive cut of meat like a prime rib. If you have a pellet smoker, you're all set. Pellet smokers do all the hard work for you with precision control from an electronic thermostat. They feed the wood into the fire with perfect timing to maintain the right temperature and smoke level.
Don't over-smoke the meat.
The best thing about this smoked prime rib is the rich smokey flavor that the smoke adds to the meat. A little smoke goes a long way to add flavor. Don't think that if a little is good, a lot is better. Too much smoke can ruin your prime rib (or any meat for that matter).
Think of smoke as a seasoning. There should be just enough to add flavor but not so much that it overwhelms the meat. You shouldn't see big puffs of white or gray smoke. You want clean smoke that is almost clear or blue. It's what we call 'thin blue smoke' and it makes a big difference in the flavor of your smoked prime rib.
If you have a pellet smoker as I mentioned above then that baby will get it right for you. However, if you have an offset smoker like the one I used then make sure you practice maintaining a fire before you throw a $100 hunk of meat on the grill.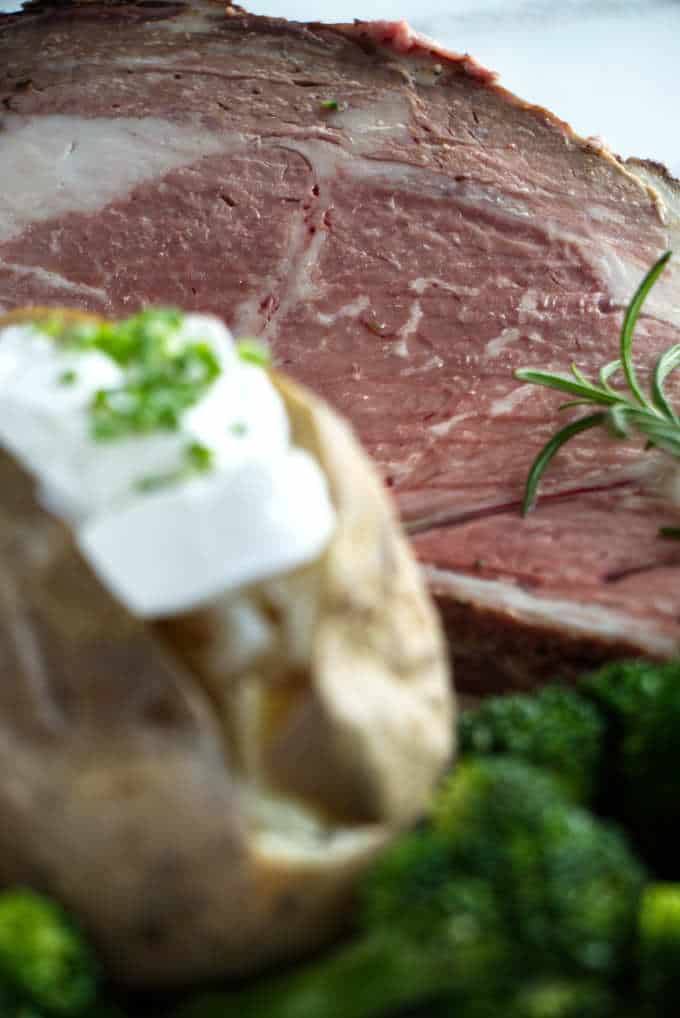 SOME OTHER RECIPES WE ARE SURE YOU WILL LOVE:
This brine roasted turkey uses a wet brine to get the turkey ready to roast. The skin gets nice and crisp and the turkey meat stays super moist.
Add these ricotta mashed potatoes as a side for your smoked prime rib dinner. The ricotta cheese adds a unique tang to the potatoes.
Serve these green beans with bacon crumbles as a side for your prime rib dinner. We added a pinch of red pepper flakes to give it a little zip.
CONNECT WITH SAVOR THE BEST!
Be sure to follow us on our social media accounts
Facebook * Instagram * Pinterest * Twitter * Youtube
Did you make this recipe? We would love to hear from you. Drop us a comment below.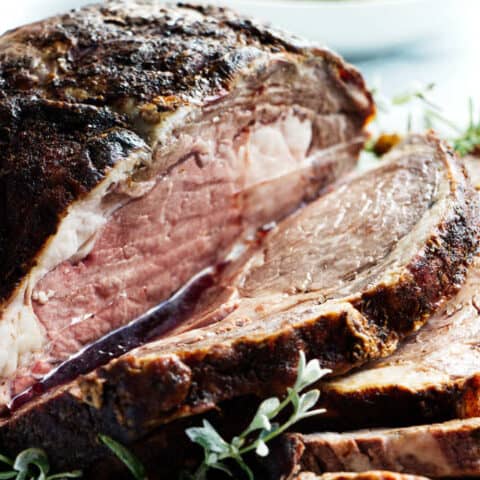 Smoked Prime Rib with Dry Rub
Yield: 12 servings (for a 9 pound prime rib)
Prep Time: 30 minutes
Cook Time: 4 hours
Additional Time: 1 days
Total Time: 1 days 4 hours 30 minutes
This smoked prime rib starts with an overnight dry salt brine then gets coated in a flavorful seasoning rub before going on the grill. Smoking it low and slow will guarantee the best flavor and a perfect, juicy roast.
Ingredients
1- (9 pound) Prime Rib roast, bone-in
2 tablespoons kosher salt
Prime rib rub:
3 tablespoons coarse ground pepper
1 tablespoon dried sage
1 tablespoon dried thyme
1 tablespoon dried garlic
1 tablespoon smoked paprika
(if you do not salt brine the prime rib then add 2 tablespoons salt to the rub)
Instructions
24 hours to 4 days in advance:
Trim the excess fat from the roast. You should have no more than 1/4 inch of fat covering the meat.
Apply the kosher salt liberally all over the Prime Rib and wrap it loosely with plastic wrap then place it in the fridge for 24 hours. (Or leave the plastic wrap off to get maximum exposure to the air.)
2 hours in advance:
Set the Prime Rib out at room temperature. Combine the ingredients for the dry rub and coat the meat with the mixture. Loosely cover the Prime Rib and let it sit at room temperature for 2 hours prior to smoking it.
Smoking Time:
About 40 minutes before you are ready to cook the Prime Rib, preheat your smoker to 225°F.
To help the roast cook more evenly, use kitchen twine to tie between each pair of ribs.
Place the Prime Rib directly on the grill grate, fat cap up and close the lid. Smoke until the internal temperature reaches the desired doneness. 120°F for rare, 130° to 135 for medium-rare, 140 to 145° for medium.
Remove the roast from the smoker, cover it loosely with foil and let it rest for at least 30 minutes before slicing into it.
Notes
Trim the fat but don't remove all of the fat. The fat cap will provide flavor but if it is too thick it will not render down. Trim the fat to 1/4 inch so it renders well.
The roast should sit at room temperature for 2 hours prior to cooking. If it is cold, it will not cook evenly.
If you tie the roast, it will cook more evenly and prevent the outer layer of meat from separating from the bones.
I usually cook prime rib to an internal temperature of 125°F to 128°F, just under medium-rare. When you remove it from the heat the carry over temperature will continue to cook it 5°F to 8°F higher.
Nutrition Information:
Yield: 12
Serving Size: 1
Amount Per Serving:
Calories: 263
Total Fat: 22g
Saturated Fat: 9g
Trans Fat: 0g
Unsaturated Fat: 10g
Cholesterol: 54mg
Sodium: 2400mg
Carbohydrates: 2g
Fiber: 1g
Sugar: 0g
Protein: 15g
Nutrition information is a guideline only, is calculated automatically by third-party software, and absolute accuracy is not guaranteed.