This grilled chicken breast with spicy peanut sauce is ridiculously delicious and the chicken is tender, plump and juicy. So perfectly tender, it tastes great without any sauce. But that peanut sauce!! It is simply sublime and a great combination with the chargrilled chicken. The marinade makes a perfect savory and slightly sweet flavor that goes incredibly well with the spicy peanut sauce.
Since chicken breast is so lean it can dry out pretty fast. If you take the right measures then you will have tender, juicy chicken that is perfectly grilled. In our post on how to grill chicken breasts, we used a brine to help keep the chicken moist. It is simply seasoned and lets the flavor of the chicken shine.
This recipe uses a marinade to enhance the flavor of the chicken. The marinade will not only infuse flavor into the chicken, but it will also serve the same purpose as a brine to help keep the chicken moist.
About the marinade:
This marinade is fast, easy and full of flavor. You only need 5 ingredients.
Soy sauce
Rice wine vinegar
Water
Brown sugar
Fresh garlic
Fresh ginger
Just put it all in a ziplock bag and toss the chicken in to marinate for at least 30 minutes. You can marinate it for longer but don't overdo it. Since this marinade has vinegar, the acid can break down the proteins and make it mushy if you leave it in the marinade too long.
Tips for juicy marinated grilled chicken breasts:
Pound the chicken breasts so they are an even thickness. Chicken breasts will cook faster at the thin end and dry out by the time the thick end is finished cooking. Pound the thicker end so it cooks evenly. You don't have to make it a pancake, just even it out. You can use a meat mallet, rolling pin or a heavy skillet.
Marinate the chicken breasts. The marinade in this recipe is super flavorful but the important thing about it is that it has salt from the soy sauce. The salt will help the chicken retain moisture and that is the secret to keeping these chicken breasts so juicy.
For extra flavor, score the meat before marinating. This isn't essential but it will help the marinade infuse deeper into the meat and give the chicken even more flavor. Just use a sharp knife to score small slashes in the surface of the chicken breasts. Optionally, you could use a fork and prick the surface.
For best results, use a zipper-lock plastic bag to marinate the chicken. You can squeeze the air out of a zipper-lock bag so the marinade exposes every surface of the chicken evenly.
Don't over-marinate the chicken breasts. Thinner chicken breasts don't need very long to marinate and if you marinate them too long then the proteins will break down and give the chicken a mushy texture. Don't leave it in the marinade longer than a day.
Don't overcook the chicken.
How long do you grill chicken breasts and how do you know when they are done?
For boneless chicken breasts, it only takes about 3 to 5 minutes on each side but it also depends on how hot you get the grill.
The most reliable method to know when chicken is done cooking is to use an instant-read thermometer. I take chicken breasts off the grill when they reach an internal temperature of 150°F to 155°F.
I realize that doesn't meat the USDA guidelines that state poultry should be cooked to 165°F. If you're curious as to why I'm OK with that 150°F to 155°F temp then read our post on How to Grill Boneless Chicken Breasts.
How hot should the grill be for chicken breasts?
You want to get the grill moderately hot when you cook chicken breasts. The heat should be between 375°F and 450°.
If you don't have a thermometer then hold your hand about 5 inches above the grill grate. If you can hold it there for 6 to 7 seconds, the grill should be hot enough.
SOME OTHER RECIPES WE ARE SURE YOU WILL LOVE:
This bacon-wrapped stuffed chicken is legit! It is stuffed with sun-dried tomatoes, basil and provolone cheese then wrapped in smokey strips of bacon.
These grilled pineapple chicken kabobs are a sweet and savory combination. We reserved some of the marinade to make a glazing sauce that finishes the kabobs and goes well over rice.
This parmesan crusted chicken is fast, easy and delicious. The parmesan makes a golden crunchy crust and keeps the chicken tender and moist while it cooks.
CONNECT WITH SAVOR THE BEST!
Be sure to follow us on our social media accounts
Facebook * Instagram * Pinterest * Twitter * Youtube
Did you make this recipe? We would love to hear from you. Drop us a comment below.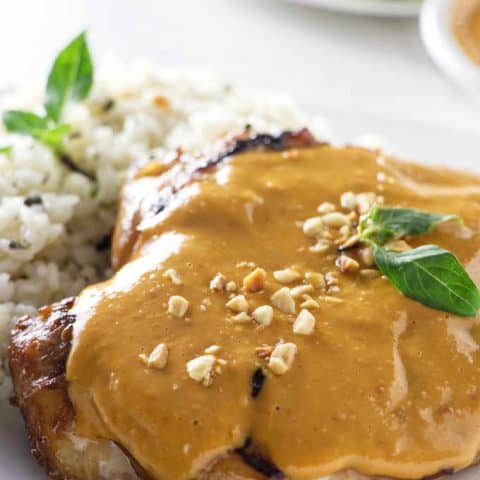 Grilled Chicken Breast with Spicy Peanut Sauce
Yield: 4 servings
Prep Time: 30 minutes
Cook Time: 10 minutes
Total Time: 40 minutes
Tender, juicy chicken breasts char grilled on the outdoor grill to perfection and smothered in a spicy peanut sauce. The marinade is an amazing flavor that goes magically with the flavors in the peanut sauce. Don't skip the marinade, it also makes the chicken tender and moist.
Ingredients
MARINADE
1/2 cup soy sauce
1/4 cup rice wine vinegar
1/4 cup water
1/4 cup brown sugar
3 garlic cloves, finely minced
2 teaspoons freshly grated ginger
CHICKEN AND SAUCE
4 skinless, boneless chicken breasts
Instructions
Combine the soy sauce, water, brown sugar, garlic, and ginger in a shallow bowl or re-sealable plastic bag.
Place the chicken breasts between two pieces of plastic wrap and pound each of them with a meat mallet so they are an even thickness.
Place the chicken in the soy marinade and let it sit for at least 30 minutes.
PREP THE GRILL
Prep your grill. The grill should be moderately hot (see below)
Remove the chicken from the marinade and pat dry then place on the hot grill. Cook on each side for about 3 to 5 minutes or until cooked through (see below for internal temperature)
If the chicken gets browned too fast and the center is not cooked completely, move the chicken breasts to a cooler zone on the grill until they are completely cooked.
Remove the chicken from the grill and let them rest for 5 minutes before serving.
Serve with spicy peanut sauce.
Notes
If you pound the chicken breasts to an even thickness, they will cook more evenly.
If your grill has a thermometer, it should read 350-375°F. If you don't have a thermometer, place your hand about 5 inches above the grate. If you can keep it there comfortably for about 6 to 7 seconds, your grill is hot enough.
FDA guidelines state that boneless chicken breast should read 165°F internal temperature when it is done. To be perfectly honest, I usually don't cook them that much. I tend to take the chicken breasts off the grill when they reach 155°F to 160°F. By the time they finish resting for 5 to 7 minutes, they are often at 165°F or pretty close. We recommend you follow FDA guidelines.
Recommended Products
As an Amazon Associate and member of other affiliate programs, I earn from qualifying purchases.
Nutrition Information:
Yield: 4
Serving Size: 1
Amount Per Serving:
Calories: 343
Total Fat: 10g
Saturated Fat: 2g
Trans Fat: 0g
Unsaturated Fat: 6g
Cholesterol: 103mg
Sodium: 2250mg
Carbohydrates: 20g
Fiber: 2g
Sugar: 15g
Protein: 43g
Nutrition information is a guideline only, is calculated automatically by third party software, and absolute accuracy is not guaranteed.