This creamy turkey pasta bake is made with leftover turkey and has a bunch of mushrooms and spinach throughout the pasta. The creamy cheese sauce has an extra kick of flavor from white wine. This is a great way to use up your leftover turkey.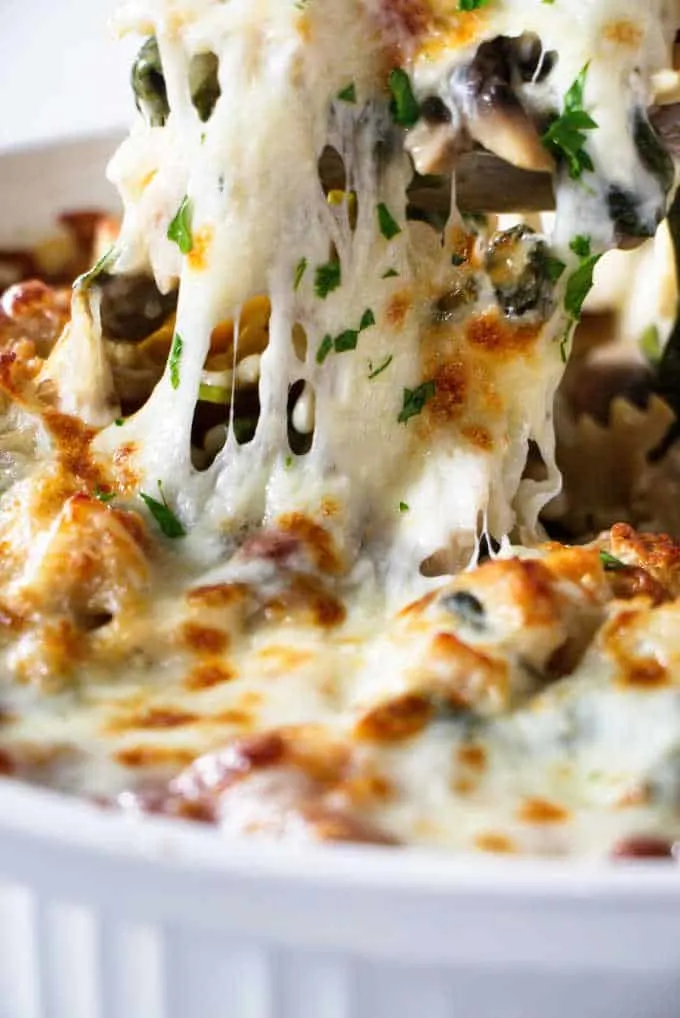 We eat turkey throughout the whole year, not just for Thanksgiving. It makes a fantastic dinner that we can eat for several days. The leftovers are always the best part in my opinion. I love a good turkey sandwich but tossing some shredded or chopped turkey into a casserole really stretches the meal. You should try our baked turkey burrito casserole too.
This hearty turkey pasta bake will feed 6 people and if you want to know what to serve with it, we have a menu suggestion below.
How to make this turkey pasta bake.
Step 1: Boil the pasta
You want to start out by boiling your pasta for 2 minutes less than what the package indicates.
Step 2: Saute the mushrooms:
If you add some water to the skillet then the mushrooms will release their moisture quicker. We explain that in-depth in this post for sautéed portobello mushrooms.
Step 3: Add the onion and garlic:
Don't add the garlic until the onions had time to get soft. If you add the garlic too soon, it can burn easily. Once the onions get soft, the extra moisture will prevent the garlic from burning.
Step 4: Add the flour:
The flour will help thicken the white wine cheese sauce. Cook it for a couple of minutes to get the raw flour taste out.
Step 5: Add the wine and broth:
The liquid will help loosen anything that stuck to the bottom of the skillet. Make sure you scrape all that good flavor off so it gets into the sauce.
Step 6: Add the cheese, spinach, turkey, and pasta:
This is when you will be glad you choose a large skillet. If you don't have a skillet large enough then transfer everything to the pot that you cooked the pasta in.
Step 7: Stick the turkey pasta bake in the oven:
Transfer everything to a large casserole dish, top it off with some mozzarella cheese and bake it until it is nicely browned.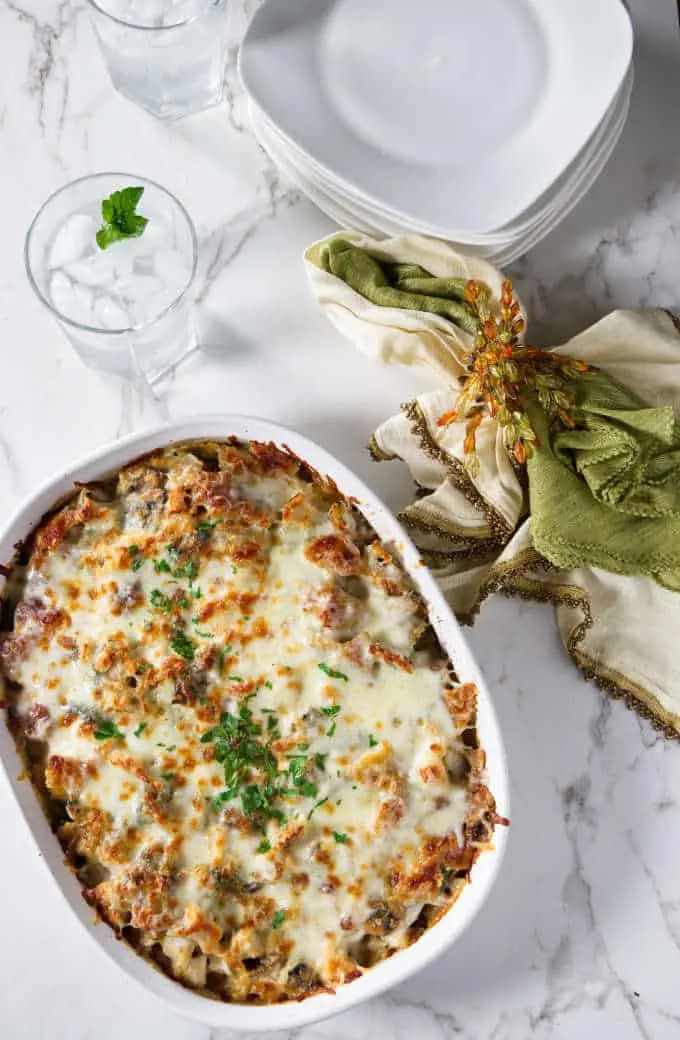 What to serve with this turkey pasta bake?
Here's a suggested menu plan for tonight's dinner:
Storing the turkey pasta bake
You can store the leftovers in the fridge or the freezer.
Fridge: Cover and store in the fridge for up to 3 days.

Freezer: If you keep it in an air-tight, freezer-proof container this turkey pasta bake will store in the freezer for 3 months.
This leftover turkey casserole can be prepared in advance.
If you have had your fill of turkey you can prepare this casserole in advance and just before you bake it, place it in the freezer for up to 3 months. When you are ready to bake it, let it thaw in the fridge overnight and then bake it according to the recipe instructions.
What kind of pasta should you use?
You have several choices for pasta and you really can't go wrong but some pasta shapes work better with a baked casserole dish. Hollow shapes like Ziti and twisted shapes like fusilli have a lot of surface area for the sauce to cling to. The scooped shape of shell pasta also holds the sauce well.
I used Farfelle pasta which has a sturdy shape and curves to hold the creamy sauce. It isn't as traditional for baked pasta dishes but it's what I seem to have on hand lately. The little bow tie shapes are easy to cook and even easier to eat.
Whole wheat pasta works too.
This turkey pasta bake is a great choice to make with whole wheat. Whole wheat pasta keeps a nice al dente texture and has a lovely flavor that will not overwhelm the white wine cheese sauce.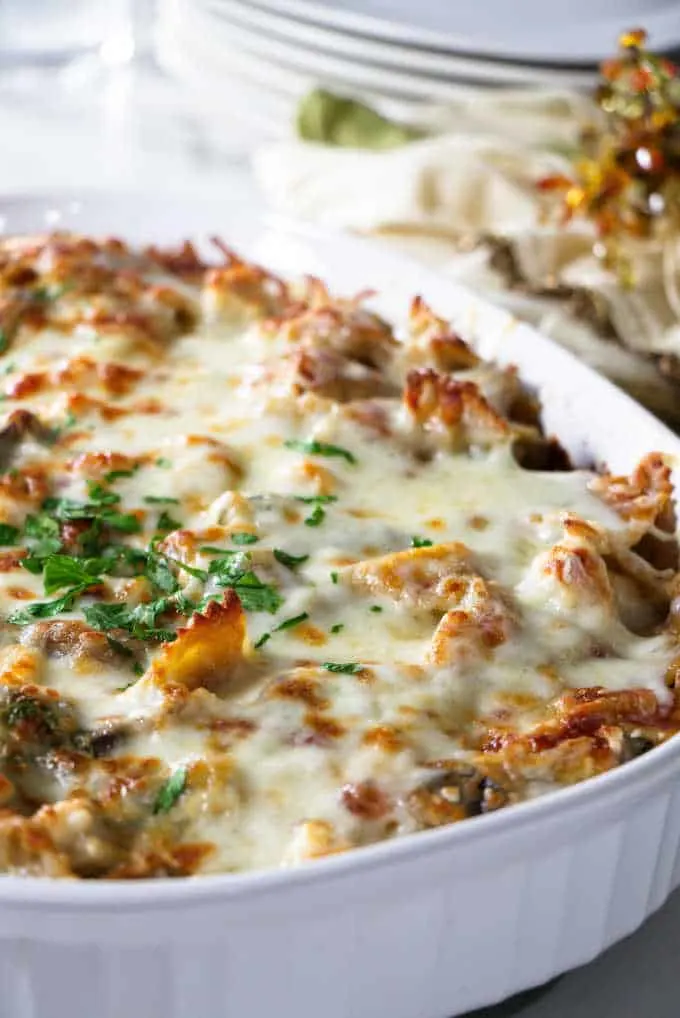 SOME OTHER RECIPES WE ARE SURE YOU WILL LOVE:
This super-simple recipe of Spanish Chorizo and Shrimp Pasta will cook in 20 minutes. It is a fast and easy dinner that has complex flavors. Thick fettuccine topped with smoky sausage, plump shrimp, and salty olives in a lightly spicy flavorful sauce. So Good!
Pasta strands with black truffle sauce is a wonderful dish for special occasions or even a romantic dinner. The truffle sauce has a nice balance of flavors with the garlic and anchovies.
This einkorn pasta bake with leeks and cheese is creamy comfort food in a casserole. If you don't have einkorn pasta you can substitute with any kind of pasta but if you're feeling adventurous you should give the einkorn a try.
If you just want a turkey breast and not the whole bird, this recipe for Instant Pot frozen turkey breast will get you there without even thawing the breast.
If you're looking for more turkey recipes, this spatchcock turkey cooks in half the time. You will end up with tender, moist turkey meat and a crispy skin.
CONNECT WITH SAVOR THE BEST!
Be sure to follow us on our social media accounts
Facebook * Instagram * Pinterest * Twitter * Youtube
Did you make this turkey pasta bake? We would love to hear from you. Drop us a comment below.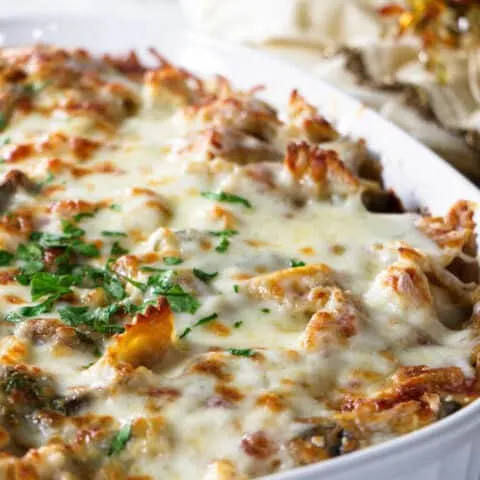 Turkey Pasta Bake
Turn your leftover turkey into a comforting casserole with this cheesy turkey pasta bake. The creamy sauce gets an extra kick of flavor from white wine.
Ingredients
8 ounces Farfalle pasta (or your choice of pasta)
1 tablespoon butter
2 tablespoons olive oil
8 ounces button mushrooms, sliced
1/2 teaspoon salt
1/2 teaspoon pepper
1 medium onion, diced
1 garlic clove, minced
2 tablespoons all-purpose flour
3/4 cup white wine
1-1/2 cup chicken broth
1-1/2 cups grated Parmesan cheese
2 cups fresh baby spinach
2 to 3 cups leftover shredded turkey
2 cups shredded mozzarella cheese
Instructions
Pre-heat the oven to 375°F and grease a 13x9 inch casserole dish.
Fill a large pot with water, salt it generously and bring it to a boil. Add the pasta and cook it for 2 minutes LESS than indicated on the package. The goal is to under-cook the pasta as it will continue to cook in the oven. Reserve 1/2 cup of cooking water then drain the pasta and return it to the pot.
Add the mushrooms and a 1/4 cup of water to a large, non-stick skillet. When the liquid cooks off, add the butter and oil and cook until the mushrooms are slightly brown, about 4 minutes. Season with salt and pepper then add the onion and cook until tender. When the onion is soft and tender add the garlic and cook for 30 seconds.
Sprinkle the flour over the mushroom mixture and stir for a minute to cook the flour.
Stir in the wine and broth and bring to a simmer and cook for 3 to 4 minutes until thick. Stir in the parmesan cheese.
Stir in the spinach and cook until it wilts down. Add the cooked pasta and shredded turkey. Pour the mixture into the casserole dish and top with mozzarella cheese. Bake for 30 minutes uncovered.
Sprinkle with chopped parsley and serve.
Notes
Make sure you generously salt the water that you cook the pasta in.
Undercook the pasta. It will continue to cook when you put it in the oven. Undercooking it before you put it in the oven will help prevent mushy pasta.
Cooking the mushrooms in a little bit of water first will help them release their moisture faster. If you don't have a non-stick skillet then oil the pan.
If you use frozen spinach, use an 8-ounce package, thawed and drained.
Nutrition Information:
Yield:

6
Serving Size:

1
Amount Per Serving:
Calories:

622
Total Fat:

30g
Saturated Fat:

12g
Trans Fat:

1g
Unsaturated Fat:

15g
Cholesterol:

194mg
Sodium:

1219mg
Carbohydrates:

25g
Fiber:

2g
Sugar:

3g
Protein:

57g
Nutrition information is a guideline only, is calculated automatically by third party software, and absolute accuracy is not guaranteed.