Fast, easy, and delicious: Sauteed portobello mushrooms finished with garlic, thyme, and a splash of wine. This simple side dish creates tender, meaty strips of portobello mushrooms that cook in record time.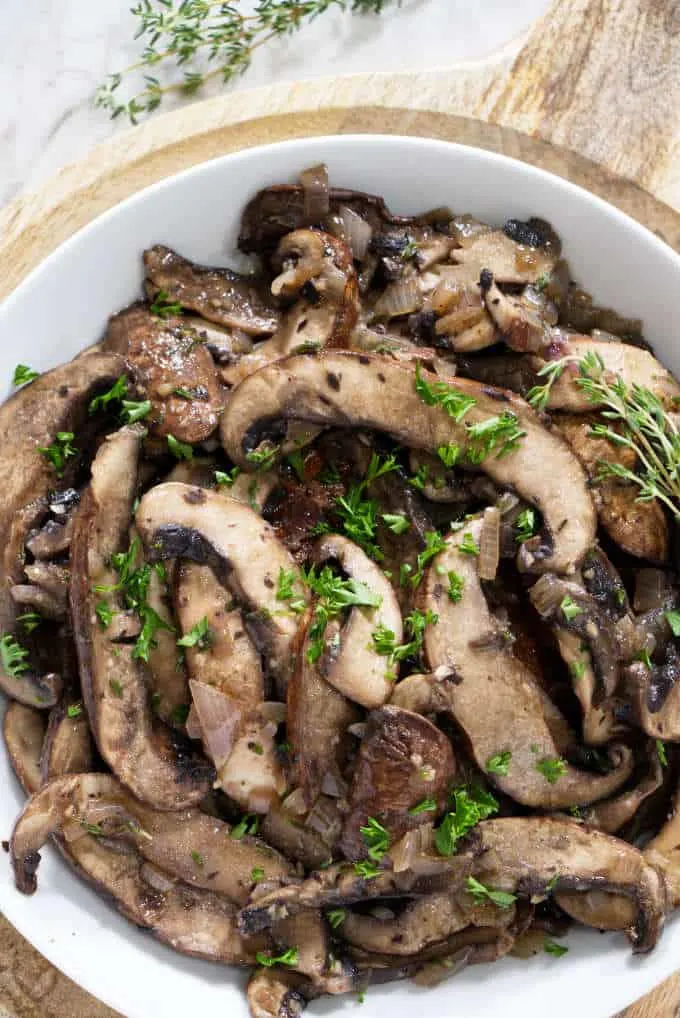 You can make these sauteed mushrooms as a side dish that goes well with steak and chicken or you can use it as a main dish and serve it with polenta, rice or quinoa. It is the perfect dish for any day of the week and we have some tips to help you finish it quickly.
Meaty Sauteed Portobello Mushrooms
These sautéed mushrooms are meaty, golden brown and full of flavor. We started the process by adding the mushrooms to a hot pan along with some chicken broth. That may seem like a strange thing to do at first but follow along and I will explain our technique.
Mushrooms have a lot of water in them already and when you sauté them, you want to release all that moisture. So why would we add more moisture to the pan?
We learned from Cooks Illustrated that by adding liquid to the skillet, you start out by steaming the mushrooms. Steaming the mushrooms first will accelerate the process of releasing moisture from the mushrooms. It will also help you use less butter and oil making this a healthier side dish.
Once all the liquid evaporates from the skillet, add the butter and oil then sauté the mushrooms until they have a nice golden brown color. They get soft, tender, and slightly caramelized.
We added a splash of wine at the end to give the mushrooms a rich flavorful glaze.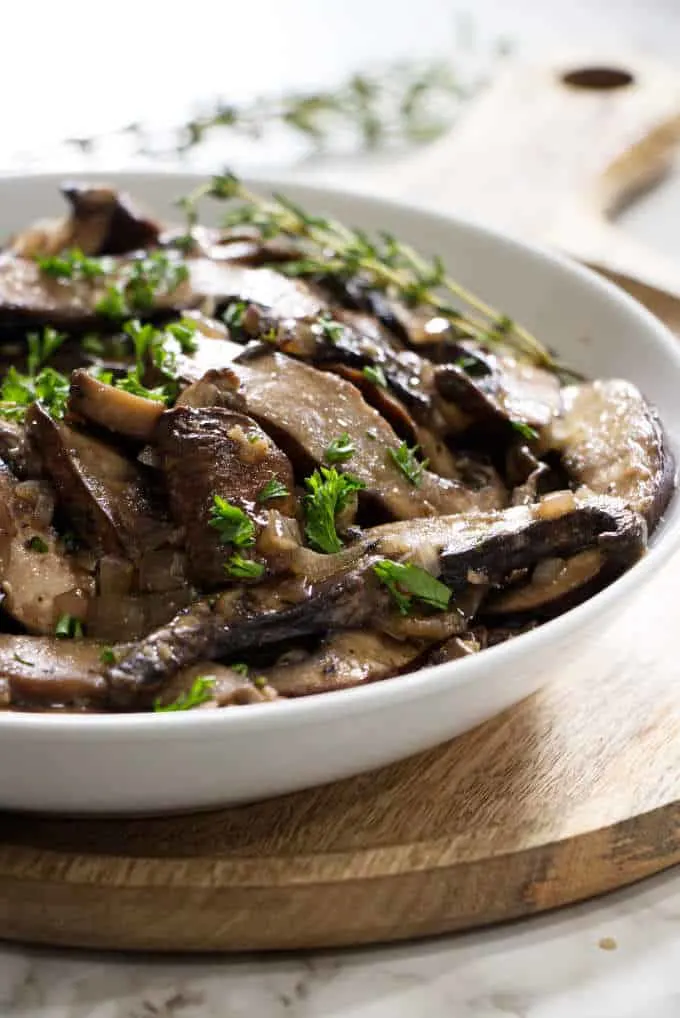 How to prepare portobello mushrooms.
Scrub the cap of the mushrooms clean with a wet paper towel then remove the stems and scrape out the black gills.
The dark gills on the bottom of the portobello mushroom are edible but they add a bit of a 'muddy' taste so I like to scrape them out. They also will turn your food dark and dreary looking because the black color seeps off the mushroom and into the rest of your food.
I don't always remove the gills when I make stuffed portobellos though because the black color stays in place when you cook it that way. However, scraping the gills off will give the mushrooms a 'cleaner' flavor.
The stems are also edible but they are a bit tougher. We choose to toss the stems this time but sometimes we slice them up and add them to the pan.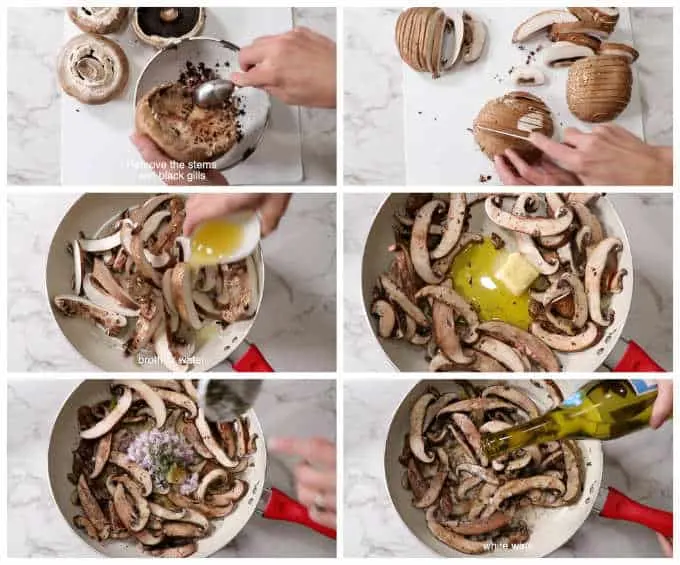 Can you wash mushrooms?
Contrary to popular belief, you can actually wash mushrooms in water. Since mushrooms absorb water like a sponge you don't want to soak them. However, if you run them under cold water to get the loose debris off them then stick them in a salad spinner to get rid of the excess water.
If you want to wash your mushrooms in water just make sure you don't do it until it is time to cook them. If you store mushrooms that you washed in water, it will shorten their storage time.
So the best thing to do is store them unwashed in a paper bag in the fridge. Once it is time to cook them, you can either wash them with a damp cloth or run them under cold water and then give them a whirl in the salad spinner.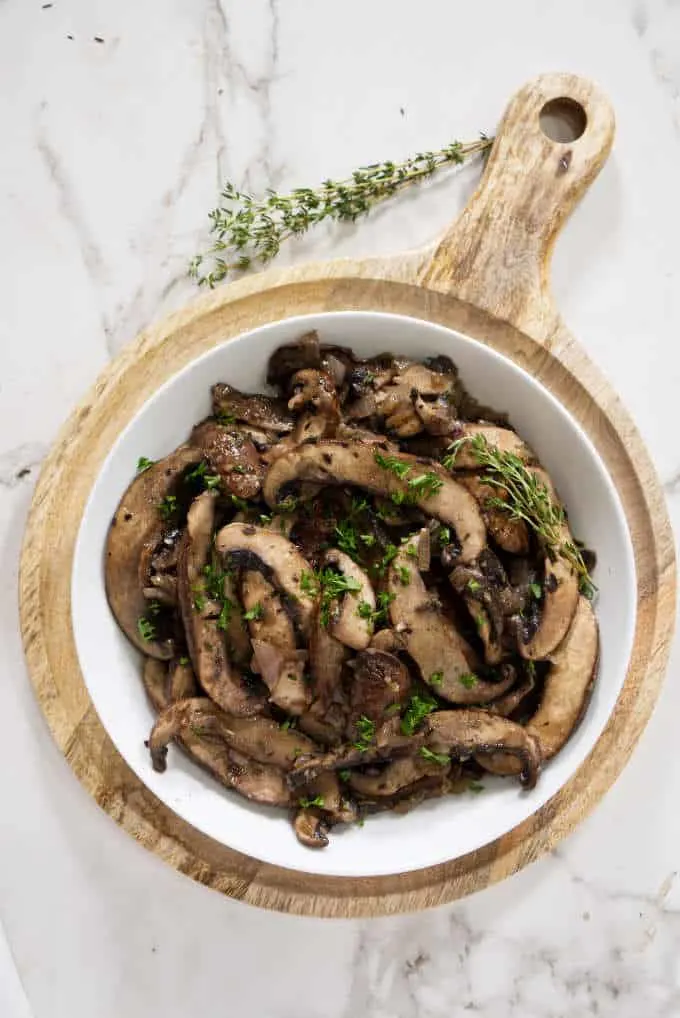 SOME OTHER RECIPES WE ARE SURE YOU WILL LOVE:
This heirloom tomato salad with aged goat cheese makes a fantastic pairing with our sauteed portobello mushrooms. Add a chunk of sourdough bread and you will have a hearty, filling meal.
These beef tenderloin steaks with garlic herb compound butter would be a great main course with sauteed portobellos. Heck, add some of the compound butter to the sauteed mushrooms. Yum.
This creamy mushroom risotto is filled with nuggets of wild mushrooms. It makes a great main entree or a hearty side dish.
Connect With Savor the Best:
Please follow us on our social media accounts
Facebook * Instagram * Pinterest * Youtube * Twitter
Did you make this recipe? We would love to hear from you. Drop us a comment below.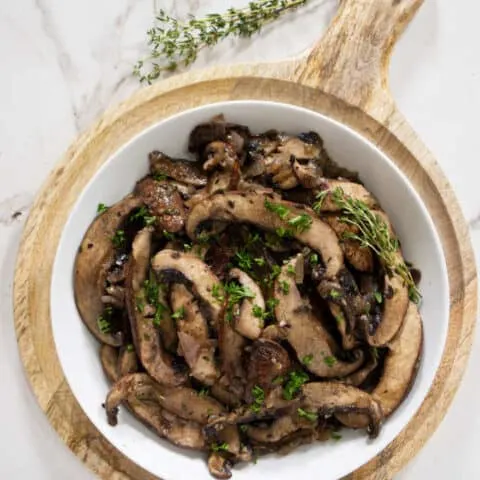 Sauteed Portobello Mushrooms
Tender meaty portobello mushrooms get sauteed to a golden brown and finished with shallots, garlic, thyme and a splash of wine.
Ingredients
4 large portobello mushrooms
3 tablespoons chicken broth or water
2 tablespoons butter
2 tablespoons olive oil
1 shallot, minced
2 to 3 garlic cloves, finely minced
1 tablespoon fresh minced thyme
1/4 teaspoon salt
1/4 teaspoon pepper
1/4 cup dry white wine
Instructions
Clean the mushrooms, remove the stems and scrape out the black gills then slice the mushrooms into 1/4 inch strips.
Add the mushrooms and chicken broth to a large non-stick skillet and cook over medium-high heat until the liquid evaporates, about 6 to 7 minutes.
Push the mushrooms to the edge of the pan and add the butter and oil. When the butter melts add the shallot, garlic, thyme, salt, and pepper and cook for 6 to 8 minutes to soften the shallots and brown the mushrooms.
Add the wine and cook for another 2 to 3 minutes to reduce the wine and cook the alcohol off.
Nutrition Information:
Yield:

4
Serving Size:

1
Amount Per Serving:
Calories:

150
Total Fat:

13g
Saturated Fat:

5g
Trans Fat:

0g
Unsaturated Fat:

7g
Cholesterol:

15mg
Sodium:

232mg
Carbohydrates:

5g
Fiber:

2g
Sugar:

2g
Protein:

2g
Nutrition information is a guideline only, is calculated automatically by third party software, and absolute accuracy is not guaranteed.