I promise that if you try this recipe you will savor the best Creamy Mushroom Risotto ever! We have loaded our risotto with an assortment of tender wild mushrooms which adds a robust, earthy flavor to our creamy risotto.
This mushroom risotto is so creamy you will suspect we added a dose of heavy cream…no, we did not. This is exactly how a great risotto should be. Risotto is a versatile, satisfying addition to any entrée as a side dish. It is also well suited as a one-pot meal along with a crisp green salad and a glass of vino.
There is a generous amount of wild mushroom nuggets scattered all thorough the creamy risotto. The bold flavors of the morels, oyster, shiitake and crimini add a unique and earthy flavor to this risotto.
What is risotto?
Risotto is an Italian classic rice dish that has been in existence for eons and it will never go out of style. The basic risotto is a blank canvas to create innumerable variations. Just by adding a few additional ingredients to the basic risotto you can transform it into a gourmet dish as a main entrée. It is also a wonderful side dish to accompany and compliment a dinner entrée.
The rice in a great risotto will be tender but still a little firm with individual grains coated in a creamy, sauce-like concoction. Risotto's consistency can vary from something resembling a thick soup to a creamy porridge. The Italian word describing the consistency is "all' onda" which means "wavy." That is why risotto is served in a bowl and not on a plate. And, this is also a dish meant to be served piping hot!
Did you know that it is not necessary to stand at the stove, stirring, stirring, stirring? Good news, huh? Actually, stirring constantly will cause the rice to break down and be mushy. Just stir the rice frequently to keep it from sticking to the bottom of the pan then give it a final good stirring when it is finished cooking.
Keys to a perfect risotto:
Choose a short-grained, starchy rice. The most popular risotto rice available in America's grocery stores is Arborio. Carnaroli, Vialone or Nano are also good choices found in some of the high-end grocery stores or online.
Do not rinse the rice. Rinsing the rice will remove the starch. The rice needs all that starch. It is what creates the creaminess during the cooking process.
Heat the broth. Keep a supply of hot broth simmering on a back burner. Add the broth to the rice in small portions with enough to barely cover the rice with each addition. Allow the rice to almost absorb the broth before adding the next portion. The liquid can be stock, chicken broth, beef broth, vegetable broth or water. Wine is another flavor enhancer and is usually the first addition to allow the alcohol to burn off.
Low heat. Keep the heat low and stir frequently, but not continually, while adding hot broth to the rice in small portions. As the rice releases its starch from the grains, the sauce begins to thicken. Although it isn't necessary to stand there and stir continually, you also don't want to walk away from it as the rice will stick to the bottom of the pan in a thick crust.
How to make this Creamy Mushroom Risotto:
Sauté one-fourth of the cleaned and sliced mushrooms in one tablespoon of butter until lightly caramelized, then transfer them to a plate and reserve. Continue in batches cooking all the mushrooms.

Stir in the fresh thyme leaves and set the mushrooms aside until later.

Add 6 or 8 cups of broth to a saucepan and bring to a boil, then reduce the heat to low and keep warm. You may not need all the broth but it is best to have more than enough on hand.

In a large skillet or Dutch oven set over medium-low heat, melt the remaining butter and olive oil together and when they are hot sauté the shallots and garlic.

Add the rice to the pan. Increase the heat to medium and stir until the rice begins to turn translucent on the edges.

Pour the white wine into the pan and stir until absorbed by the rice.

Add a ladle of broth to the rice, it should be enough to just barely cover the rice, stir until almost absorbed.

Continue adding portions of broth, covering the rice with each addition and stirring frequently until the rice absorbs most of the broth before adding the next portion of broth.

When the rice is tender and al dente firm, give it a good stir. It will be creamy, porridge-like and flow but it will not be runny.

Scrape the reserved mushrooms into the risotto and stir them giving them a minute to reheat.

Remove the pan of risotto from the heat and spoon into warmed dishes, garnish with the cheese and chives. Serve the risotto while it is hot.
If your personal preference longs for a thicker, mounding risotto, just add less broth toward the end of the cooking. The rice will also become thicker as it cools.
Do you have to put cheese in risotto?
I love cheese! Cheese is good stuff and the Italians use a lot of it! The typical cheeses used in risotto are Parmesan, Asiago, Romano or even Mascarpone. But cheese is not added to make the risotto creamy. The risotto is creamy because of the starchy rice and slow cooking. Cheese is added at the end only as a flavoring agent, it is not a necessary ingredient.
There is already a lot of flavor in this creamy mushroom risotto from the wild mushrooms. I prefer to top off each serving with shards or gratings of cheese as a garnish rather than stirring it into the entire batch of risotto.
Wild Mushrooms:
To make this mushroom risotto we did not go out into our backyard and pull up the toadstools growing in our lawn! These are store-bought wild mushrooms that add a little 'gourmet-touch' to our creamy mushroom risotto. I like the different flavors of these wild mushrooms. Each variety has its own unique taste.
My very favorite wild mushroom is the chanterelle. Chanterelle mushrooms thrive in the forests of the Pacific Northwest under fir trees, especially the old-growth trees. In past years, we have enjoyed days crawling on the wet, mossy ground foraging for these mushrooms. You can see our recipe for pickled chanterelles here.
The best time to go 'shrooming' for chanterelle mushrooms is when the weather becomes cooler and right after a rain. That is usually in September. Chanterelles are safe to eat and easily identified by their bright golden color and funnel shape. But, alas! This is not the season for chanterelles right now.
Wild mushrooms are usually more expensive than cultivated mushrooms. So… I shuffle my food budget around a little and can splurge now and then for a special event. Of course, you can also use the regular cultivated mushrooms found in grocery stores.
Serve this elegant creamy mushroom risotto as a first course or a side dish in your next dinner event. It also makes a great Meatless Monday entree with a crisp green salad.
I will sign off this post with an old Italian proverb…"When the stomach is full, the heart is happy". ❤️
SOME OTHER RECIPES WE ARE SURE YOU WILL LOVE:
Roasted Asparagus with Curry Sauce: This delicious side dish is a quick 5-minute roast in a hot oven. The make-ahead creamy curry sauce is made with low-fat mayo and no-fat Greek Yogurt. The dish is topped off with curry dusted cashews.
Roasted Emmer and Butternut Squash Risotto: There is great texture from the tender grains of emmer wheat, sweetness from the cubes of squash, creaminess from the crème fraîche and cheese, plus the ever-so-slight flavors of fresh sage and seasonings.
Farro Breakfast Risotto with Poached Egg: A savory farro breakfast risotto with a poached egg! A great example of repurposing leftover risotto.
CONNECT WITH SAVOR THE BEST!
Be sure to follow us on our social media accounts
Facebook * Instagram * Pinterest * Twitter * Youtube
Did you make this recipe? We would love to hear from you. Drop us a comment below.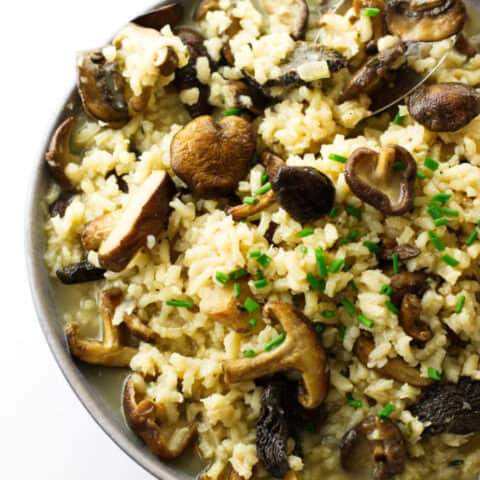 Creamy Mushroom Risotto
The bold earthy flavor of wild mushroom nuggets are scattered throughout our creamy mushroom risotto. Serve his elegant Italian classic dish at you next special dinner event.
Ingredients
5-1/2 tablespoons butter, divided
1-1/2 pounds mixed fresh wild mushrooms, cleaned and sliced
2 tablespoons fresh thyme leaves
6-8 cups broth or stock
1 tablespoon extra-virgin olive oil
2 medium shallots, finely chopped
4 cloves garlic, grated or crushed
1-1/2 cups Arborio rice
1 cup dry white wine
1/2 cup Asiago cheese for garnish
2 tablespoons of snipped chives for garnish
Instructions
Working in batches, add 2 tablespoons of the butter to a large skillet set over medium-high heat and when it has melted add 1/4 the mushrooms. Sauté the mushrooms until tender and beginning to caramelize, 3 to 4 minutes. Transfer mushrooms to a paper towel-lined plate and repeat with the three remaining batches of butter and mushrooms.
Transfer the cooked mushrooms to a bowl, stir in the fresh thyme leaves. Reserve the mushrooms for later.
Add the chicken broth to a saucepan set over medium-high heat and bring to a boil, then reduce the heat to low and simmer on a back burner to keep warm.
Melt the remaining 1-1/2 tablespoons butter with olive oil in heavy large saucepan set over medium-low heat. Add shallots and sprinkle with salt, and sauté until soft, then add the garlic and cook for 30-seconds, until fragrant. Push the onion/garlic mixture to the side of the pan and add the rice. Increase the heat to medium. Stir the rice until the grain edges begin to look translucent, 3 to 4 minutes.
Pour the white wine in the pan and stir until absorbed, about 1or 2 minutes. Add 3/4 cup of the warm chicken broth and stir frequently but not continually, until the broth is almost absorbed. Continue adding portions of broth at 3/4 cups at a time, give it a stir occasionally to keep the rice from sticking to the bottom, until each portion of broth is almost absorbed before adding the next portion. When the risotto is creamy and the rice grains are tender but still al-dente give the risotto a final stirring and gently stir in the sautéed mushrooms and allow to reheat.
Scoop into individual serving dishes and garnish cheese shards or gratings and snipped chives.
Notes
If using canned/boxed chicken broth select the low-salt variety. As the broth reduces the saltiness becomes more intense.
Any mushrooms will work in this risotto
Risotto does not need continual stirring. Give it a stir frequently to keep it from sticking to the bottom of the pan and a final brisk stir when it is finished
Parmesan or Romano cheese are also good choices for this risotto
Using a standard vegetable peeler will give you nice shards of cheese.
Nutrition Information:
Yield:

6
Serving Size:

1-1/2 cups
Amount Per Serving:
Calories:

397
Total Fat:

20g
Saturated Fat:

10g
Trans Fat:

0g
Unsaturated Fat:

9g
Cholesterol:

47mg
Sodium:

561mg
Carbohydrates:

35g
Fiber:

4g
Sugar:

8g
Protein:

14g
Nutrition information is a guideline only, is calculated automatically by third party software, and absolute accuracy is not guaranteed.