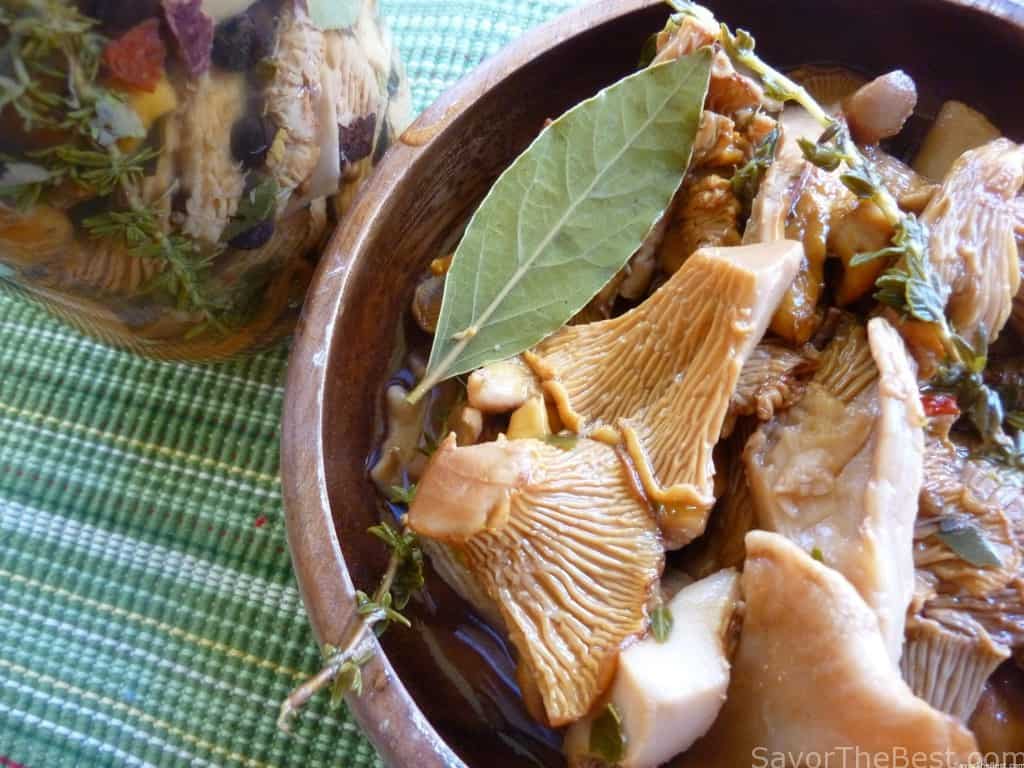 I am so excited about chanterelle season. It has been several years since I have harvested chanterelles. I used to go with my father but sadly, the spot we went to has since been cleared of all its trees and undergrowth to make room for a housing development. What a tragedy, it was such a beautiful forested area.
Someone recently gave me a batch of chanterelles they had picked and surreptitiously told me where they had gathered them. The kind souls disclosed their "sacred" hunting ground to me and I am hoping this area does not get destroyed for another development.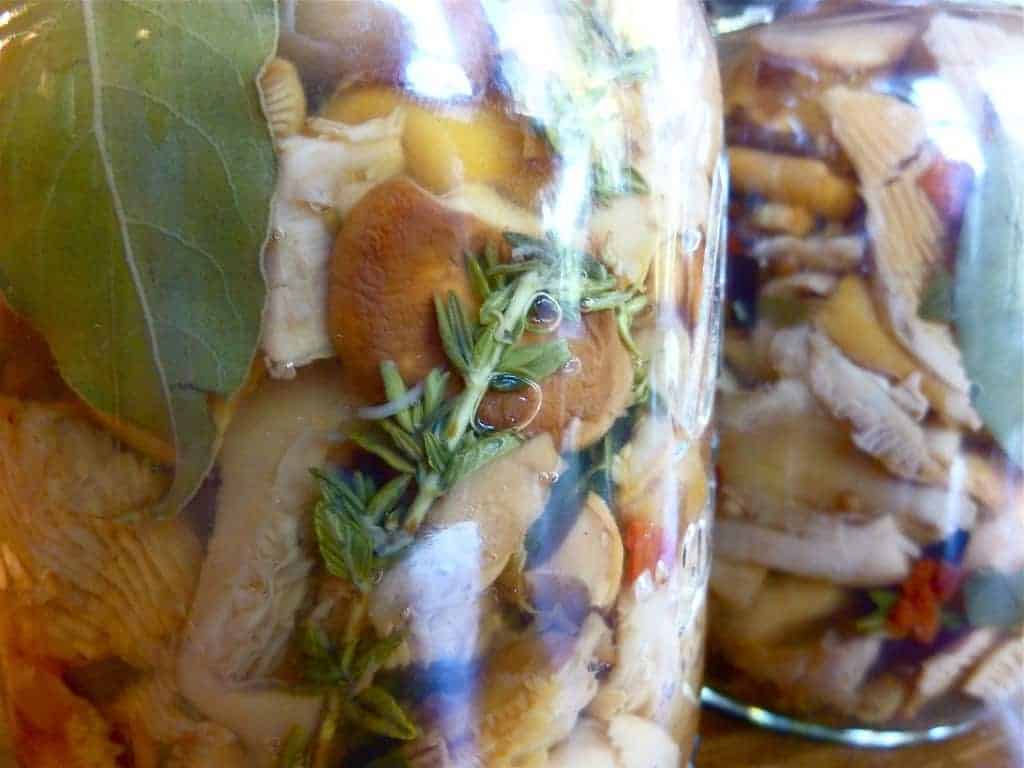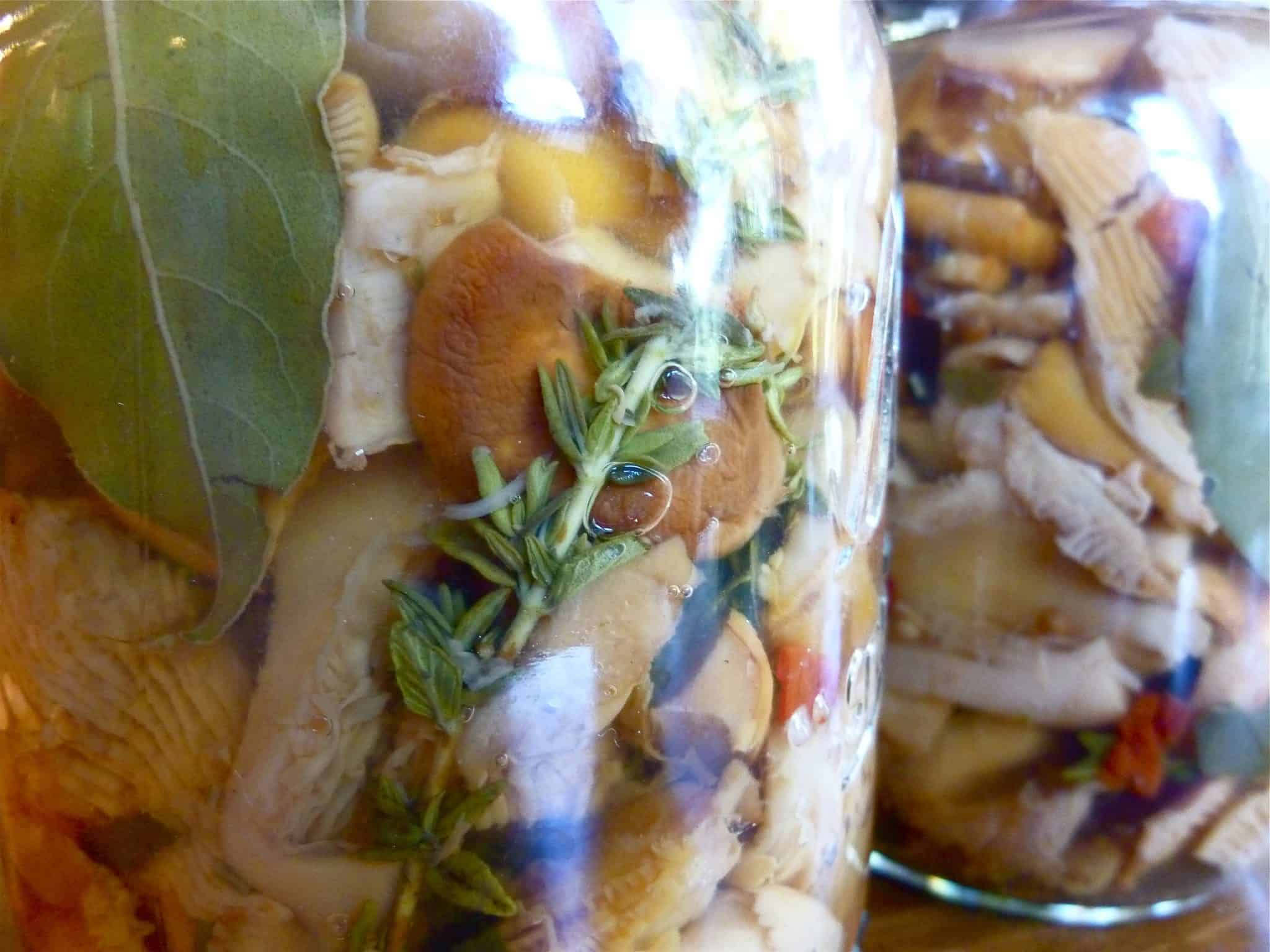 In Washington state, chanterelles primarily grow around fir trees, mostly old growth trees. They grow in the early fall after the ground has been heavily moistened with rain and will continue to grow until the ground freezes. Look around the base of the trees; if you see one, look for more in the area, they like company. Just get out and roam around in the woods but don't get lost.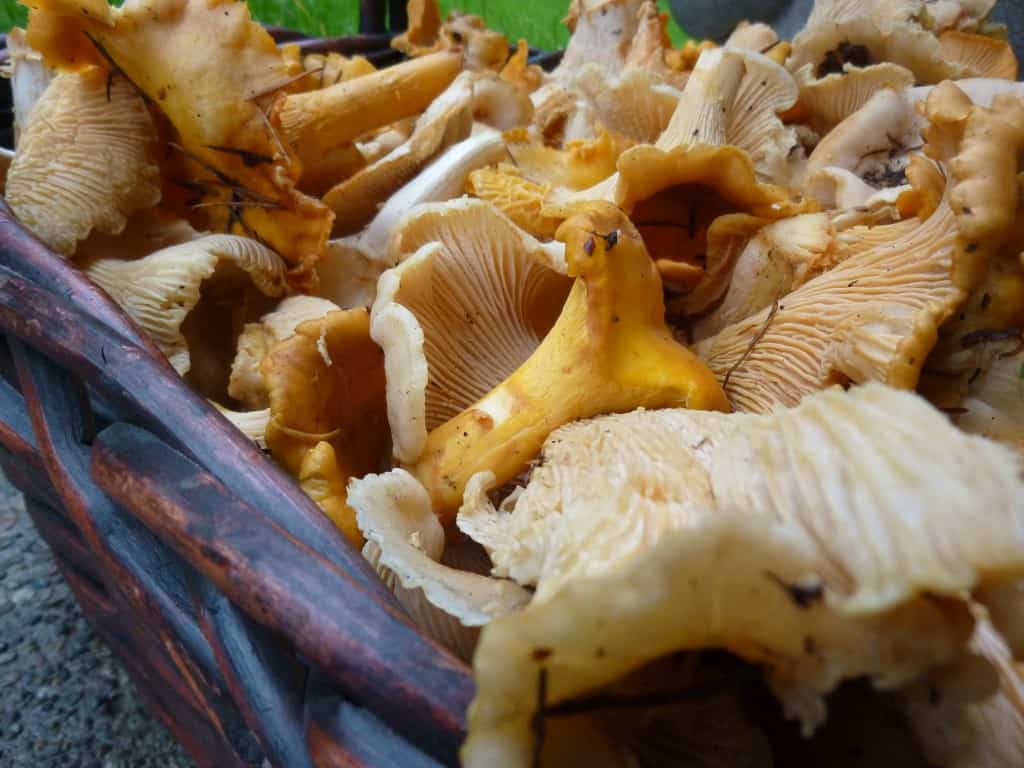 I am a bit directionally challenged and it is pretty easy to wander into the woods, get turned around and lost. We made certain to stay on state forestland and we brought a GPS in case we got turned around.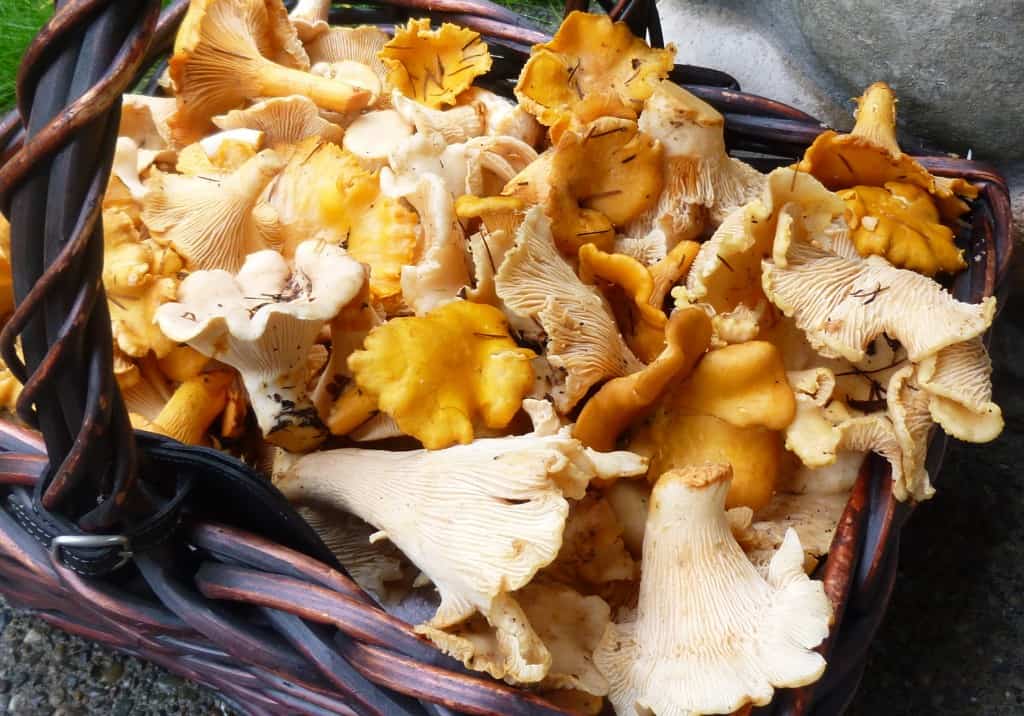 To the best of my knowledge scientists have not yet found a way to successfully cultivate chanterelles in a controlled environment. This is one of the reasons the fungi is so prized. Unlike other mushroom varieties, fresh chanterelles are strictly a seasonal cuisine. I have prepared a batch for the freezer and I have pickled a small batch so I can enjoy some in the off-season.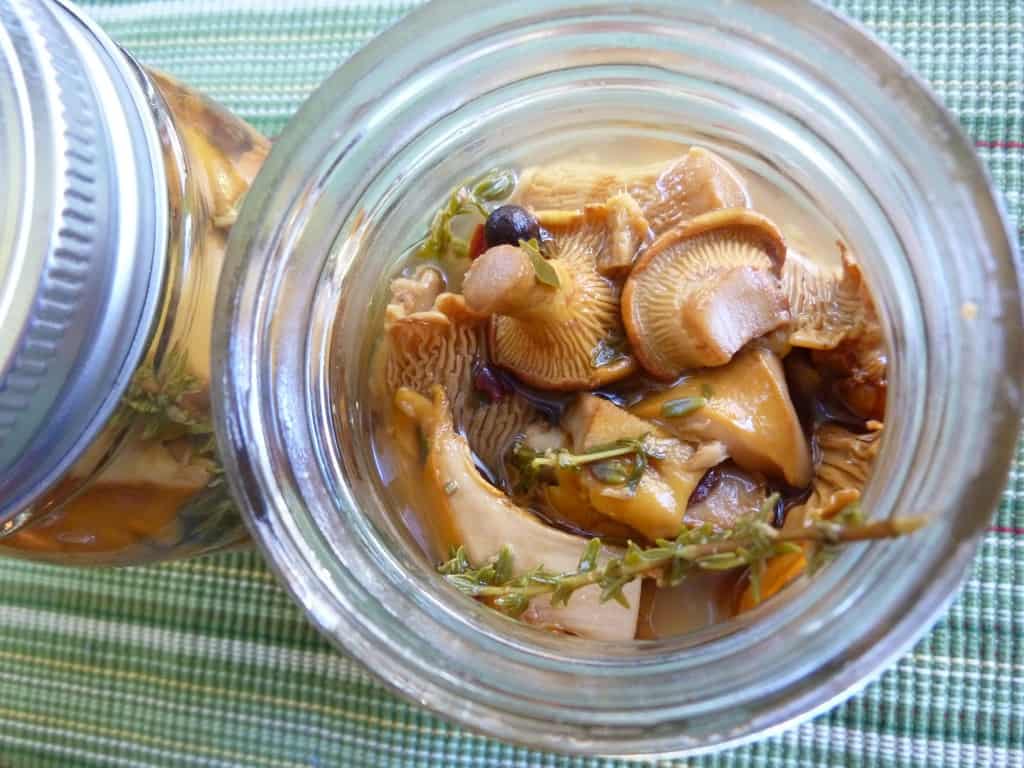 The chanterelles we found in this area were of both the golden variety and the white. With their frilly edges, they make a beautiful addition to an antipasto dish.
Sweet Pickled Chanterelles
Adapted from Hunter Angler Gardener Cook
For more information on canning, visit The National Center for Home Food Preservation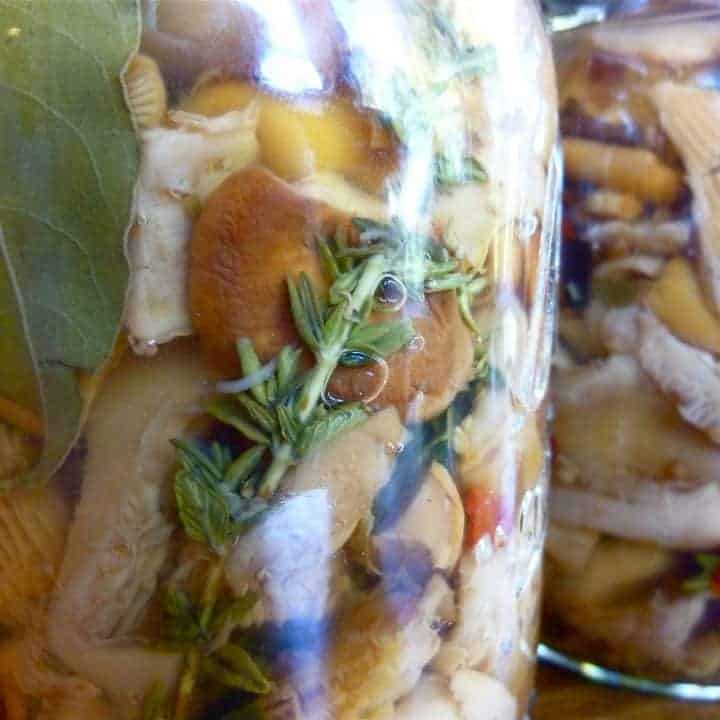 Sweet Pickled Chanterelles
Yield: 3 pints
Prep Time: 20 minutes
Cook Time: 20 minutes
Total Time: 40 minutes
Fresh chanterelle mushrooms pickled in a sweet brine.
Ingredients
3 pounds fresh chanterelles
1 tablespoon salt
4 cups white wine vinegar
1 cup white wine
½ cup sugar
3 bay leaves
2 teaspoons dried thyme
2 teaspoon black peppercorns
2 teaspoon coriander seeds
6 sprigs of fresh thyme
Instructions
Clean and sterilize 3 one pint jars and the lids. Have a large pot with enough water in it to cover the jars, then bring it to a boil while you prepare the recipe.
Place the mushrooms and the salt in a large pot and cook them over medium heat until they start to release their liquid. It is not necessary to put oil in the pan, just stir frequently. When they are no longer producing more liquid pour the rest of the ingredients over them and bring to a boil. Turn the heat to a simmer and cook for 5 minutes then remove from the heat.
Spoon out the mushrooms and pack firmly into jars, leaving at least ½ inch headspace. Place a bay leaf and some thyme sprigs in the jar and ladle the liquid and spices over the mushrooms. If the mushrooms are not covered completely with the liquid, add some more vinegar to top them off. Using a non-metal spatula, remove the air bubbles from the jar by sliding the spatula down the side of the jar. Wipe the rims of the jars and place a lid and ring on each jar. You only need to turn the ring enough to hold the lid in place but still loose enough to allow air to escape during processing.
Place the jars in the pot of boiling water and cover with a lid. Process in a boiling water bath for 20 minutes.
Carefully remove the jars to a wire rack or dish towel to cool down. Allow the jars to cool overnight then check the seals. Refrigerate any jars that have not sealed.
Notes
For elevations over 1000 feet process for 25 minutes, over 3000 feet process for 30 minutes, and over 6000 feet process for 35 minutes.