This Italian Pressed Sandwich is jam-packed with layers of deli meat, cheeses, aioli, tapenade, and fresh herbs, all sandwiched between two slices of delicious focaccia bread. It makes the perfect meal on its own and is easy to slice up in any size for parties, picnics and gatherings.
You can choose to use our fluffy, homemade focaccia or go with a store-bought loaf for extra ease. Either way, this Italian picnic sandwich is delightfully delicious and full of flavor.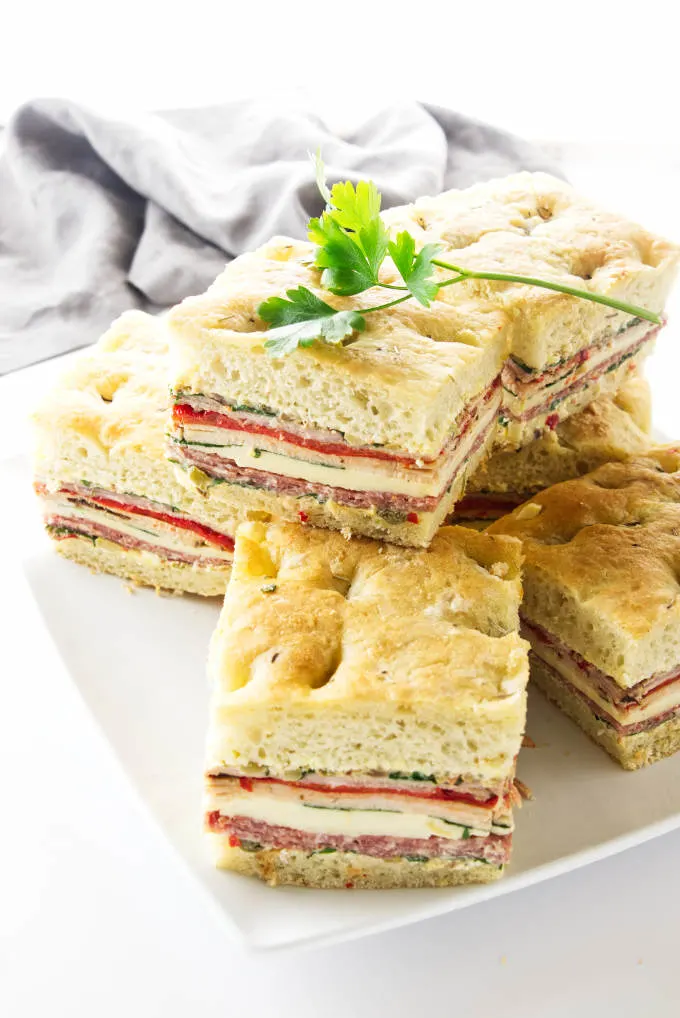 When it comes to sandwiches, we like them hearty and packed with all the tasty things! Toppings, condiments, seasonings, and quality ingredients add so much to your everyday sandwich and can make all the difference between a "just okay" sammy and one you'll crave.
This one- just like our Hot Meatloaf Sandwich and our Tri-Tip Sandwich– is meaty with bold flavors that take center stage. It is portable and makes a fantastic picnic sandwich.
There's So Much To Love About Our Italian Sandwich Recipe! It Is:
Extra large and meal-sized
Ready in 15 minutes
Easy to make
A delicious light meal or starter
Perfect picnic sandwich
While this Italian pressed sandwich can be a meal in itself, you can also serve slices alongside a hot bowl of soup (like our Fire Roasted Tomato Soup). Or enjoy it with a chilled side salad . Truthfully, there's no wrong way to eat an Italian sandwich. 😉
The Ingredients:
For this Italian pressed sandwich recipe, you will need:
Focaccia bread, either store-bought or homemade (we have a delicious no-knead focaccia bread recipe for you!)
Butter, softened (salted butter will have more flavor than unsalted butter).
Garlic cloves, grated, crushed or minced
Mayonnaise
Deli olive tapenade
Genoa salami, sliced
Roasted red bell peppers, thinly sliced. You can get these in the deli or make your own grilled sweet peppers.
Deli smoked turkey
Sliced Provolone cheese
Italian parsley leaves
Thinly sliced ham
Fresh basil leaves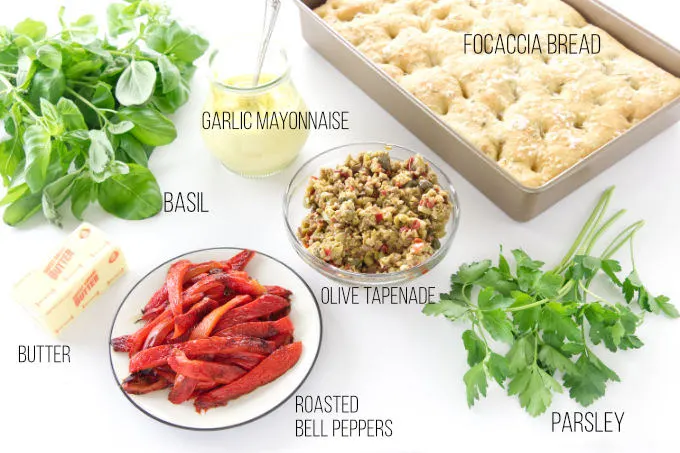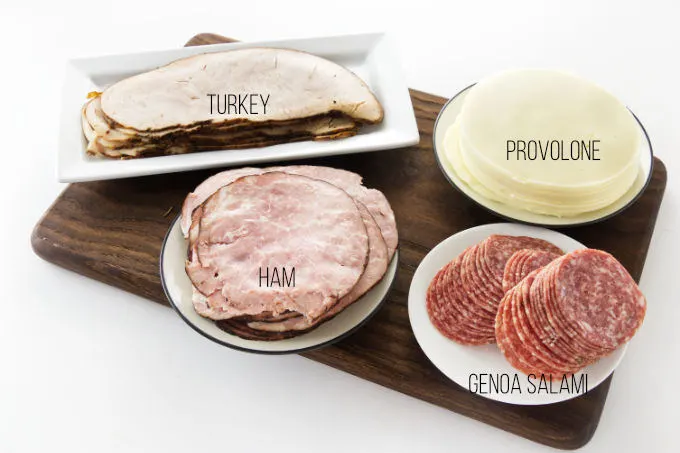 How to make an Italian Pressed Sandwich
This pressed sandwich recipe is a good one, a medley of flavors all neatly tucked between layers of pillowy focaccia bread. Here's how we make it. Make sure you scroll down to the printable recipe card for all the details.
Cut the focaccia: Slice the focaccia lengthwise, through the middle, then lay it on a work surface and spread butter on each half.

Assemble the sandwich: Combine the mayonnaise and garlic, then spread on each half of bread. Spread the olive tapenade then layer basil leaves, salami, Provolone, parsley, smoked turkey, roasted peppers, ham, and the remaining basil leaves. Place the other half of bread on top.

Wrap and press the Italian sandwich: Wrap the sandwich in plastic wrap, then place the sandwich between two baking sheets. Use a cast iron skillet or heavy books to weigh it down.

Cut and serve: Unwrap the sandwich and cut it into six individual meal-size servings or 12 small sandwiches.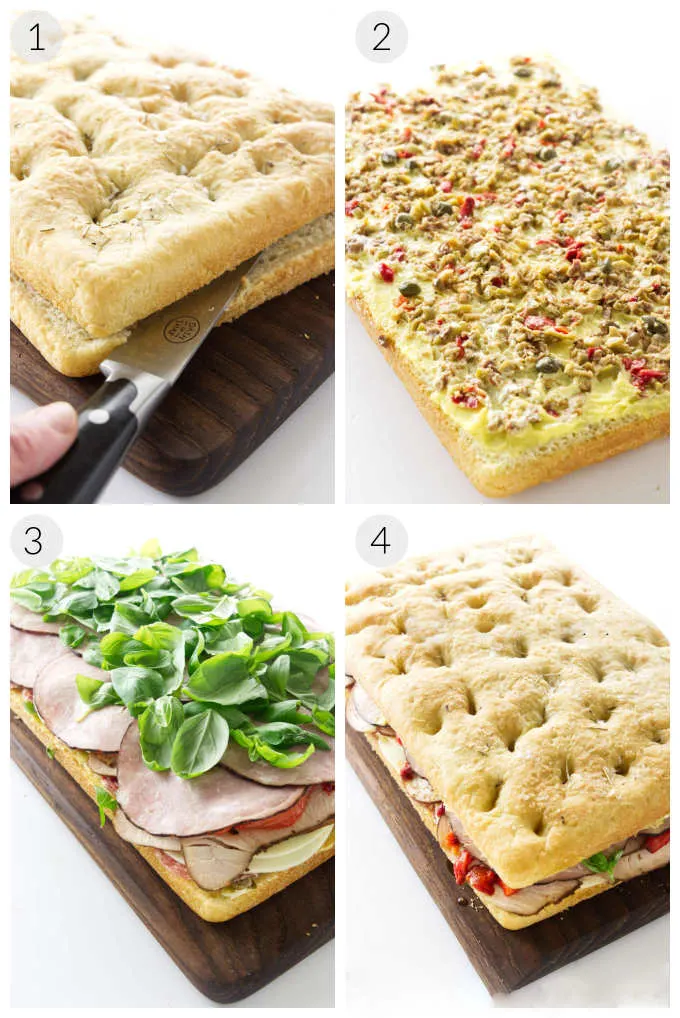 Tips for the best Italian Pressed Sandwich:
Slicing the focaccia: The focaccia doesn't have to be sliced perfectly down the middle. In fact, we also like it when the bread is sliced off-center, with the top section being about one-third the thickness.

Prevent a soggy sandwich: Spreading butter onto the bread first will prevent oil from seeping into the bread and getting it soggy.

For maximum flavor: While this quick aioli sauce is delicious and makes a wonderful Italian sandwich spread, you can prepare it about 12 hours ahead of time to give all of the flavors even more time to meld. You could also substitue the aioli with our chipotle aioli for a spicy kick and a fusion of flavors.

Olive tapenade: Some varieties have more oil than others. If your olive tapenade is extra oily, press it into a fine mesh strainer and remove some of the oil.

Deli Roasted Red peppers: Pat the red peppers dry before slicing. Our goal is to keep as much moisture from settling into the sandwich!

Substitutions: Any combination of good quality deli meats and cheeses may be substituted for this pressed sandwich recipe.
More Sandwich Recipes
Sandwiches are perfect for any meal of the day. Whether you're looking for a hot and filling lamb kofta sandwich or something fast and easy like our chicken curry sandwich, we have a large selection.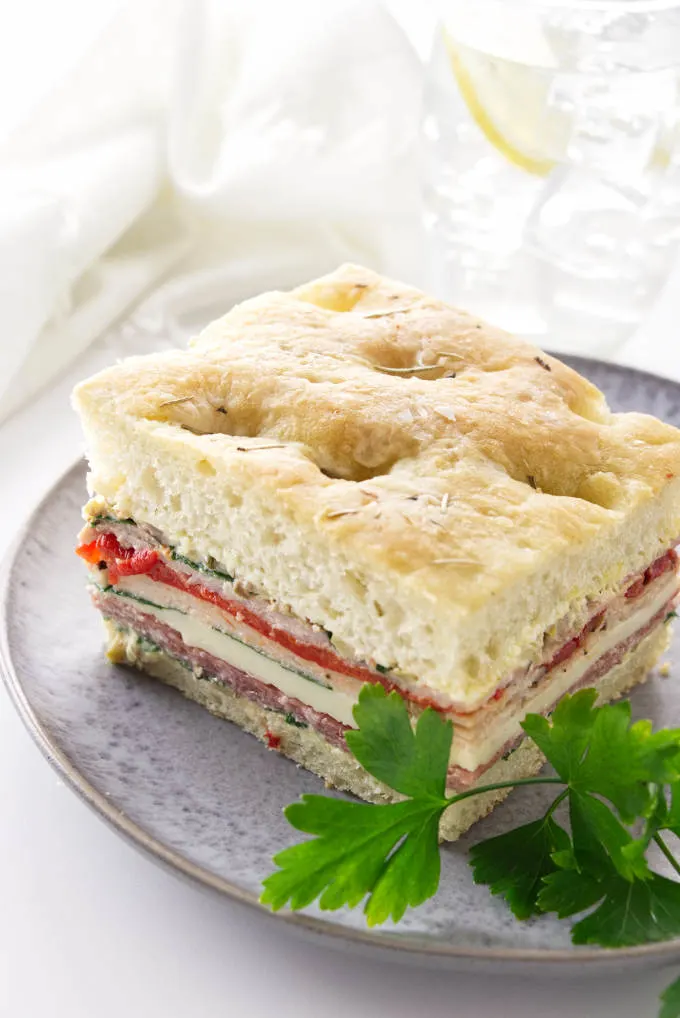 Frequently Asked Questions:
What does pressed sandwich mean?
A pressed sandwich is any type of sandwich that is weighed down for a while, hence the word "pressed." This squashes all of the sandwich ingredients together without ruining the bread, and it makes the sandwich easy to slice and serve.
What bread is used for Italian sandwiches?
We love a good focaccia bread but you can also use a bread like ciabatta if you don't have focaccia. Focaccia is a bit more flat and easier to press, which is why we prefer it.
This Italian pressed sandwich recipe is easy to follow and so satisfying. The garlic aioli, olive tapenade, and deli-style meats give this pressed sandwich its bold flavor., and the pillowy focaccia bread takes it to the next level.
Some More Recipes You Will Love:
Steak and Lobster Sandwich: Surf and turf in sandwich form! Tender steak, irresistible lobster and a creamy, silky hollandaise sauce are tucked inside a fluffy garlic bread. This epic sandwich is such a treat!
Hot Reuben Sandwich: A classic Reuben with layers of sliced corned beef, tangy sauerkraut and melted Swiss cheese on Rye bread. The sandwich for any season (and a family favorite!).
Chocolate Layer Cake: This is the only chocolate cake recipe you need! With chocolate in every layer, this chocolate cake recipe is incredibly easy to make and one everyone will LOVE.
Connect With Savor the Best:
Please follow us on our social media accounts
Facebook * Instagram * Pinterest * Youtube * Twitter
Did you make this recipe? We would love to hear from you. Drop us a comment below.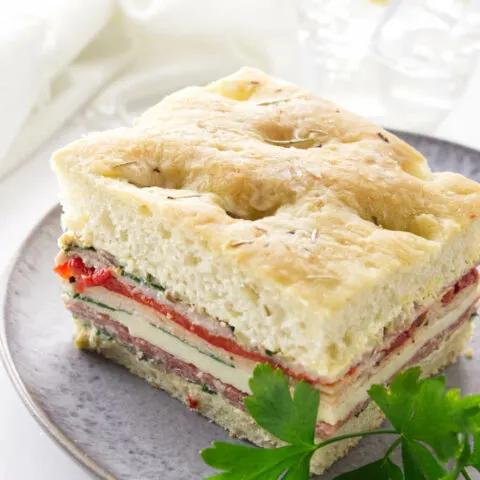 Italian Pressed Sandwich
A meal-size Italian Pressed Sandwich. A loaf of focaccia bread, sliced in half and stuffed with deli meats and cheeses. Condiments include: aioli, tapenade, roasted peppers, fresh parsley and basil. Perfect for picnics and parties.
Ingredients
1 loaf (9x13) focaccia bread
4 ounces butter, softened
4-5 garlic cloves, grated, crushed or minced
1/2 cup mayonnaise
2 cups deli olive tapenade
12 ounces sliced Genoa salami
2 deli roasted red bell peppers, thinly sliced
8 ounces sliced deli smoked turkey
12 ounces sliced Provolone cheese
1/2 cup fresh Italian parsley leaves
16 ounces thinly sliced ham
2 cups fresh basil leaves
Instructions
For the Focaccia Bread:
Using a long, serrated knife, slice the focaccia bread lengthwise, through the middle. (see notes)
Lay the bread on a work surface, with cut halves up, and spread the butter on each half.

Assemble the Sandwich:
In a small jar or dish, combine the garlic and mayonnaise and spread 1/4 cup of the aioli on each half of bread; then spread 1 cup of the olive tapenade on each section of bread.
On the bottom half of the bread begin building the sandwich by layering the basil leaves on the tapenade, then the salami, Provolone cheese, Italian parsley leaves, smoked turkey, roasted peppers, ham, and the remaining basil leaves. Place the top of the bread on the layered bottom half.
Wrap and Press the Sandwich:
Wrap the sandwich tightly in plastic wrap, place on a 10x15-inch baking sheet.
Set another 10x15-inch baking sheet on top of the sandwich and weigh the sandwich down with something heavy such as a cast-iron skillet or heavy books.
Transfer to the refrigerator and chill for several hours or overnight.
To serve:
Remove from the refrigerator, unwrap the sandwich, and place on a cutting board. Using a long serrated knife, trim 1/4-inch off each of the edges and cut the sandwich into 6 individual meal-size servings or 12 smaller sandwiches.
Notes
The bread can also be sliced off-center at 1/3-2/3 with the top section 1/3 the thickness.
Adding butter on the bread first will prevent oil from seeping into the bread.
This is a quick aioli sauce, for more intense flavor make it in advance and keep refrigerated for 12 hours until ready to use.
If your olive tapenade is exceptionally oily, spoon it into a fine mesh strainer and press down with the back of a spoon to release some of the oil.
Before slicing the deli roasted red peppers, lay them on a thick pad of paper towels and pat them dry.
Any combination of good quality of deli meats and cheeses may be substituted.
Nutrition Information:
Yield:

12
Serving Size:

1
Amount Per Serving:
Calories:

566
Total Fat:

49g
Saturated Fat:

17g
Trans Fat:

0g
Unsaturated Fat:

29g
Cholesterol:

102mg
Sodium:

1823mg
Carbohydrates:

8g
Fiber:

2g
Sugar:

3g
Protein:

26g
Nutrition information is a guideline only, is calculated automatically by third-party software, and absolute accuracy is not guaranteed.
Did you make this recipe? We would love to hear from you. Drop us a comment below.