Have you seen the newest viral TikTok grinder salad recipe? It is more than a salad. It is actually a grinder salad sandwich, but it starts with a simple marinated tangy salad that mimics the zesty flavors of a traditional Italian grinder sandwich.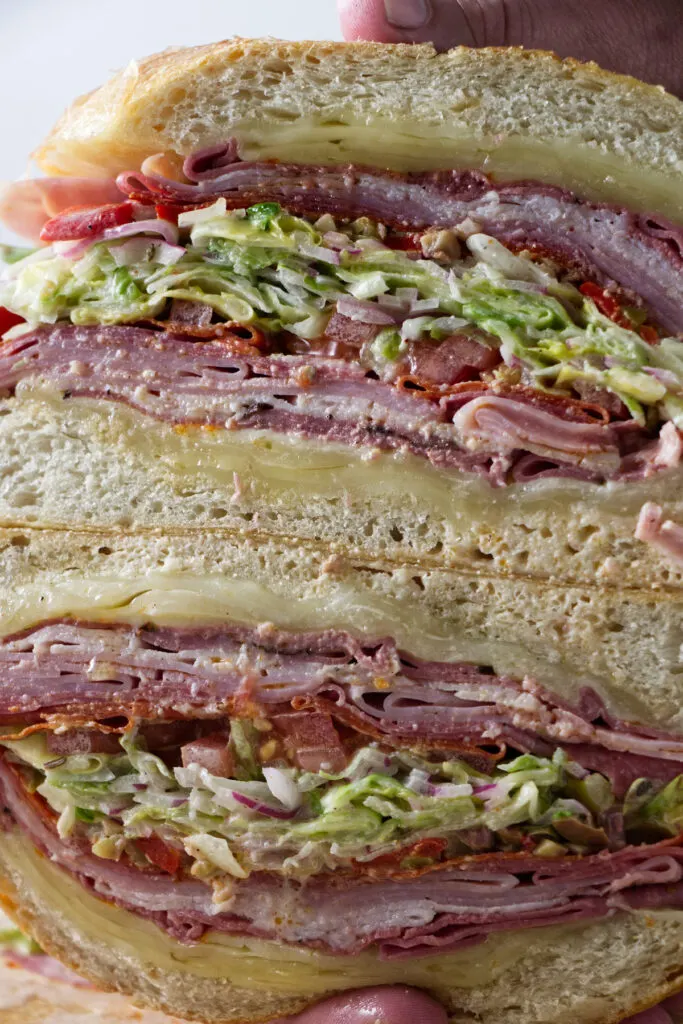 This sandwich is savory, sweet, and salty with a rich, hearty flavor that is addicting. It is also a big, fat, messy, juicy sandwich, so grab a bib and plenty of napkins. If you are a dainty eater, get a fork and knife so you can slice it up and eat it like a hearty salad.
Here is Why This Recipe Works
The combination of flavors in this sandwich is what makes it so special. The savory meats and cheeses and the crunchy vegetables all come together to create a perfectly balanced bite.

Iceberg lettuce adds a crunchy texture. It also releases a lot of juices as it marinates, making the salad and the sandwich run-down-your-arms juicy.

This sandwich is completely customizable. You can add meats and cheeses that you see in traditional Italian hero sandwiches or slice up leftover grilled chicken or baked ham.
This isn't a sandwich that travels to picnics well, but we have an Italian pressed sandwich if you want a portable lunch. And if you want a worthy picnic salad, our German potato salad or chipotle chicken pasta salad are great.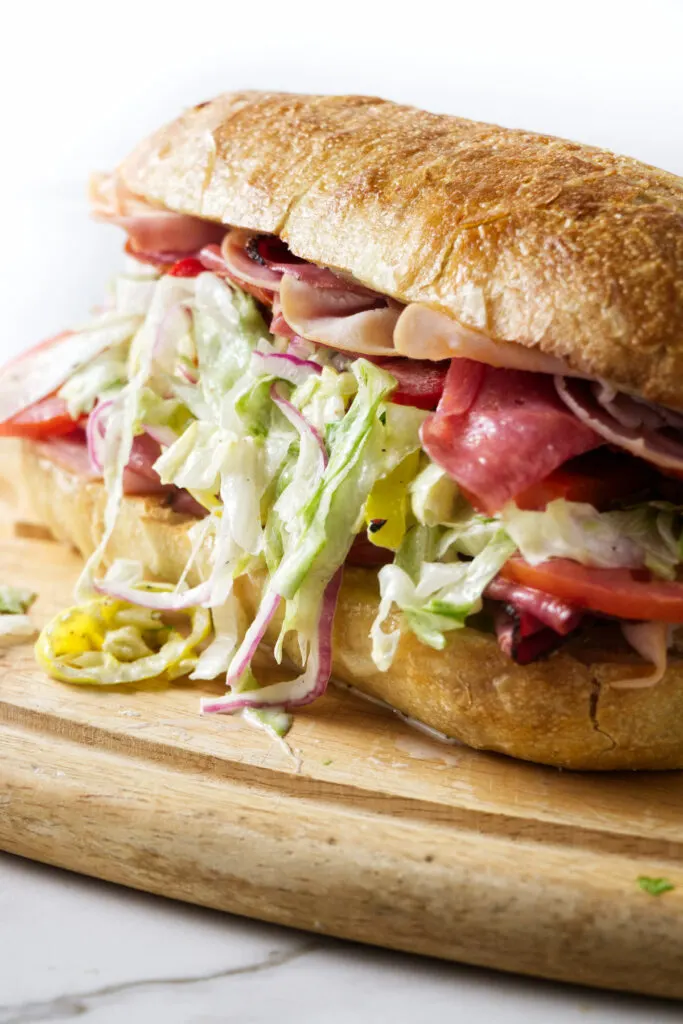 What is an Italian Grinder Sandwich?
A grinder sandwich is interchangeable with a hero or sub sandwich. Typically, it is a large sandwich that serves several people. The Italian version uses a variety of meats like salami, pastrami, and pepperoni.
The folks on TikTok did not invent the grinder sandwich but someone must have shared a fun video that got everyone drooling for an Italian sub.
You can find multiple versions of the sandwich (even vegetarian) as you scroll through the TikTok feed. The one thing in common is that they all start with a grinder salad that gets marinated while you assemble the sandwich.
For some unknown reason, the video titles on TikTok call it a grinder salad and not a grinder sandwich.
The Ingredients
Here is a list of the ingredients you will need for this recipe. Scroll down to the printable recipe card for all the details.
For the Grinder Salad
The salad is super simple but it adds so much flavor and texture to the sandwich.
Creamy salad dressing. We made a mayonnaise-based dressing that we think is perfect with sandwiches. If you are not into mayo, use some Italian vinaigrette.

Iceberg lettuce. Iceberg might sound boring, but it is excellent in sandwiches.

Red onion. Slice them thin so they scatter throughout the salad and add spice to every bite.

Peperoncini or banana peppers. These pickled peppers add an essential flavor to the grinder salad and sandwich.
For the Sandwich
Bread. We used a loaf of garlic-roasted French bread and sliced the sandwich into several servings. You could also get several small Hoagie Rolls and make individual sandwiches.

Cheese. We used a combination of Swiss, provolone, Muenster, and Parmesan cheese. Substitute with your favorite cheese. You can even use shredded cheese as we did in our hot meatloaf sandwich and our crab melt.

Meat. We used ham, turkey, pastrami, salami, and pepperoni.

Roasted red peppers. We grabbed marinated peppers from the deli section at the local grocery store. You could also grill some sweet peppers.

Olive tapenade. This gives a salty, garlicky, umami kick to the sandwich.

Tomatoes. Grab the juiciest, ripest tomatoes you can find.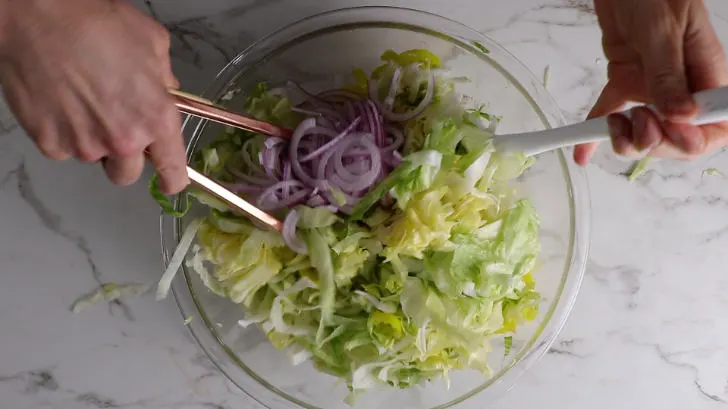 Mix the grinder salad and let it marinate.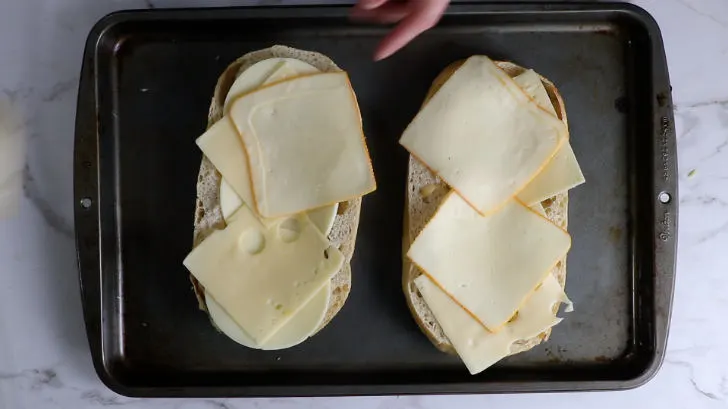 Add the chees to the bread and melt it under the broiler.
If you have an air fryer that is large enough, you can place the bread in an air fryer to melt the cheese and heat the meat.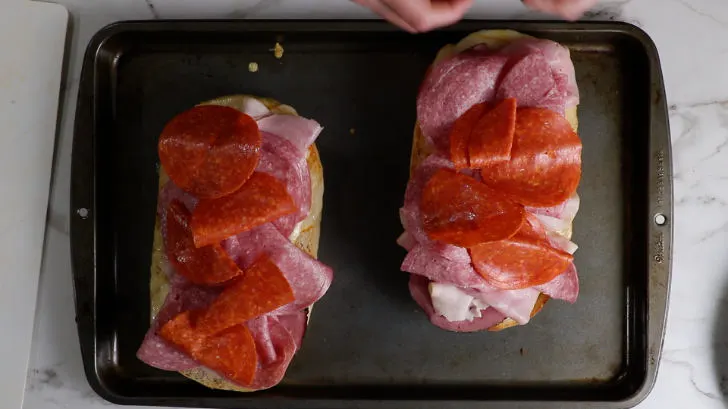 Top the melted cheese with meat then stick it back in the oven to get hot.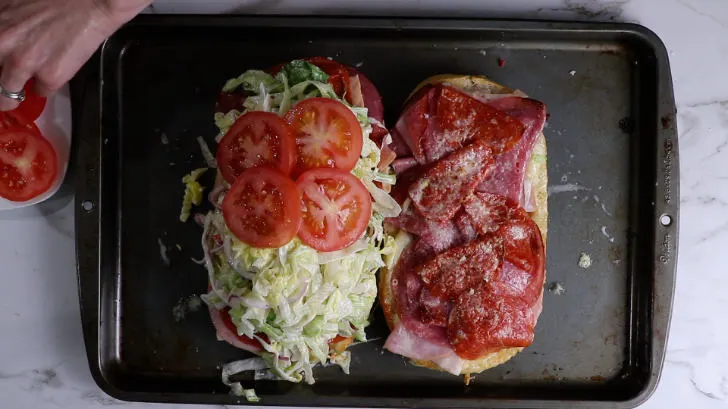 Add the grinder salad, olives, grilled peppers, and tomatoes.
How to Make It
Here is a brief overview to get an idea of what to expect with the recipe. Scroll down to the printable recipe card for all the details.
Slice your bread and remove some of the bulk. This is totally optional but makes more room for all the fillings.
Lay some cheese on the bread and toast it in the oven until it melts.
Add the meat and a sprinkle of Parmesan. Bake it again until the meat gets hot.
Add the olive tapenade, grilled peppers, grinder salad, and tomatoes. Season with salt, pepper, and vinegar.
Tips for Success
Start with good bread. The bread is the foundation of a good sandwich. The texture should be soft yet durable enough to support all the meats and veggies. A few suggestions include French bread, Focaccia, Ciabatta, or rustic spelt sourdough.

Tear out the center of the bread. It will give you a better filling to bread ratio. Of course, only do this if you have thicker bread.

Lay the cheese down first. This is a messy, juicy sandwich. Melting the cheese on the bread will create a barrier for all the juices and help keep the sandwich from turning into a giant sponge.

Serve the sandwich right away. Even with the cheese protecting the bread, eventually, the juices will seep into the bread and make it soggy.

If you are not a fan of mayonnaise, you can marinate the salad in some Italian vinaigrette dressing or use our homemade Greek dressing.

If the onion is too strong, soak the onion slices in cold water for 20 minutes. That will take the 'bite' out of the raw onion.
More Sandwich Recipes
Sandwiches are a favorite go-to for any meal. Whether you're looking for a hearty Reuben sandwich or something quick like our chicken curry sandwich, we have a large selection.
Frequently Asked Questions
Can I make this sandwich gluten-free?
Absolutely. This will work with your favorite gluten-free bread. You will also want to make sure all the sandwich and salad ingredients are certified gluten-free.
Can I make this sandwich vegetarian?
You sure can. You can use vegetarian meat products like Impossible meat or even skip the savory stuff and load the sandwich with extra veggies. The main thing that makes this sandwich is the marinated grinder salad.
Make this hearty Italian grinder sandwich recipe to fuel your next big adventure. Layers of meat and cheese are combined with a zesty, shredded lettuce salad and briny olive tapenade for a flavor-packed meal.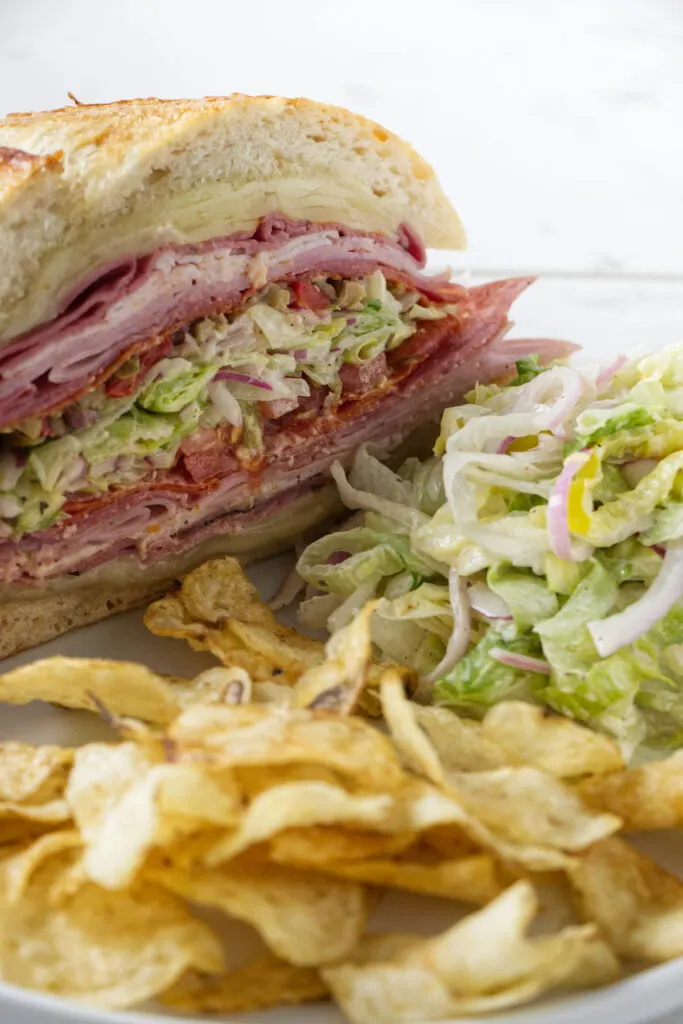 Helpful Tools
Some of the following are affiliate links. If you click on these links and purchase something, we may receive a small commission. You don't pay any extra, but it will help us keep the lights on.
Some Other Recipes We Are Sure You Will Love:
Our tri tip sandwich makes a hearty meal any time of the day. The chipotle aioli has a spicy kick that complements the beefy sandwich.
Our rosemary chicken salad is a spin on a classic flavor and it makes a delicious sandwich. It tastes great on crusty sourdough bread.
Our chicken Caesar sandwich has all the flavors of a Caesar salad in a portable lunch.
Connect With Savor the Best:
Please follow us on our social media accounts
Facebook * Instagram * Pinterest * Youtube * Twitter
Did you make this recipe? We would love to hear from you. Drop us a comment below.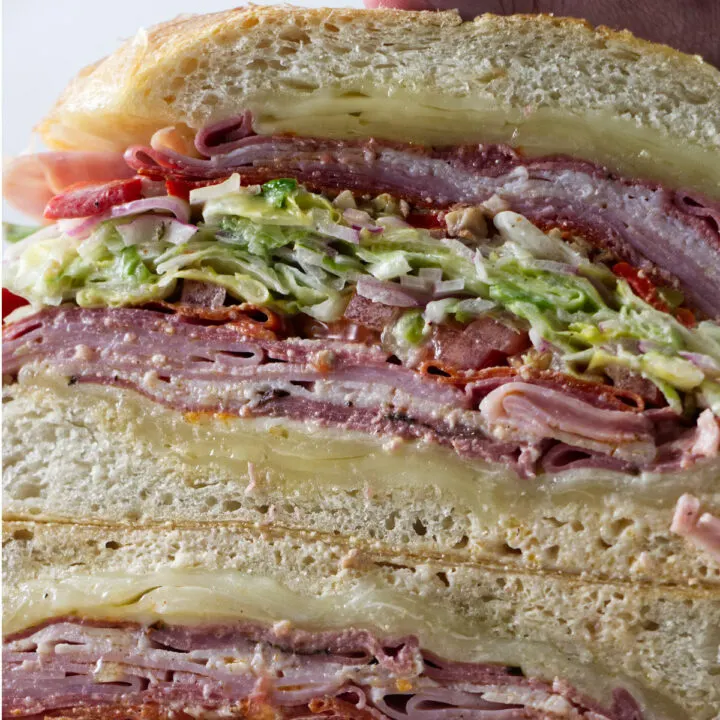 Grinder Salad Sandwich
This Italian grinder sandwich starts with a marinated salad that adds a juicy, tangy crunch to savory Italian meat and cheese.
You can make one large sub sandwich or 4 to 6 smaller sandwiches. You should have enough salad leftover to serve on the side.
Ingredients
Dressing
3/4 cup mayonnaise
1 tablespoons red wine vinegar
1 tablespoon Dijon mustard
2 garlic cloves, finely minced
1 teaspoon dried oregano
1/2 teaspoon salt
1/2 teaspoon pepper
1/4 to 1/2 teaspoon chili flakes
Optional: 1 tablespoon sugar
For the Salad
1 head of Iceberg lettuce
1/4 to 1/2 red onion, finely sliced
1/4 to 1/2 cup sliced Peperoncini or banana peppers
For the Sandwich
4 small ciabatta rolls or 1 large loaf of French bread
4 slices Swiss cheese
4 slices provolone cheese
4 slices Muenster cheese
4 to 6 thin slices of ham
4 to 6 thin slices of turkey
4 to 6 slices pastrami
6 slices of salami
4 ounces sliced pepperoni
1/4 cup freshly grated Parmesan cheese
1/4 cup marinated roasted red peppers
1/4 cup olive tapenade
2 tomatoes, thinly sliced
Instructions
Preheat the oven broiler at high. (You can also use an air fryer if yours is large enough to fit the bread).
The Dressing and Salad
Add the dressing ingredients to a bowl.
Slice the Iceberg lettuce crosswise so it is finely shredded. Add the lettuce to the bowl along with the onion and toss to coat in the dressing. Set aside.
Make the Sandwich
Split the Hoagie rolls or French roll in half and remove the center of the bread so each half is slightly hollowed out.
Place the loaves of bread cut-side up on a baking sheet.
Lay the Swiss, provolone, and Muenster on each side of the bread. Slide the bread under the broiler (or in an air fryer) and broil for 2 to 3 minutes until the cheese melts. Keep an eye on the bread. If your broiler does not cook evenly, you may need to rotate the baking sheet half way through the cooking time.
Remove from the broiler and top each side with the meat. Sprinkle Parmesan cheese over the meat and slide the whole thing under the broiler again. Cook for about 1 to 2 minutes to heat the meat and melt the Parmesan cheese.
Remove from the oven and top with roasted red peppers, olives, a heaping pile of the lettuce, and the sliced tomatoes.
Sprinkle the tomatoes with a dash of red wine vinegar, salt, and pepper.
Slice and serve with remaining salad.
Notes
If you let the salad marinate in the dressing while you make the sandwich, it will release a lot of juices and make the sandwich pretty messy.
Melting the cheese on the bread before building the sandwich will protect the bread from getting soggy.
If you want a less messy, drippy sandwich, do not toss the lettuce with the dressing. You can drizzle the dressing on the sandwich just prior to serving.
If you use a whole head of lettuce, you will have enough salad leftover to serve next to the sandwich.
Substitute the cheese and meats for whatever you have on hand. Try to choose cheese that will melt easily.
Nutrition Information:
Yield:

6
Serving Size:

1
Amount Per Serving:
Calories:

896
Total Fat:

64g
Saturated Fat:

22g
Trans Fat:

1g
Unsaturated Fat:

37g
Cholesterol:

191mg
Sodium:

2605mg
Carbohydrates:

25g
Fiber:

4g
Sugar:

9g
Protein:

56g
Nutrition information is a guideline only, is calculated automatically by third-party software, and absolute accuracy is not guaranteed.
Here is our Web Story.