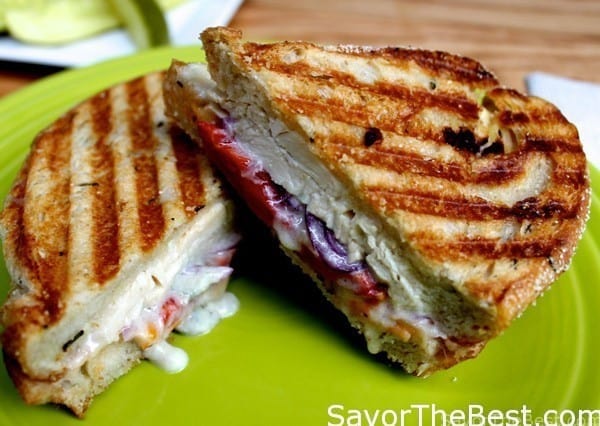 There was a quaint little restaurant in a nearby town called The Magnolia Cafe and they had the best panini sandwiches! I say 'was' because it is no more. Too sad, because it was one of my favorite lunch spots. When it comes to panini sandwiches the ideas are endless and extend only to the limits of your imagination. They can be a simple and quick lunch or a more elaborate entree for a main course.
Several years ago when my favorite lunch stop disappeared, I purchased a panini press on sale for about $35 so I could make my own panini sandwiches. Before I purchased the press I had been using a cast iron skillet-grill and a plate on top of the sandwich for a little weight. I know that sounds weird but it worked.
Our two grandsons, Aidan and Travis would often visit in the summer and help with the yard work and wood splitting projects. They loved those panini sandwiches! They would work up a good appetite outside and devour a couple sandwichs apiece. And usually with a bowl of soup! Young growing teenagers!
This chicken panini sandwich is easy and fast. It was Sunday afternoon and lunch time at our house, I had some leftover chicken in my refrigerator and I spotted a jar of peppers and just started putting it together. A dense, thick sliced bread is best for panini sandwiches as a soft bread gets smashed with the press.
I like sourdough bread, ciabattas or those tortas sandwich rolls that Costco sells. So many choices are available and it is fun to get creative with something new. It is really tempting to load up the bread with a lot of chicken but I found that more than 3 or 4 ounces on a sandwich and it is too much and becomes a challenge to eat.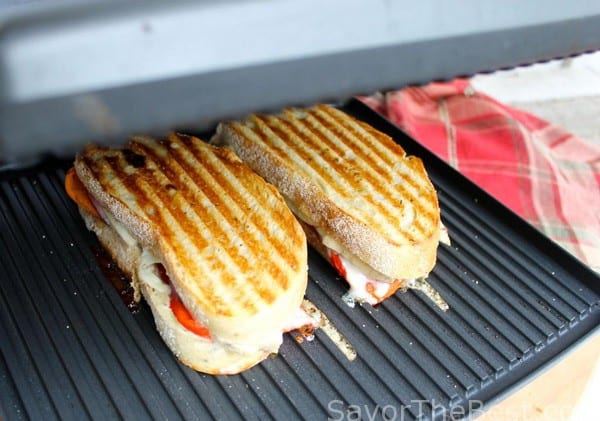 SOME OTHER RECIPES WE ARE SURE YOU WILL LOVE:
Grilled Lamb Kofta Kabob Sandwiches
CONNECT WITH SAVOR THE BEST!
Be sure to follow us on our social media accounts
Facebook | Twitter | Youtube | Pinterest | Instagram
If you make one of our recipes, snap a photo and tag it @savorthebest on Instagram and hashtag it #savorthebest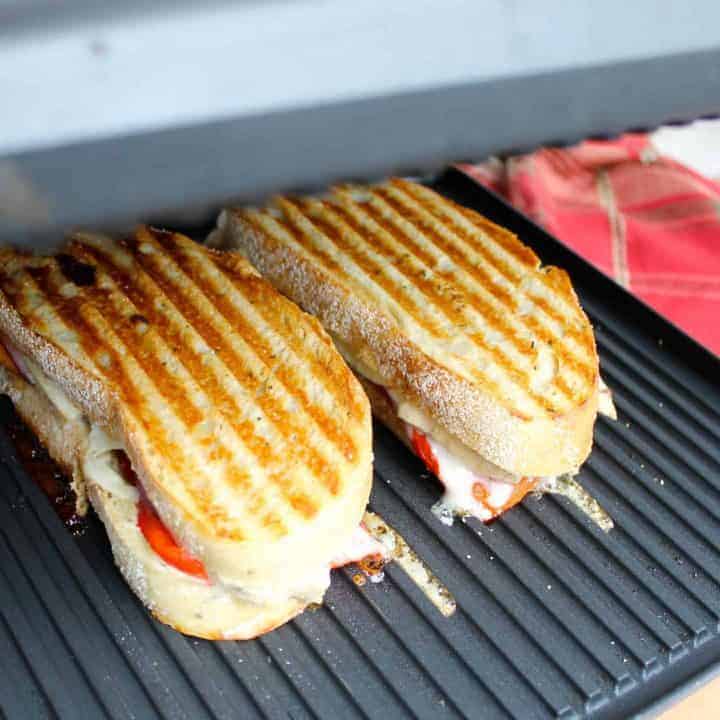 Chicken And Blue Cheese Panini
Yield: 4 servings
Prep Time: 20 minutes
Cook Time: 5 minutes
Total Time: 25 minutes
Savory and oozing with creamy blue cheese, this panini is full of flavor with chicken, onion, roasted peppers and crunchy sourdough bread.
Ingredients
2 tablespoons mayonnaise
1/4 cup dijon mustard
1 teaspoon lemon juice
12 ounces chicken breasts, cooked
8 slices of sour dough bread, sliced 1/2 - 3/4 inch thick
4 ounces blue cheese, sliced or crumbled
4 slices red onion
4 large red and yellow grilled preserved peppers
Instructions
Preheat the panini press to 350° or medium-high depending on the type of grill you have.
In a small dish mix the mayonnaise, mustard and lemon juice together and set aside.
Slice the chicken breasts as thin as possible, slice the cheese, and onion. Place the peppers on a small plate lined with paper towels and pat the liquid off of them.
Spread each slice of bread with 2 teaspoons of the dijon mayonnaise and arrange the chicken, cheese, onion and peppers on four of the slices of bread. Add the second bread slice on top and place in the heated panini press. Cook for 5 minutes or until cheese is just beginning to ooze out the edges and the bread is golden and crisp. Transfer to a cutting board, cut in half and put two halves on each of four plates and serve.
Nutrition Information:
Yield: 4
Serving Size: 1 sandwich
Amount Per Serving:
Calories: 457
Total Fat: 16g
Cholesterol: 92mg
Sodium: 780mg
Carbohydrates: 40g
Fiber: 2g
Protein: 38g