This Chicken and Blue Cheese Panini recipe hits all the right notes with toasty bread, tender chicken, sweet, smokey roasted peppers, and gooey melted cheese. Plus, it's easy to make and comes together in under 20 minutes. It's also a fantastic way to repurpose leftover chicken, so you're being budget-friendly and minimizing waste.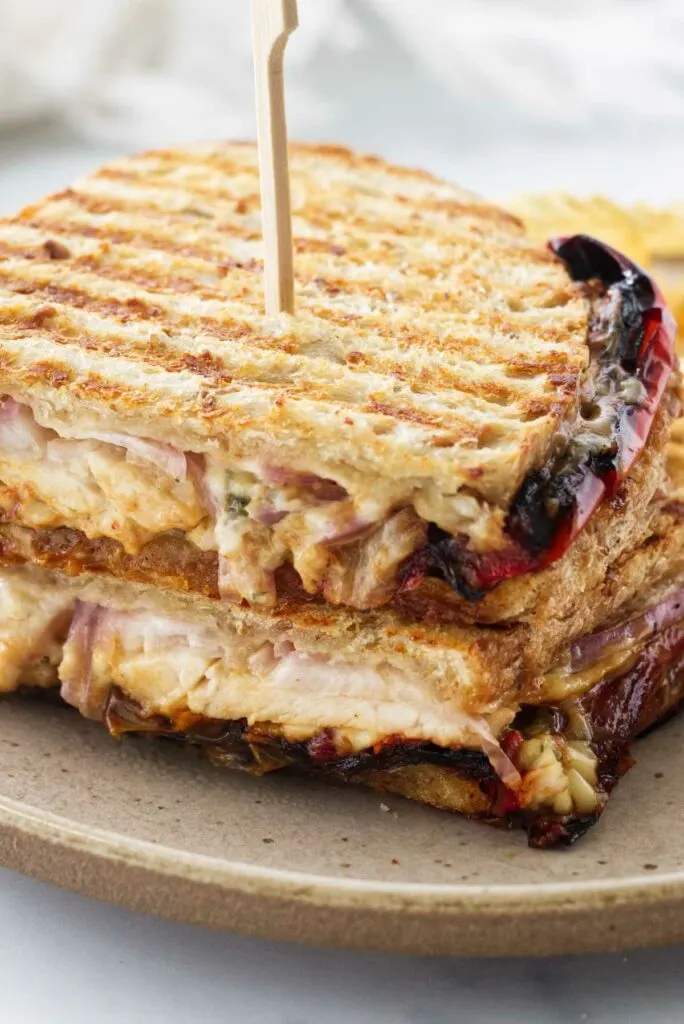 Whether you're new to the panini game or a seasoned grill master, this Chicken and Blue Cheese Panini has a little something for everyone.
Here is Why This Sandwich Recipe Works
The mayonnaise-dijon blend offers a tangy kick, balanced perfectly by the boldness of blue cheese.
The red onion and grilled peppers bring a subtle sweetness, while the melted blue cheese provides a savory, indulgent creaminess.
The panini press gives the bread an unbeatable crunch, and of course, it helps melt all of that cheese that melds the flavors.
Finally, this dish is super flexible. Swap out chicken for turkey or beef, experiment with different types of cheeses or condiments, and add any grilled veggies you'd like. The combinations are endless!
The Ingredients for Chicken and Cheese Panini Sandwich
Here is a list of the ingredients you will need for this recipe. Scroll down to the printable recipe card for all the details.
Pantry: Mayonnaise, Dijon mustard, sourdough bread, preserved roasted peppers.
Produce: Lemon juice, red onion.
Meat: Chicken breasts, cooked
Fridge: Blue cheese,
Substitutions
Swap out the sourdough for whole-grain or gluten-free bread.
If blue cheese isn't your cup of tea (or slice of cheese), try gouda, mozzarella, or even a smoked cheddar.
Instead of the mayo-mustard blend, try pesto or a spicy sriracha mayo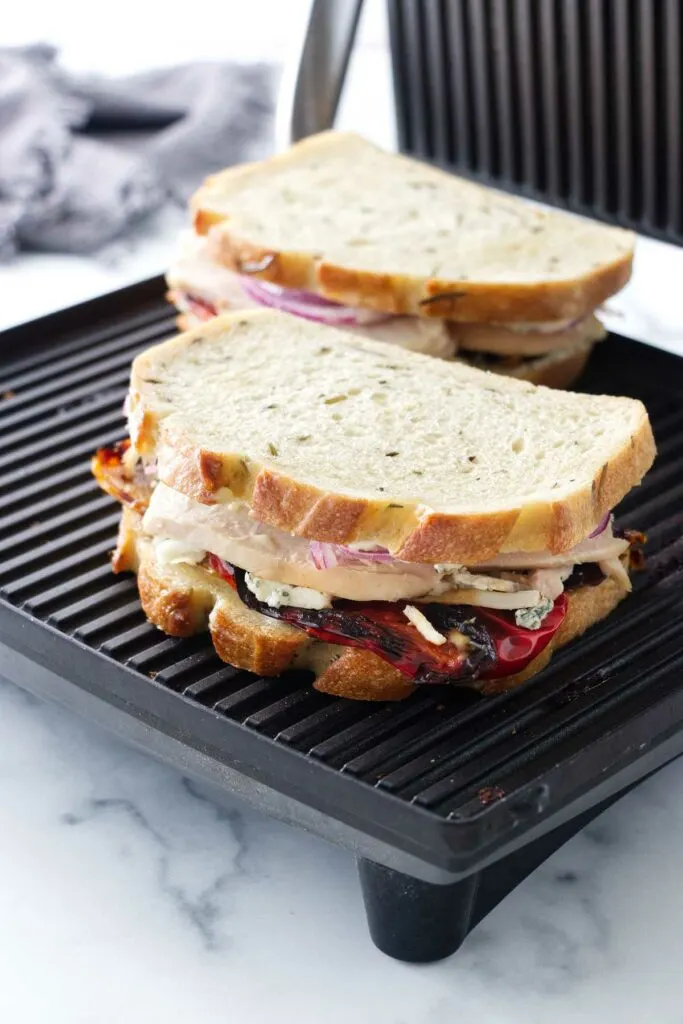 How to Make A Crispy Chicken and Cheese Panini
Here is a brief overview to get an idea of what to expect with the recipe. Scroll down to the printable recipe card for all the details.
Prep: Heat panini press to 350°. Mix the mayo/Dijon spread. Slice the chicken, cheese, and red onion. Pat the jarred peppers dry.
Assemble: Spread Dijon mayo on the sourdough. Layer with chicken, cheese, onion, and peppers. Top with the remaining bread slices.
Cook: Place sandwiches in the panini press until the cheese melts and the bread gets golden brown and crisp.
Variations
BBQ Chicken & Cheddar Panini
Swap blue cheese for sharp cheddar. Replace the dijon spread with BBQ sauce.
Turkey and Cranberry Panini
Use turkey slices instead of chicken. Swap the mayo for cranberry sauce and replace the roasted peppers with a few slices of fresh apple for tartness.
Mediterranean Veggie Loaded Panini
Add sliced, grilled zucchini and eggplant, and switch blue cheese to feta.
Spicy Buffalo Chicken Panini
Use a Buffalo sauce mixed with a touch of ranch instead of the dijon mayo. Add some sliced jalapeños for extra heat.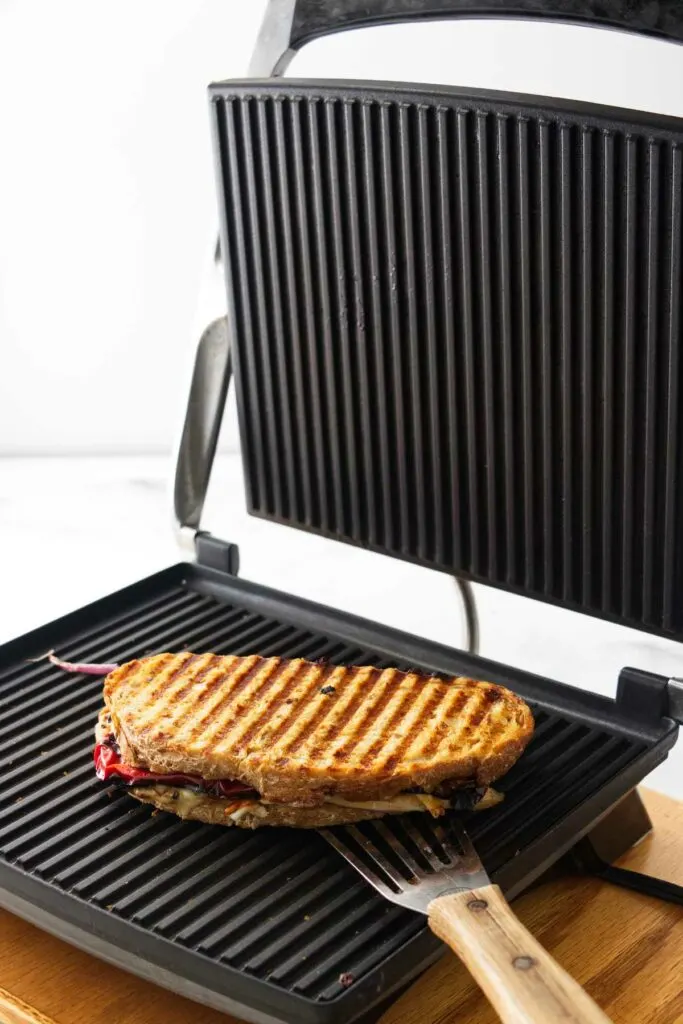 Tips for Success
Use some oil. Brush or spray a bit of olive oil over the outside of the panini before cooking.
Make thin slices. Slice the cheese and onion thin so they cook evenly and quickly.
Don't Overstuff the sandwich. It's tempting to load up, but too many fillings can make your panini fall apart. Plus, it might not cook evenly.
Pre-Heat the Panini Press. Always allow your panini press to fully heat up before adding the sandwich. It ensures crispy, golden bread.
Serving Suggestions
Pair this panini with your favorite side salad, chips, and a glass of hibiscus lemonade for the perfect lunch! Here are some more suggestions to serve with the sandwich.
Storage and Reheating
In the fridge: Place the panini in an airtight container and store it in the fridge for up to 4 days.
In the freezer: Keep the sandwich in a freezer-proof bag. Label it and freeze it for up to 3 months.
Reheating: Wrap the cold sandwich in foil (to prevent it from drying out) and heat in a pre-heated 350°F oven or air fryer until warmed through.
More Sandwich Recipes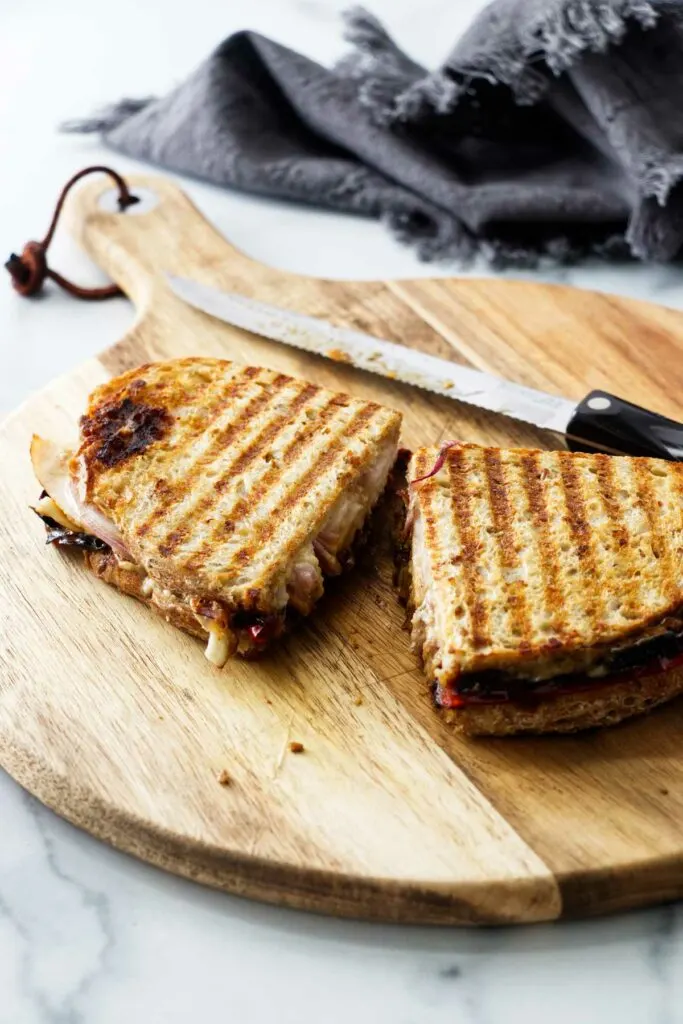 Frequently Asked Questions
What kind of chicken should I use?
Both grilled and roasted chicken work well. You can even use rotisserie chicken if you're short on time.
What's the best bread for a panini?
Hearty, rustic breads like sourdough, ciabatta, or focaccia work great because they're sturdy and crisp up nicely.
Can I make this panini without a panini press?
Definitely! You can use a skillet and press down the sandwich with another heavy pan or even a brick wrapped in foil.
This chicken and blue cheese panini is a delicious twist on the classic Italian sandwich. It's easy to make, versatile enough for any occasion, and you can customize it with your favorite ingredients! Plus, it reheats nicely, so you can enjoy it at any time!
Helpful Tools
Some of the following are affiliate links. We may receive a small commission if you click on these links and purchase something. You don't pay any extra, but it will help us keep the lights on.
More Recipes You Will Love: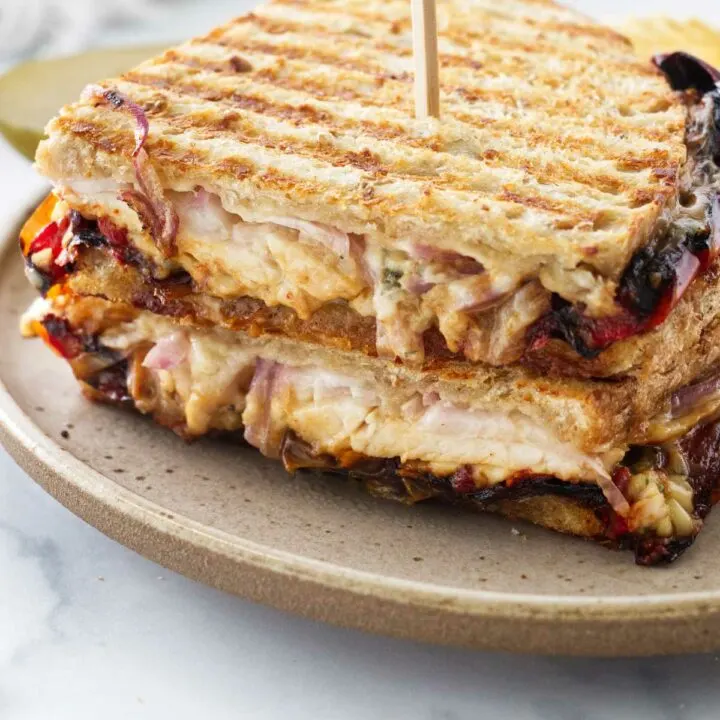 Chicken And Blue Cheese Panini
Savory and oozing with creamy blue cheese, this panini is full of flavor with chicken, onion, roasted peppers and crunchy sourdough bread.
Ingredients
1/4 cup mayonnaise
1/4 cup dijon mustard
1 teaspoon lemon juice
12 ounces chicken breasts, cooked
8 slices of sourdough bread
4 ounces blue cheese, sliced or crumbled
4 slices red onion
4 large roasted, preserved peppers from a jar
Instructions
Preheat the panini press to 350° or medium-high, depending on the type of grill you have.
In a small dish, mix the mayonnaise, mustard, and lemon juice together and set aside.
Slice the chicken breasts as thin as possible, slice the cheese and onion. Place the peppers on a small plate lined with paper towels and pat the liquid off of them.
Spread each slice of bread with the mayo mixture and arrange the chicken, cheese, onion, and peppers on four of the slices of bread. Add the second bread slice on top and place in the heated panini press.
Cook for 5 minutes or until the cheese melts and the bread is golden and crisp. Transfer to a cutting board, cut in half, and serve.
Recommended Products
As an Amazon Associate and member of other affiliate programs, I earn from qualifying purchases.
Nutrition Information:
Yield:

4
Serving Size:

1 sandwich
Amount Per Serving:
Calories:

457
Total Fat:

16g
Cholesterol:

92mg
Sodium:

780mg
Carbohydrates:

40g
Fiber:

2g
Protein:

38g