We are taking advantage of the blackberry season in a recipe for fresh blackberry-feta salad with mache blend greens. This is truly a summer time salad that is worth the effort and thorn pricks of picking the fresh blackberries.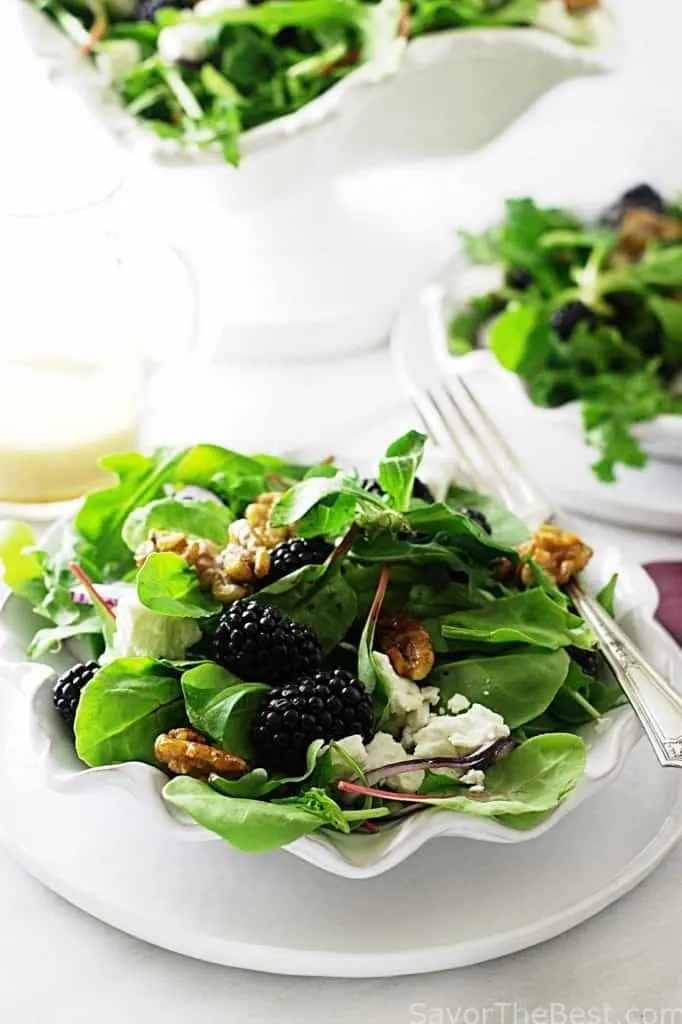 This is a simple and refreshing salad with big, plump, juicy blackberries combined with a mache blend of greens, creamy feta cheese and spicy red onion rings.
We tossed our blackberry-feta mache salad with a simple sherry vinaigrette that has a bit of honey to compliment the sweetness of the blackberries and the mache in the greens. The salad is topped off with sweet, crunchy glazed walnuts.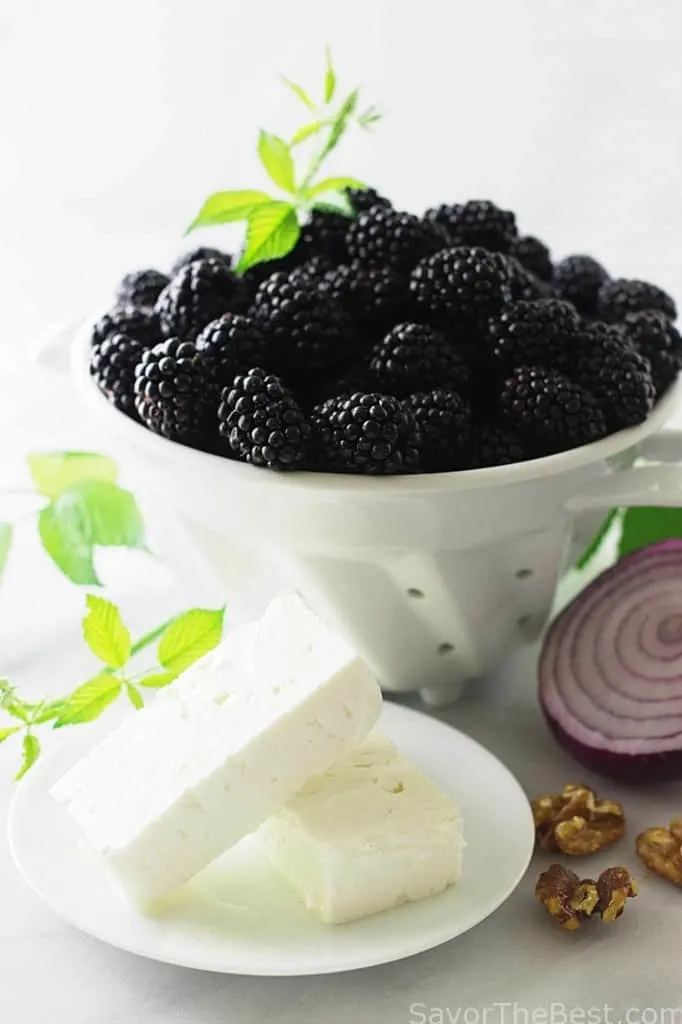 Are you familiar with mache? It is a gourmet lettuce that can be pricey by itself but I have found the blended version at a more reasonable cost. It is usually found in the packaged salad mixes and available in most produce areas of the grocery stores.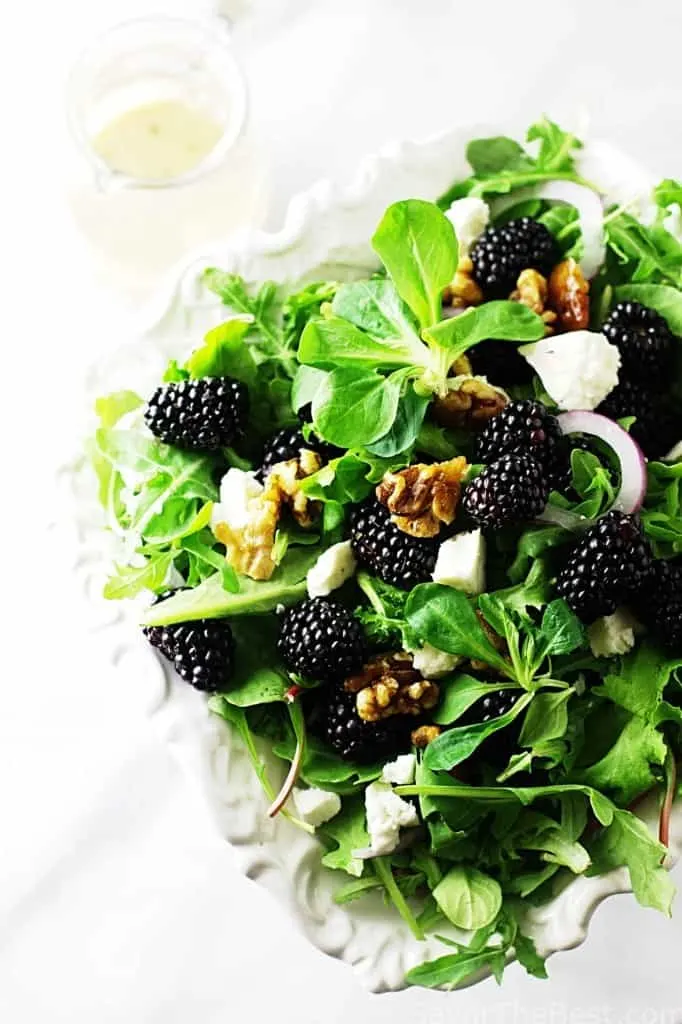 Mache lettuce is native to France and is becoming more well known in America. Fine dining restaurants are now including mache in their salad menus.
This delicate salad green is very nutrient-dense. Mache is also known as corn lettuce or sheep lettuce and it grows in small, delicate rosette-type bunches. The little rosettes have a mild flavor and they look really pretty in a salad as well as tasting delicious.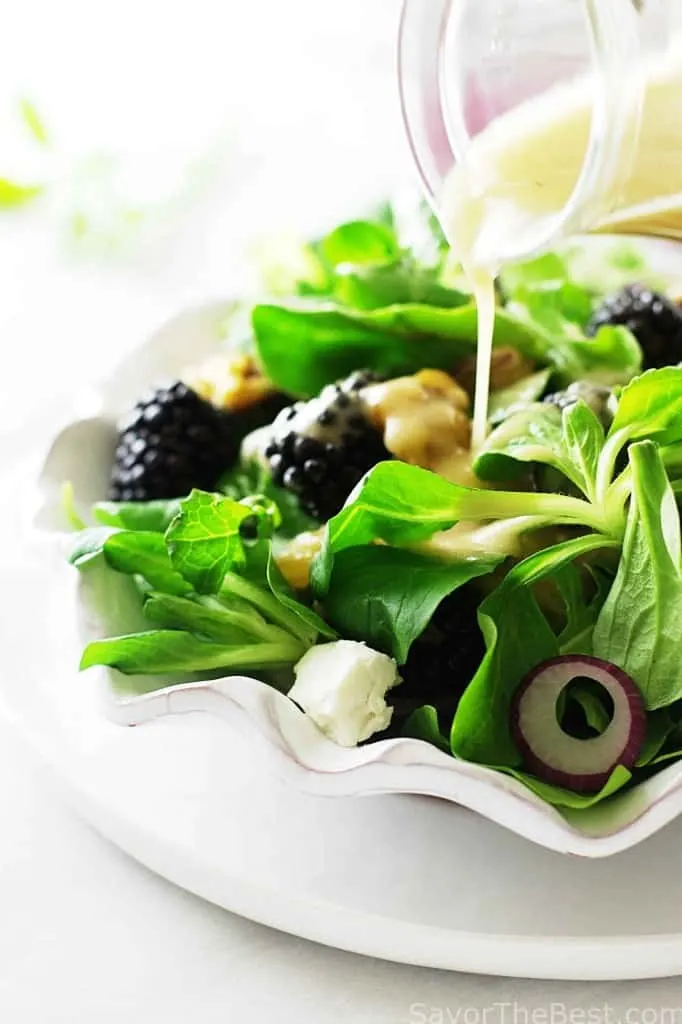 The plump, sweet blackberries are a favorite in our house. Our property has a lot of wild blackberries which is not always a good thing. They can be a gardener's challenge if left untended as they will just keep spreading to creep over into areas where you do not want them.
Blackberries are abundant in Washington State and we have been blessed with a heavy growth of them growing wild at the edge of our backyard.
In past summers, Don would take his paper bag and long stick out to the wild blackberry vines and do the picking. We have a deal, he does the picking and I make the pie. He used the long stick to push the stickery vines back so he could pluck out the juicy berries without getting too many stickers. Through the years we have had many good tasting pies, cobblers and jams from our blackberries.
Blackberries are low in fat, high in fiber and very nutrient dense. Like most berries they have many health attributes for our bods. Blackberries grow abundantly in the Pacific Northwest, particularly in the Olympic Peninsula. They can be found growing wild along the roadsides and in wooded areas and it is not unusual to see people stopping along the road to pick a few.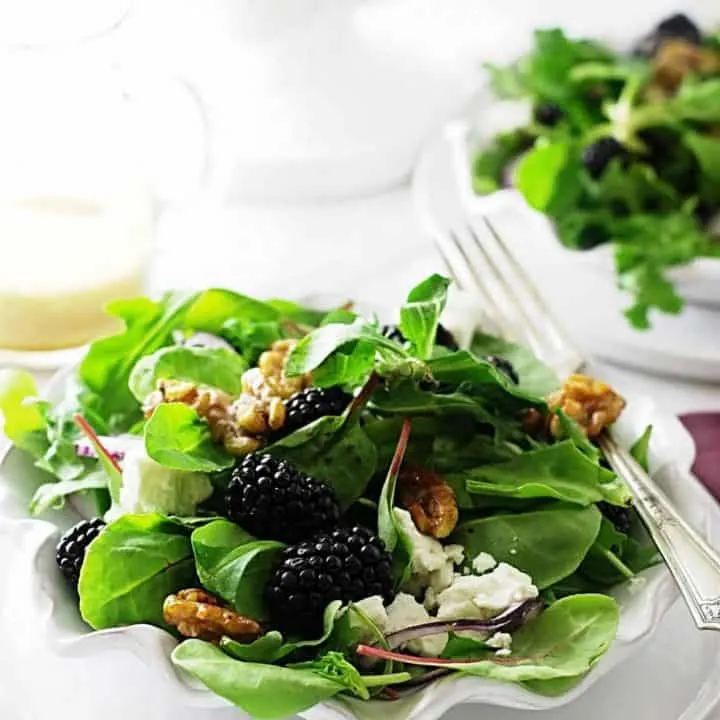 Blackberry-Feta Salad with Mache
A refreshing salad with plump, juicy blackberries, a mache blend of greens, creamy feta cheese and spicy red onion rings. Tossed with a sherry vinaigrette.
Ingredients
For the Glazed Walnuts:
1/2 cup granulated sugar
2 tablespoons butter
2 cups walnuts
1/4 teaspoon kosher salt
For the Sherry Vinaigrette:
1/3 cup sherry vineger
1 garlic clove, minced or grated
1/3 teaspoon sea salt
1/8 teaspoon freshly ground black pepper
1 tablespoon honey
1/2 cup olive oil
For the Salad:
3 1/2 Container Mache blend salad greens
1 pint fresh blackberries
4 ounces feta cheese
1/2 red onion sliced very thinly
1 cup glazed walnuts
Instructions
For the Glazed Walnuts:
To a heavy-bottomed skillet or pan, set over medium heat, add the sugar, butter and walnuts. Stir occasionally until the sugar begins to melt, then stir constantly as the sugar begins to caramelize and the nuts become toasted, about 5-6 minutes. Be quick as it will burn in a heartbeat if you are not careful. Remove from the heat and transfer the nuts to the prepared parchment paper. Using two dinner forks, quickly separate any nuts that are stuck together. While the nuts are still hot and sticky sprinkle them with the kosher salt. Allow to cool, then transfer to a dish until ready to use.
For the Sherry Vinaigrette:
Add the vinegar, garlic, salt, pepper and honey to a small dish or blender. Whisk or blend to fully combine. Slowly drizzle in the olive oil while continuing to whisk, or if using the blender while the motor is running. The vinaigrette will emulsify and become thick and creamy. Transfer to a small pitcher.
In a large salad bowl, toss the salad greens, blackberries, feta cheese and onion slices with just enough of the vinaigrette to moisten the greens. Top with the glazed walnuts and serve.
Alternatively, toss the salad greens, blackberries, feta cheese and onion slices together, divide into 4 chilled salad plates, top with glazed walnuts and pass the pitcher of vinaigrette to guests.
Nutrition Information:
Yield:

4
Serving Size:

1
Amount Per Serving:
Calories:

234
Total Fat:

19g
Carbohydrates:

23g
Fiber:

5g
Sugar:

15g
Protein:

7g