This chicken banh mi sandwich has everything your taste buds could want–it's sweet, spicy, tangy and crunchy all at once! The contrast of flavors and textures is insanely good. And the best part? It can be on the table in under 30 minutes. You'll never go back to boring sandwiches again after trying this one-of-a-kind dish.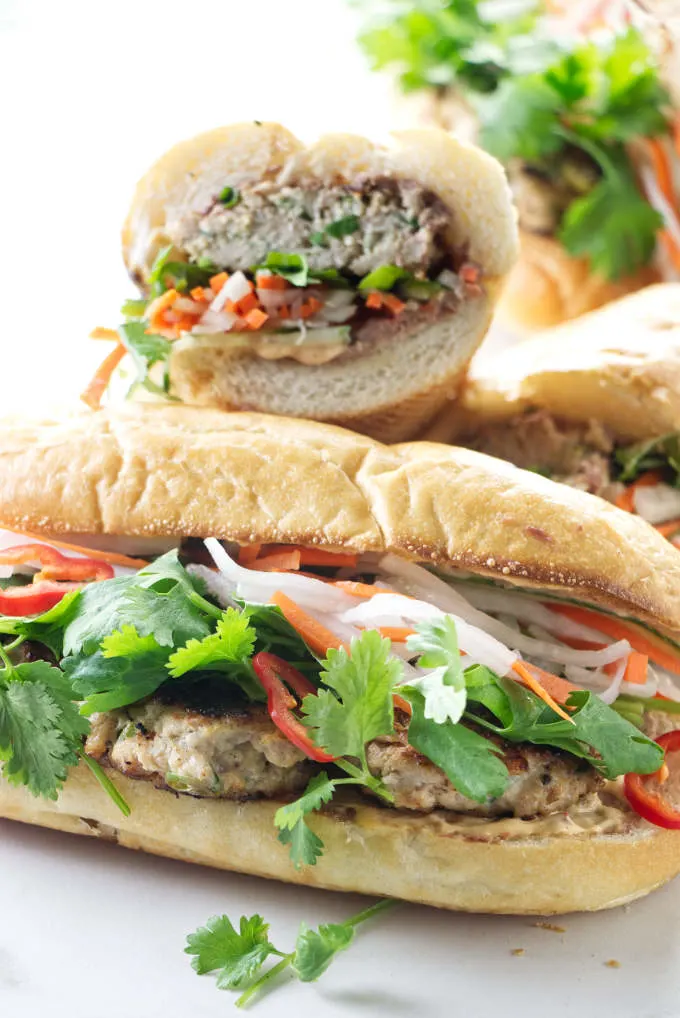 Since Seattle has a large Vietnamese population, real Vietnamese cuisine is easy to come by. We find some amazing dishes like beef pho and some of the best banh mi sandwiches. Every street vendor makes their own version of banh mi, but they all include plenty of crisp, pickled vegetables.
If you are looking for more hearty sandwiches that make a fantastic meal, you will love our tri tip sandwich, our hot meatloaf sandwich or our chicken curry sandwich.
What is a Banh Mi?
Banh mi (pronounced "bun mee") actually means bread in Vietnamese but this recipe is so much more than bread.
Banh mi is a popular Vietnamese sandwich that has been around since France colonized Vietnam in the 1800s. The traditional banh mi is made with shredded pork, pate, and pickled vegetables. The whole thing is served on a baguette that has been toasted until it becomes crusty on the outside but remains soft and light on the inside.
Banh mi is typically served on a light, crispy Vietnamese-style baguette. It isn't difficult to find the bread in an Asian grocery store, however, a traditional French baguette works just as well here.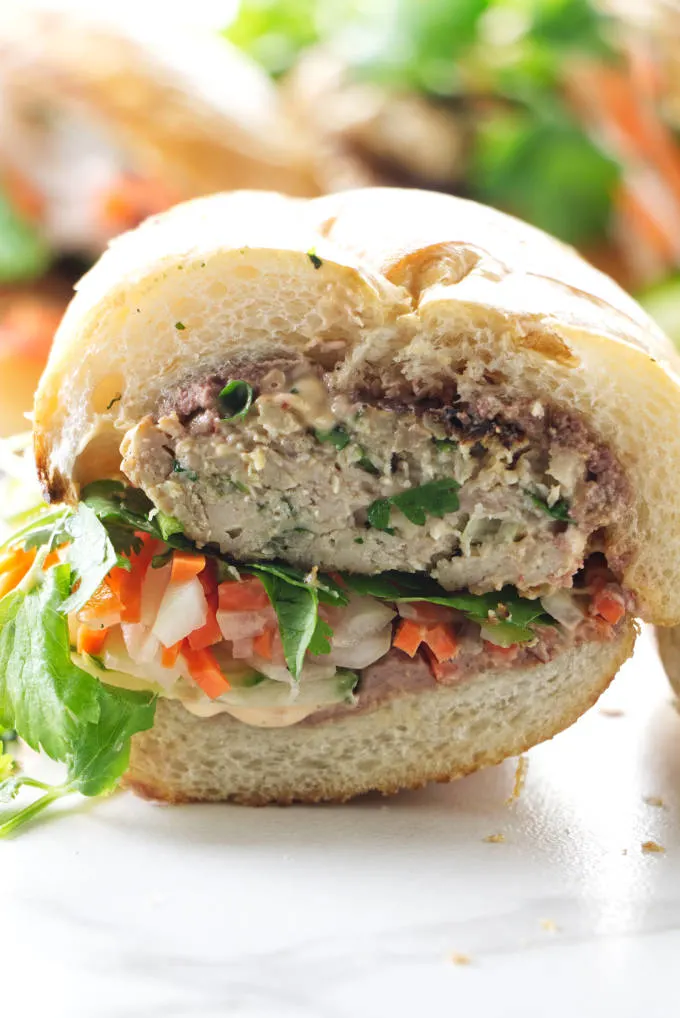 Chicken Meatball Banh Mi:
This easy-to-prepare recipe swaps the traditional protein for seasoned chicken meatballs and incorporates all the same flavors of the original dish.
Because it is made with ground chicken, this banh mi sandwich has fewer calories than many other banh mi sandwiches but it doesn't skimp on flavor.
You can omit the chicken pate if you want to save even more calories, but a light coat of chili mayo is essential for the authentic street food flavor.
If you don't want to make the meatballs you can make this sandwich with grilled chicken or leftover rotisserie chicken.
The Ingredients:
Don't let the long ingredient list intimidate you. This is an easy recipe and you can make the components ahead of time. Make sure you scroll down to the printable recipe card for all the details.
For the Chili Mayonnaise: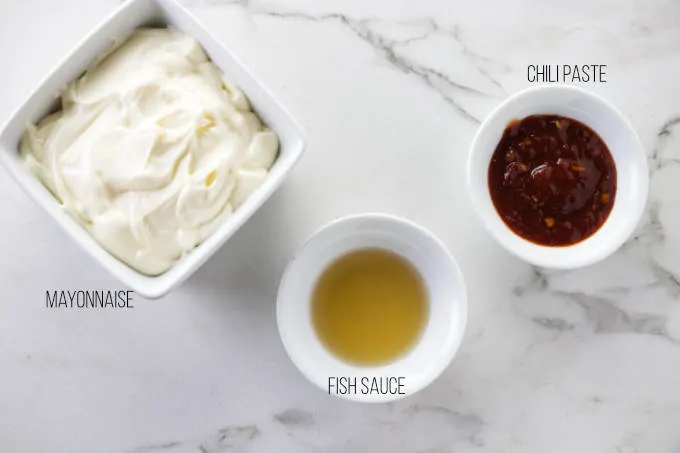 For the Pickled Vegetables:
Vinegar. We used rice wine vinegar but you can also use regular white vinegar.
Water.
Sugar. Regular granulated sugar.
Salt. Plain table salt
Carrots. Sliced into matchstick shapes.
Daikon radish. A daikon radish looks like a large, white carrot and tastes similar to a red radish but it is milder in flavor.
Onion. We used a sweet white onion.
Jalapeño or red chili pepper. Remove the white membrane and the seeds so the peppers are not too hot.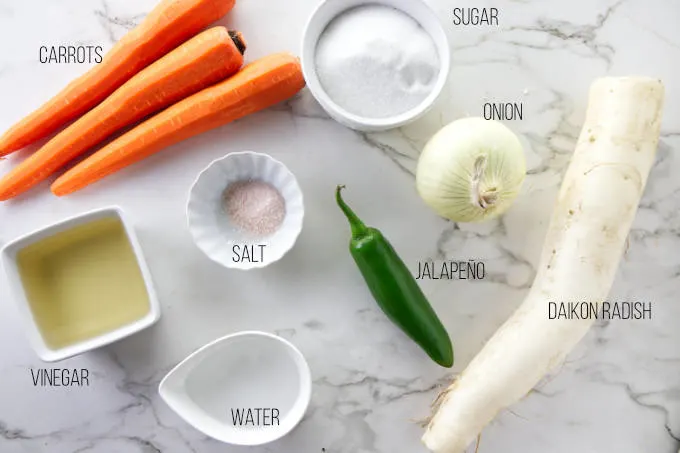 For the Chicken Meatballs:
Ground chicken. Ground chicken makes these sandwiches leaner and healthier than most banh mi sandwiches.
Green onions. Also known as scallions.
Garlic. Fresh garlic will add more flavor than dried garlic.
Fish sauce. This fermented sauce has a funky smell but it makes the chicken meatballs taste amazing.
Cilantro. If cilantro isn't your thing, you can substitute with parsley.
Fresh ginger. Did you know you can freeze your fresh ginger root. That will make it last longer and it also makes it much easier to grate.
Honey.
Sesame oil. Try to find toasted sesame oil which has more flavor than regular sesame oil.
Lime. Zest the lime before you juice it.
Salt and pepper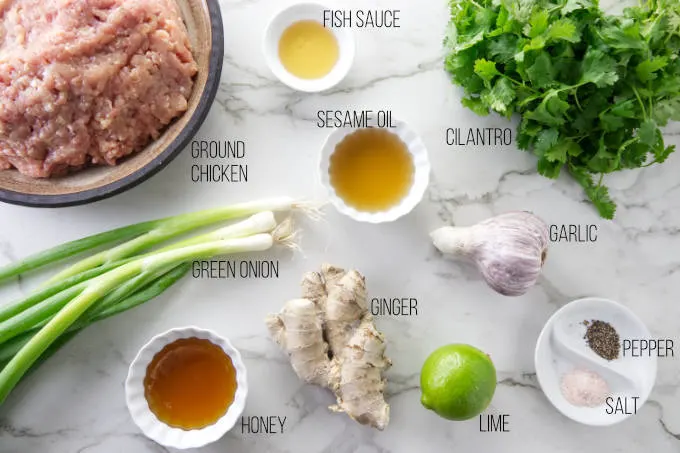 To Assemble the Banh Mi Sandwiches:
Sandwich rolls. Try to get French or Vietnamese style baguettes. They are crisp on the outside and soft on the inside.
Chicken pate. The chicken pate gives the sandwich an ultra rich flavor
Cilantro. If you can't eat cilantro sub it with parsley.
Cucumber. Slice it thinly.
Maggi seasoning or soy sauce. Maggi seasoning is what my favorite street vender uses but you can substitute with soy sauce (they taste very similar). A dash of Maggi or soy sauce will add extra umami flavor.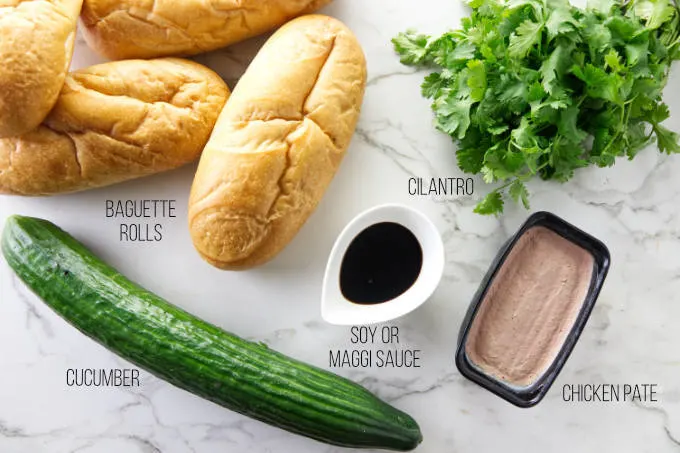 How to Make the Sandwich
This banh mi chicken meatball sandwich is easy to make, especially if you prep all the components ahead of time. Here is a brief overview but scroll down to the printable recipe card for all the details.
Make the chili mayonnaise.
Pickle the vegetables.
Combine the chicken meatball mixture and cook the meatballs in a skillet.
Toast the baguette rolls.
Layer on all the fillings.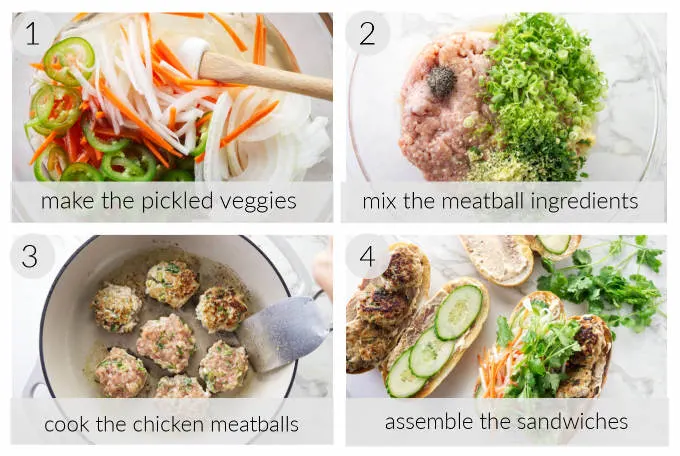 Tips for a Great Chicken Banh Mi
There are a few things that can up your game for this Vietnamese chicken sandwich.
Don't skip the fish sauce. It adds a bit of culinary magic and umami flavor.
Toast the baguette, it adds extra crunch and texture.
Let the vegetables pickle in the brine for a minimum of 20 minutes but longer if you have time. The pickled veggies are so essential to these sandwiches.
This recipe makes enough for eight sandwiches. If you are not feeding a large group, you can scale the recipe down or just leave the components separate and have sandwich fixings all week.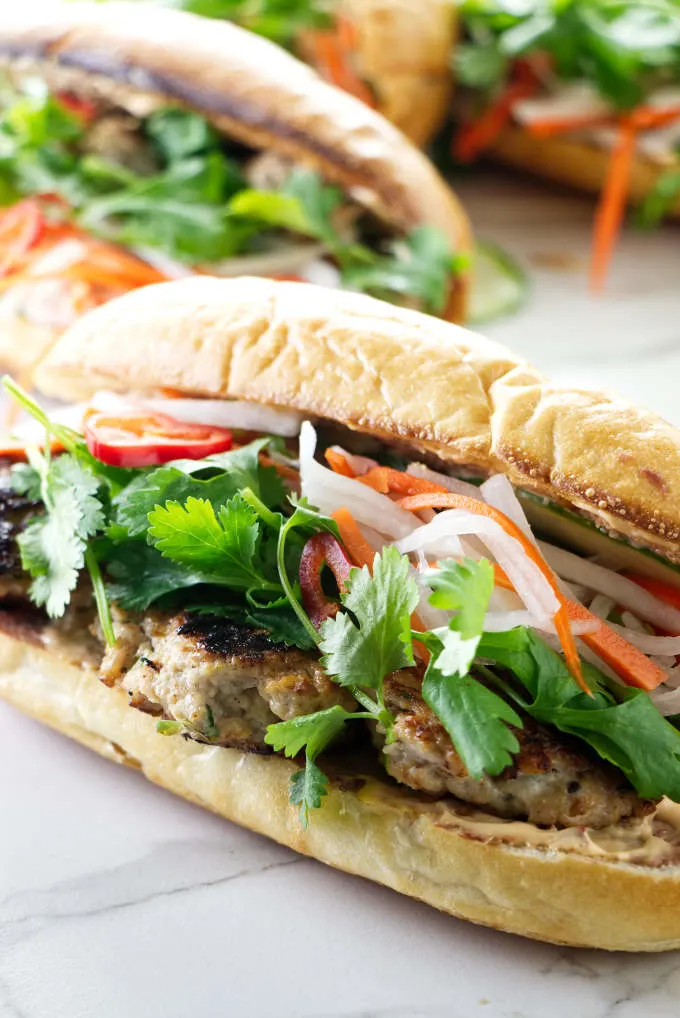 Frequently Asked Questions:
How many calories are in banh mi?
It really depends on what kind of banh mi you make and which fixings you add to the sandwich. Our chicken banh mi sandwich has just under 500 calories. If you add extra mayo and chicken pate, the calorie count will skyrocket.
What is the paste in a banh mi sandwich?
The paste you see in many banh mi sandwiches is pate. It is a smooth and creamy meat spread that adds a lot of richness and flavor to the sandwich.
Some Other Recipes We Are Sure You Will Love:
One of Thailand's most popular street foods is Thai Pork Satay! Meat skewers with marinated pork are strung together and roasted over hot coals. We served this satay with a spicy peanut sauce.
Kimchee (also spelled kimchi) is a traditional Korean dish made with fermented vegetables such cabbage, daikon radish, and scallions, as well as kochukaru, a spicy hot pepper. It goes well with so many dishes like kimchi fried rice, kimchi pancakes, our kimchi slaw, and even tastes great in sandwiches.
Korean-Style Pork Ribs with a spicy marinade that caramelizes into a sticky deliciousness. These ribs are slow-cooked in the oven and finished on the grill.
Connect With Savor the Best:
Please follow us on our social media accounts
Facebook * Instagram * Pinterest * Youtube * Twitter
Did you make this recipe? We would love to hear from you. Drop us a comment below.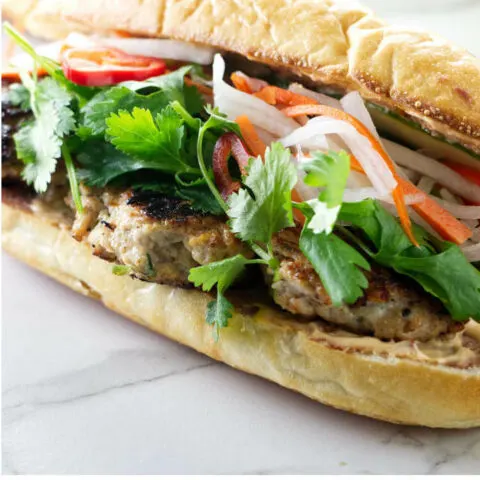 Chicken Banh Mi Sandwich
Sweet, spicy pickled vegetables contrast with juicy, well-seasoned ground chicken for an incredible Vietnamese chicken sandwich that tastes like authentic street food.
Ingredients
Chile Mayonnaise:
1 cup mayonnaise
2 tablespoon chili paste
2 teaspoons fish sauce
Pickled Veggies
3/4 cup rice wine vinegar
¼ cup water
3/4 cup granulated sugar
1 teaspoon salt
3 carrots, sliced into matchsticks or coarsely shredded
1 small daikon radish, sliced into matchsticks
1 onion thinly sliced
1 jalapeno pepper or red chili pepper (optional), seeds removed, and thinly sliced
Seasoned Chicken Patties:
2 pounds ground chicken
3 green onions, finely chopped
3 garlic cloves, minced
3 tablespoons fish sauce
3 tablespoons chopped cilantro leaves
2 tablespoon minced fresh ginger
2 tablespoons honey
2 teaspoons toasted sesame oil
zest and juice of one lime
1 teaspoon salt
1/2 teaspoon freshly ground black pepper
To Assemble the Banh Mi:
8 French baguette rolls, sliced in half horizontally then toasted
3 to 4 ounces chicken pate (optional but recommended)
fresh cilantro leaves
1 English cucumber thinly sliced
Optional: Maggi seasoning or soy sauce
Instructions
Chile Mayonnaise:
Combine the mayonnaise, chili paste and fish sauce in a small bowl. Cover and refrigerate until ready to use.
Pickled Slaw:
Place the vinegar, sugar, and salt in a small, saucepan over medium heat. Cook until the sugar and salt have dissolved. Remove from the heat and let cool to room temperature. Add the carrots, daikon, onion, and jalapeno or red chili pepper (if using). Stir to coat them in the vinegar mixture.
Let sit for 20 to 30 minutes to marinate or make a day ahead and store covered in the refrigerator until ready to assemble the sandwiches.
Banh Mi Chicken Meatballs:
Place all of the ingredients for the chicken meatballs in a large bowl and stir gently to combine.
Pre-heat a skillet over medium-high heat.
Form meatballs by rolling 1 to 2 tablespoons of the meat mixture into a ball. Shape Transfer the meatballs to the pre-heated skillet. Cook for 3 to 4 minutes until browned then transfer to a plate. You may need to cook the meatballs in batches.

Assemble the Chicken Banh Mi
Slice the baguettes in half then toast them on the hot skillet or in the oven under a broiler for 1 to 2 minutes.
Spread some chicken pate (if using) on one side of each roll then spread some chili mayonnaise on both sides.
Place 2 chicken patties in each roll. Top with some of the pickled veggies, cucumber slices, and cilantro leaves.
For extra umami flavor, drizzle about 1/2 teaspoon of Maggi seasoning or soy sauce over each sandwich.
Notes
The pickled veggies can be made a day or two ahead of time and left to marinate in the refrigerator until you are ready to make your sandwiches.
You can also make the chili mayonnaise and meatballs in advance. You can serve the sandwich with hot or cold meatballs.
If you want to eat the Banh Mi while the meatballs are hot, serve the sandwiches immediately after you assemble them, otherwise, the hot meatballs will melt the mayonnaise and soften the veggies. For a cold Banh Mi sandwich, let the meatballs cool down completely and assemble them 2 to 3 hours in advance.
Nutrition Information:
Yield:

8
Serving Size:

1
Amount Per Serving:
Calories:

480
Total Fat:

20g
Sodium:

1515mg
Carbohydrates:

37g
Protein:

34g