This butternut squash farro risotto is a creamy, flavorful dish made with toasted farro, bacon, creamy Fontina cheese, and tender butternut squash. Whole grain farro delivers a ton of healthy nutrition while adding a unique, nutty flavor and chewy texture.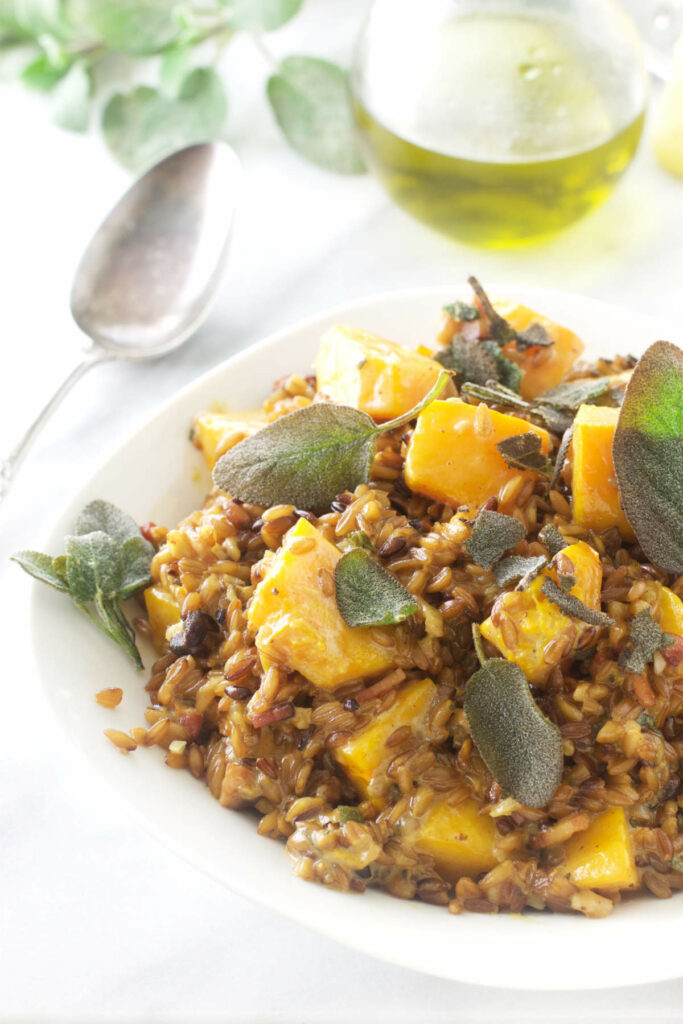 Farro risotto is also referred to as farrotto because it is made similarly to risotto. Traditional risotto is made with arborio rice and has a creamy, thick texture. This butternut squash farrotto has a similar texture, but with a bit more chewiness from the farro and more of an earthy flavor.
Like risotto, you can make farrotto with a variety of ingredients and flavors. If you like this recipe, check out our mushroom farrotto or our butternut squash sauce.
Our butternut squash farro risotto is the perfect fall dish. The flavors of roasted butternut squash, bacon, and sage blend perfectly to make an incredibly comforting meal.
What is Risotto?
Risotto is an Italian specialty that is enjoyed worldwide and it is typically made with a short-grained, starchy white rice that is cooked to a soft, creamy texture.
The name 'risotto' comes from the Italian name for rice. Whole grains make excellent risotto-like dishes and with such a variety of grains available can inspire great creativity in the kitchen.
Why This Recipe Works
This dish is hearty and filling yet still light enough to enjoy as a first course or side dish.

The chewiness of farro, with its natural nutty flavor, is a delicious contrast to the sweetness of the tender butternut squash and smokey bacon.

Toasting the farro intensifies the flavors and brings out the nutty flavor of the grain.

Frying the sage leaves gives them a mellow flavor with slightly earthy and nutty notes.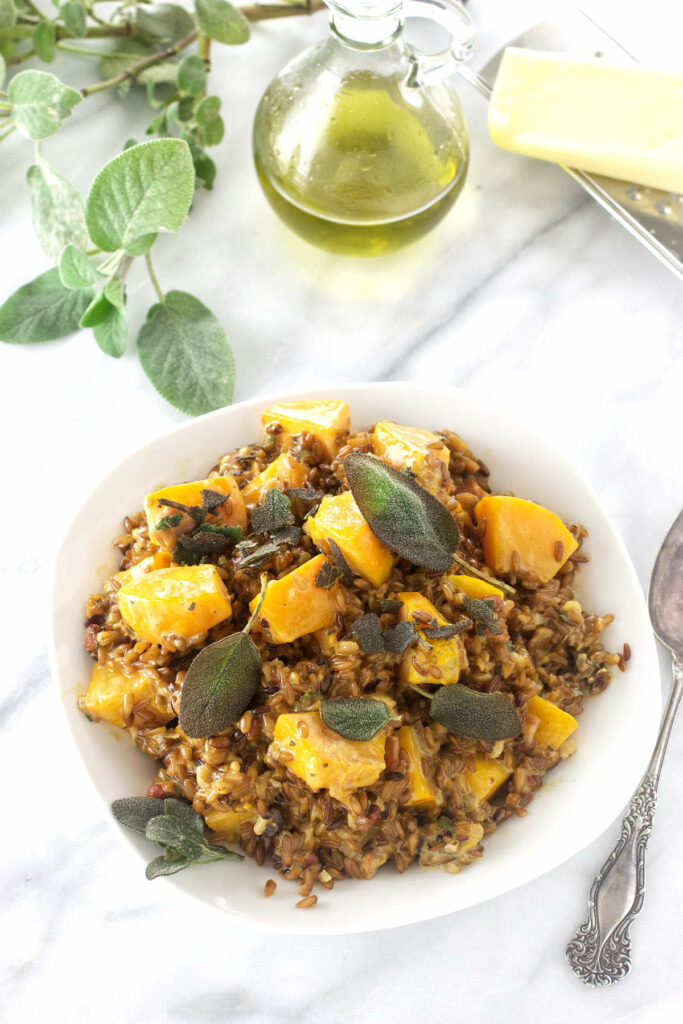 Ingredients Needed
Here is a list of the ingredients you will need to make our butternut squash farrotto. Scroll down to the printable recipe card for all the details.
Butternut squash. You can also use sweet potato as a substitute.
Bacon. Pancetta makes a good substitute.
Shallots. If you can't find shallots, use 1/2 of a white onion.
Garlic.
Salt and pepper.
Fresh sage leaves. Raw sage has a strong, overwhelming flavor, but when you fry the leaves, the flavor becomes mellow and addictively delicious.
Farro. Farro comes in three varieties: einkorn, emmer, and spelt. Any one of these ancient grains will work in this recipe.
Butter
Broth. You can use chicken, beef, or vegetable broth. You can even make your own chicken stock with leftover chicken bones.
Creme fraiche. Heavy cream will also work, but we don't recommend substituting it with sour cream because it will curdle in this recipe.
Olive oil
Fontina cheese
Nutmeg. Nutmeg enhances the flavors of the butternut squash and brings out the natural sweetness of the dish.
Oil for frying. Use an oil with a high smoke point like avocado, coconut, or grape seed.
How to Make Butternut Squash Farrotto
Here is a brief overview of how to make our butternut squash farro risotto recipe. Scroll down to the printable recipe card for all the details. We roasted the butternut squash in the oven like our traditional butternut risotto but you can also cook it in the microwave or on the stovetop if desired.
Spread the cubed butternut squash out on a baking sheet and bake them until they are tender.
Cook the bacon in a skillet and set aside.
Add the shallots and garlic to the skillet and cook until soft.
Melt the butter, then add the farro and cook until the farro grains get toasted.
Pour in the wine and broth. Bring it to a boil to cook the farro to an al dente texture.
While the farro cooks, heat some oil in a small saucepan and fry the fresh sage leaves until they are crisp.
Drain the sage leaves on a plate lined with a paper towel and immediately sprinkle them with fine sea salt.
Stir the creme fraiche into the risotto and add the butternut squash, bacon, and cheese.
Serve the butternut squash farrotto with the fried sage leaves.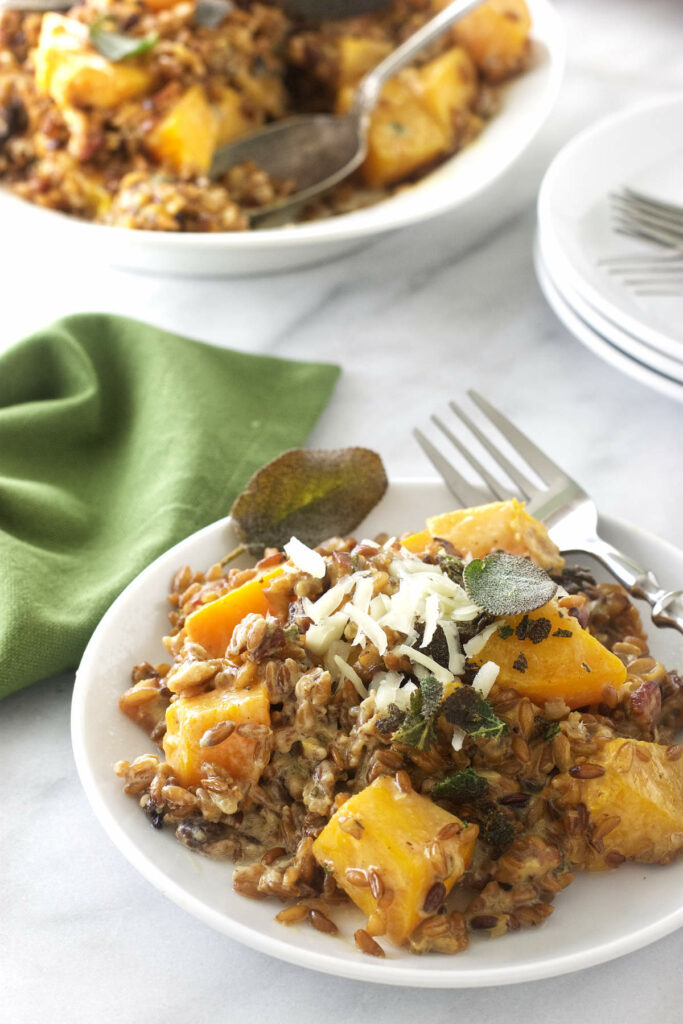 Tips for Success
You can use pearled farro or whole wheat farro in this recipe. Pearled farro will cook quicker but the whole grain will have a nuttier flavor.

Substitute the butternut squash for sweet potato and make this recipe any time of year.

You can roast the butternut squash 1 to 2 days in advance.

Fry the sage leaves with caution, as the moisture in the leaves will cause the hot oil to spit and sputter. For safety, use tongs to add and remove the leaves.

If you rinse the sage leaves in water, pat them dry with a paper towel before frying.
Frequently Asked Questions
What is farro?
Farro is an ancient grain consisting of three different wheat types: emmer, einkorn, and spelt. It is high in fiber and protein and has a nutty flavor. Farro can be found in the bulk section of most grocery stores or in the natural foods section.
Is farro gluten free?
No. Farro contains gluten.
Is farro better for you than rice?
Farro does have some nutritional advantages over rice, as it is high in protein and fiber, and contains a variety of vitamins and minerals.
What should I look for when buying a butternut squash?
When looking for a butternut squash, you want to find one that is firm and feels heavy for its size. The skin should not have any gashes, blemishes or holes. Avoid squashes that have any soft spots or signs of mold. Butternut squash with fat necks and smaller bulbs will have fewer seeds.
Butternut squash farro risotto is a delicious and nutritious side that pairs well with roast chicken, seared scallops, or broiled cod. You can even turn it into a main meal and serve it with a side salad.
This recipe for butternut squash farrotto was inspired by one served at The HerbFarm in Woodinville, Washington.
More Recipes You Will Love
Besides this creamy farro risotto, there are so many ways you can use butternut squash. Our Thai butternut squash soup and roasted mushrooms with butternut are a couple of favorites.
If you have leftover farro risotto you can use it in our Breakfast Risotto. It makes a delicious, savory breakfast and it is a great way to start the day.
Our Kamut Grain Bowl has a medley of flavors and textures and makes a hearty meal. it is meal-in-a-bowl that is healthy, wholesome, nutritious and delicious.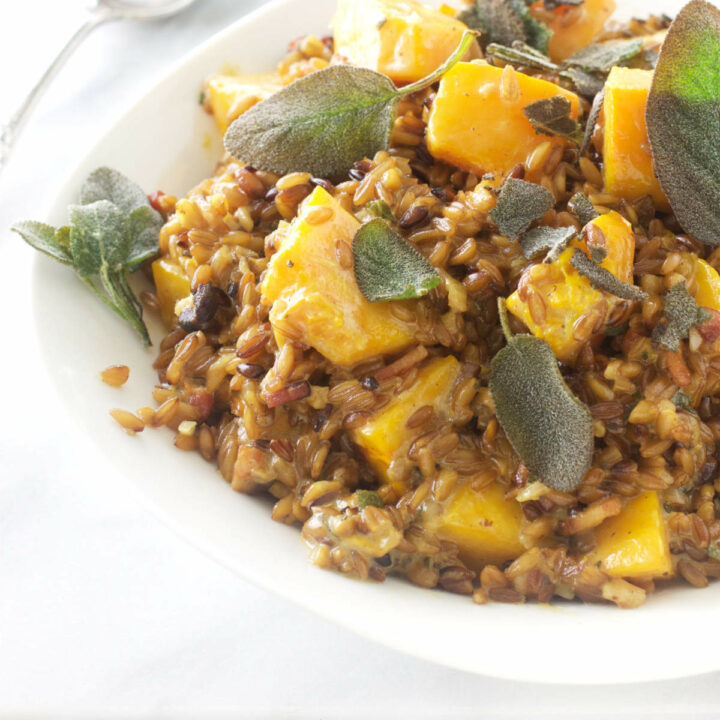 Butternut Squash Farro Risotto
This butternut squash farro risotto has it all…..texture from the tender grains, sweetness from the cubes of squash, creaminess from the crème fraîche and cheese, plus the ever-so-slight flavors of fresh sage and seasonings.
Ingredients
For the Squash:
10 ounces peeled butternut squash, cut into 1-inch cubes
2 tablespoons olive oil
1/2 teaspoon salt
1/4 teaspoon freshly ground pepper
For the Farro Risotto:
2 strips lean smokey bacon, diced
1 medium shallot, peeled and finely chopped
2 garlic cloves, finely chopped
2 tablespoons chopped fresh sage leaves
1 cup farro whole grains or pearled farro
1 tablespoon butter
1 cup white wine
5 cups chicken or beef broth
1 cup crème fraîche or heavy cream
1 tablespoon olive oil
few grindings of nutmeg
4 ounces Fontina cheese, grated (about 1 cup) plus more for serving
1 ounce Parmesan cheese, grated (about 1/4 cup)
For the Garnish:
1/2 cup fresh sage leaves
Grape seed, coconut or avocado oil to fry the sage leaves
Instructions
Roast the Butternut Squash
Preheat the oven to 400°F
In a large bowl, add the butternut cubes and toss with the olive oil. Spread the cubes on a sheet pan and sprinkle with salt and pepper.
Transfer to the oven and roast for 20 minutes or until the butternut squash is tender. Remove from the oven and set aside to cool
For the Farro Risotto
In a large, deep skillet (5 to 6 quart capacity) add the diced bacon and cook for 4-6 minutes or until crispy. Transfer the bacon to a plate. Pour off all but 1 tablespoon of bacon fat in the skillet. Add the shallots and garlic. Season with salt and pepper.
Add the butter to the skillet and melt it over medium heat. Once the butter melts, add the farro and cook, stirring occasionally, until the grains begin to pop and brown lightly. It will take about 5 to 6 minutes, and they will release a pleasant fragrance.
Add the white wine and cook for 1 to 2 minutes. Pour in the chicken broth and bring the pot to a boil. Reduce the heat to a simmer (you should see gentle bubbles) and cover with a lid. Cook until the farro grains are easy to bite when tested and the liquid is absorbed. About 50-60 minutes (or 35 to 40 minutes if using pearled farro). They should have the texture of al dente pasta.
Stir the crème fraîche into the risotto, and add the reserved squash and bacon. Stir in the gratings of nutmeg and taste, adjusting the salt and pepper if necessary.
Add the grated Fontina cheese, Parmesan cheese, and olive oil. Fold gently, allowing the cheese to melt. Cover the pot and reserve.
For the Fried Sage Leaves:
Pat the sage leaves dry with a paper towel. Add enough oil to cover the bottom of a small skillet set over medium heat. When the oil is hot, carefully add 4 to 5 sage leaves to the oil. They will sputter and spit when they hit the hot oil.
Cook the leaves until they are crisp and slightly brown. If the oil is hot enough this should only take 30 to 40 seconds. Transfer the leaves to a paper-towel-lined plate. When all the leaves are cooked, sprinkle them with a pinch of salt while they are still warm.
To serve the butternut farrotto, spoon it into a serving dish or individual plates. Add freshly grated Fontina cheese and crumble a few crisp sage leaves on top. Add additional crisp sage leaves as a garnish and serve.
Notes
You can use any winter squash, such as butternut squash or red Kuri. You can also use sweet potatoes which will make this recipe a year-round favorite.
Toasting the farro brings out the nutty flavors and more complexity in the whole grain.
Farro is labeled a few different ways in the store. Sometimes it is simply called farro. However, it is also called emmer, einkorn, or spelt. All three grains are types of farro.
Make sure the sage leaves do not have any moisture on them before you drop them in the hot oil. Fresh leaves naturally have some moisture inside them and they will sputter and crackle as soon as you put them in the oil. Freshly picked leaves will sputter even more than leaves that have been sitting out for a couple of days. Be careful to avoid hot oil from sputtering on your hands.
Nutrition Information:
Yield:

6
Serving Size:

1
Amount Per Serving:
Calories:

258
Total Fat:

54g
Saturated Fat:

25g
Trans Fat:

1g
Unsaturated Fat:

25g
Cholesterol:

201mg
Sodium:

722mg
Carbohydrates:

24g
Fiber:

4g
Sugar:

10g
Protein:

19g
Nutrition information is a guideline only, is calculated automatically by third party software, and absolute accuracy is not guaranteed.
This recipe was first posted on March 16, 2016.