We are so excited to bring you this amazing recipe of roasted emmer and winter squash risotto! Emmer whole grains are used which delivers a ton of healthy nutrition while adding to the taste and complex flavors of this risotto.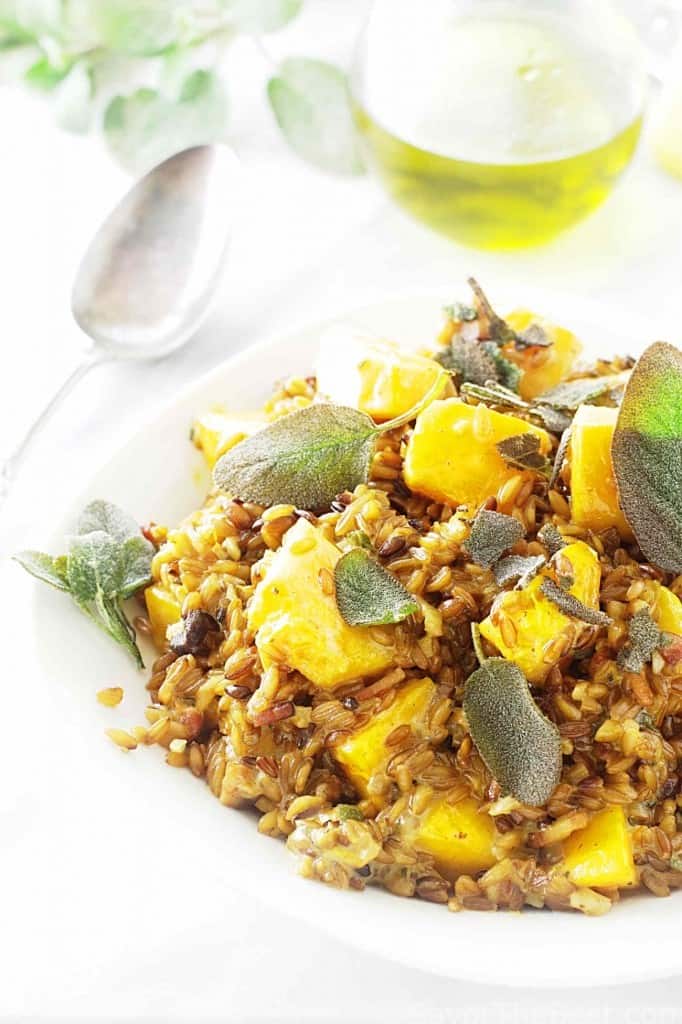 This side dish has it all…..texture from the tender grains, sweetness from the cubes of squash, smokey bacon and then the lovely creaminess from the crème fraîche and cheese. Plus, the ever-so-slight flavors of fresh sage and seasonings.
What is Risotto?
Risotto is an Italian specialty that is enjoyed worldwide and it is typically made with a short-grained, starchy white rice that is cooked to a soft, creamy texture.
The name 'risotto' comes from the Italian name for rice. Whole grains make excellent risotto-like dishes and with such a variety of grains available can inspire great creativity in the kitchen. We recently posted our Farro, Mushroom and Leek Risotto that is an amazing side dish.
Where to Buy Emmer Whole Grain:
In our recipe we use the ancient emmer whole grain, (also known as farro) that is grown at the Bluebird Grain Farm in the Eastern part of Washington State
Bulk-foods section
Trader Joe's
Bob's Red Mill packages
You can also purchase it online
To make this delightful side dish the emmer grain is pan-roasted to a light toastiness and then slowly cooked with beef broth, absorbing the rich liquid until it reaches a soft, slight chewiness. You will be loving the texture and flavor of this grain.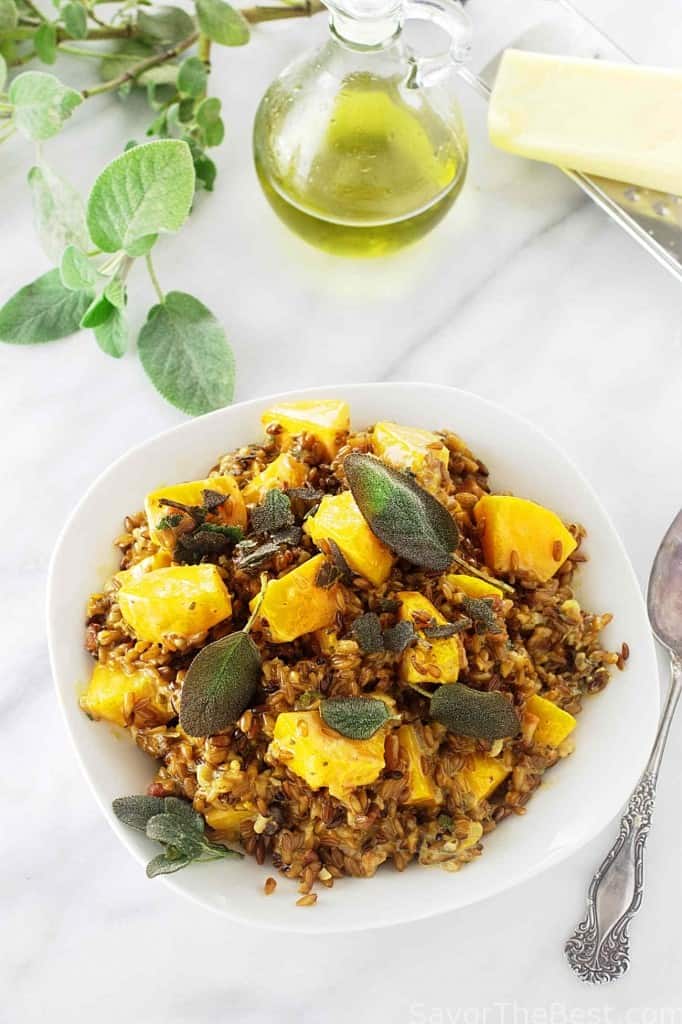 About Red Kuri Squash in Our Roasted Emmer and Winter Squash Risotto:
We used a Red Kuri squash in this side dish but any winter squash will work for this recipe. Red Kuri is a variety of the Hubbard squash and it has a buttery flesh with a savory chestnut-like flavor.
How to Make our Red Kuri Squash in Our Roasted Emmer and Winter Squash Risotto:
The squash is cooked together with smokey bacon, garlic, shallots, seasonings and chopped fresh sage leaves. It is then combined with the cooked grain, crème fraîche and olive oil. Fontina cheese is mixed in creating a rich, creamy goodness.
Crème fraîche is a thick French style cream found in the dairy case of select grocery stores. It is a bit pricey but you can make your own by combining two cups of heavy cream and two or three tablespoons of plain full-fat yogurt together in a bowl or jar.
Cover with a piece of cheesecloth let it sit on the countertop for 12 to 24 hours. It will thicken up and become a little tangy and it tastes just as good as the expensive brands.
Finally, we dropped fresh sage leaves in hot oil and as they sizzled, sputtered and spit they began to brown slightly and turn crispy. When cooled and salted we crumbled part of the sage leaves over the finished dish with whole leaves added as a garnish.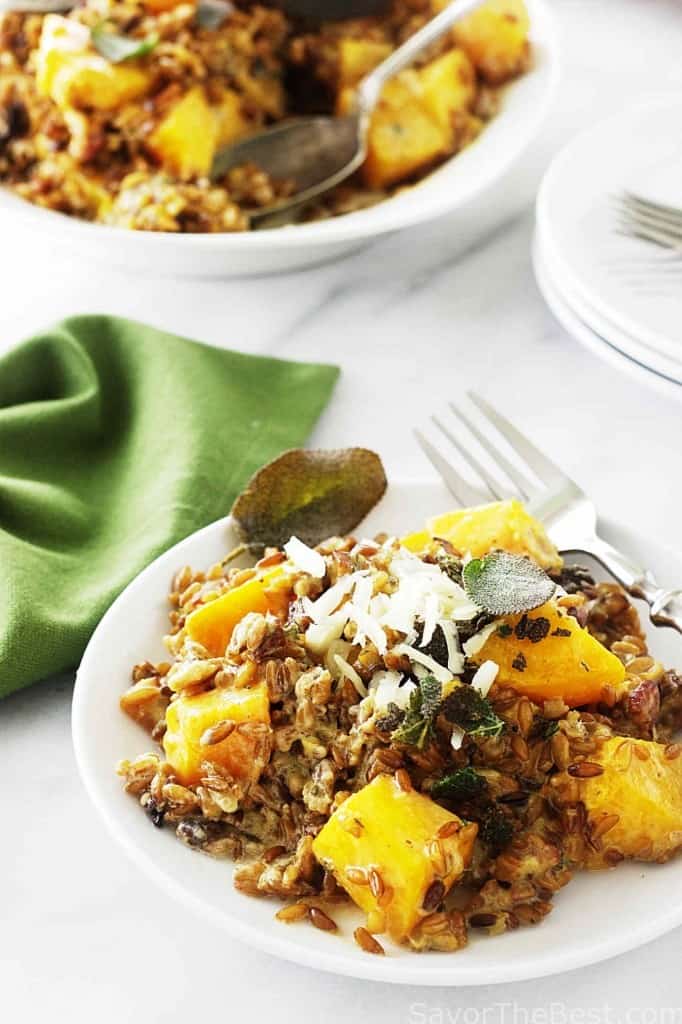 This recipe of roasted emmer and winter squash risotto has been adapted from one served at The HerbFarm in Woodinville, Washington and we hope you can give it a try.
Have you made this recipe? Tag us on Instagram!
Recipes using ancient grains: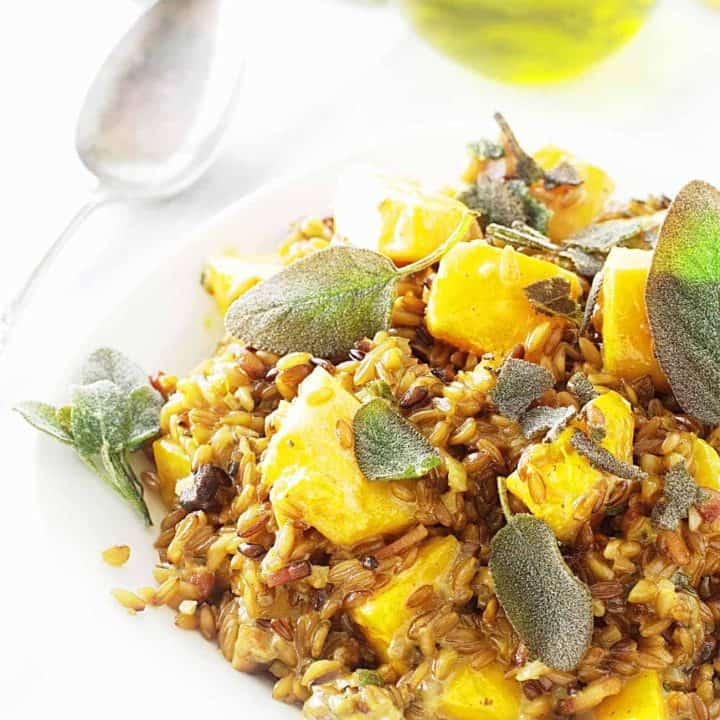 Roasted Emmer and Winter Squash Risotto
Yield: 6 servings
Prep Time: 15 minutes
Active Time: 45 minutes
Total Time: 1 hour
This side dish of roasted emmer and winter squash risotto has it all…..texture from the tender grains, sweetness from the cubes of squash, creaminess from the crème fraîche and cheese, plus the ever-so-slight flavors of fresh sage and seasonings.
Ingredients
For the Squash:
2 strips lean smokey bacon, diced
10 ounces peeled Red Kuri or other winter squash, cut into 1-inch cubes
2 tablespoons finely chopped shallots
2 garlic cloves garlic, finely chopped
1/2 teaspoon Kosher salt
1/4 teaspoon freshly ground white pepper
2 tablespoons chopped fresh sage leaves
For the Emmer Risotto:
1 cup emmer whole grains
1 tablespoon butter
6 cups chicken or beef broth
1 cup crème fraîche or heavy cream
1 tablespoon olive oil
2 ounces Fontina cheese, grated plus more for serving
few grindings of nutmeg
For the Garnish:
1/2 cup fresh sage leaves
Grape seed, coconut or avocado oil to fry the sage leaves
Instructions
In a large skillet, add the diced bacon and cook for 3-4 minutes, add the cubed squash, shallots and garlic. Cook gently, stirring often until the squash is almost tender but slightly firm when pierced with a fork, about 8-10 minutes, season with salt and pepper. Remove from the heat, cover and reserve till needed.
Add the butter to a large heavy-bottomed pan over medium heat and when it has melted add the emmer grains and roast, stirring occasionally, until the grains begin to pop and brown lightly and release a pleasant fragrance, about 5-6 minutes.
Add the chicken broth and bring the pot to a boil. Cover with the lid and reduce the heat to a simmer. Cook until the emmer grains are easy to bite when tested and the liquid absorbed. About 50-60 minutes. They should be somewhat to the likeness of al-dente pasta.
Stir the crème fraîche into the risotto, add the reserved squash mixture. Stir in the gratings of nutmeg and taste, adjusting salt and pepper if necessary. Add the grated Fontina cheese and olive oil and fold gently allowing the cheese to melt. Cover the pot and reserve.
For the Fried Sage Leaves:
To a small skillet set over medium heat, add enough oil to cover the bottom of the skillet and when the oil is hot, carefully, add the sage leaves. They will sputter and spit when they hit the hot oil. Cook the leaves until they are crisp and slightly brown, transferring them as they cook to a paper-towel lined plate. When all the leaves are cooked, sprinkle them with a fine sea salt while they are still warm.
To serve, spoon the risotto into a serving dish or individual plates, add freshly grated Fontina cheese and crumble a few crisp sage leaves on top. Add additional crisp sage leaves as a garnish and serve.
Nutrition Information:
Yield: 6
Serving Size: 1
Amount Per Serving:
Calories: 258
Total Fat: 54g
Saturated Fat: 25g
Trans Fat: 1g
Unsaturated Fat: 25g
Cholesterol: 201mg
Sodium: 722mg
Carbohydrates: 24g
Fiber: 4g
Sugar: 10g
Protein: 19g
Nutrition information is a guideline only, is calculated automatically by third party software, and absolute accuracy is not guaranteed.