Oh, My, Goodness!! This side dish of farro, mushroom and leek risotto is so delicious that I could just eat it for my entire meal! Skip the main entree, please pass the risotto again!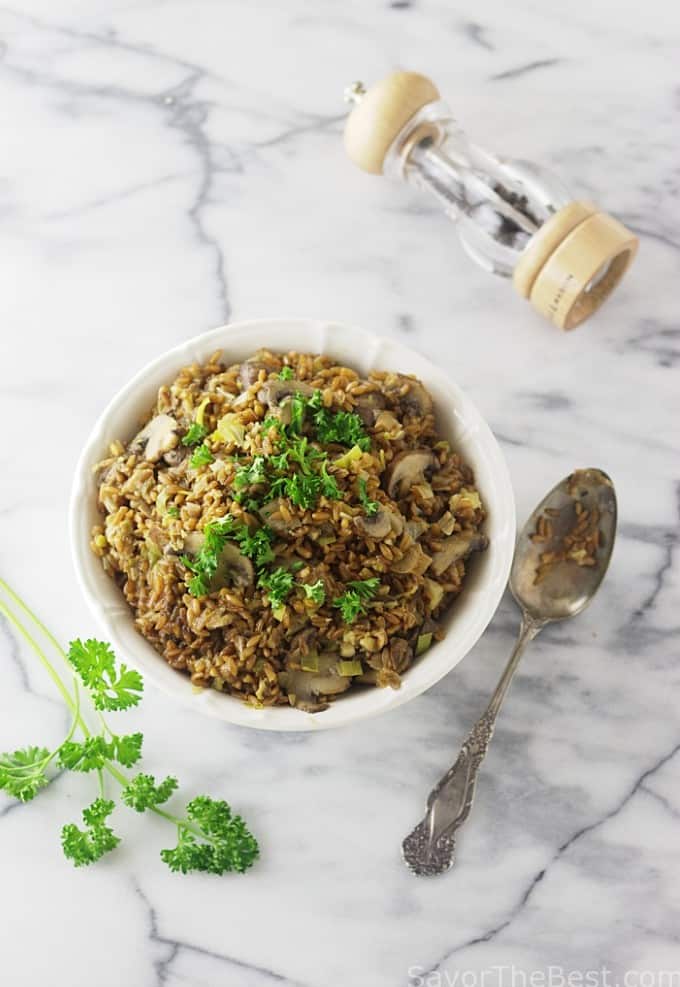 We have always enjoyed incorporating ancient grains in our meals and farro is one of my favorite whole-grains. Farro is a non-hybrid form of wheat originating from Italy with its starchiness similar to Arborio rice making it ideal for risotto.
Farro is the main ingredient in our toasted farro salad with nasturtiums and I have added farro to many of my soups in place of pasta or potatoes. I like to include it in minestrone soup in place of the pasta.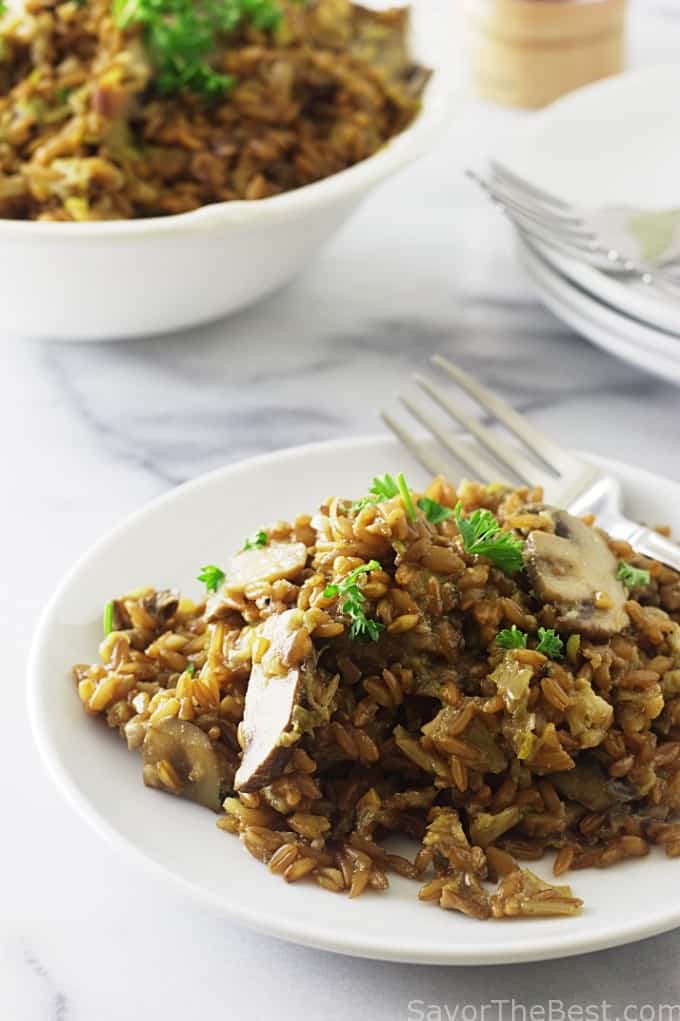 Some of my other favorite ancient grains are, black rice, which is also known as forbidden rice and we used it in our black rice sushi rolls, the black rice-mango salad and the mushroom-smoked salmon quiche with black rice crust. While most of us are familiar with brown rice it is as old as the hills as in 'ancient' without having been refined and processed.
I have recently become acquainted with sprouted brown rice, also known as GBA germinated brown rice. We posted a sprouted brown rice pilaf that is truly wonderful that I encourage you to try. My plan is to continue searching out and experimenting with these wonderful ancient grains that are so nutritious and delicious.
Farro is an ancient grain that went out-of-style when new hybrids and processing technologies came on the scene. It is actually a term that describes three different species of hulled wheat, einkorn, emmer, and spelt. When you purchase farro, if it does not indicate which of these grains you are getting, it is most likely that you have either emmer or spelt.
Recently, there has been more emphasis on good, healthy, nutrition and our need to include whole grains in our diet. Farro and other ancient grains have been making a come-back and have been appearing in some of the gourmet restaurants and whole-foods marketplace.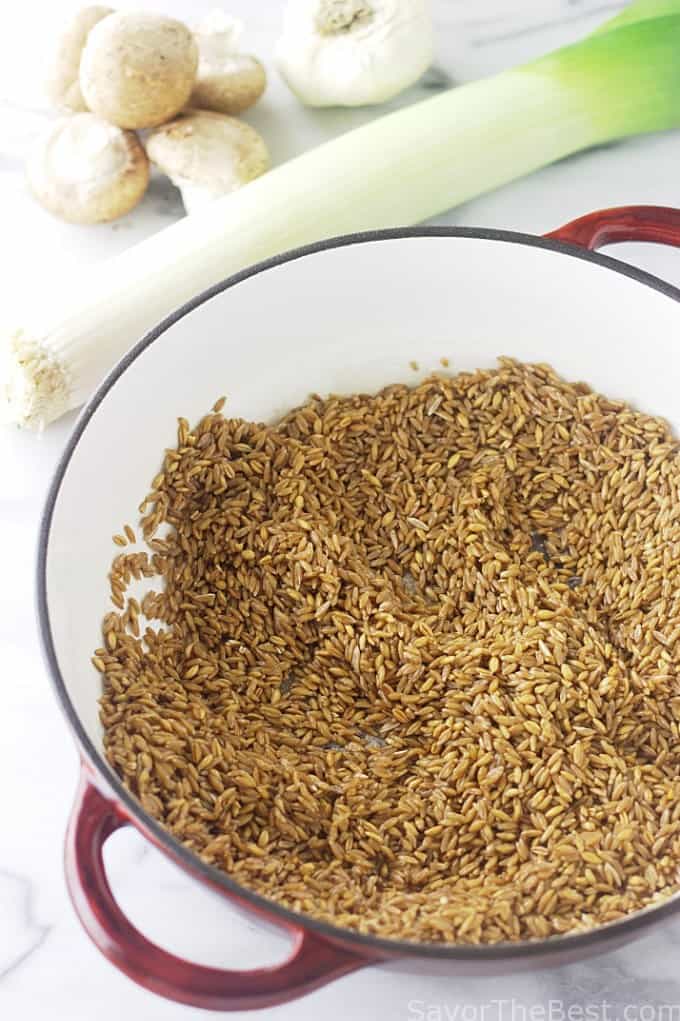 In this recipe for farro, mushroom and leek risotto we have used farro in the whole-grain form which takes a little longer to cook than the pearled farro. Since the outer layer of the grain has not been removed, it retains more of its nutritional value which is a time trade-off so we just have to be patient for it to cook.
Farro is unlike rice in that it does not become mushy if cooked longer than required. It retains its shape and nutty, crunchy flavor.
The dried, rehydrated Porcini mushrooms and the water they have been rehydrating in adds a punch of flavor. Plus, the sliced Crimini mushrooms, leek, garlic and fresh oregano are very complimentary with the ricotta and Parmesan cheese giving it a wonderful creaminess.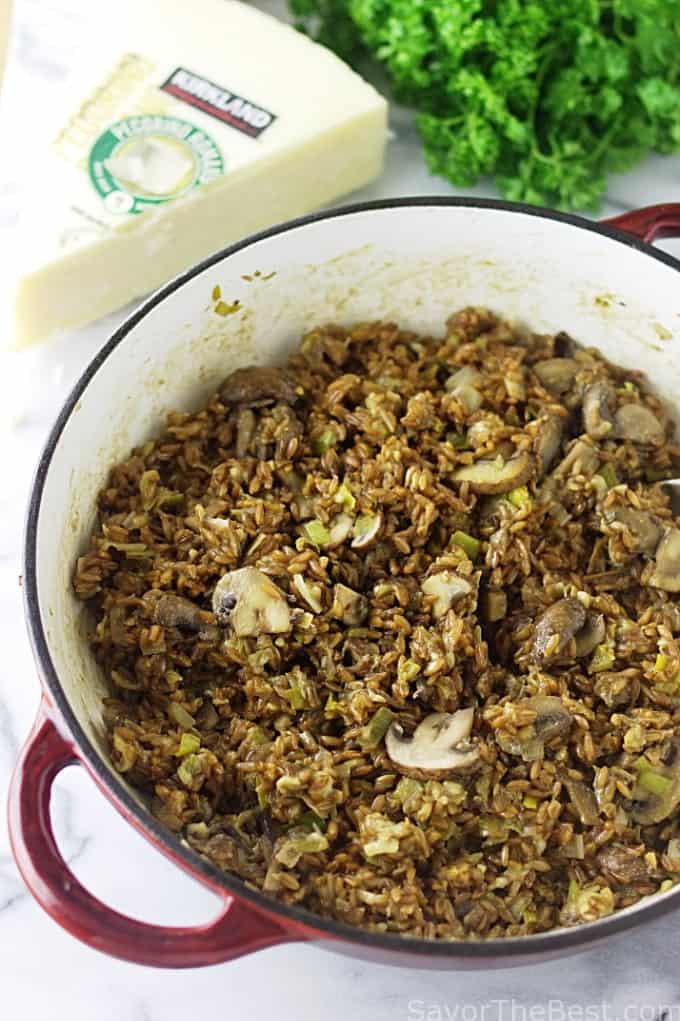 I love this risotto! I am going to make this recipe again and will soak the farro overnight for faster cook time.
This recipe has been adapted from the cookbook: Nigellissima: Easy Italian Inspired Recipes by Nigella Lawson
CONNECT WITH SAVOR THE BEST!
Be sure to follow us on our social media accounts
Facebook * Instagram * Pinterest * Twitter * Youtube
Did you make this recipe? We would love to hear from you. Drop us a comment below.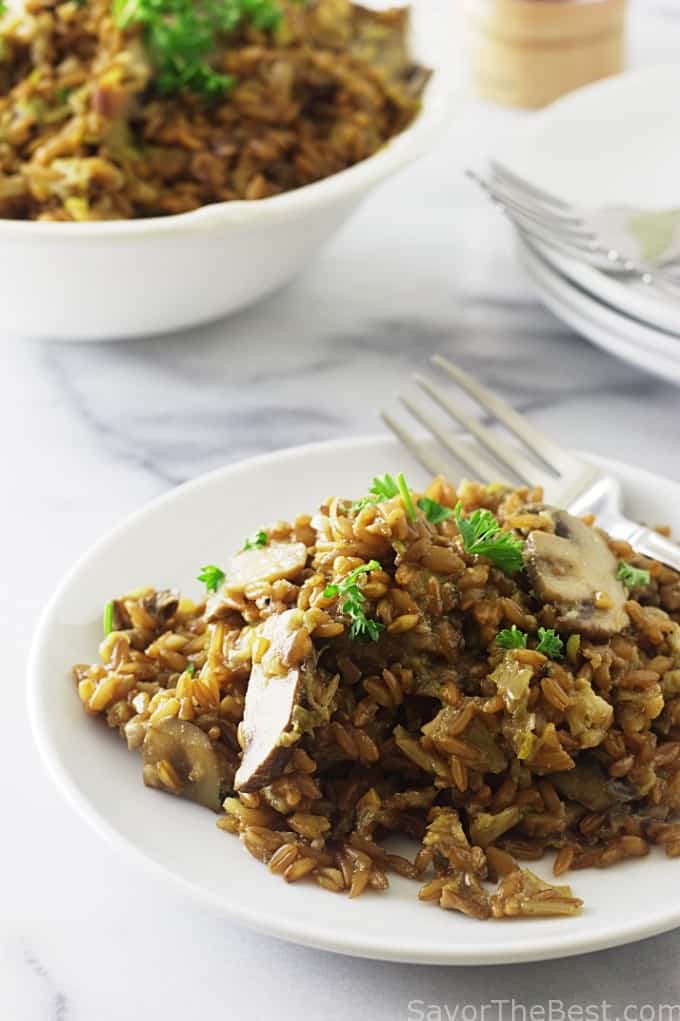 More delicious side dishes to check out: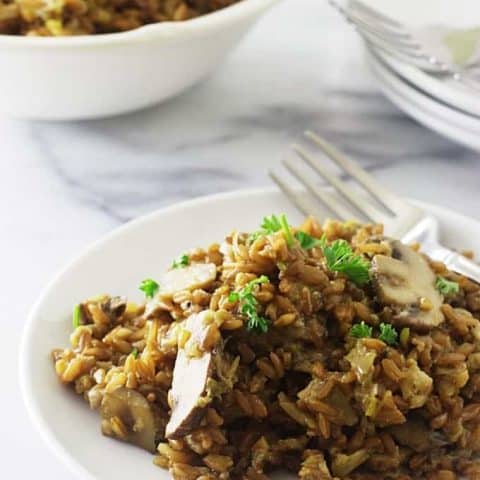 Farro, Mushroom and Leek Risotto
Yield: 8 servings
Prep Time: 20 minutes
Active Time: 1 hour 15 minutes
Total Time: 1 hour 35 minutes
In this recipe for farro, mushroom and leek risotto we have used farro as the whole-grain. We have added dried, rehydrated Porcini mushrooms for a punch of flavor. Plus, the Crimini mushrooms, leek, garlic and fresh oregano. The ricotta and Parmesan cheeses gives this risotto a wonderful creaminess.
Ingredients
1-ounce dried Porcini mushrooms (about 1 cup)
1 cup boiling water
1/4 cup olive oil, divided
2 3/4 cups of whole-grain farro
1/4 cup dry white wine
5 cups chicken broth or beef broth
Pinch of red pepper flakes
8 ounces crimini mushrooms, sliced
1 medium leek, cleaned and split, thinly sliced,white and light green only
3 garlic cloves, finely chopped
2 tablespoons finely chopped fresh oregano
1/4 cup ricotta
1/4 cup grated Parmesan
3 tablespoons chopped fresh parsley, to serve
Instructions
Add the dried mushrooms to a small dish and pour the boiling water over, press the mushrooms down with a fork so they are completely immersed. Allow the dried mushrooms to rehydrate for 15 minutes. Drain them through a fine mesh strainer and reserve the soaking water. Chop the mushrooms when cool enough to handle, place on a small plate and reserve.
In a Dutch oven or large, heavy-bottomed pot with a lid, over medium-high heat, add 2 tablespoons of the olive oil and when it is warm add the whole-grains of farro. Stir the farro, coating them with the oil and allow them to gently toast while continuing to stir. About 1-3 minutes, the toasting adds to the nutty flavor of the risotto.
Add the wine and cook for another 30 seconds or so to burn off the alcohol, then add the chicken broth, red pepper flakes, the reserved Porcini-soaking water and the chopped rehydrated Porcini mushrooms. Bring the pot to a boil, cover with the lid and reduce the heat to a simmer. Cook for 60 minutes until the water has been absorbed and the farro grains are easy to bite when tested. They should be somewhat firm and chewy but not hard.
Meanwhile: In a large skillet set over medium-high, heat the remaining 2 tablespoons of oil and add the sliced Crimini mushrooms, stirring to coat them well and cook until soft and slightly golden. Add the chopped garlic and cook 30 seconds until fragrant. Add the leeks and chopped oregano and cook until the leeks are softened, stirring frequently.
When the farro has cooked to your taste preference, remove it from the heat, (if necessary drain any excess water with a fine mesh strainer), add the cooked mushrooms-leek mixture and mix with the farro. Stir in the ricotta and Parmesan cheeses and transfer the mix to a serving dish. Sprinkle with the chopped parsley and serve.
Nutrition Information:
Yield: 8
Serving Size: 1
Amount Per Serving:
Calories: 159
Total Fat: 9g
Saturated Fat: 2g
Trans Fat: 0g
Unsaturated Fat: 6g
Cholesterol: 8mg
Sodium: 760mg
Carbohydrates: 14g
Fiber: 2g
Sugar: 3g
Protein: 6g
Nutrition information is a guideline only, is calculated automatically by third party software, and absolute accuracy is not guaranteed.