Do you do 'Meatless Monday' meals and need a fresh idea? This Roasted Garlic-Herb Mushrooms and Butternut Mash is easy and healthy, plus this is a diabetic-friendly meal. The earthy taste of the garlic-herb mushrooms pairs so well with the natural sweetness of the butternut squash.
Mushrooms are well known as a side dish, and they are so good added to sauces, pastas or just enjoyed raw in salads and veggie trays. They are high in nutrients, low in calories, taste delicious and work well in a diabetic diet.
There is a myth that mushrooms are a good protein replacement for beef, chicken or fish. Maybe it is a myth as it appears one-ounce of raw mushrooms has only one gram of protein. Compare that to four ounces of raw chicken breast at eighteen grams of protein. So….four-ounces of raw mushrooms is a mere four-grams of protein.
However, mushrooms are little sponges, and they are full of water. But when you cook those little goodies, they lose all their water and shrink to about half their volume. What you end up with are condensed, umami-flavored morsels. But it is ok to eat a double portion. 🙂
Our seven-year-old grandson loves mushrooms, and he came for a visit so I made this roasted garlic-herb mushrooms and butternut mash special for him. Grandmas have to spoil those little critters while we can as they grow up so fast. I was surprised that he liked mushrooms so much as it seems an odd veggie choice for a seven-year-old.
How to Prepare Roasted Garlic-Herb Mushrooms and Butternut Mash
In keeping with a Meatless Monday, I roasted butternut squash and gave it a good mashing, then topped it off with the roasted mushrooms. There is no peeling of the butternut here, just cut it open then scoop out the seeds and stringy membrane. Brush the inside with a little oil, give each section a good dose of salt and pepper then roast in a hot oven until tender. After the squash has cooled enough to handle, scoop the flesh out and mash it up with butter. Alternatives mashable vegetables for the butternut could be:
Sweet Potato
Cauliflower
Celery Root
Parsnips
While the butternut was roasting, I sliced the mushrooms, tossed them with a mixture of oil and lots of garlic, then spread them on a baking sheet. When the butternut came out of the oven, the mushrooms went in. They roasted for ten minutes then I removed the baking sheet from the oven and poured off the accumulated liquid. That super flavorful liquid made a little bit of sauce, and I tossed it with the mushrooms. Serve with a drizzle of lemon juice and a thyme sprig garnish.
That little guy, Sheamus, cleared his plate except for the broccolini. But he knew there was a slice of Chocolate Peanut Butter Layer Cake waiting for him. Ha Ha….
More Recipes for Meatless Monday:
Have you made roasted garlic-herb mushrooms and butternut mash? We would love to hear from you. Drop us a comment below.
CONNECT WITH SAVOR THE BEST!
Be sure to follow us on our social media accounts
Facebook | Twitter | Youtube | Pinterest | Instagram
If you make one of our recipes, snap a photo and tag it @savorthebest on Instagram and hashtag it #savorthebest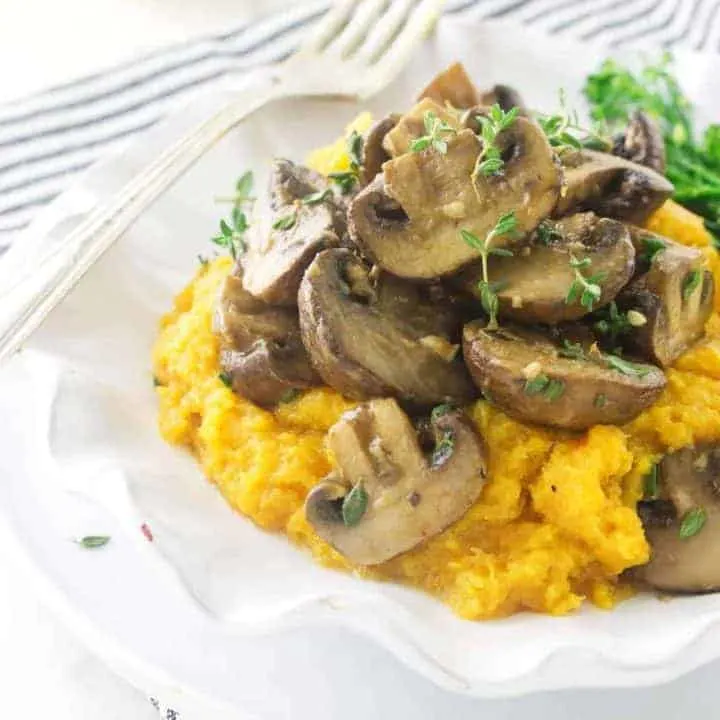 Roasted Garlic-Herb Mushrooms and Butternut Mash
Total Time:
1 hour
20 minutes
Roasted Garlic-Herb mushrooms and Butternut Mash works for a "Meatless Monday" or even served separately as side dishes. Meaty garlic-herbed mushrooms are roasted, then served over roasted butternut squash that is mashed with butter and seasoning.
Ingredients
For the Butternut Squash:
1 or 2 butternut squash, halved lengthwise (about 3 pounds)
2 tablespoons olive oil
Salt and pepper
2-3 tablespoons butter
For the Mushrooms:
2 pounds crimini mushrooms, trimmed, halved or quartered
1/4 cup olive oil
4 large garlic cloves, finely chopped
1/4 teaspoon freshly ground black pepper
1/2 teaspoon sea salt
1/4 cup beef broth
1 lemon, divided
1/2 teaspoon lemon zest
2 tablespoons butter
1 tablespoon fresh thyme leaves
Fresh thyme sprigs for garnish
Instructions
For the Butternut Squash:
Preheat oven to 400°F Prepare a rimmed baking sheet with oil spray
Scoop out the seeds and membrane from the squash and place on the prepared baking sheet. Brush with oil and season with salt and pepper.
Transfer the sheet pan to the center of the oven and roast for 45-50 minutes. Remove from the oven and allow to cool, then scoop out the squash pulp and mash with the butter.
For the Mushrooms:
Keep oven temperature at 400°F
Brush and rinse the mushrooms to remove any soil or debris. Cut in half and place in a large bowl.
In a small dish or jar, whisk together the oil, garlic, salt and black pepper and pour over the prepared mushrooms. Toss together to thoroughly coat the mushrooms.
Spread the mushrooms onto the prepared baking sheet in one layer and transfer the baking sheet to the middle rack of the oven and roast for 10 minutes. Remove the pan from the oven and carefully tip the accumulated juices into a medium size skillet or saucepan.
Return the mushrooms to the oven and continue roasting for another 8-10 minutes then remove from the oven and transfer to a serving dish.
Add the beef broth to the pan with the mushroom drippings. Bring to a boil over medium heat. Stir in the lemon juice of half the lemon and the lemon zest. Remove from the heat, add the butter and thyme leaves, stirring until smooth. Drizzle the mixture over the mushrooms, toss together and garnish with fresh thyme sprigs.
Notes
After the butternut is mashed, cover it and keep it warm. Or, reheat it briefly in the microwave before serving with the mushrooms.
I used Crimini mushrooms in this recipe but any type of mushrooms will work.
Nutrition Information:
Yield:

4
Serving Size:

1
Amount Per Serving:
Calories:

328
Total Fat:

21g
Saturated Fat:

8.7g
Cholesterol:

31mg
Sodium:

326mg
Carbohydrates:

33g
Fiber:

36g
Sugar:

7.8g
Protein:

6.5g