Miso butter salmon is ultra tender and indulgent! Flaky salmon is slathered in a creamy, umami-flavored miso butter then oven-baked until cooked to perfection (for us, it's a silky medium rare!). This delightful meal is ready for the dinner table in just 30 minutes. It's fast and simple and flavorful and is one of the most delicious ways to enjoy baked salmon!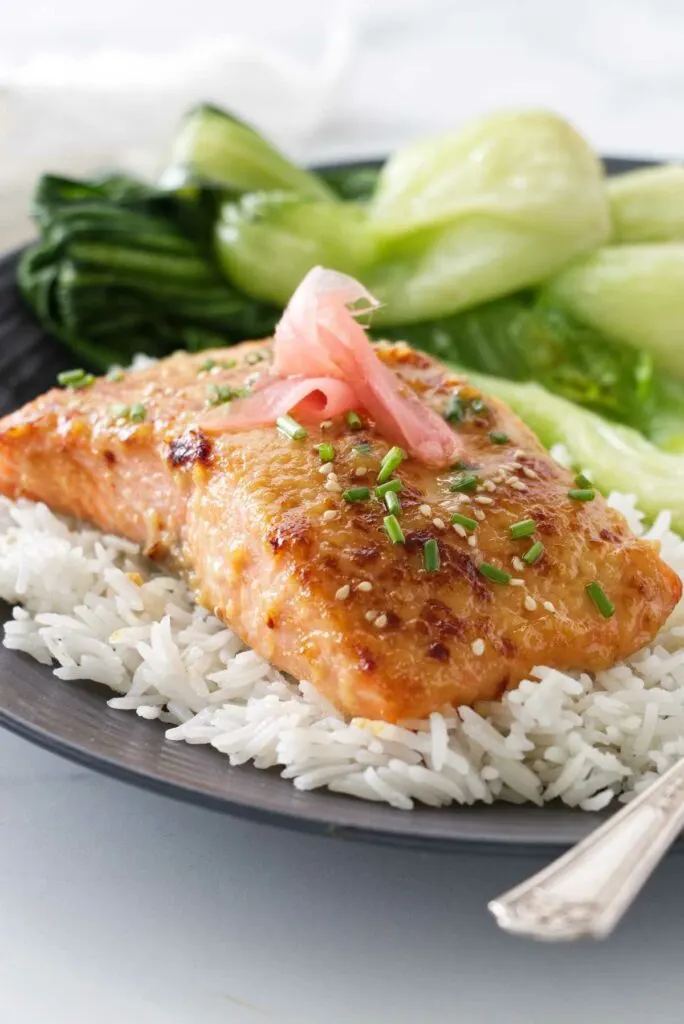 When it comes to salmon recipes, this one is definitely up there in terms of ease and flavor!
The prep and cooking time is incredibly quick and straightforward. Miso butter adds a savory, umami element to rich salmon, and a variety of other dishes like our Miso Butter Corn on the Cob and our Miso Glazed Sea Bass.
The deeply savory flavor of miso is a cornerstone of Japanese cuisine, and the best way to add an earthy and slightly sweet taste to foods like fish, vegetables and even sweet treats (like these miso brownie bites!).
Miso Butter Baked Salmon
The next time you're looking for a quick and healthy meal on a busy weeknight, give this miso salmon recipe a try! It is:
Nutritious and flavorful and a meal the whole family will love.
Easy to prepare with a quick cooking process!
Made with simple ingredients but elevated enough for any occasion.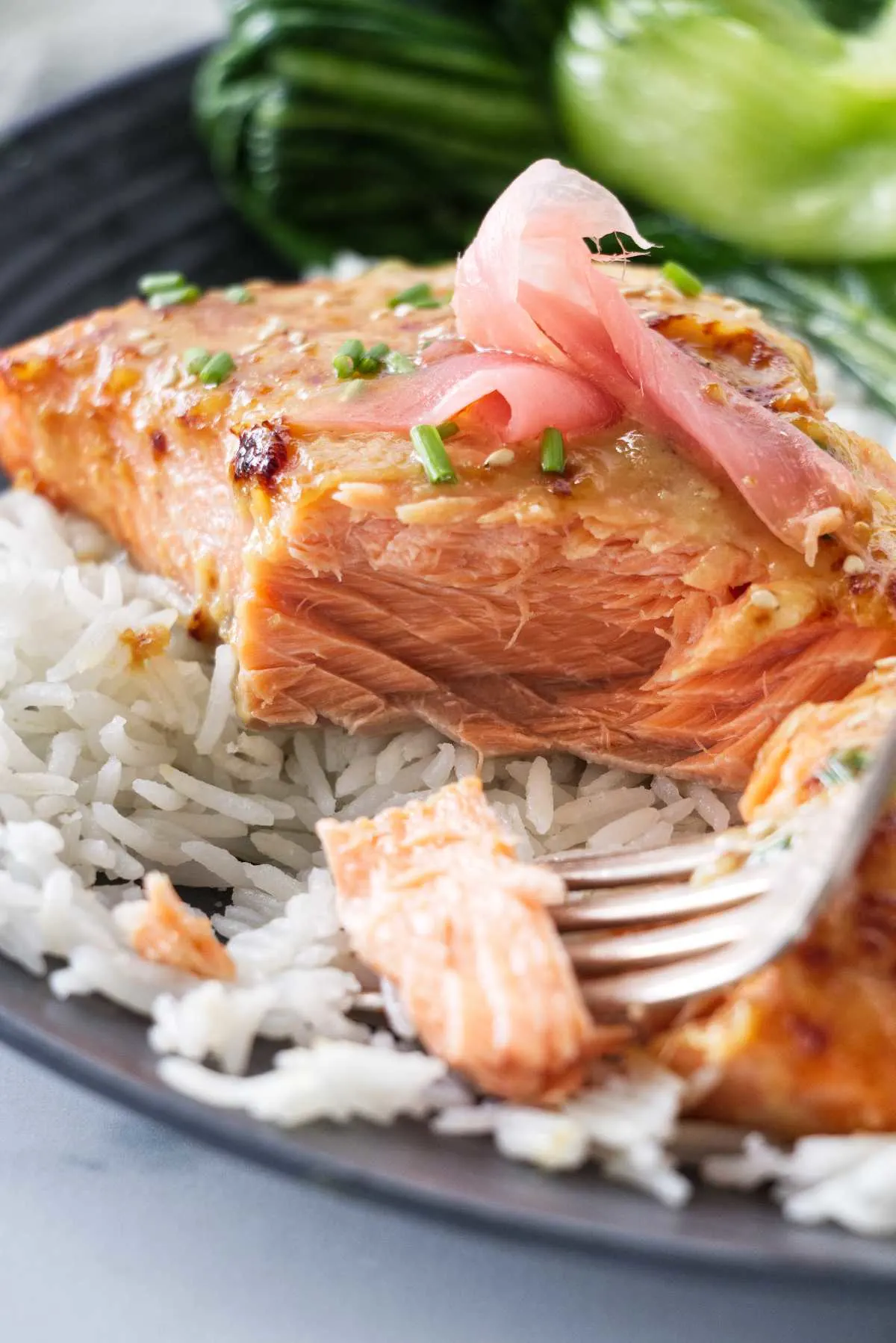 Ingredients for Miso Butter Salmon
Here's a look at the main ingredients you'll need to prep the perfect miso butter baked salmon:
Salmon filets. Choose fillets that are about six ounces each a thickness of 1 to 1-1/2 inches. We prefer wild salmon but you can also use farmed salmon for this recipe.
White miso paste. The key ingredient for that umami flavor! White miso paste is easy to find at most local grocery stores and even Amazon.
Unsalted butter. Softened to room temperature so it's easy to mix in with the miso paste.
Sesame seeds. You can use white or black sesame seeds for garnish.
Preserved ginger slices. For serving. They add a lovely, ginger bite that goes so well with this Japanese-inspired dish.
Fresh chives. For a light savory topping and pretty pop of green. Green onions are a good substitute if you don't have chives.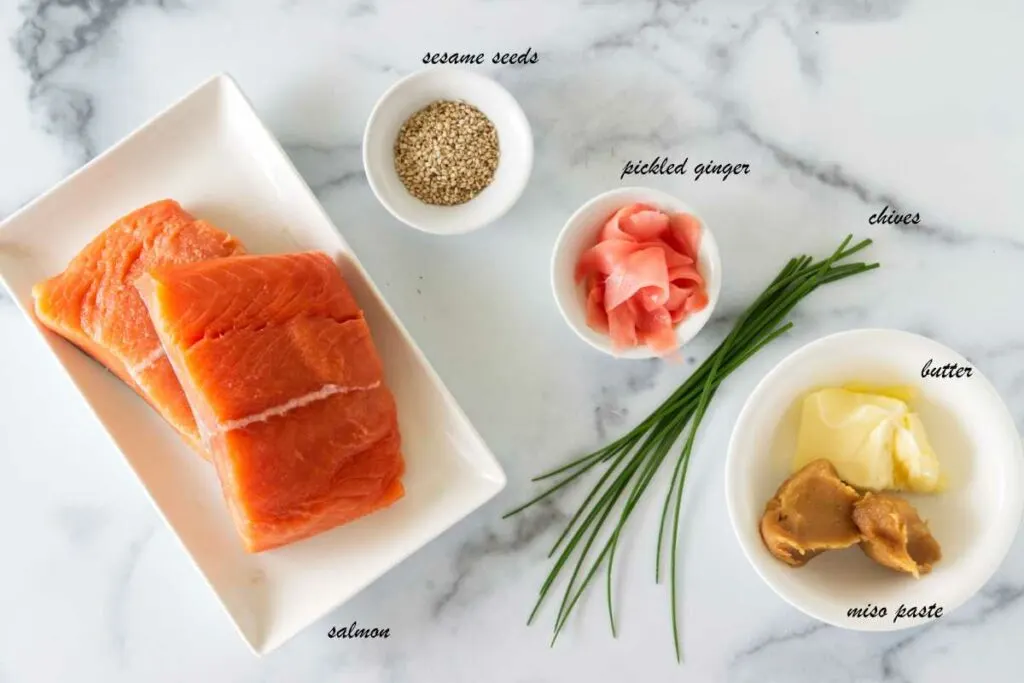 Sheet Pan Salmon with Miso Butter
Here's a look at the process for this oven-baked miso compound butter salmon! Make sure to scroll down to the full recipe card at the bottom of the page for all of the details and ingredient amounts.
Before you begin: Preheat the oven and line a baking pan with foil and coat it with non-stick spray. Pat the salmon portions dry with a paper towel to remove any surface moisture. Place the salmon skin side down on the pan.
In a small bowl, combine the butter and miso paste, using the back of a teaspoon to mix until smooth.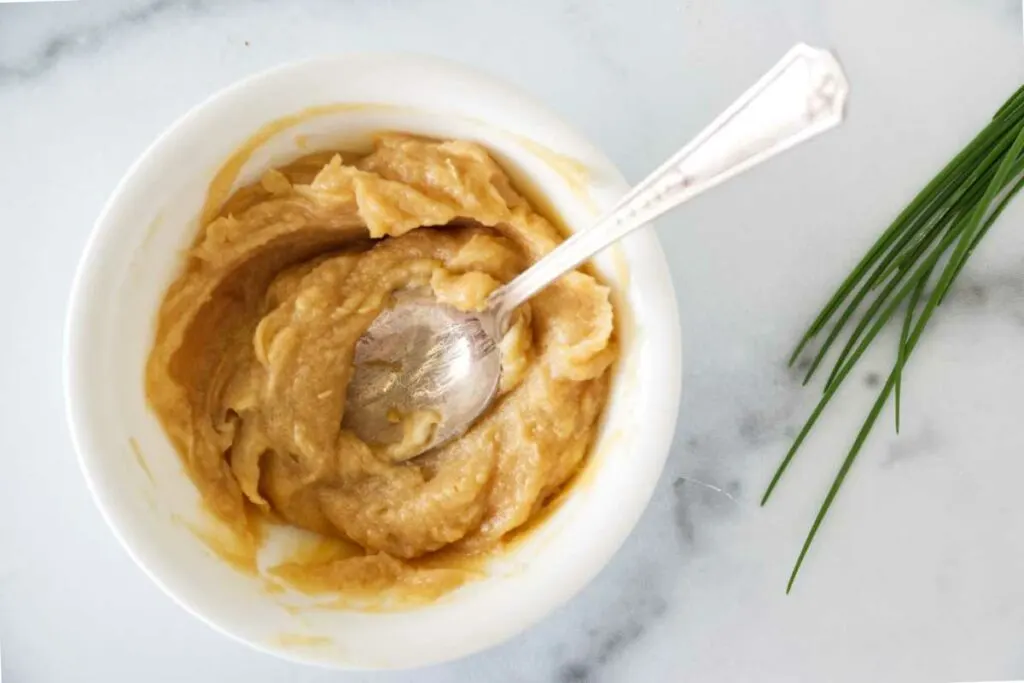 Top the filets with miso butter. Spread the butter evenly over the fish.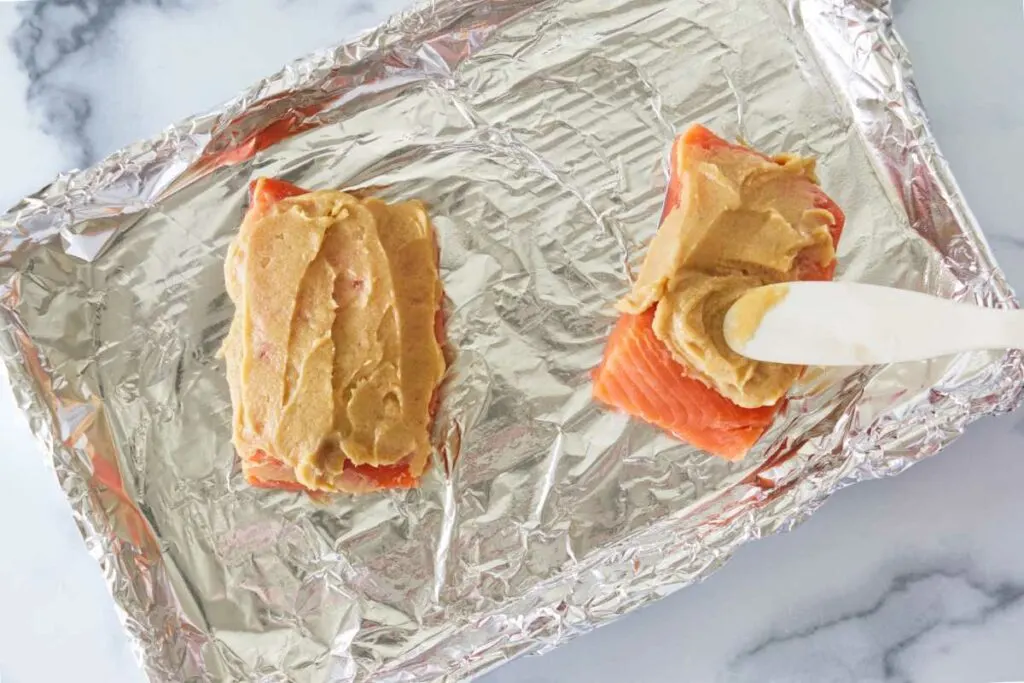 Bake the salmon until cooked to your desired doneness. I like my salmon cooked rare to medium rare, which gives it a soft, buttery texture. However, the USDA recommends cooking salmon to an internal temperature of 145°F.
Remove from the oven and transfer the fish to a plate. Let it rest for 5 minutes. Add sesame seeds, chives and ginger slices on top of the salmon, then serve.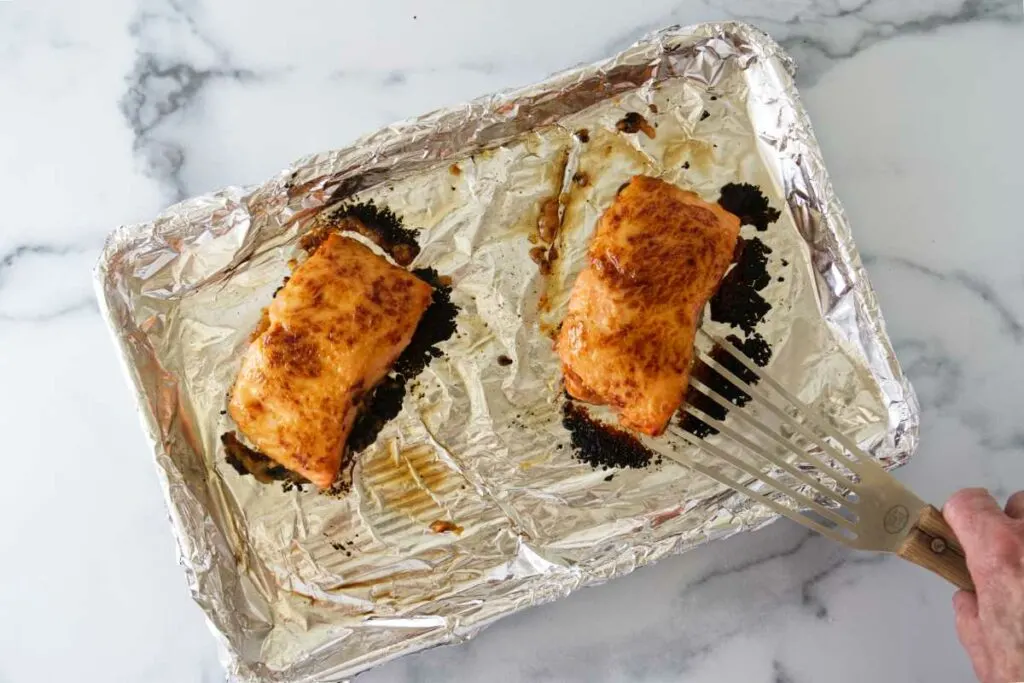 Tips for Miso Compound Butter Salmon
Miso has a natural saltiness to it so there's no need to add sea salt to this recipe.
We prefer this salmon cooked to medium rare and the easiest way to determine if it's done is by using a meat thermometer. If you don't have one, you can test doneness by inserting a fork in the thickest portion of the flesh and twisting it slightly. If it flakes easily and appears slightly translucent, it is done.
The cook time may vary slightly based on the thickness of your salmon.
Store leftover salmon in an airtight container in the refrigerator for up to three days.
Preferably, use unsalted butter to make the miso butter. If you only have salted butter on hand, it will still work.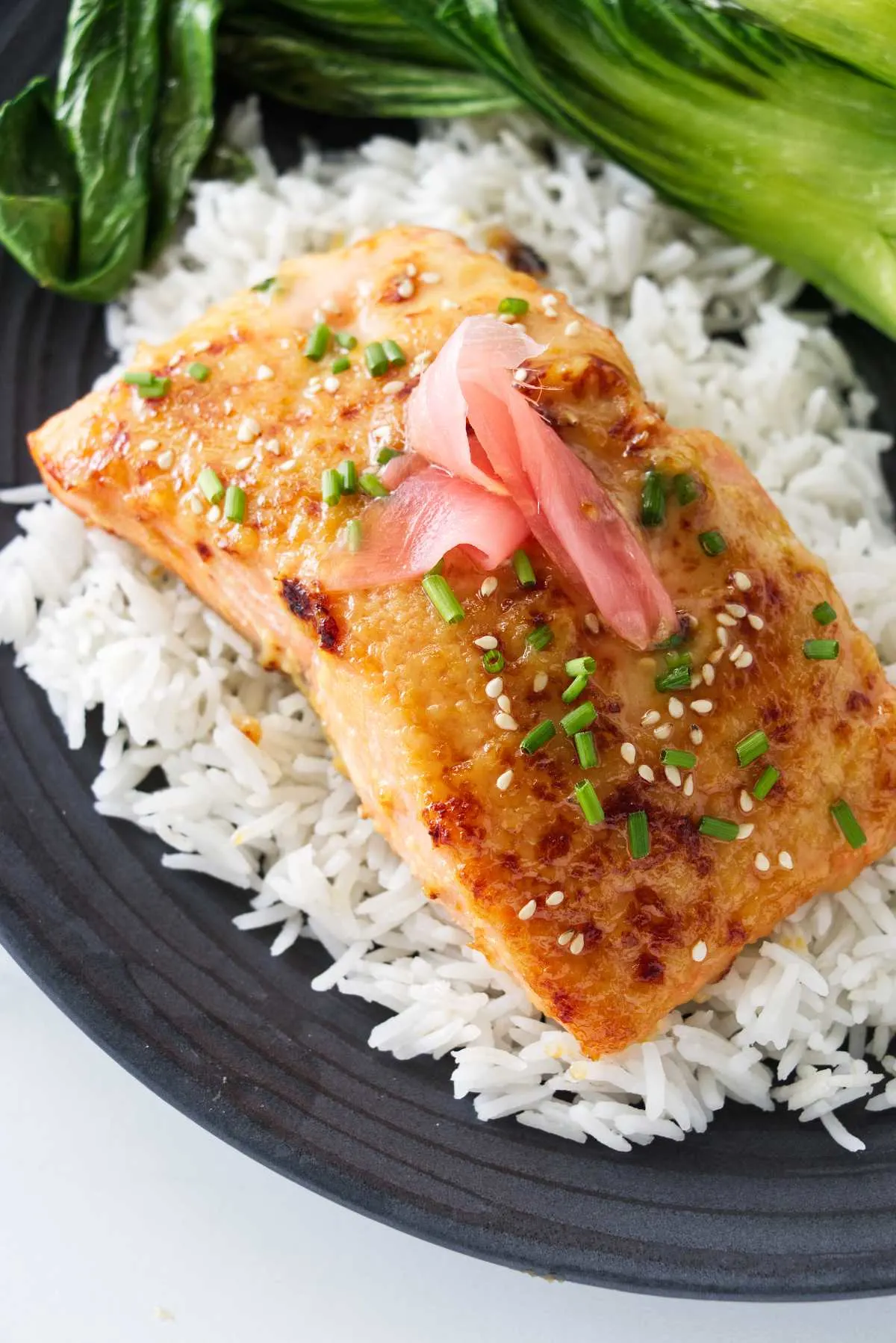 Where to Find Miso
There are different types of miso available, like red miso, yellow miso, white miso, etc.
White miso is pretty common and easy to find and your local grocery store might carry it in the Asian food aisle. I've even seen it at Trader Joe's! Amazon and Asian grocery stores are other great places to source white miso paste. But you can use any type of miso paste to make miso butter.
What to Serve with this Salmon
This one pan salmon dinner is so fast to cook and makes a healthy dinner. Here are a few side suggestions that work well with this delicious dish!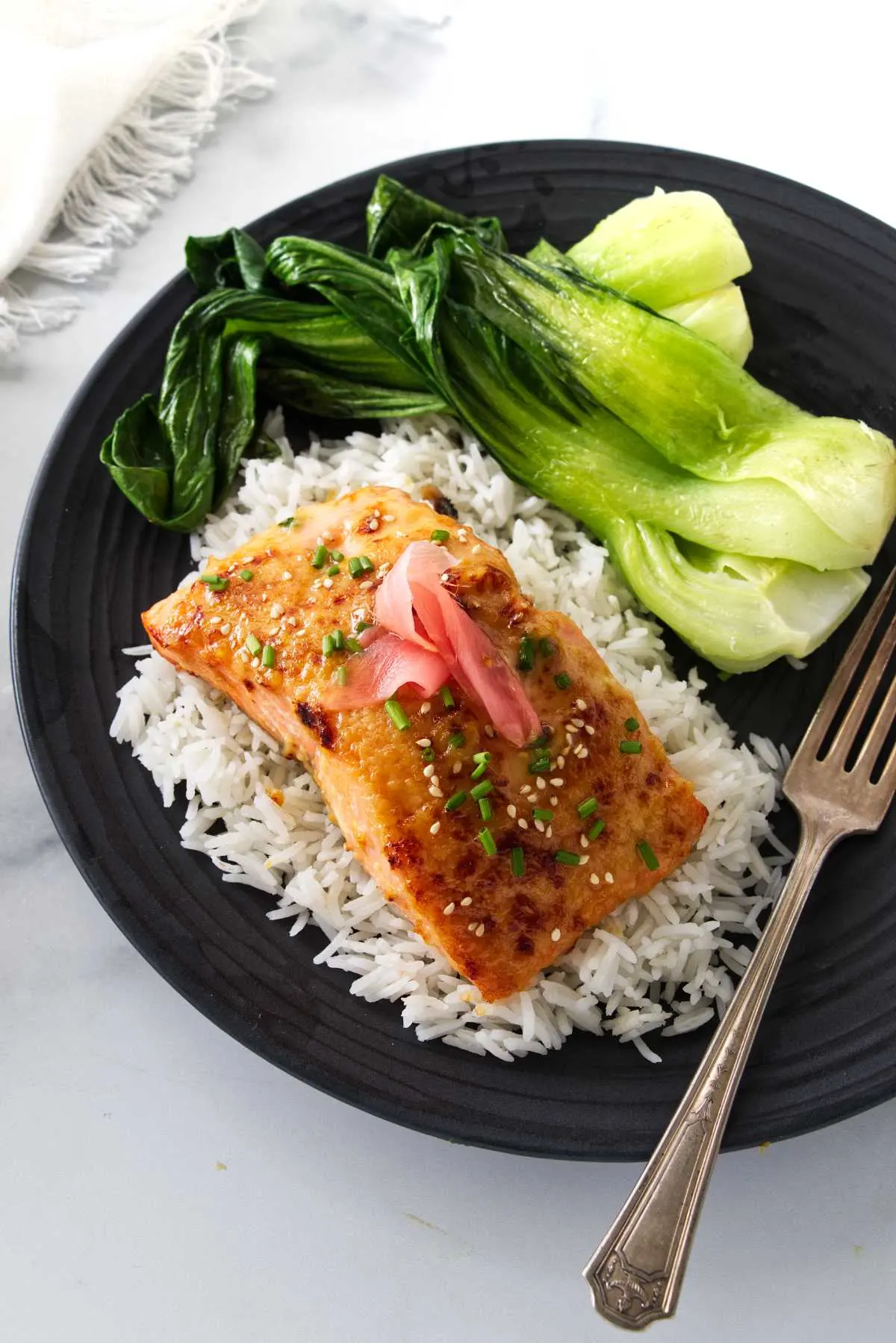 Helpful Tools
Some of the following are affiliate links. We may receive a small commission if you click on these links and purchase something. You don't pay any extra, but it will help us keep the lights on.
More Recipes To Try:
Ginger Miso Glazed Salmon is prepared under the broiler to get a nice char of the miso-ginger glaze. The filets have a delicious caramelized crust and tender, flaky center! This is another easy weeknight salmon recipe that is sure to impress!
Our Easy Salmon Stew Recipe is hearty and flavorful, packed with delicious salmon, vegetables, smoky bacon and dill. It's similar to a clam chowder but with an intensely bold salmon flavor.
Pan Seared Blackened Halibut is low-effort fine dining at its best! The perfect blackened crust made with a homemade blend of delicious seasonings adds deep flavor to the tender halibut. It's quick, easy and nutritious!
Connect With Savor the Best:
Please follow us on our social media accounts
Facebook * Instagram * Pinterest * Youtube * Twitter
Did you make this recipe? We would love to hear from you. Drop us a comment below.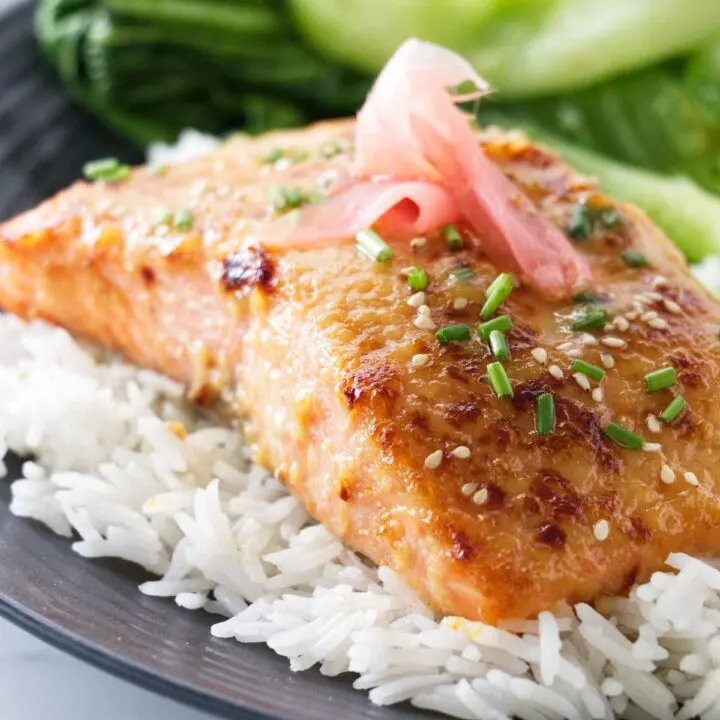 Miso Butter Salmon
Additional Time:
5 minutes
This oven baked Miso Butter Salmon is slathered with a creamy, umami-flavored miso butter and cooked to a silky medium-rare. It is on your table in less than 30 minutes.
Ingredients
2 salmon fillets, 6 oz. each, 1 to 1-½ inches thick
2 tablespoons white miso paste
2 tablespoon soft butter
1 tablespoon sesame seeds
1 tablespoon preserved ginger slices
Fresh snipped chives
Instructions
Preheat the oven to 425°F.
Line a small rimmed baking pan with foil and coat with non-stick oil.
Pat the salmon portions with paper towels to remove surface moisture.
Place the salmon, skin side down on the pan.
In a small dish, blend the miso paste and the butter with the back of a teaspoon until smooth.
Spread equal portions of the miso/butter paste on top of the salmon.
Transfer to the oven and bake for 4-5 minutes for every ½ inch of thickness or until done to your preference. Internal temperature is 125°F for rare to medium rare, 130°F for medium, 140°F for medium well, and 145°F for well done. If you do not have a good, reliable meat thermometer, you can insert a fork in the thickest portion of the flesh, twist it slightly. If it flakes and is slightly translucent, it is done.
Remove the pan from the oven, transfer the fish to a plate and allow to rest for 5 minutes. Garnish with the sesame seeds, chives and ginger slices and serve.
Notes
The best way to determine when the fish is done is to use a meat thermometer.
The USDA recommends cooking fish to an internal temperature of 145°F. However, it will have a dry texture at that temperature. Also, once the salmon is removed from the oven, it will continue to cook from the residual heat bringing the temperature up another 5-degrees or more. I like salmon that is soft, tender, buttery, and moist so I cook it to an internal temperature of 125°F. You do what is best for you.
Nutrition Information:
Yield:

2
Serving Size:

1
Amount Per Serving:
Calories:

512
Total Fat:

36g
Saturated Fat:

12g
Trans Fat:

0g
Unsaturated Fat:

21g
Cholesterol:

138mg
Sodium:

833mg
Carbohydrates:

6g
Fiber:

2g
Sugar:

1g
Protein:

41g
Nutrition information is a guideline only. It is calculated automatically by third-party software, and absolute accuracy is not guaranteed.