These Pan Fried Chicken Breast Cutlets are crispy and tender chicken with so much flavor! We dip them in a sour cream chive mixture then coat them with Panko bread crumbs and pan-fry each piece until they reach crunchy, golden goodness. It's a chicken breast recipe that is anything but bland or boring! Cook these once and we assure you they'll be a new family favorite.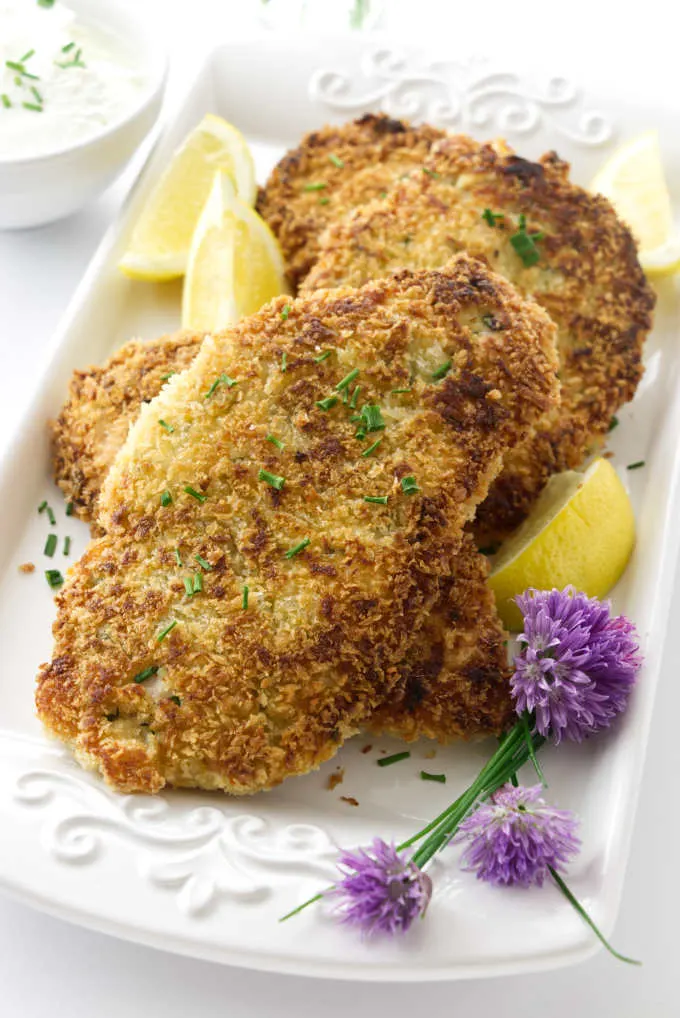 These pan fried chicken breasts have incredible flavor and texture! Tender chicken breasts are sliced into cutlets, then coated with a chive-infused sour cream and finished off with a layer of crispy Panko that toasts beautifully in the pan. By the way, Panko is so versatile. We don't just use it as a coating for chicken. You can use it to add texture to veggies like our roasted romanesco or top it on a casserole like this seafood mac and cheese.
The thinly-sliced pieces cook quickly and stay moist and tender. You'll love the fresh chive flavor and simple seasonings that make these pan-fried chicken breast cutlets so scrumptious.
Ingredient List:
This pan fried chicken breast recipe only requires a few ingredients and a few minutes to prepare. The dredge and breading process is similar to our baked chicken tenders recipe and our rockfish recipe. You will need:
Chicken breasts, boneless and skinless (we use 12 oz. pieces)
Salt and pepper
Panko bread crumbs
Egg
Sour cream
Dijon mustard
Snipped fresh chives
All-purpose flour
Canola oil
Chopped chives, sour cream and lemon wedges for garnish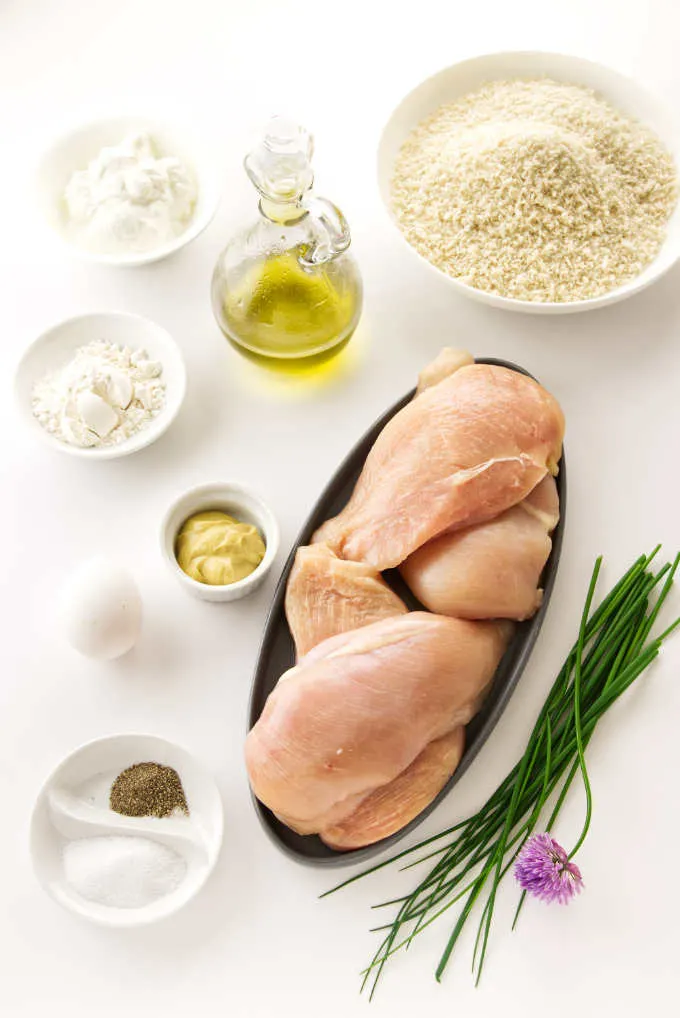 The Recipe
The prep time and cook time are minimal with this chicken breast cutlet recipe, but we do recommend allowing 30 minutes for the breaded chicken cutlets to chill in the fridge before pan frying. This step isn't completely necessary, but we find that it helps the bread crumbs to set and the cutlets end up with a crispier crust.
Here is a quick overview to make these pan fried chicken breast cutlets. Please scroll down to the printable recipe card for all the details:
Prep the chicken cutlets: Slice the chicken breasts horizontilly so you have thin cutlets. Season them with salt and pepper.
Coat the chicken: Combine the sour cream and chive batter in one dish and the breadcrumbs in another dish. Dip each chicken cutlet into the wet mixture, then coat each piece with breadcrumbs.
Pan-fry the chicken cutlets: Fry the chicken cutlets on each side until golden brown.
If you prefer baked instead of fried, try our baked panko chicken.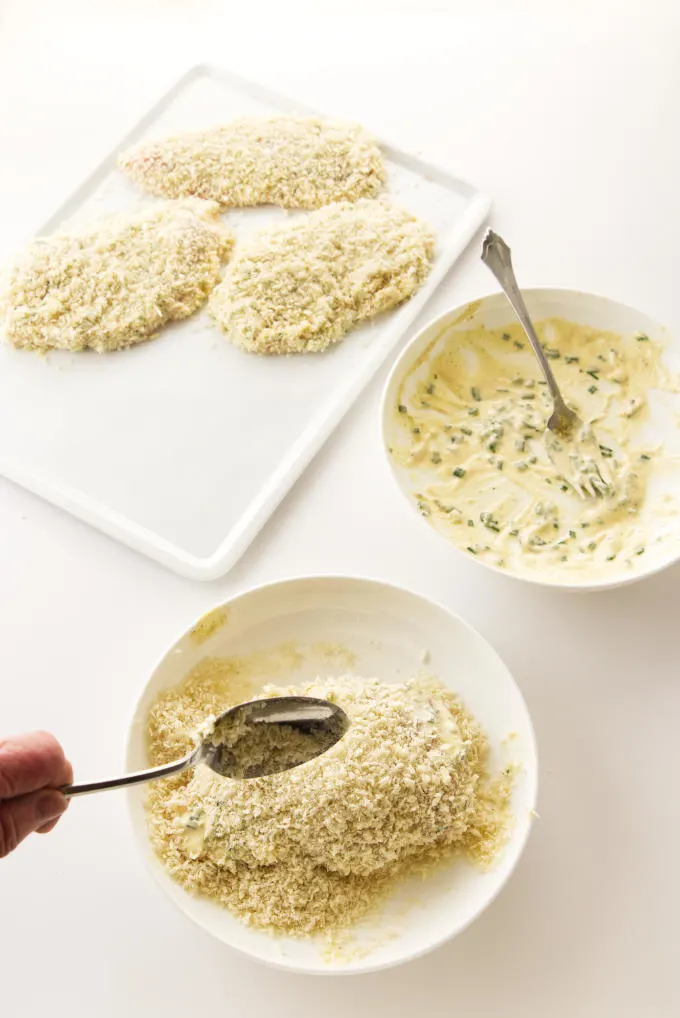 Helpful Pointers
You might find that cutting chicken breasts can be slippery but it helps to slice them when they're partially frozen. It's also great technique to use when you make stuffed chicken.
For a crispier crust, chill the cutlets in the refrigerator for 30 minutes after you coat them in the breadcrumbs.
Make sure the oil in the pan is hot before you place the chicken cutlets in the skillet.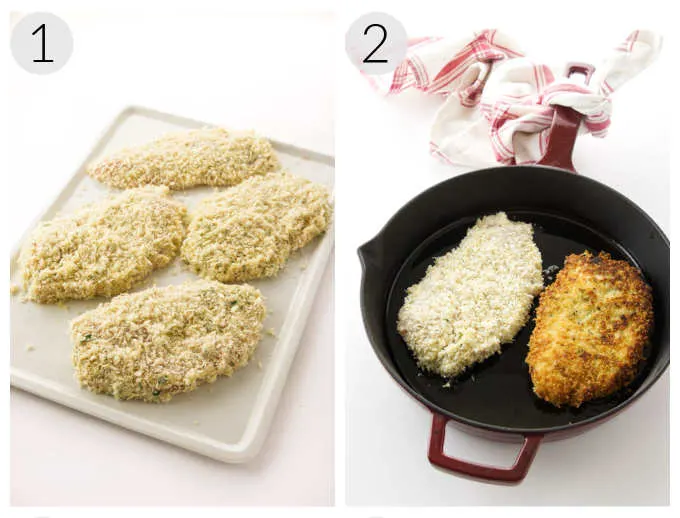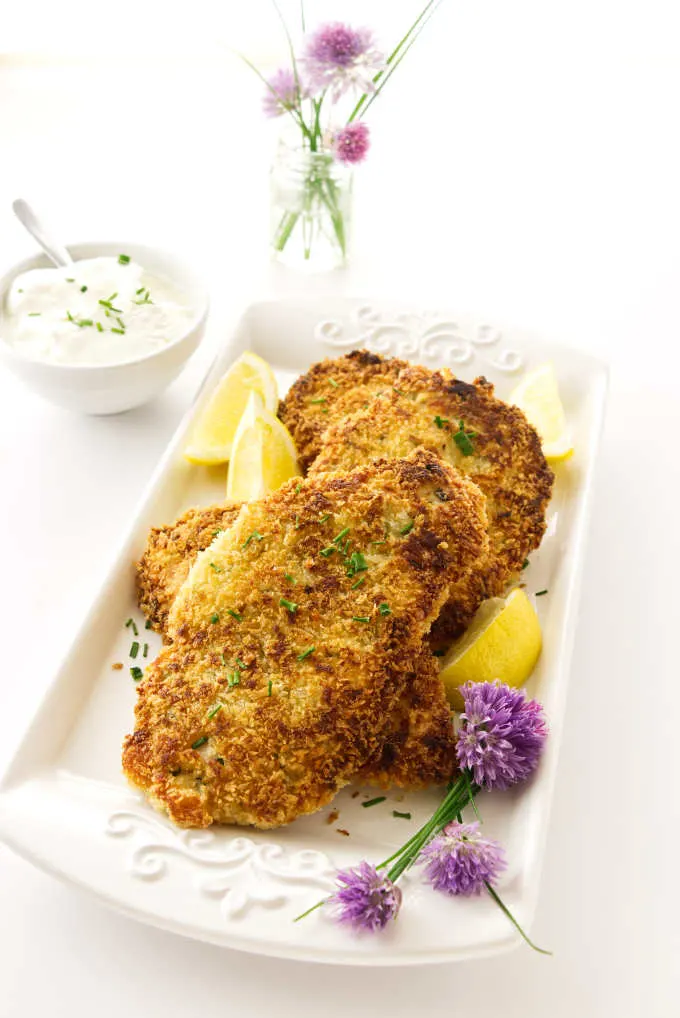 Tips and Frequently Asked Questions
To slice a chicken breast horizontally: This is easier done when the meat is partially frozen. To slice, place the chicken breast on a cutting board. Place one hand firmly on the top of the chicken breast while slicing lengthwise through the chicken with the other hand, keeping the knife parallel to the cutting board.
Is it better to fry chicken in oil or shortening? We prefer using oil for frying, but make sure it's a high heat oil like canola, vegetable, avocado or grapeseed oil. We don't recommend using extra virgin olive oil as it has a low smoke point.
How long do you pan fry chicken breast pieces? Since these chicken breast cutlets are thinner pieces they don't take long to cook, especially since they get pan-fried at a high temperature. We go about 4 minutes on the first side and then about 3 more minutes after flipping. The Panko breadcrumbs should turn a toasty golden brown color.
How do you keep chicken cutlets moist? The sour cream and breadcrumb coating along with cooking each cutlet at a high temperature will help maintain moisture in the chicken and prevent it from drying out. Also, make sure you don't over-cook the chicken.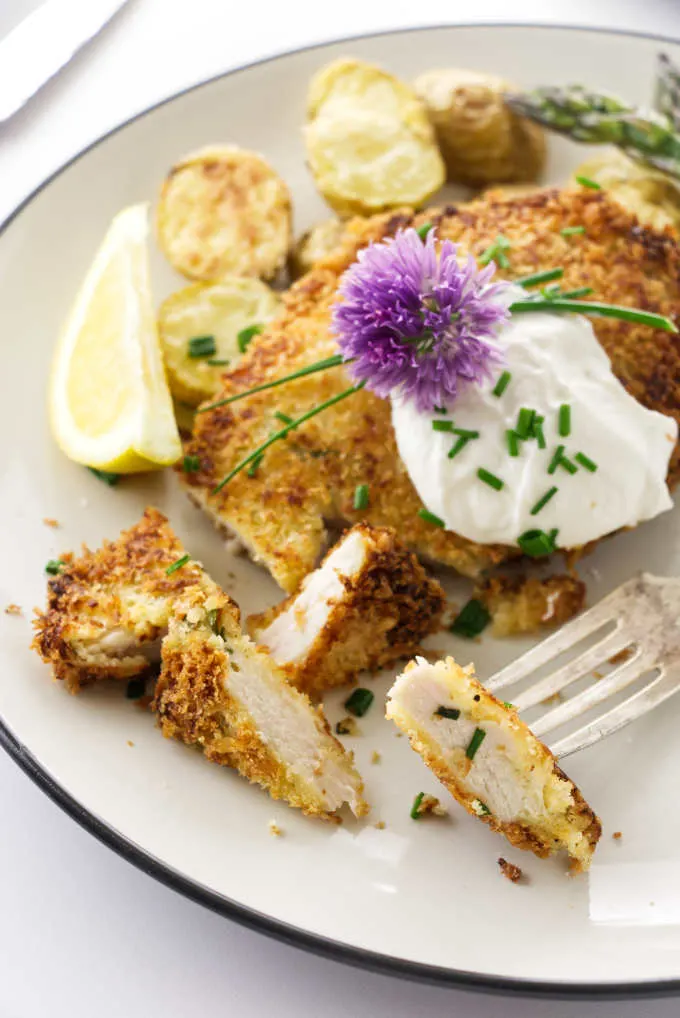 No boring chicken breast here! Crispy and tender with a savory, crunchy coating, this pan fried chicken breast cutlet recipe is a keeper. Serve them as a delicious starter or main course with a fresh salad or pan fried potatoes on the side.
Helpful Tools:
Some of the following links are affiliates. If you click on these links and purchase something, we may receive a small commission. You don't pay any extra but it will help us keep the lights on.
Some More Recipes You Will Love:
Oven Roasted Chicken Thighs A light, honey glaze gives these baked chicken thighs the ultimate flavor. A simple recipe geared for a busy weeknight dinner.
Chicken in Mushroom Cream Sauce: Tender chicken thighs baked in a creamy mushroom sauce that does not skimp on mushrooms. Our chicken recipe will be a family hit while classy enough for your special dinners. Serve it with rice or mashed potatoes to spoon the rich sauce over.
Grilled Chicken Breasts with Spicy Peanut Sauce: Oh, Yum! What tastes better than grilled chicken? Grilled chicken with a spicy peanut sauce! Tender, juicy chicken breasts, soaked in an amazing marinade then char-grilled to perfection and smothered in a spicy peanut sauce.
Connect With Savor the Best:
Please follow us on our social media accounts
Facebook * Instagram * Pinterest * Youtube * Twitter
Did you make this recipe? We would love to hear from you. Drop us a comment below.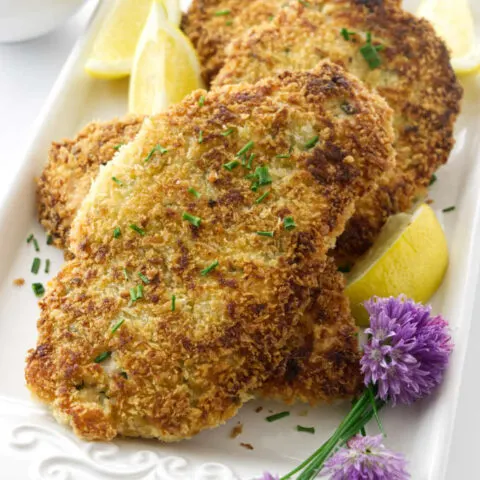 Crispy Sour Cream and Chives Chicken Cutlets
Additional Time:
30 minutes
Easy, crispy chicken cutlets dipped in a sour cream chive mixture then coated with Panko bread crumbs and pan-fried to a crunchy goodness.
Ingredients
2 large chicken breasts (12 oz. each) boneless, skinless
Salt and pepper
2 cups Panko bread crumbs
1 whole egg
1/2 cup sour cream, divided
2 tablespoons Dijon mustard
1/4 cup snipped fresh chives
2 tablespoons all-purpose flour
4 tablespoons canola oil
Chopped chives, sour cream and lemon wedges for garnish
Instructions
Pat the chicken breasts with a paper towel to remove moisture. Carefully slice the chicken breasts horizontally to create 4 cutlets. Season both sides generously with salt and pepper, place on a plate and reserve. Do not pound/flatten the cutlets.
Measure the bread crumbs into a second shallow bowl.
Crack the egg into a medium-size shallow bowl and whisk it with a fork to break it up. Add the sour cream, Dijon mustard, chives and flour. Stir together until smooth.
With a fork or tongs, dip a chicken cutlet into the bowl of wet mixture, turning to coat both sides. Lift it into the dish of bread crumbs, pressing down with the back of the fork. Turn the cutlet to the opposite side and spoon bread crumbs over the top, also pressing to allow the crumbs to adhere.
Lift the breaded cutlet and place on a plate and continue the process with the remaining cutlets.
Set the plate of cutlets in the refrigerator for 30 minutes.
Heat an 8-inch cast iron or stainless steel skillet over medium-high heat, add 2 tablespoons of the oil and when it is hot place 2 of the cutlets into the skillet.
Cook the cutlets for 4 minutes until golden brown, flip them over and cook for an additional 3 minutes. Transfer the cutlets to a paper towel-lined plate. Add the remaining 2 tablespoons of oil and when it is hot, repeat the process with the additional chicken cutlets.
Transfer the cooked cutlets to a serving platter. Garnish the cutlets with chopped chives and lemon wedges and serve a small dish of sour cream along side.
Notes
Slicing a chicken breast horizontally can be a slippery task. Partially freezing the chicken breast before slicing will firm up the flesh making it easier and safer.
To slice a chicken breast, place it on cutting board. Place one hand firmly on the top of the chicken breast while slicing lengthwise through the chicken with the other hand, keeping the knife parallel to the cutting board.
Placing the uncooked breaded cutlets in the refrigerator is not crucial but it does allows the bread crumbs to set giving the cutlets a crisper crust.
Use a high-heat oil such as canola, vegetable, avocado or grapeseed to fry the chicken. We do not recommend using olive oil.
Nutrition Information:
Yield:

4
Serving Size:

1
Amount Per Serving:
Calories:

535
Total Fat:

30g
Saturated Fat:

7g
Trans Fat:

0g
Unsaturated Fat:

20g
Cholesterol:

105mg
Sodium:

730mg
Carbohydrates:

46g
Fiber:

4g
Sugar:

5g
Protein:

21g
Nutrition information is a guideline only, is calculated automatically by third-party software, and absolute accuracy is not guaranteed.