Friends! I have to tell you, this is one of the best loaded Mac 'n Cheese recipes I have ever tasted! It is so rich and flavorful and I would be remiss if I did not share this Seafood Mac and Cheese recipe with you!
Cooked elbow macaroni is saturated with a creamy sauce made with three kinds of cheese! We also stirred a generous amount of seafood into the sauce …..shrimp, Dungeness crab meat, and tender chunks of salmon. We topped the casserole with a crunchy crust and baked it until hot and bubbly.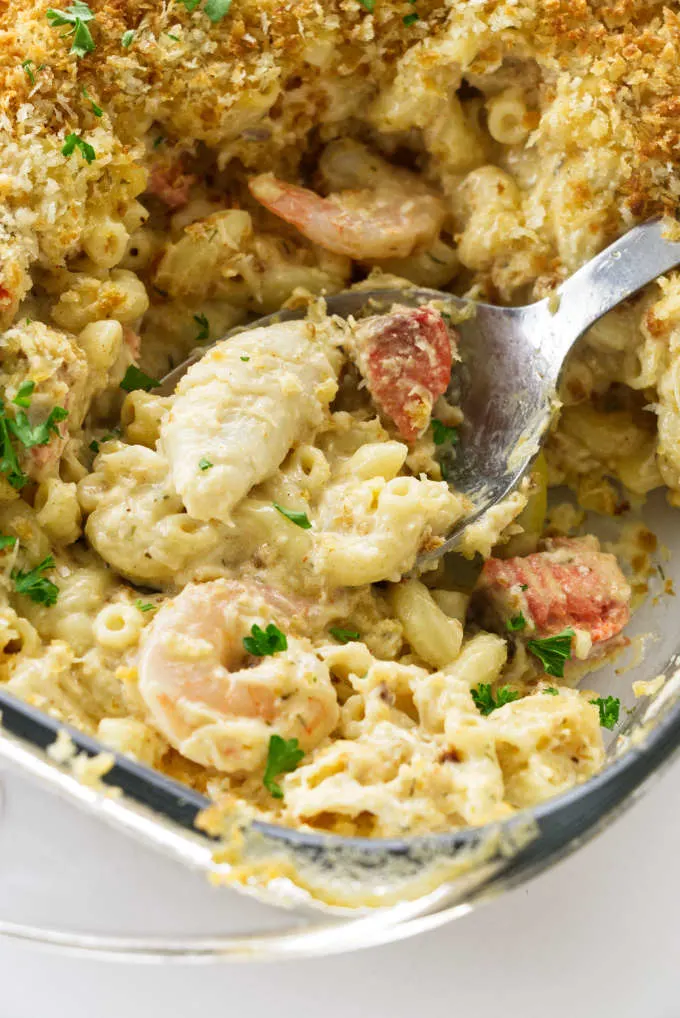 Mac and Cheese is old-fashioned comfort food that never, ever goes out of fashion. It is so popular there is always a new twist added to the creamy dish such as this seafood mac and cheese. If you like this recipe you are sure to like our recipe for Seafood Lasagna.
Here's Why You Will Love This Seafood Mac and Cheese:
It is loaded with succulent shrimp, Dungeness crab meat and chunks of wild salmon.
A creamy, cheesy sauce made with three kinds of cheese.
It uses traditional elbow macaroni that traps the creamy sauce inside the little tubes.
There is a toasty, crunchy bread crumb crust on top.
This is a meal-in-a-dish dinner for a crowd.
Ingredients For Seafood Mac and Cheese:
Elbow macaroni: We especially like this shape of pasta as the creamy sauce gets trapped inside the hollow tubes.
Panko bread crumbs. For that crunchy, golden topping.
Butter. This will give those bread crumbs that golden crunch.
Cheese. We used a blend of three cheeses for an extra creamy and rich sauce: Gruyere cheese, Gouda cheese, and White Cheddar cheese.
Garlic. Fresh garlic will add more flavor than dried garlic.
Flour. The flour will thicken the sauce so it clings to all the seafood and pasta.
White wine. The wine adds some complexity to the sauce. Choose a dry white wine and avoid sweet wine. If you can not have alcohol then you can sub chicken broth.
Whole milk. Full fat milk will make the sauce creamy, silky, and ultra rich. You can sub with reduced fat milk if you want.
Heavy cream. Just a small amount of cream will add some extra richness to the sauce.
Seasonings. We used nutmeg, Old Bay seasoning, pepper, smoked paprika, and dried Dill.
For the Seafood:
Salmon. If there is skin on the salmon, peel it off and cut the salmon into bite size chunks.
Shrimp. Try to get medium to large shrimp. You can purchase them already peeled and deveined to make things quicker and easier.
Crab. We used Dungeness crab but you can use any kind of crab that is available. If you can't find fresh or frozen crab you can use canned crabmeat.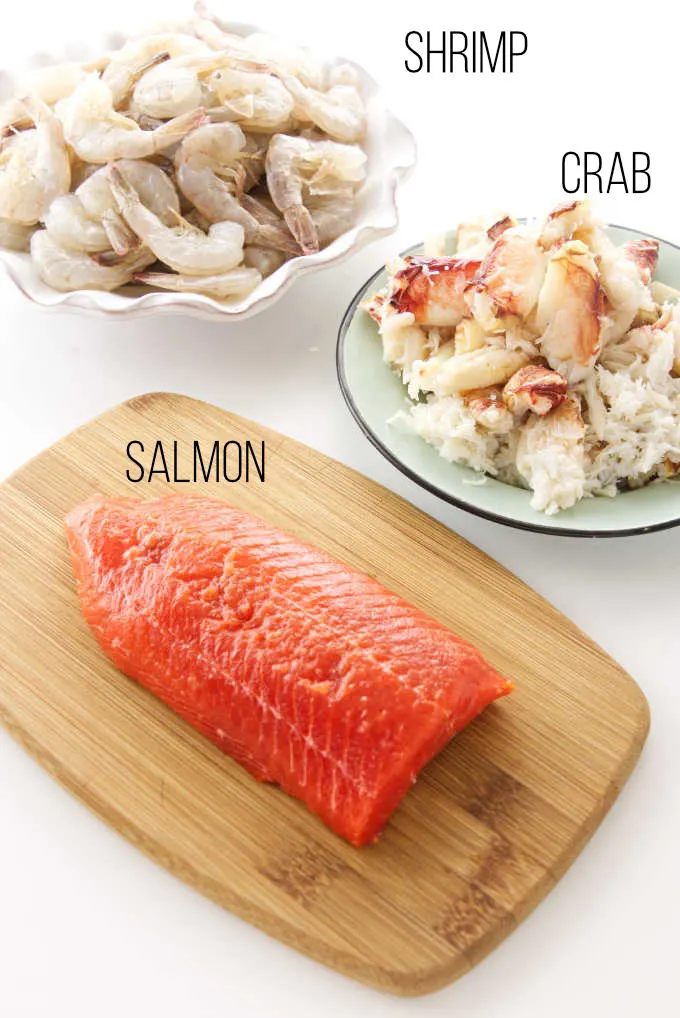 How to Make Baked Seafood Mac and Cheese:
Boil the macaroni noodles then drain them and set them aside.
Toss the Panko breadcrumbs with some melted butter and set it aside.
Toss the cheese with a couple tablespoons of flour and set that aside.
Melt the butter in a saucepan. Add the garlic then stir in the flour. Let the flour cook for a bit then slowly add the white wine. Whisk in the milk, cream, and all the seasonings. (This is a béchamel sauce.)
Cook the béchamel sauce until it thickens a bit then remove the pan from the heat and gradually stir in the cheese until it melts.
Pour the cheese sauce into the noodles and stir to combine.
Gently stir in the seafood.
Spread the mixture into a casserole dish, top with the breadcrumbs then bake.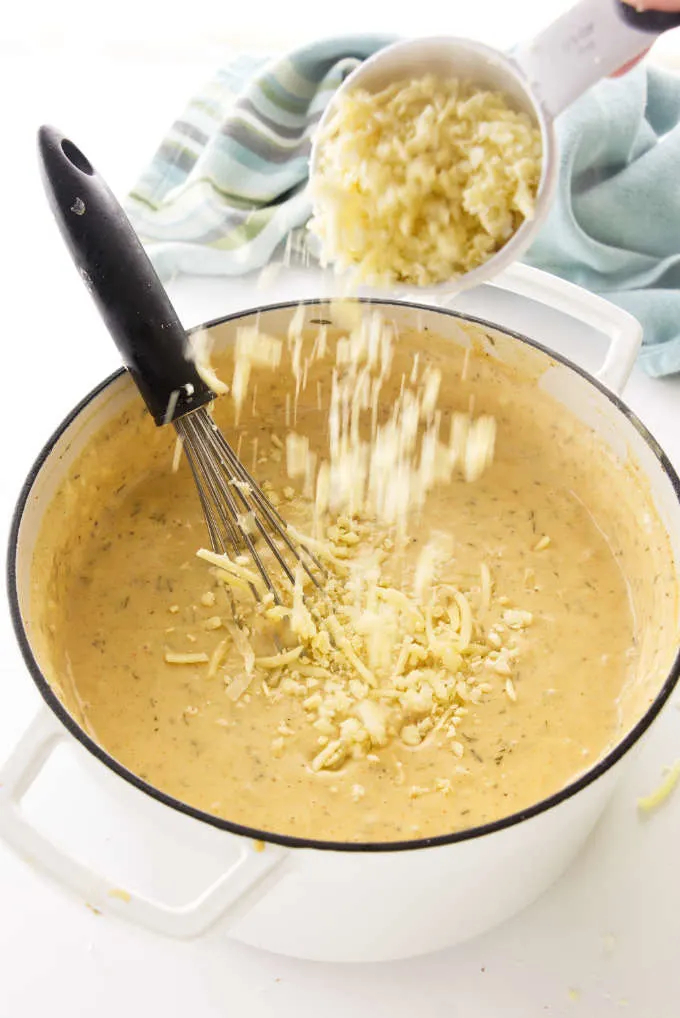 Pointers for Success.
When you boil the macaroni, leave it slightly undercooked. It will cook more when you add it to the sauce and bake it in the casserole dish.
For a creamy, lump-free sauce, add the wine and milk slowly while you whisk constantly.
Another tip to keep the sauce from getting lumpy is to toss the cheese with flour then add it gradually to the bechamel sauce.
If you do get lumps you can use an immersion blender to smooth the sauce out.
You may not need to add any salt since the cheese already has plenty of salt. Taste the sauce after you add the cheese to determine if you need to add salt.
How to Reheat Mac n Cheese
When the seafood mac and cheese cools down, the noodles will absorb some of the cheese sauce. You will notice that the leftover mac n cheese will not be as creamy and saucy. Unless you have extra cheese sauce then the mac and cheese will be dry. However, there is an easy trick for getting the mac and cheese saucy again.
Spoon some leftovers into an oven-proof dish (or a microwave-proof dish).
For every cup of leftover mac and cheese, add 2 tablelspoons of milk to the dish.
Cover the dish with foil and bake at 300°F until heated or cover the microwavable dish with plastic wrap and microwave in 30 second increments until heated.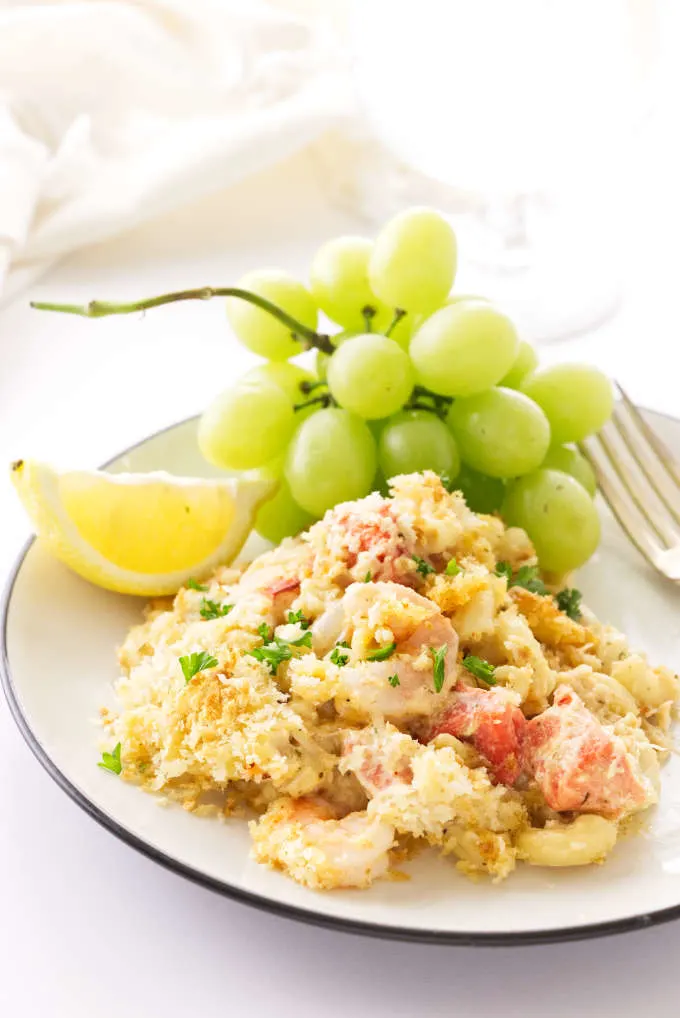 What Goes with Seafood Mac and Cheese
This baked seafood mac and cheese is a hearty and filling dish of comfort food. All you need is a tossed green salad or a veggie side dish like roasted asparagus or some honey-roasted carrots. A slice of garlic bread is always nice as well so you can sop up any leftover sauce.
Frequently Asked Questions
Can you freeze seafood mac and cheese?
Absolutely! You can freeze the mac and cheese for up to 6 months. To thaw it, place it in the fridge overnight and follow our instructions above for how to reheat mac and cheese.
How long does seafood mac and cheese last?
You can keep this dish for up to three days in the fridge. After that you will want to freeze any leftovers.
Can you make seafood mac and cheese ahead of time.
This dish is best served hot and fresh out of the oven. However, you can make it ahead of time and use our tips to reheat the mac n cheese when it is time to serve it. You can also make some extra cheese sauce to stir into the dish when you are ready to serve it.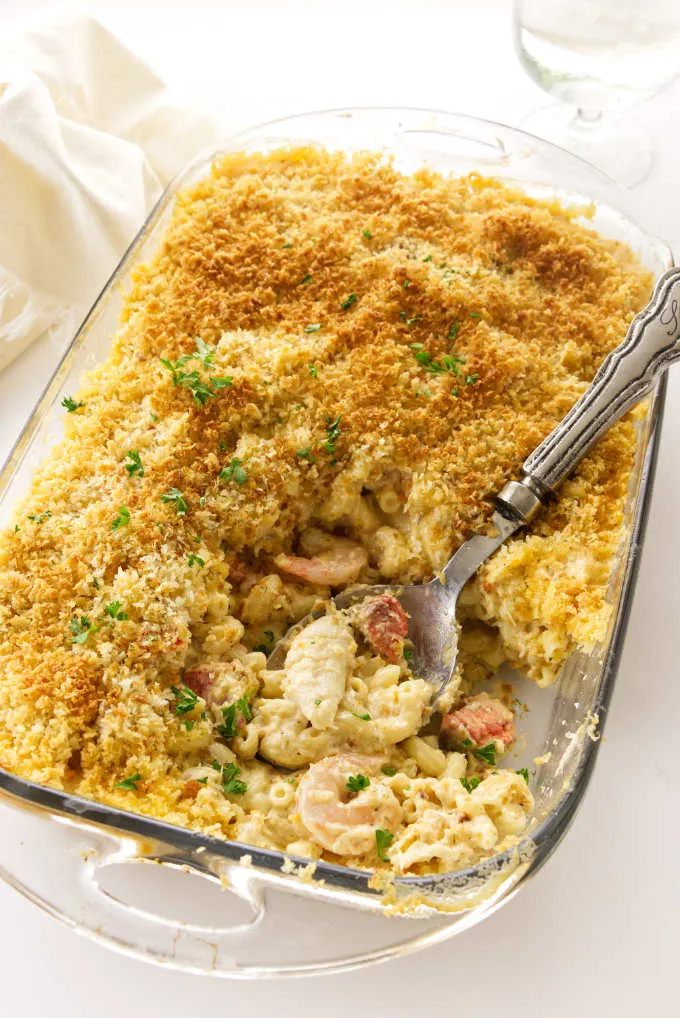 Helpful Tools:
Some of the following are affiliate links. If you click on these links and purchase something, we may receive a small commission. You don't pay any extra but it will help us keep the lights on.
Some Other Recipes We Are Sure You Will Love:
Chicken Tortilla Casserole: Made with rotisserie chicken and homemade sauce this updated tortilla casserole is full of goodness and flavor. Plus it is an all-in-one meal, easy clean-up!
Chile Relleno Casserole: All the flavors of your favorite chile Relleno baked in a casserole dish! It is cheesy! Spicy! And delicious!
Imperial Rice: Imperial rice is a Cuban chicken and rice dish in a layered casserole. The unique ingredient in this recipe is mayonnaise which along with the cheese makes a creamy sauce.
Connect With Savor the Best:
Please follow us on our social media accounts
Facebook * Instagram * Pinterest * Youtube * Twitter
Did you make this recipe? We would love to hear from you. Drop us a comment below.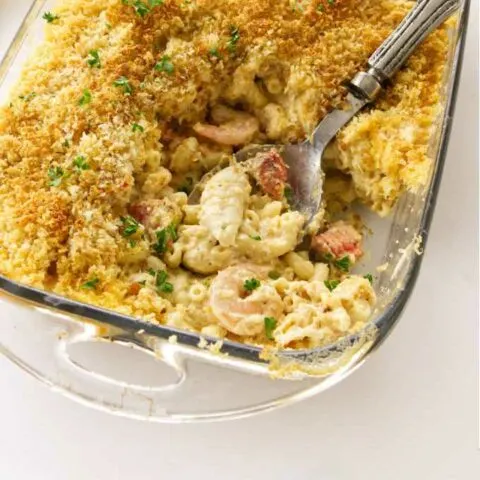 Seafood Mac and Cheese
Additional Time:
15 minutes
Traditional elbow macaroni is used in our recipe for Seafood Mac and Cheese. It is loaded with succulent shrimp, Dungeness crab meat and chunks of wild salmon. and baked in a three-cheese creamy sauce. This is the ultimate mac ' cheese!
Ingredients
16 ounces uncooked elbow macaroni
1 tablespoon olive oil
1-1/2 cups Panko breadcrumbs
4 tablespoons butter, melted
2 cups grated Gruyere cheese
2 cup grated Gouda cheese
1 cup grated white Cheddar cheese
3 tablespoons flour
Cheese Sauce:
8 tablespoons butter
4 garlic cloves, grated or minced
2/3 cup flour
1 cup dry white wine
6 cups whole milk
1 cup heavy cream
1/8 teaspoon freshly grated nutmeg
1-1/2 teaspoon Old Bay seasonings
1/2 teaspoon freshly ground white or black pepper
1 teaspoon smoked paprika
2 teaspoons dried dill
The Seafood:
1/2 pound salmon, skin removed and cut into 1/2-inch cubes
1/2 pound medium size peeled shrimp, tails removed
1/2 pound cooked Dungeness crabmeat free from any cartilage bits
2 tablespoons chopped parsley
Instructions
Bring a large pot of salted water to a full boil, add the macaroni and return to a boil. Cook for 5-minutes, stirring occasionally. Macaroni will be cooked slightly less than 'al dente' but will continue to cook in the sauce.
Remove from the heat and drain in a colander. Transfer the macaroni to a large mixing bowl and toss with oil, set aside.
Add the Panko breadcrumbs to a small mixing bowl, drizzle the melted butter over the breadcrumbs and toss to combine and set aside.
Place the grated cheese to a large mixing bowl and toss with the 2 tablespoons of flour, set aside.
Make the Sauce:
Heat the oven to 400°F and coat a 9x13-inch baking dish with oil spray.
In a large saucepan, melt the butter over medium heat, stir in the garlic and cook for 30 seconds. Sprinkle with the flour. Cook for 1 minute while stirring continually.
Slowly add the white wine to the flour mixture and cook for 30 seconds,while whisking. Whisk in the milk, cream and seasonings. Cook the sauce, whisking frequently, for 6-8 minutes until lightly thickened. Remove the sauce from the heat and gradually add the cheese while whisking. Continue to whisk until all the cheese has been incorporated and the sauce is thick and creamy.
Assemble and Bake:
Tip the sauce into the bowl of macaroni and mix until the macaroni is well coated.
Add the salmon, crab and shrimp to the mixture, stirring gently to distribute evenly.
Spoon the mixture into the prepared dish, smoothing the top level with a spatula.
Distribute the breadcrumbs over the surface of the casserole and transfer to the oven. Bake for 15-20 minutes until the breadcrumbs are golden brown and the edges are bubbly.
Transfer from the oven and serve while hot as the sauce will thicken as the casserole cools.
Notes
Boiling the pasta too long will result in mushy macaroni after it bakes. Cook to just a bit less than al dente as it will continue to cook in the oven.
No need to pre-cook the salmon and shrimp as it will cook completely in the casserole.
There is no rule of what seafood you use, choose your favorite and according to your budget.
When the béchamel has thickened, it may taste like it needs more salt but do not add additional salt until the cheese has been whisked in, then taste and adjust the salt if needed.
Dungeness crabmeat may be substituted with 2 cans (6 oz. each) of lump crabmeat.
Any good melting cheese will work in this recipe. Additional choices could be Swiss, Jack, Fontina or Mozzarella.
Tossing the cheese with a couple tablespoons of flour and adding it in 3 increments will keep the cheese from lumping.
If the sauce is not smooth enough use an immersion blender for a few seconds.
Serve the casserole immediately while the cheesy sauce is hot and creamy. As the casserole cools the sauce thickens.
To reheat, spoon as many portions into an oven-safe dish and for every 1 cup of casserole, sprinkle 1-2 tablespoons of milk over the top, cover with foil and place in a 300°F oven for 10 minutes or until heated through.
Nutrition Information:
Yield:

12
Serving Size:

1
Amount Per Serving:
Calories:

729
Total Fat:

44g
Saturated Fat:

24g
Trans Fat:

1g
Unsaturated Fat:

16g
Cholesterol:

229mg
Sodium:

1194mg
Carbohydrates:

41g
Fiber:

2g
Sugar:

9g
Protein:

39g
Nutrition information is a guideline only, is calculated automatically by third-party software, and absolute accuracy is not guaranteed.