A creamy Italian style Seafood Lasagna filled with a delicious mix of shrimp, scallops, salmon and cod in a creamy béchamel sauce and baked in layers of wide lasagna noodles.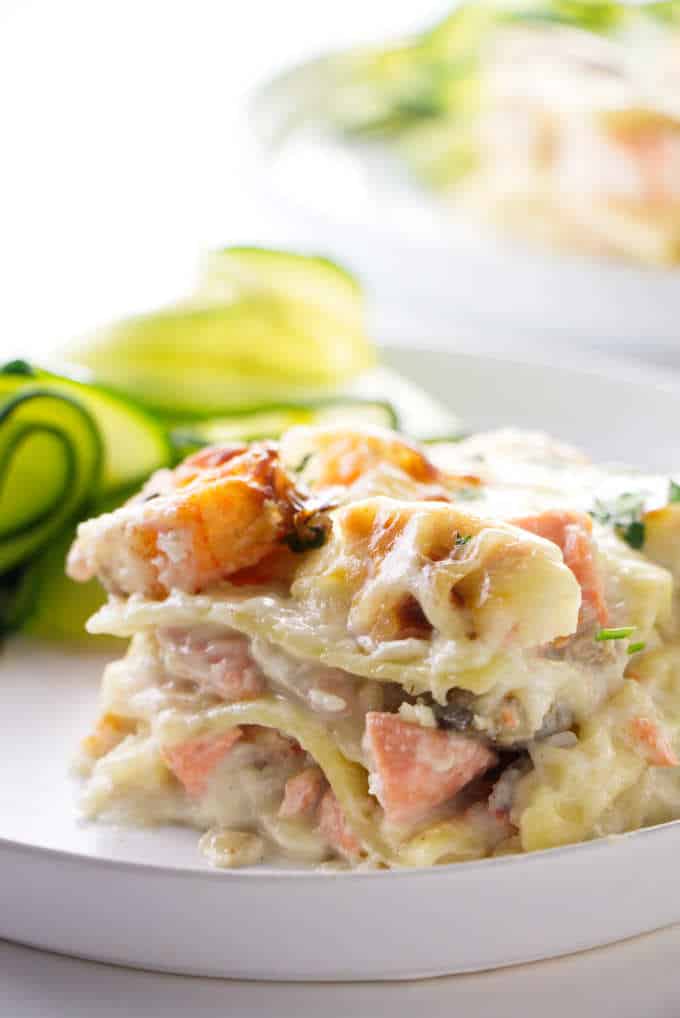 The Italian name for this dish is Pasticcio di Pesce which, translated, is pasta baked in a creamy seafood sauce. It is everything you love about lasagna except in seafood form.
This lasagna is perfect as a meatless dish for Lent or if you're just trying to avoid red meat. The white bechamel sauce is thick, creamy, rich, and ultra-satisfying. It is a perfect sauce for seafood because it lets all the flavors shine.
What is Seafood Lasagna?
The Italians love their pasta! Seafood lasagna is pasta baked in a creamy béchamel sauce with a selection of shellfish, fish, fresh herbs and seasoning. It is baked in a casserole dish in layers of thick lasagna and topped of with a healthy grating of mozzarella cheese
This recipe is an adaptation from a wonderful Italian restaurant in Vancouver, BC, called Umberto's.
We have been known to go to Vancouver for the sole purpose of having a special dinner at Umberto's. The ambiance was wonderful, the food was delicious and we always left the restaurant planning another trip there.
Unfortunately, the owner, Umberto Mengi has sold his restaurant in Vancouver. ? However, he recently opened another restaurant located in Whistler, BC. ? Our Grilled Rack of Lamb with Mint Pesto is an adaptation from our visit to his new restaurant in Whistler B. C.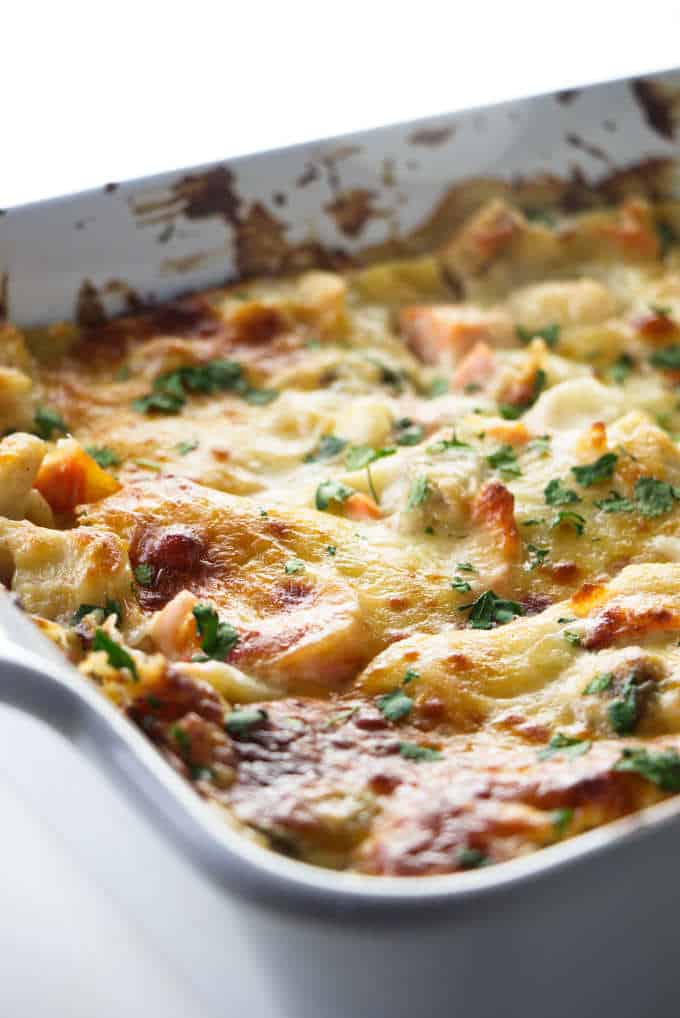 Do the Italians use cheese in seafood lasagna?
This seafood lasagna is from the northern region of Italy and I have adapted it only slightly by my selection of seafood. Cheese is not included in the original recipe book because it is said, the flavor detracts from the seafood flavors.
However, I have included mozzarella cheese as it is very mild in flavor and it does help bind the dish together. Of course, now that I added the cheese it is no longer an 'authentic' Italian dish.
According to Mr. Umberto, pasticcio means "trouble" because when the lasagna is cut and transferred to the dinner plate, it spreads out and is messy. So, if you make this seafood lasagna as 'authentic', without any cheese, be prepared as it will be much looser. Or should I say messier?
What kind of pasta should I use?
I am using storebought, dry pasta noodles in this recipe but if you are feeling adventurous, try making your own pasta. Our fresh einkorn pasta is definitely worth a try.
Another great option is to get fresh lasagna noodles that are sold in the refrigerator section of most grocery stores.
If you want to use no-boil lasagna noodles then that will work with this recipe as well. Just add 1/4 cup water to the white sauce and make sure you completely cover the noodles with the sauce.
I prefer using either fresh pasta or the kind that you have to boil because it holds up better to the chunky layers in this lasagna.
What kind of seafood goes in this lasagna?
This recipe is easy to adapt to your own tastes or whatever you have on hand. We used shrimp, scallops, cod, and salmon in our recipe but you can substitute them with several options. Here are a few suggestions.
| The recipe calls for: | Suggested Substitution |
| --- | --- |
| Shrimp | Clams |
| Scallops | Lobster |
| Cod | Tilapia |
| Salmon | Arctic Char |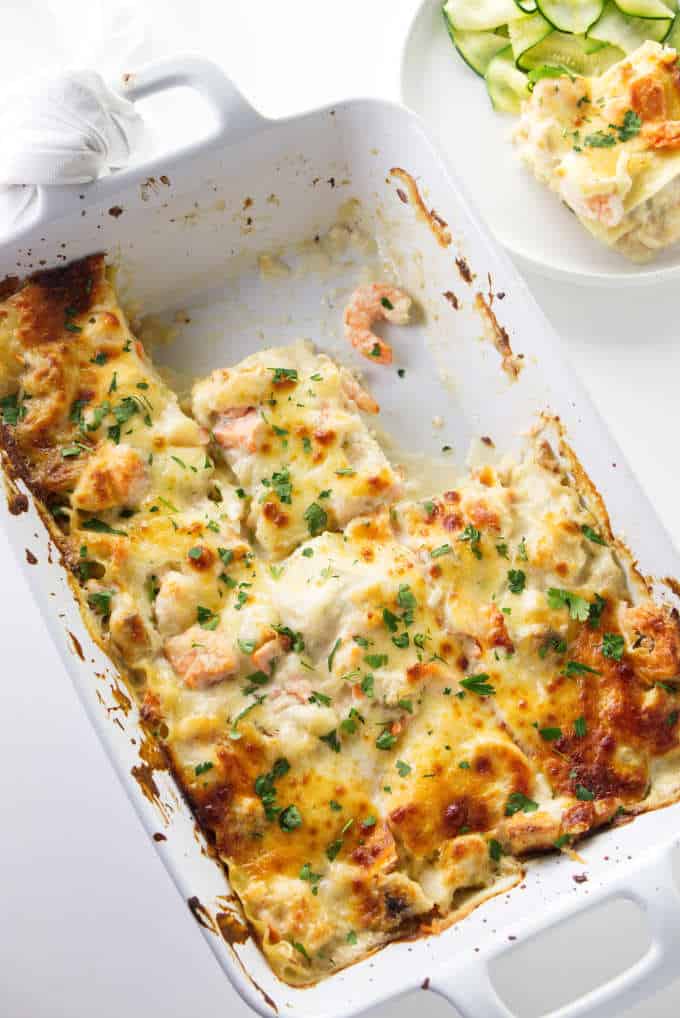 How to make this recipe.
Lasagna involves several components and is a labor of love but it is worth all the time. Here is a breakdown of the steps to make this seafood delicacy. Make sure to scroll all the way down to the recipe card for detailed instructions.
Boil the pasta (if you are not using fresh pasta).
Make the Bechamel sauce.
Quickly saute the mushrooms and seafood.
Stir the Bechamel sauce into the seafood.
Spread some of the seafood sauce into a baking dish.
Layer some noodles on top of the sauce.
Spread more seafood sauce on the noodles.
Sprinkle a layer of cheese over the seafood.
Repeat the layers 2 more times.
Bake!
When the lasagna comes out of the oven the sauce will be hot, bubbly and thin. Let it sit for 10 or 15 minutes before slicing into it. That way it will hold together better and won't spread out all over the plate.
Tips for this recipe.
You can make this ahead of time. Just make all the components, build the layers, then cover it and keep it in the fridge until you are ready to bake it.
You can freeze the leftovers. Make sure to let it cool completely then store it in a freezer-proof container for up to 6 months.
Customize to your taste. Check out the table of ingredients above for substitutions if you want to switch things up.
What to serve with this meal.
Lasagna always goes well with a crusty loaf of sourdough bread. Use it to sop up the sauces on the plate. For a side dish, you could serve one or more of the following.
Don't forget some good wine.
More Recipes We Are Sure You Will Love:
This turkey pasta bake is made with leftover turkey, but don't wait until Thanksgiving to bake a turkey. We have turkey dinner several times throughout the year. The possibilities for the leftovers are endless.
This seafood lasagna is one of our favorite comfort foods. We can't bring up seafood and comfort food without mentioning our Creole seafood gumbo or our shrimp and grits. We guarantee you will love them.
This creamy chicken lasagna also incorporates a sinfully rich bechamel sauce that will have you coming back for seconds.
Connect With Savor the Best:
Please follow us on our social media accounts
Facebook * Instagram * Pinterest * Youtube * Twitter
Did you make this recipe? We would love to hear from you. Drop us a comment below.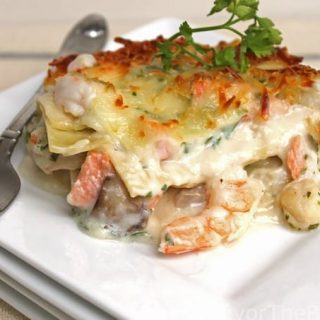 Seafood Lasagna
Total Time:
1 hour
10 minutes
A recipe for seafood lasagna that has a delicious mix of shrimp, scallops, salmon and cod in a creamy béchamel sauce.
Ingredients
9 to 12 lasagna noodles
1 tablespoon kosher salt
For the béchamel sauce:
3 cups whole milk
5 tablespoons butter
6 tablespoons all-purpose flour
1/4 teaspoon fresh grated nutmeg
1/2 teaspoon sea salt
1/4 teaspoon freshly ground white pepper
Olive oil for drizzling
For the filling:
3 tablespoons olive oil
3 garlic cloves, finely chopped
1-1/2 cups sliced mushrooms
3/4 pound medium-size shrimp, peeled and deveined, reserve any liquids
1/2 pound sea scallops, cut into 1/4-inch thick slices, reserve any liquids
1/2 pound cod, thawed if using frozen, cut in 1/2-inch cubes
1/2 pound salmon, thawed if using frozen, cut in 1/2-inch cubes
1/4 cup fresh lemon juice (from 1 to 2 lemons)
3 cups shredded mozzarella cheese
2 tablespoons chopped fresh Italian parsley (for garnishment)
Instructions
Preheat the oven to 350°F
Prepare a 9x12 oven-proof baking dish with olive oil or non-stick spray, reserve.
Cook the noodles according to the package directions. Transfer the drained noodles to a large plate or baking sheet that has been lined with plastic wrap. Cover with another sheet of plastic wrap to keep them from drying out. (see notes)
For the béchamel sauce:
Heat the milk in a saucepan and keep it warm while you prepare the rest of the ingredients.
Melt the butter in a large saucepan over medium heat.
Add the flour to the butter, and cook stirring, until the flour is well incorporated, about 4 minutes.
Slowly whisk in the hot milk. Mix well and bring to a boil. Cook until the sauce becomes thick, about 10 minutes. Stir in the nutmeg, salt, and white pepper. Remove the sauce from the heat and drizzle a little olive oil on top to keep it from forming a skin. Set aside until needed.
For the filling:
Heat the olive oil in a large sauté pan over medium-high heat. Add the mushrooms and garlic and cook just until the garlic is fragrant.
Add the shrimp, scallops (and their liquid, if any), cod and salmon. Cook just until the shrimp begins to turn pink.
Add the reserved béchamel sauce and bring just to a boil, gently mixing the sauce with the seafood. Remove from the heat and stir in the lemon juice.
To Assemble:
Add 1/4 cup of the seafood sauce to the bottom of the dish.
Arrange 1/3 of the noodles on the sauce, cutting to fit the dish. Spoon 1/4 of the seafood sauce on the pasta then 1/2 cup of shredded mozzarella cheese.
Repeat with the remaining layers, finishing with mozzarella cheese then sprinkle the parsley on top.
Bake until heated through, about 35 minutes. Remove from the oven and allow to rest for 15 minutes before serving.
Notes
To prevent the boiled noodles from sticking together spray them with oil before stacking them or place parchment paper between them. Cover them with plastic wrap so they don't dry out while you make the sauce and filling.
Want to skip boiling the noodles? This recipe also works well with fresh lasagna noodles or No-bake noodles. Fresh lasagna noodles can be found in the refrigerator section of most grocery stores.
Nutrition Information:
Yield:

10
Serving Size:

1
Amount Per Serving:
Calories:

448
Total Fat:

22g
Saturated Fat:

9g
Trans Fat:

0g
Unsaturated Fat:

11g
Cholesterol:

106mg
Sodium:

1322mg
Carbohydrates:

36g
Fiber:

2g
Sugar:

4g
Protein:

26g
Nutrition information is a guideline only, is calculated automatically by third party software, and absolute accuracy is not guaranteed.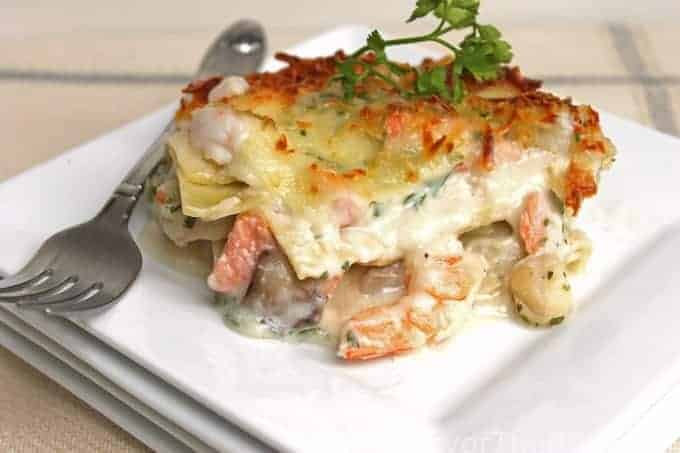 This post was originally posted on December 22, 2014. We have updated the photos and made a video to help you see how to make this lasagna. The photo above was one of the pictures that we used in the original post.