Today we want to share our recipe on how to make your own homemade Fresh Einkorn Pasta. I bet you would be surprised at how easy it is to make pasta. You would be even more surprised at the difference in taste between handmade pasta and a package of store-bought dry pasta.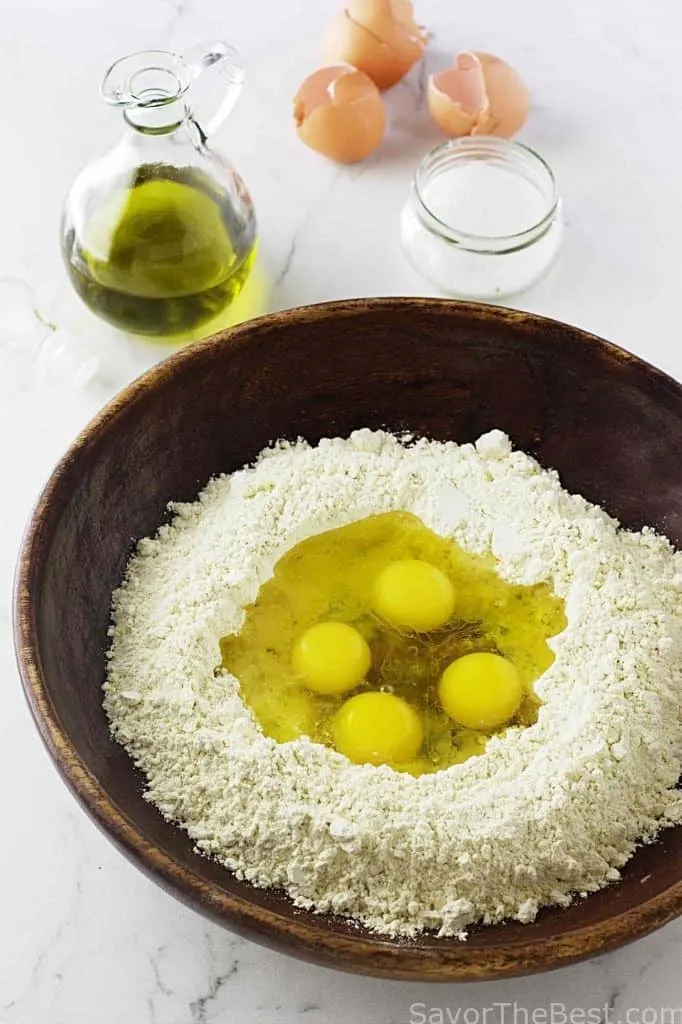 When I think of pasta it is usually in regard to an Italian recipe and the Italians are well known for their pasta making but it is a food that crossed borders into many cuisines.
Pasta can be flavored with vegetables such as tomato, spinach, and beets that add interest and flavor to a recipe. It can be cut or formed into a variety of shapes including sheets to enclose a filling.
Fresh pasta is primarily made from flour, eggs, salt, and a little oil. We are using einkorn flour which has less gluten than traditional flour.
The dough has a slightly different texture and it rolls out super easy and doesn't shrink back in place once rolled. The einkorn flour adds a slightly nutty taste and a soft texture to the pasta as well. If you can roll a pie crust or cookie dough you can make your own fresh pasta.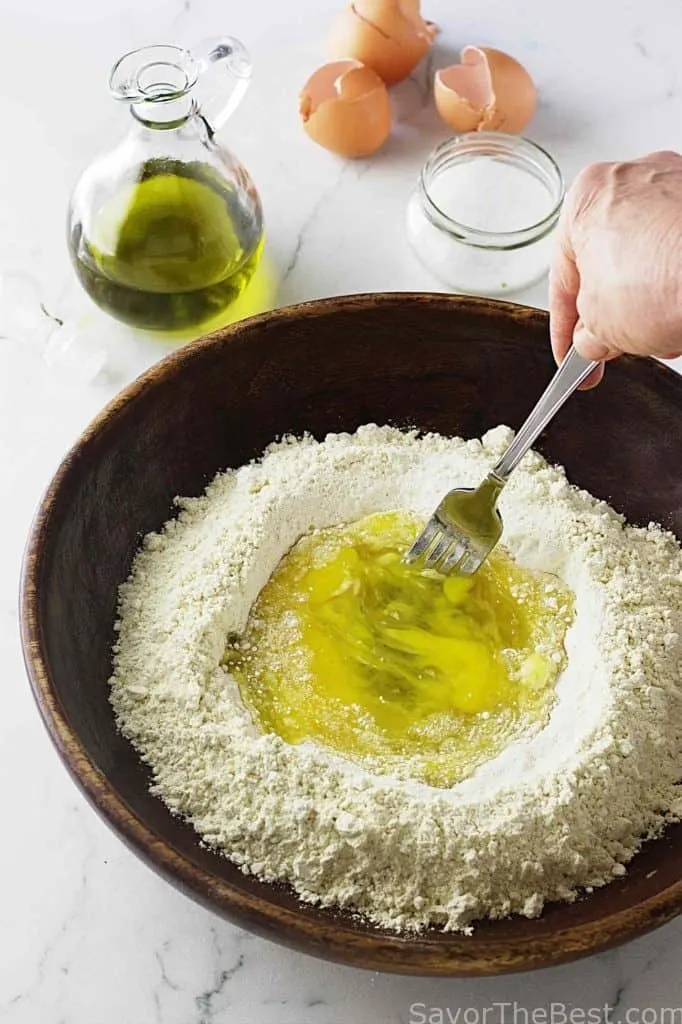 Einkorn flour makes this pasta taste extra special but it is also an exceptionally healthy grain. It is full of B vitamins and minerals, high in protein and a great source of carotenoids. Food that is naturally loaded with nutrition is also naturally loaded with flavor.
This is a simple recipe with only four ingredients but it is some of the best pasta you will ever taste and a great way to try out einkorn flour. Try a simple and fast dish by rolling the dough out to about a 1/8 inch thick, slice some strips of pasta, boil them in water until they float to the surface then toss them with a little pesto. So good!!
To make our batch of fresh einkorn pasta we added the flour and salt together in the bowl, made a well in the center and cracked the eggs into the well.
Then, using a fork we began stirring in a circular path, gradually incorporating the flour in small amounts. After all the flour was mixed in, the dough was placed on a work surface and kneaded for about four minutes.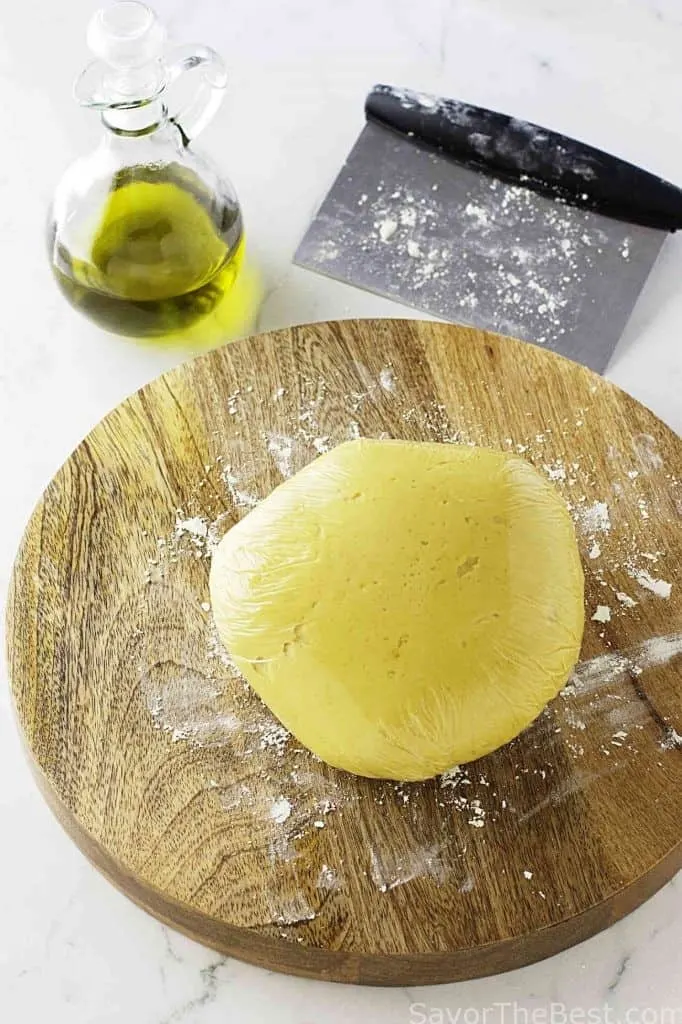 It was then shaped into a ball, wrapped with plastic and set aside for 30 minutes to rest so the moisture from the eggs could absorb into the flour. Then it was ready to roll, shape and cut. In the photo, we cut the dough into wide lasagna noodles.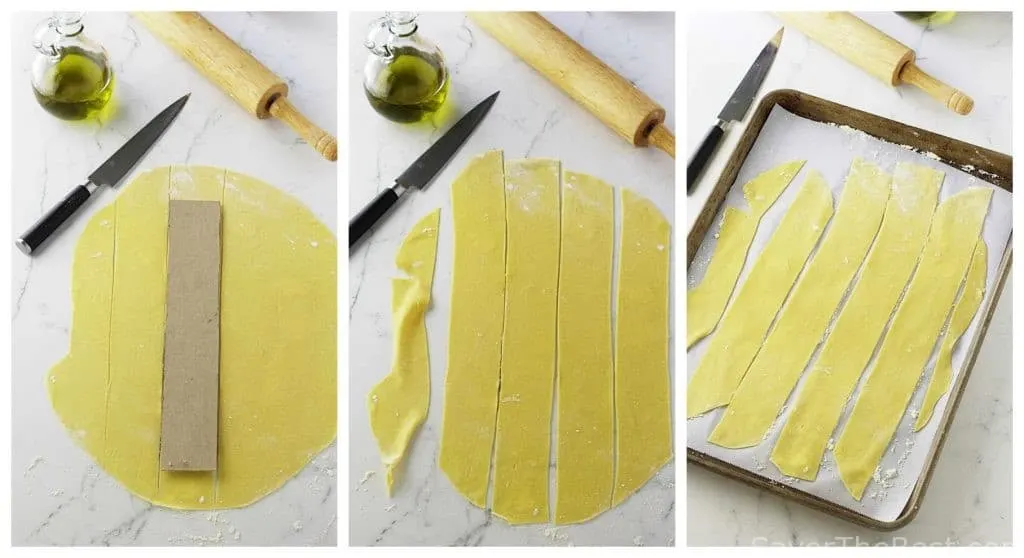 Cooking Homemade Fresh Einkorn Pasta
When the fresh pasta is ready to use, bring a large pot of salted water to a boil and working in batches, drop a portion of the pasta into the water. Most fresh pastas will cook to the al-dente stage in a 30-seconds however if pasta is exceptionally thick it will take longer.
Do not over-cook, al-dente means slightly tough. Do not rinse the pasta after it is cooked just remove it carefully from the hot water with tongs or a strainer. Place the cooked pasta on a lightly-oiled or parchment-lined sheet pan, cover with parchment paper and proceed with the next batch.
It is that easy!
Check out these recipes:
Have you made this fresh einkorn pasta recipe? We would love to see a picture. Tag us on Instagram.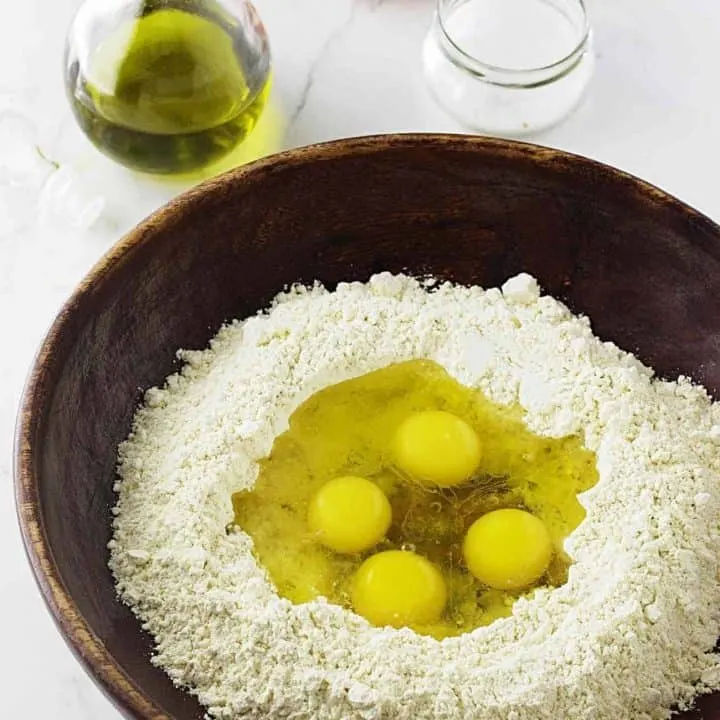 Fresh Einkorn Pasta
Fresh Einkorn pasta made with all-purpose white einkorn flour. This is a basic pasta recipe made with just flour, eggs, salt and olive oil. Fresh pasta can be formed into a wide variety of shapes.
Ingredients
2 1/2 cups (300g) of all-purpose einkorn flour, plus more for dusting/kneading
1/2 teaspoon sea salt
4 large eggs
2 teaspoons olive oil
Instructions
Prepare a baking sheet with a light film of olive oil or a sheet of parchment paper.
In a large shallow bowl or on a work surface, shape the flour and salt into a mound. Make a well in the center.
Add the eggs and oil into the well and using a fork, whisk the mixture into the flour in a circular motion, gradually incorporating the flour in small amounts in a wider path until the flour is completely mixed.
Transfer to a flour-dusted, flat work surface and begin kneading by hand. If the dough seems too moist, add small amounts of flour as you knead it. Knead until the dough begins to soften and is no longer sticky, about 3 to 5 minutes.
Shape the dough into a ball, cover with plastic wrap and let sit for 30 minutes. This will allow the flour to continue to absorb the moisture from the eggs.
When ready to roll, divide the dough into 4 portions. Work with one portion at a time while keeping the remaining portions covered with a kitchen towel or plastic wrap.
When the pasta is ready to use, bring a large pot of salted water to a boil and working in batches, drop a portion of the pasta into the water. Most fresh pastas will cook to the al-dente stage in a 30-seconds to 3-minutes cook time, depending on the thickness of the pasta.
Notes
This recipe makes 16 ounces of pasta
Nutrition Information:
Yield:

16
Serving Size:

1 ounce
Amount Per Serving:
Calories:

48
Total Fat:

2g
Saturated Fat:

1g
Trans Fat:

0g
Unsaturated Fat:

1g
Cholesterol:

47mg
Sodium:

84mg
Carbohydrates:

5g
Fiber:

1g
Sugar:

0g
Protein:

3g
Nutrition information is a guideline only, is calculated automatically by third party software, and absolute accuracy is not guaranteed.