This timeless recipe for beef stew is loaded with chunks of lean beef, vegetables, herbs and red wine in a slightly thickened flavorful sauce. This beef stew is a hearty, healthy one-pot meal. Serve with a crusty sourdough bread or hot baked cornbread.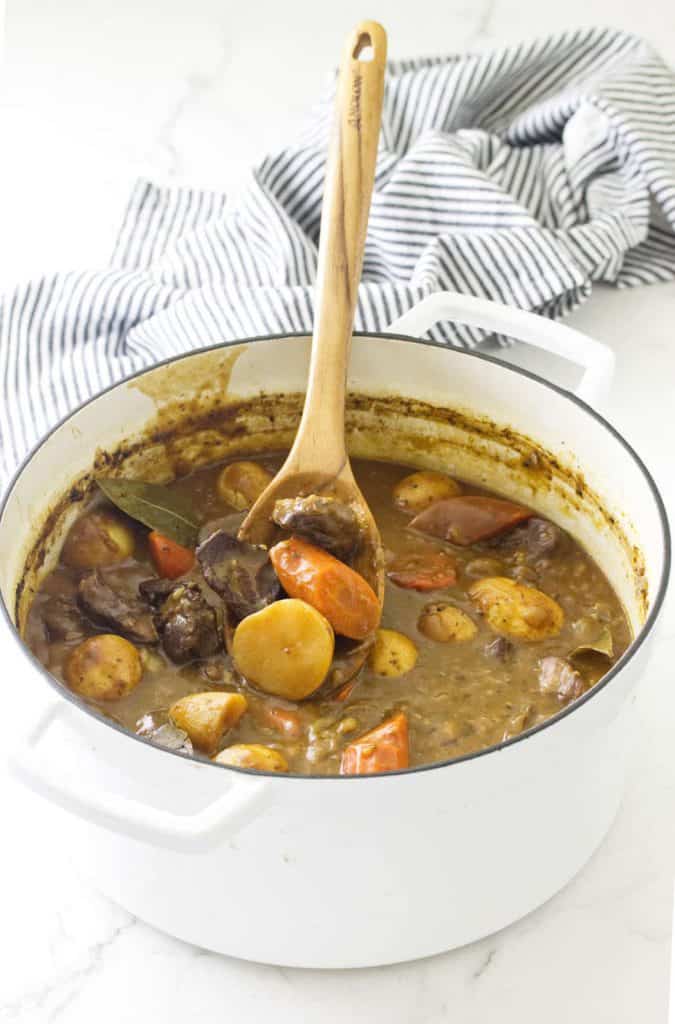 It is raining outside! And it is cold and gloomy. We have our wood stove going full blast, and I think a nice beef stew would be perfect for dinner tonight!
When I was growing up my Mom did most of the cooking but my Dad also liked to cook, and he made the best stews. Actually, beef stews, soups, and chili were his specialties.
When he made stew, he would start about noonish, usually on a Saturday and he would have a big chuck roast that he would cut up, brown and add a lot of different vegetables. I mean he would add a lot of vegetables including:
Potatoes
Carrots
Celery
Onions
Corn
Green beans
Tomatoes
Cabbage
Turnips
Oh, do I remember the turnips and how much I did not like them. I still don't.
When my Mom and Dad got married my Mom did not know how to cook, she was 16 and Dad was 23. Mom was the youngest and the baby of her family. With four sisters and a brother she didn't have to do much in the kitchen and was more interested in the cows, pigs and whatever was happening on the farm. Dad told us that Mom didn't know how to boil water without burning it. But she learned and was a good cook.
Dad, on the other hand, had been on his own from the time he was 16 and learned to do his cooking over campfires or from the chuck-wagon cooks on the trails of herding cattle and shearing sheep. Oh, and he could make the best biscuits! He showed me exactly how to make his biscuits so many times, but I just could not get the hang of it, and they never looked like his.
What is in my beef stew?
So today I am going to do a pot of beef stew my way. I promise you there will not be any turnips in it! This beef stew is full of chunks of lean beef, potatoes, carrots, mushrooms, onions and fresh herbs in a rich and slightly thickened sauce.
No, there will not be any turnips in my stew, but I kinda think Dad would enjoy my version. Some good homemade cornbread will be lovely with this beef stew. That was another of dad's favorites, but I add sun-dried tomatoes to mine.
More One-Pot Recipes:
Have you made Beef Stew lately? We would love to hear from you.
Tag us on Instagram. Like us on Facebook.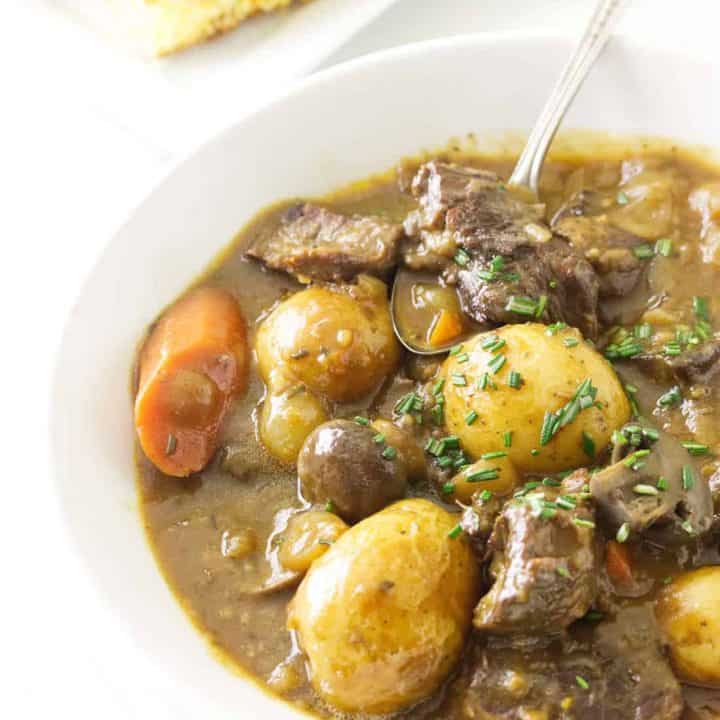 Beef Stew
Yield: 8 to 10 servings
Cook Time: 3 hours
Total Time: 3 hours
This timeless recipe for beef stew is loaded with chunks of lean beef, vegetables, herbs and red wine in a slightly thickened flavorful sauce. This classic stew is a hearty, healthy one-pot meal.
Ingredients
1/2 cup of all-purpose flour
1 teaspoon kosher salt
1/2 teaspoon fresh ground black pepper
1 teaspoon smokey paprika
3 pounds of lean boneless chuck roast, trimmed of fat and cut into 2 inch pieces
4 tablespoons oil (I use coconut or avocado which will handle a high heat)
1 cup coarsely chopped onions (1 large)
4 cups hot beef stock, fresh or canned
2 cups red wine
3 tablespoons tomato paste
4 garlic cloves, minced
2 cups carrots, cut into 2" pieces
16 ounces whole, baby bella or small Crimini mushrooms
12 ounce package frozen pearl onions
1-1/2 pounds small 2-3 inch fingerling potatoes, or yellow potatoes cut in 2" chunks
2 tablespoon chopped fresh thyme
1 or 2 bay leaves
2 tablespoons chopped fresh rosemary
Finely chopped fresh parsley for garnish
Instructions
In a flat dish or pie plate mix the flour, salt, pepper and paprika. Add the pieces of beef and using a fork turn each piece, dredging with the flour.
In a dutch oven or heavy bottomed pan heat the oil over medium heat and add the beef chunks a few at a time in batches, do not crowd the pan. Remove the beef chunks as they brown and drain on paper towels and reserve.
After all the chunks of beef are browned add the chopped onions to the oil in the pan and over low heat cook until just light golden brown. You may need to add a little more oil if it looks dry.
Add the reserved browned beef, the beef stock, wine, tomato paste and garlic; bring to a boil, reduce heat to simmer, cover and cook for 2-3 hours, (stir occasionally and if needed add more broth or water), until the beef is tender but not falling apart. Add the carrots, mushrooms, pearl onions, potatoes, thyme, bay leaves and rosemary. Bring to a boil again, then reduce to simmer and cook for another 20-30 minutes or until the tip of a paring knife slides in/out of the vegetables with only a little resistance. Do not over cook the vegetables as they should be firm and not mushy soft when served. Taste the sauce and adjust seasoning to your preference.
Serve in bowls garnished with chopped parsley.
Nutrition Information:
Yield: 10
Serving Size: 1
Amount Per Serving:
Calories: 378
Total Fat: 18g
Saturated Fat: 6g
Trans Fat: 0g
Unsaturated Fat: 11g
Cholesterol: 38mg
Sodium: 492mg
Carbohydrates: 32g
Fiber: 5g
Sugar: 10g
Protein: 18g
Nutrition information is a guideline only, is calculated automatically by third party software, and absolute accuracy is not guaranteed.