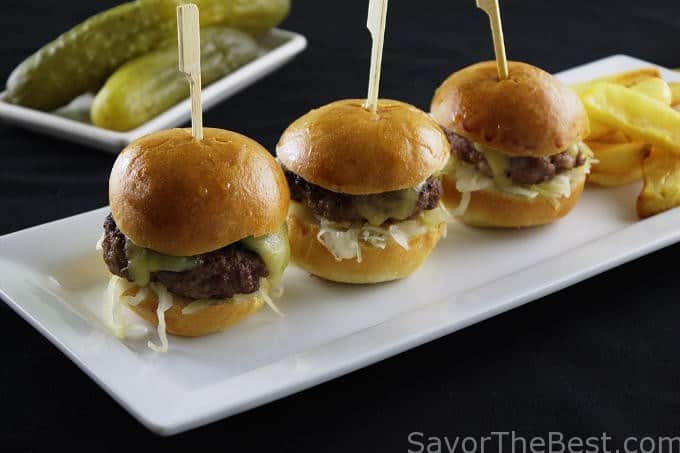 Who ever invented sliders? They have become very popular in our area and for good reason, they are delicious! These kraut burger sliders actually are not authentic German fare but it is my version and they are exceptionally delicious.
They will be a nice appetizer for your annual Octoberfest bash, or serve them as the main entree along with a good hot German potato salad and some pickled red onions. Oh, yes, and a beer! Don't forget the beer.
Last year at Octoberfest I served up some beer-simmered bratwurst along with some sauerkraut and dark rye bread. The year before that, sauerbraten was the main event with a braised red cabbage dish. So, it has become an annual event to look forward to and these cute little sliders are my contribution this year.
They are so juicy and delicious and that tangy sauerkraut is perfect. I have heard tell that sauerkraut is easy to make. Maybe next year?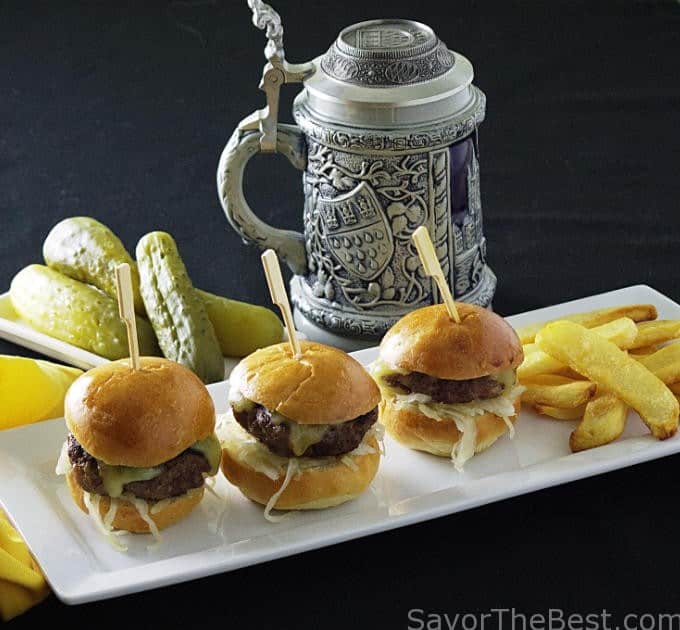 Usually when I buy ground beef I buy the lean mix as there is less fat, but for burgers and these siders, in particular, I wanted some juicy flavor. I mixed a higher-fat content ground beef and a good bulk bratwurst sausage together for maximum flavor. If bulk sausage is not available in your area, the next best bet would be to buy the raw-type sausages in casings and cut open the casings to remove the meat.
I also enhanced the flavor and moisture of the meat by adding some coarse-grain German-style mustard and a little Worcestershire sauce before forming the meat patties. Making a small thumbprint in each patty when you set it in the skillet will prevent it from shrinking into a meatball.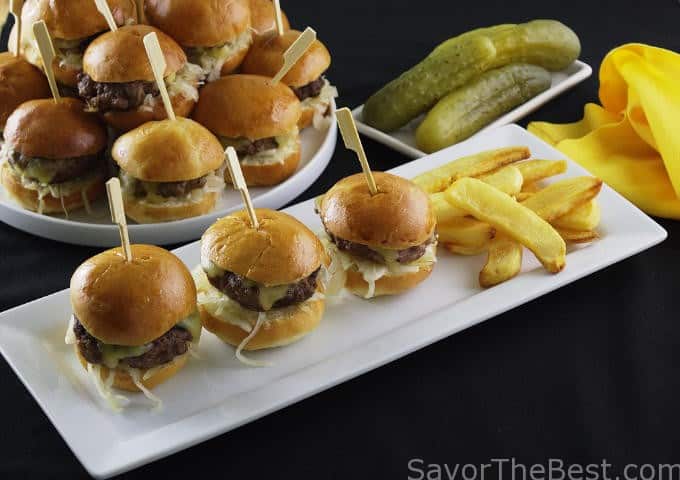 Oh, yes….I have to mention that since these meat patties do have more fat content they will also have more shrinkage so it is important to form the patties a little larger than your slider buns. Otherwise, you will end up with a quarter-size patty. Another thing, when buying sauerkraut spend a little bit more and get a good brand in a glass jar or cello-bag, just not a canned variety.
Slider buns are available in the bread section of most grocery stores but the dinner rolls are a good substitute. They just are not as cute as the slider buns. I buttered each bun and toasted them slightly on an electric griddle, spread brown grainy mustard on both sides, added some sauerkraut, a meat patty, a small slice of havarti cheese, the top bun and a cocktail pick to keep it together.
So, happy Octoberfest to you!! I would love to hear from you all as to what you are planning for Octoberfest this year and what is your favorite Octoberfest food.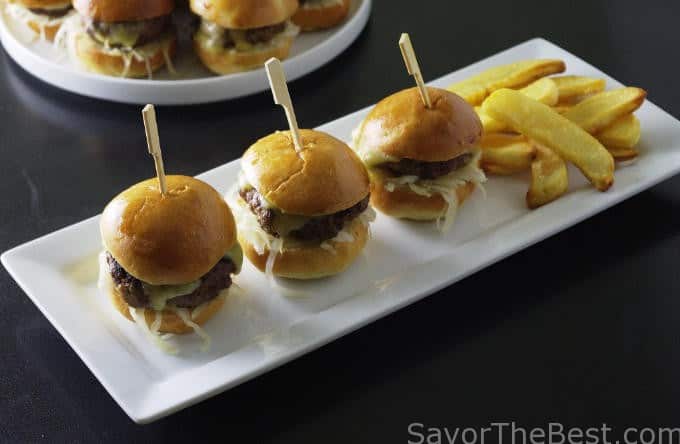 More ideas for appetizers:
CONNECT WITH SAVOR THE BEST!
Be sure to follow us on our social media accounts
Facebook * Instagram * Pinterest * Twitter * Youtube
Did you make this recipe? We would love to hear from you. Drop us a comment below.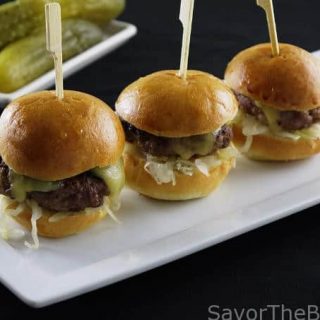 Kraut Burger Sliders
The beef and sausage mix in these kraut burger sliders make them moist and juicy. We added creamy Havarti cheese, grainy brown mustard and a generous helping of tangy sauerkraut.
Ingredients
25 ounce jar of sauerkraut (I used Bubbies)
12 slider buns or dinner rolls
6 tablespoons butter
6 tablespoons brown grainy mustard
1 pound ground beef (30%)
1 pound ground bratwurst bulk/or links or other German sausage
3 tablespoons coarse-grain German-style mustard
2 tablespoons Worcestershire sauce
1 teaspoon kosher salt
6 slices of Havarti cheese, cut in half
Instructions
In a colander, drain the liquid from the sauerkraut, pressing down to get as much moisture out as possible. Transfer the sauerkraut to a plate lined with a double thickness of paper towels. Reserve
Heat a large skillet on medium high heat, split each slider bun in half, butter each side and add to the skillet to toast slightly. Or alternatively, arrange them on a baking sheet, cut side up and slide them under a preheated broiler to toast. When cool, spread mustard on both sides of each slider bun. Add 1 or 2 tablespoons of sauerkraut to the bottom half of each slider bun. Reserve.
In a medium bowl, add the beef and sausage, mustard, Worcestershire sauce, salt and pepper. Blend together with a fork, mashing to combine. (You can also use your hands) Divide the mixture into 12 equal portions, form the portions into patties a little larger than the diameter of the slider buns.
Heat the skillet over medium-high heat and add half of the patties. (If they will all fit in the skillet without crowding then do so) press a slight indentation in the center of each patty to prevent it from balling up during cooking. Cook the patties for 3 minutes on the first side and 1 to 2 minutes on the other side for medium. Transfer to a plate, add a slice of cheese to each one and cover the plate with foil to keep warm while cooking the remaining patties.
To finish assembling the siders, add a patty on top of the sauerkraut, place the top of the slider bun on and a long cocktail pick to keep it together. Serve immediately.
Serves 12 as appetizers and 6 for main entree
Nutrition Information:
Yield:

12
Serving Size:

1
Amount Per Serving:
Calories:

444
Total Fat:

30g
Saturated Fat:

13g
Trans Fat:

1g
Unsaturated Fat:

14g
Cholesterol:

92mg
Sodium:

1338mg
Carbohydrates:

20g
Fiber:

3g
Sugar:

4g
Protein:

24g
Nutrition information is a guideline only, is calculated automatically by third party software, and absolute accuracy is not guaranteed.